Other Resources

News Archive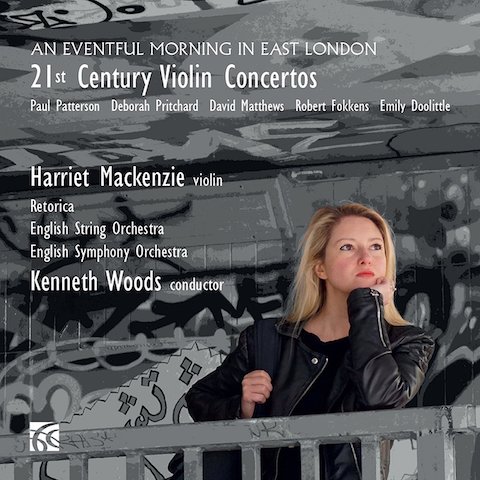 Harriet Mackenzie (violin), Retorica, English Symphony Orchestra, English String Orchestra, Kenneth Woods (conductor). Nimbus NI 6295.
Violinist Harriet Mackenzie and conductor Kenneth Woods have both made appearances on this blog before. Mackenzie is a great champion of contemporary music, both as a solo artist and with duo partner Philippa Mo (who also appears in one work on this disk). They chatted to C:T back in 2014 about their disk of violin duos, featuring music by living English composers. The enthusiasm and deep knowledge of both was palpable, not just in their interview, but also in extensive and lively email correspondence.
The English Symphony Orchestra, now under the baton of Kenneth Woods, have likewise done much to promote contemporary composers, their work going back almost four decades. One of their recent premieres was of Philip Sawyers' Symphony No. 3. Sawyers explained how the performance became part of a wider project examining the symphony in the 21st century, the ESO commissioning nine new works, including his own. That project is ongoing, so this new disk, An Eventful Morning in East London: 21st Century Violin Concertos is, then, an excellent way of whetting our appetites for pleasures to come.
In a sense the title is a misnomer; only two of the pieces here go by the name of violin concerto, though a third, Paul Patterson's Allusions for 2 solo violins and strings, might just as well be—its traditional fast-slow-fast shape being the only work that makes use of the traditional concerto shape. The 'Allusion' of the title refers, nevertheless, not to the form but to the fact that each movement uses a section of a well-known opera as a starting point: the final fugue of Verdi's Falstaff in the first movement, the Commendatore Scene from Don Giovanni in the second movement (even if the Bartokian starkness made me think more of Duke Bluebeard's Castle), and a witty reworking of the overture to Figaro in the third. Typically of Patterson, the music is wide in range—vigorous and entertaining but not eschewing darker territory where necessary.
Deborah Prichard is known for her synaesthetic approach to composition, Wall of Water being no exception. It is a response to Maggi Hambling's magnificent Walls of Water series of paintings, which she and violinist Mackenzie viewed being made at the artist's studio in Suffolk. The result is not strictly programmatic, but the work has undoubtedly absorbed something of the elemental character of the visual pieces. It reverses some of the concerto conventions, unfolding impressively from a majestic cadenza that leads to a fast and fluid passage before returning to the stasis of the opening.
David Mathews' single movement Romanza for solo violin and string orchestra plays elegantly with waltz form. After an expressive opening section we suddenly find ourself tripping along in a world that has the all the urbanity of Strauss without any of the platitudes—the transition back to the opening material near the end, for example, is spine-chilling.
The title of Fokkens' exhilarating and colourful An Eventful Morning Near East London refers not to the UK, but a 'cattle-infested stretch of the N2 motorway between East London and Umtata' in the composer's native South Africa. It is possible that this was an intentional play on words—Fokkens' music often reflects the tension of being a South African abroad. It opens in the stratospheric upper regions of the violin, played with extraordinary control by Mackenzie, before outlining a lugubrious procession that leads to a peroration of Sacre–esque energy.
The final piece, Emily Doolittle's falling still for violin and strings, is informed by her interest in sounds from the natural world— she divides the ensemble so that the strings represent a non-sentient natural process, such as the movement of water or geological phenomena, the soloist a living creature in the form of birdsong. The effectiveness relies on the starkness of the juxtaposition—simple repeating chords vs. the melodic weaving of the soloist. Mackenzie describes it as a kind of 'modern Lark Ascending'. It can't quite reach those expressive heights, but it is a beautiful nevertheless.
Apart from what is a deeply satisfying and varied programme of music, it is not possible to conclude without again mentioning the performers. Two of the works here presented would not exist without the collaboration between Mackenzie and the composers. For that and also her flawless musicianship, everywhere in evidence here, we have much to be grateful for. The same extends to this magnificent orchestra under their conductor Kenneth Woods. Many conductors pay lip service to promoting new music, what Woods has memorably described as the programming 'shit sandwich'—an unpalatable modern work between two stalwarts. His mission is to demonstrate that modern repertoire needs no such support, a fact that this disk proves in spades.
0 comments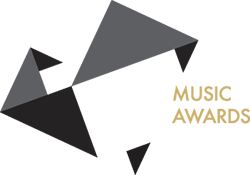 The Royal Philharmonic Society announced their music awards yesterday evening at The Brewery in the City of London. The awards celebrate live music-making and recognise outstanding musical achievement in the UK during 2016. Award winners are chosen by independent juries of leading music practitioners from hundreds of nominations nationwide. RPS Chairman John Gilhooly said the ceremony:
"This year's RPS Music Award winners take no prisoners, united in their excellence and their commitment to removing barriers to listening or participation in classical music. The awards celebrate live music of extraordinary quality and ambition, taking place across the width and breadth of the country (closer to home than many might think). I'd urge those who have yet to experience its multifarious pleasures to get out there and listen and make music, in the moment, of the moment. Live Music Is… more vibrant than ever."
The full list of winners is as follows:
Audiences and Engagement: East Neuk Festival, in collaboration with 14-18 NOW: Memorial Ground (David Lang)
Chamber Music and Song: Fretwork
Chamber-Scale Composition: Rebecca Saunders: Skin
Concert Series and Festivals: Lammermuir Festival
Conductor: Richard Farnes
Creative Communication: Beethoven for a Later Age: The Journey of a String Quartet by Edward Dusinberre (Faber)
Ensemble: Manchester Camerata
Instrumentalist: James Ehnes
Large-Scale Composition: Philip Venables: 4.48 Psychosis
Learning and Participation: South-West Open Youth Orchestra
Opera and Music Theatre: Opera North: Ring Cycle
Singer: Karita Mattila
Young Artists: Joseph Middleton
More information at the RPS website.
0 comments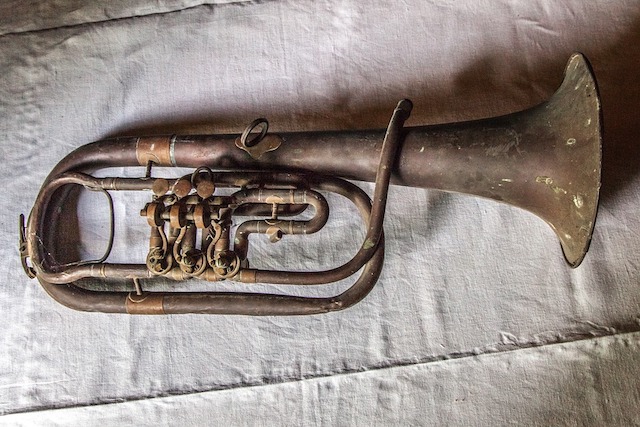 In Philadelphia, a project to reanimate over 1,000 broken instruments owned by the school district is reaching its latter stages.
The project is the brainchild of Robert Blackson, Director of Exhibitions and Public Programs at Temple University who, on learning of the instruments, decided to mount a creative project in partnership with a number of local organisations. The first part of the programme was an exhibition of the instruments at Temple University back in 2016. After this an attempt was made to play each instrument, the sound—no matter how basic—being recorded. These samples were sent to composer David Lang, who used them as a reference when composing a new work, which will premiere in October. This performance will involve a mixture of volunteer and professional musicians playing the broken instruments.
Best of all, the programme has raised enough money to make repairs. This will happen after the premiere, most of the instruments finding their way back into the hands of young players.
You can read more about the project, here.
0 comments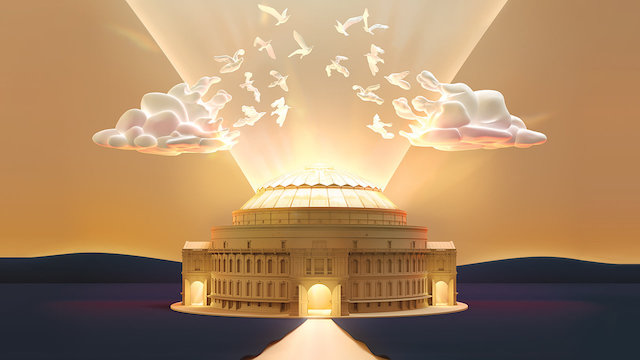 Tickets for the BBC Proms go on sale at 9am on Saturday 13th May. The full programme is available, here. If you wish to view the living composers represented, click on this link and look for those with birth dates only. Alternatively, see below for a complete list of concerts that include new music, arranged in chronological order. As last year, once the Proms gets going you can click through on the link I've given to hear listen again options on concerts you've missed.
As for the programme itself, it's good to see the reintroduction of the the first night premiere, with St John's Dance by Tom Coult on 14th. We've not got a bad crop of other world premieres either, with major new commissions for Pascal Dusapin, Julian Anderson, Brian Elias and Judith Weir. Am I the only one, however, to notice that with 12 in total, there are significantly fewer world premieres than last year (where there were 16) or in 2015 (where there were 18)? A sign, perhaps, that in cash straightened times, new art is considered dispensable.
July
14th Tom Coult, St John's Dance (world premiere); John Adams Harmonium.
16th Sir Harrison Birtwistle, Deep Time (UK premiere).
19th Pascal Dusapin, Outscape (UK premiere).
24th Laurent Durupt, Grids for Greed (world premiere).
26th Julian Anderson, Piano Concerto (world premiere)
28th Anders Hillborg, Sirens (UK premiere).
29th David Sawer, The Greatest Happiness Principle.
30th Sir James MacMillan, A European Requiem (European premiere).
August
3rd Erkki-Sven Tüür, Flamma (UK premiere).
5th Francisco Coll, Mural (London premiere); Thomas Adès, Polaris.
9th Brian Elias, Cello Concerto (world premiere).
12th Judith Weir, In the Land of Uz (world premiere).
14th Mark-Anthony Turnage, Hibiki (European premiere).
15th Thomas Larcher, Nocturne – Insomnia (UK premiere).
15th Philip Glass/Ravi Shanker, Passages (first complete live performance).
17th Michael Gordon, Big Space (world premiere); David Lang, Sunray (London premiere); Julia Wolfe, Big Beautiful Dark and Scary (London premiere): Philip Glass, Glassworks – Closing ; Louis Andriessen, Workers Union.
20th Cheryl Frances-Hoad, Chorale Prelude 'Ein feste Burg ist unser Gott' (world premiere); Jonathan Dove, Chorale Prelude 'Christ unser Herr zum Jordan kam' (world premiere); Daniel Saleeb, Chorale Prelude 'Erhalt uns, Herr, bei deinem Wort' (world premiere), Toccata on 'Erhalt uns, Herr, bei deinem Wort'.
21st Gerald Barry, Canada (world premiere).
30th Andrea Tarrodi, Liguria (UK premiere).
30th Hannah Kendall, The Spark Catchers (world premiere); George Walker, Lyric for Strings.
September
1st Wolfgang Rihm, In-Schrift.
4th John Adams, Lollapalooza.
5th Missy Mazzoli, Sinfonia (for Orbiting Spheres) (European premiere of orchestral version).
9th Lotta Wennäkoski, Flounce (world premiere); John Adams, Lola Montez Does the Spider Dance (London premiere).
0 comments

Not much of a welcome at JFK, where American composer Mohammed Fairouz was detained for hours when trying to reenter the US, apparently for having a Muslim name. The full story over at the Washington Post.

0 comments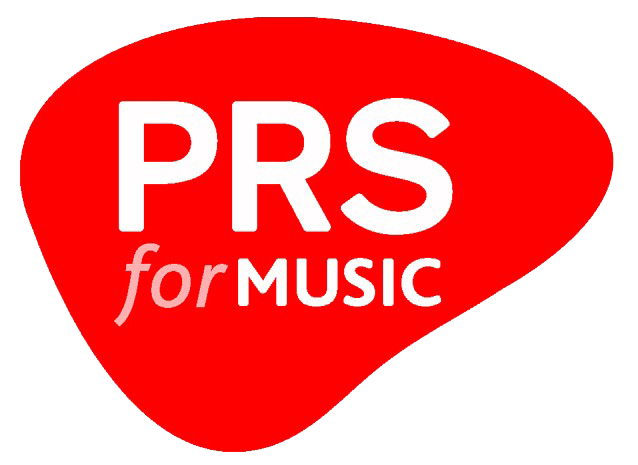 PRS has just announced that it has secured funding of €200,000 from the Creative Europe programme of the European Union. The money will be used to run its European Keychange programme to empower female musicians.
From the PRS website:
This new and ambitious European collaboration will promote the role of women in music and the potential creative and economic contribution women could be making to Europe's music industry. Building on PRS Foundation's experience of running the pioneering Women Make Music Fund in the UK, Keychange aims to stimulate talent development and innovation in music by creating new international opportunities for performance, collaboration and learning amongst female artists and innovators who are ready to break into new markets. The long term goal is to transform Europe's music industry for current and future generations by accelerating recognition of women's artistic and economic value and empowering them to work together across European and international borders.
The initiative is led by PRS Foundation who have joined forces with like-minded European partners who believe that the future of music will benefit from a more balanced representation of women and men across all aspects of the industry. These partners are: Iceland Airwaves, BIME (Spain), Reeperbahn Festival (Germany), The Great Escape (UK), Tallinn Music Week (Estonia), MusickCentrum/Way out West (Sweden) and Mutek (Canada). Additional sponsorship has also been secured from Spotify and STEF (The Performing Rights Society of Iceland) and we will be announcing more associate partners over the next few months.
Activities will include two mass gatherings of the Keychange network at Tallinn Music Week and BIME in 2018, smaller groups showcasing and networking at other partners' music festivals, a programme of creative labs and online content which stimulate ideas for new projects and ways of working, a high profile social media campaign and a final event in Brussels at the European Parliament in 2019 at which partners will jointly present a manifesto for change.
All supported artists and innovators will be selected through a nomination process coordinated by local partners and their industry colleagues. A joint selection panel will take place at Reeperbahn Festival in September 2017.
0 comments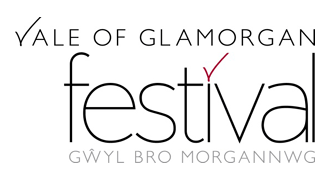 May begins with a BBC Total Immersion Day dedicated to the music of Edgard Varèse at Barbican on 6th. There will be a talk at 12pm, a concert of ensemble musical 2pm, a film exploring the life of the composer at 4.40pm and an evening concert featuring Varèse's orchestral music at 7pm.
On the same day the Tectonics Festival kicks off in Glasgow. It only lasts a couple of days, but both are packed: there's an installation, 2 chamber concerts, 2 'Meet the Artists' events, and concerts with the BBC Scottish Symphony Orchestra. There's also plenty of new music, including premieres of music by Lawrence Dunn, Linda Catlin Smith, James Saunders, Roscoe Mitchell and Lori Goldston.
The Norwich Festival (12th–28th) includes a wide variety of events, including circus, literature, music and dance. Amongst the music events is the chance to hear the first performance in the UK of Philip Glass and Laurie Anderson's collaborative project American Style on 19th; the Calidore Quartet performing Ligeti's String Quartet no.1, 'Metamorphoses nocturnes' on 20th; and Gerald Barry's Beethoven on 26th.
The Vale of Glamorgan Festival (19th–26th, multiple venues across SE Wales) only performs music by living composers (indeed it claims to be the only festival so to do). It also offers a particular focus on the music of Welsh composers. Premieres this year include works by Hilary Tann, Steph Power, Ben Wallace and John Adams. Perhaps most significantly, Welsh composer Guto Puw will see the first performance of his new Welsh-language opera Y Tŵr at Sherman Theatre, Cardiff on 19th.
The English Music Festival (26th–29th), as the name suggests, focuses entirely English repertoire. Though it's not heavy on contemporary music, the festival is doing good work reviving forgotten pieces— there are premieres of music by Vaughan Williams, Stanford and Montague Phillips. Also worth a visit is the St. Davids Cathedral Festival (26th–4th June) in West Wales. A dig around will reveal new music by Joby Talbot, Chris Marshall and Judith Bingham.
0 comments
Samuel Barber would have been 107 on 9th March, an event I marked by mentioning Paul Moon's soon-to-be-released documentary on the composer, Samuel Barber: Absolute Beauty. I am lucky to have been able to view an advance copy of this remarkable film, which rather rewrites the rules of documentary film-making.
Moon essentially mounts his film projects alone, his most recent being a documentary exploring the remarkable circumstances of the composition of Olivier Messiaen's Quatuor pour la fin du temps:
This new film—a two-hour documentary of Samuel Barber's life and work—is, however, several orders of magnitude more ambitious. It is the kind of project that used only to be made by documentary departments of major television studios. For its more than two-hour running time, you wouldn't be aware that it hadn't been.
Moon has assembled an impressive range of experts in the field. These are headed by two of Barber's biographers, Pierre Brevignon and Barbara Heyman (both of whom receive producer credits). They provide the authoritative narrative backbone to the film. Heyman, especially, does much of the heavy lifting, introducing many of the key works and peppering her contributions with some delightful biographical vignettes. In addition to this, a number of well-known musicians (Leonard Slatkin and Marin Alsop, to name but two) contribute interviews, performances and rehearsals of the works. A third layer is provided by the use of archive material, which appears both as footage and as voice-overs. In most cases individual contributions are excellent (there is occasional hyperbole, the very early Dover Beach, for example, being described as 'One of the greatest pieces of vocal music of the twentieth century', a tall order given the competition), but it is the structural coherence that Moon brings to the whole that makes it such a remarkable success.
The tone and theme of the film is set at the opening in archive contributions from William Schuman, who identifies Barber as a composer who, like Bach, was content to operate within a given style, and by Leonard Bernstein, who describes Barber's music as having the quality of 'absolute beauty.' After this Moon takes a sensibly, though not slavishly, chronological approach. The first section begins with the aforementioned Dover Beach (op. 3, 1931) for baritone and string quartet, certainly a remarkable work for a 19 year-old, before leading us through the Cello Sonata (op. 6, 1932), First Symphony (op. 9, 1935-6), the Adagio (op. 11a, 1936), Violin Concerto (op. 14, 1939/40), Cello Concerto (op. 22, 1945), Piano Sonata (op. 26, 1948), Hermit Songs (op. 29, 1953) and Ballet Medea (op. 23 1946/7). Each section allows Moon's experts to expand on the individual works and, extrapolating from this, the themes identified at the opening.
Knoxville (op. 24,1947), a setting for soprano and orchestra of a text by James Agee, comes in the middle of the film, its theme of childhood leading naturally to an examination of Barber's earliest life. This forms a happy interlude before the deeper explorations in the second half of the documentary, beginning with one of Barber's most challenging works, his Piano Sonata (op. 26, 1948), where he consciously tested the limits of his style. Of the several works that follow only Summer Music for wind quintet (op. 31, 1956), where Moon shows us a curious piece of rehearsal footage with no further comment, feels a little perfunctory. More revealing is the section following Toccata Festiva for organ and orchestra (op. 36, 1960), which explores Barber's lifelong relationship with composer Gian Carlo Menotti and Barber's own attitudes to homosexuality.
The last years are painful to watch. Composer John Corigliano (who is also a significant contributor elsewhere) explains how the critical reaction to the first performance of his third opera Anthony and Cleopatra (op. 40, 1966) led Barber partially to withdraw from composing. He was also forced to sell Capricorn, his much-loved countryside home, and live in New York. There was a trickle of final works, but ultimately we are left with the image of a composer who spent much of his time alone playing the works of Bach. When the end came it was in his lifelong companion's arms—Menotti providing a poignant description of that moment.
The documentary argues passionately that Barber should be ranked highly amongst twentieth-century composers, a question that it cannot, of course, answer definitively. For many, especially in Europe, he is known mainly as the composer of that work—the ubiquitous Adagio. In its own way, however, writing the Adagio was in itself a rebellious act, one that is plausibly identified in this film as a precursor to minimalism and to the emergence of composers such as Arvo Pärt and Henryk Gorecki. Despite this, Barber was no revolutionary—to quote Liszt via Heyman, he knew that there is a 'degree of innovation beyond which one does not pass without danger.' He was content to avoid that danger by staying within certain stylistic parameters. It is within these boundaries, however, that his music must be judged, not by a perceived failure to join in with mainstream modernism (a confrontation that is comically described in this film in a chance meeting between Barber and Boulez). In this sense the quality and importance of his work should not be in doubt. If you are at all unfamiliar with this essential twentieth century composer, this marvellous documentary is the ideal place to begin.
Samuel Barber: Absolute Beauty streams online via watch.samuelbarberfilm.com and amazon.samuelbarberfilm.com. DVDs ship worldwide from dvd.samuelbarberfilm.com. Subtitles are included on all media in English, French, German, Spanish and Russian.
Samuel Barber: Absolute Beauty from H. Paul Moon on Vimeo.
0 comments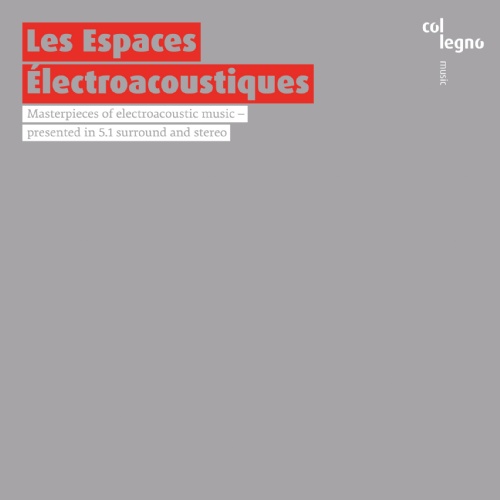 As well as the Rhona Clarke (see my previous blog post, below) other recent releases include, on Wergo, Tun Tu, a disk of electroacoustic music by Chinese composer Sing Wang; Wechselspiele, vocal and instrumental works from Tom Sora; and Midstream, and Midstream, a disk of chamber music from Japanese composer Keïko Harada.
NMC has released a couple of new albums: a varied selection of music by Rolf Hind, including his Viola Concerto, chamber works and I am I Say, for soprano, bass and children's chorus; and a disk of orchestral works by Simon Holt.
Naxos, meanwhile, has new recordings Jennifer Higdon's Viola and Oboe Concertos and her orchestra suite All Things Majestic; as well as new additions to the Dutilleux catalogue in the form of a new recording of his Second Symphony, Mystère de l'instant and Timbres, espace, mouvement.
Col Legno, finally, have released a rather interesting disk of classic electroacoustic works. It includes such well-known pieces as Varèse's Poème électronique, Ligeti's only two contributions to the genre Glissandi and Artikulation; Jonathan Harvey's Mortuous Plango, Vivos Voco; as well as works by Berio, Lachenmann Maderna, Boulez and Ferneyhough. These are not new recordings, of course—in many cases this would be difficult to achieve, the original documents being, in a sense, unrepeatable—but remasters. Some of the works, for example, can be heard for the 'first time in surround sound in order to show the relevance of the spatial presentation of works intended for multichannel speaker configurations or complex setups of speakers distributed in space.' This makes them a must for anyone interested in this repertoire.
0 comments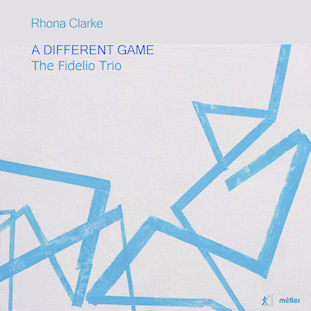 Piano Trios 2, 3 and 4 ('A Different Game'); Gleann Da Lough (solo piano), Con Coro (violin, cello and tape), In Umbra (solo cello). The Fidelio Trio, Métier msv 28561.
This new disk features three strongly contrasted works from Irish composer Rhona Clarke. Her Second Piano Trio is, by turns, darkly introspective and neurotically obsessive; the Third, in its jazz inflected first movement especially, more lyrical and harmonically relaxed. The Fourth Trio is a recent work (2016), and here one suspects that it has been influenced by Clarke's encounters with electroacoustic music—extended instrumental sonorities are explored, most notably in the very clustered piano writing. All three works are structurally lucid.
Of the three bonus pieces, I was particularly struck by Con Coro which, as the same suggests, explores mixing choir and chamber instruments. The result is exquisite.
This disk is available for streaming on both Apple Music and Spotify. It is likely to appeal to both more and less adventurously-inclined.
0 comments
The Riot Ensemble in association with Sound and Music have just begun a new podcast series exploring the world of new music. It is playfully titled Chest of Toys after an anonymous attendee at the Huddersfield Festival of Contemporary music was quoted as saying 'the problem with contemporary music is that much of it sounds like a chest of children's toys coming down the stairs.'
I've just listened to, and very much enjoyed, the first episode, which explores the creative path of violinist, composer and improviser Alison Blunt after she experienced health problems that forced her to stop playing for two years. It is embedded, below:
0 comments
There is a nice story over at Slipped Disc about conductor David Bernard's reaction to a small boy talking between pieces in a recent concert. Audience members became restless at the disturbance, asking his parents to take him out. Bernard's reaction is priceless.
Warmed hearts aside, the incident raises an interesting question about the suitability of bringing young children to concerts of classical music. In the first instance one might be inclined to say that the parents were wrong to bring the child. In the end, however, the conductor was able to turn the situation into an valuable lesson, and not just for the child.
If music is to be accessible to all, it needs to be welcoming to all. Part of that is a willingness to be flexible about concert conduct. Whilst it is important that others can listen to the music without interruption—a lesson properly learned in the Bernard story—I have never, for example, understood why people get so prissy about spontaneous applause between movements. Are we really so delicate as to let such small things disturb our enjoyment?
0 comments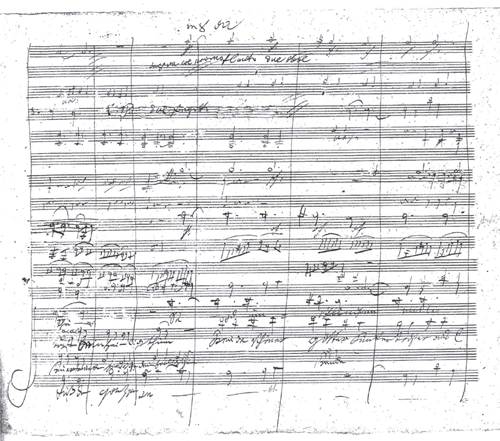 Charlotte C. Gill's article Music education is now only for the white and the wealthy, published in The Guardian on 27th March has caused quite the furore. A response by pianist Ian Pace has so far gathered over 500 high-profile supporters, including conductor Sir Simon Rattle.
Gill's article begins uncontroversially. She is correct to observe that music is being squeezed in schools, the subject becoming ever harder to access. She also appears to grasp that one of the problems faced is that pupils can only access the subject if they have access to individual (or at least small group) tuition. The scandal here, as everyone knows, is that schools are no longer able to offer free instrumental lessons, which was always a key part of progressing in the subject. This has left ambitious parents and children little option but to seek private tuition.
It seems strange then that whilst, on the one hand, bemoaning the fact that this kind of high-quality teaching is not available for all, that Gill proposes to dumb down the whole subject so that, presumably, such academic rigour is not needed anyway. Her attack focuses specifically on music notation, which she calls:

'a cryptic, tricky language–rather like Latin'
So tricky, in fact, that most children can pick up the fundamentals in a few years of regular tuition (arguably less time, but I choose a period that allows the child to attain some fluency).
And like Latin it 'can only be read by a small number of people, most of whom have benefited from private education'
Gill manages to make it sound as if learning notation were an esoteric and morally dubious activity only pursued in top public schools. As she has already implied and we have already said, however, the scandal is that one-to-one tuition (which includes the study of notation) is not available for all, not that it shouldn't be available at all.
And she concludes by saying that 'Children who do not have the resources, or ability, to comprehend it, are written off. Even when they are capable performers.'
I think most schools would take issue with this. They do their best under difficult circumstances to nurture the talents of their pupils, as Gill accidentally proves when recounting her own experiences. She mentions that she was one of those frustrated, abandoned pupils, then rather spoils it by saying that: 'At secondary school, I was fortunate enough to have a teacher who picked up on my passion. One day he pulled me aside, and said "you like music, don't you?" before throwing me into two choirs, as well as singing and piano lessons. I learned Mozart, West Side Story and can now sing in Latin [that cryptic, tricky language!], German and Italian, eventually getting my grade 8.' I would suggest that this experience is rather more common that she realises.
There are other problems with the article. Gill seems to imagine that there is an oppresive academic elite (what is it with elites at the moment?) that prevents anyone from making progress who cannot read music. This has never been the case—ask Paul McCartney, who seems to have done quite well as a non-reader. There are plenty of musicians operating in genres of music that have traditionally not required notation and, in fact, schools cater rather fully in classroom music lessons for non-readers, many of whom study the subject further. Where there is a disconnect, and a genuine problem, is that eventually, usually around the A Level stage, these classroom musicians fare less well because they need to engage with the subjection in a more academic way. This does require notation. At this point it would be possible to have a genuine conversation about the merits of a more practical line of study for those pupils, but we cannot pretend that a deep understanding of music can be achieved without recourse to notation, any more than one can study languages without reading.
Gill also says that she cannot join the many choirs that insist that members can read music. So why not join one that doesn't? There are plenty of them, and standards of sight-singing vary so widely, even amongst trained musicians, that such a requirement is more honoured in the breach than the observance. We cannot, however, apply these amateur standards to our top music groups. Imagine the BBC Singers open to non-readers. Or, whilst we are at it, our top orchestras. That would make rehearsals pretty interesting. The fact of the matter is that music, particularly classical music, is a rigorous, difficult subject that requires years of study before any kind of mastery is attained. In this respect, like all serious subjects, it is elitist. The important thing is that the path to mastery is available to all though education, not that the subject is crippled by a creeping philistinism that insists that everyone's contribution, regardless of their training, is equally valid.
0 comments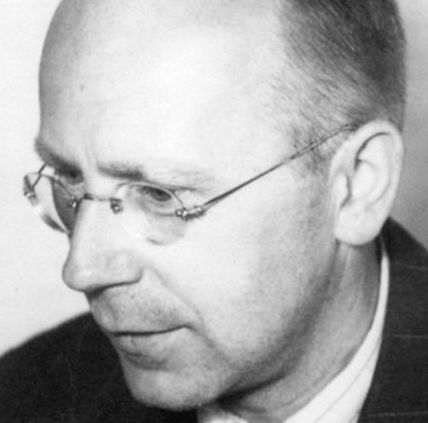 Hermann Meier, 1945
The IMS conference ended a few days ago. I meant to mention a few of the final papers at the time, but got tied up with other things, mostly sightseeing—Japan is a very lovely country indeed.
If I'm honest, the papers at the conference varied alarmingly in quality. It's actually better, I learned, to go to papers of people that you know will do a good job, regardless of the topic. With that in mind I saw a superb presentation given by John Rink, an old lecturer of mine who is now at Cambridge. He spoke with wit and insight on performance practice in Chopin. There was also an interesting session on film music, with Gregory Camp's paper on the various means by which an actor may be musically characterised standing out. I was also pleased to be introduced to a largely unknown Swiss composer, Hermann Meier (1906–2002), in a paper given by Michelle Ziegler of the Hochschule der Künste Bern.
Meier was a primary school teacher by day, by night a composer of some substance. His long career followed some of the major trends in Europe music. He wrote in the dodecaphonically until 1952, later adapting a more personal serial style in works such as Klaviervariationen and Stücke (1956 and '57 respectively). In the 60s he began using montage, the subject of Ziegler's fascinating lecture. In doing so Meier sketched using graphical representations of his musical material (which occasionally also became a final score). These representations are influenced by artists such as Piet Mondrian. Indeed, his sketches, many of which we were shown in the presentation, are works of art in themselves: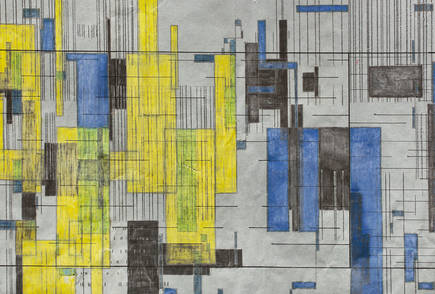 Graphic sketch for Mauer for winds - Piece for large orchestra and three pianos HMV 60 (1964)
In the 70s Meier was introduced to electronic equipment at the Südwestfunk's studio, subsequently realising a number of works for the medium. He stopped composing in the late eighties.
For those interested in seeing Meier's sketches, they will be exhibited at Kunstmuseum Solothurn on 28th October 2017.
The graphics were, of course, only a part of the composing process for Meier—in most cases they were realised in normal staff notation. Here are is a playlist of Meier's music:
Further examples of his works are available, here.
0 comments
To keep up to date with the latest contemporary music news, don't forget to follow C:T on Twitter. Here are a few tweets from today....
0 comments
I am currently spending a few days as an observer at the International Musicological Society's 20th Annual Congress (19th–23rd March) in Tokyo, partly to provide company to my partner, who is giving a paper on Thursday, partly because there are so many interesting topics being discussed, many of which relate to contemporary music. It has so far been a lot of fun, if a little bewildering—the programme is so packed that many papers occur at the same time, often of things you would like to attend. We are also based in Chigasaki, some way from the centre of Tokyo. This makes getting to the morning sessions tricky.
As well as the lectures, there have been a couple of concerts organised as part of the event. The first was the performance of Gagaku, held before a sake-fuelled opening reception on Sunday night. It was my first live experience of this elegant and ancient art form. We were treated to both traditional Gagaku works, and a modern piece by Sano Kōji. This latter was clearly respectful of its roots though it made me wonder what might be achieved by taking a rather freer approach.
Last night there was a concert of contemporary music. It provided a superb showcase for graduates of the Tokyo University of the Arts (which is hosting the conference), almost all of the performers having attended the institution. Of the works, Regis Campo's witty and well-heard Pop Art (2001–2) and Grisey's more substantial Talea stood out. Kenji Sakai was in the audience to hear his Monopolyphonie/Défuguration for solo cello, a work that effectively explored the possibility (or not) of writing polyphonically for the instrument. Boulez's Derive I left me rather cold; dating from 1984 it feels rather less substantial than some of his more cerebral early efforts. Most bewildering, however, was Wolfgang Rihm's Fremde Szene II for piano trio. It was easy enough to hear the work as a kind of dialogue between Rihm and Schumann, much of the figuration and even the harmonic writing deriving from the latter, but there was a heaviness to the writing with problems of balance that did not derive from the performance.
I would write more, but finish this in haste. Hope to catch the keynote lecture by Toshio Hosokawa this afternoon, as well as a session on twentieth century French music….

0 comments
Sam Hunt is a PhD researcher at the University of the West of England in the Department of Computer Science and Creative Technologies. His current research is looking into technology that can support computer based music composition, specifically looking at integrating algorithmic music techniques into existing composer workflows, as well as music analysis and visualisation techniques.
He has designed a survey that looks to understand current composer workflow and practice, and invites music practitioners and professionals to participate in it. A link to the survey is included below. The survey should take around 10-15 minutes and any response is greatly appreciated.
Link to survey: https://uwehls.az1.qualtrics.com/SE/?SID=SV_6xL3TLfZiXOIV4V
Output from this survey will inform the design of new composition software and hopefully provide a significant research contribution to the field. If you have any questions, comments, or suggestions, Sam can be contacted directly through the following email address: samuel.hunt@uwe.ac.uk.
0 comments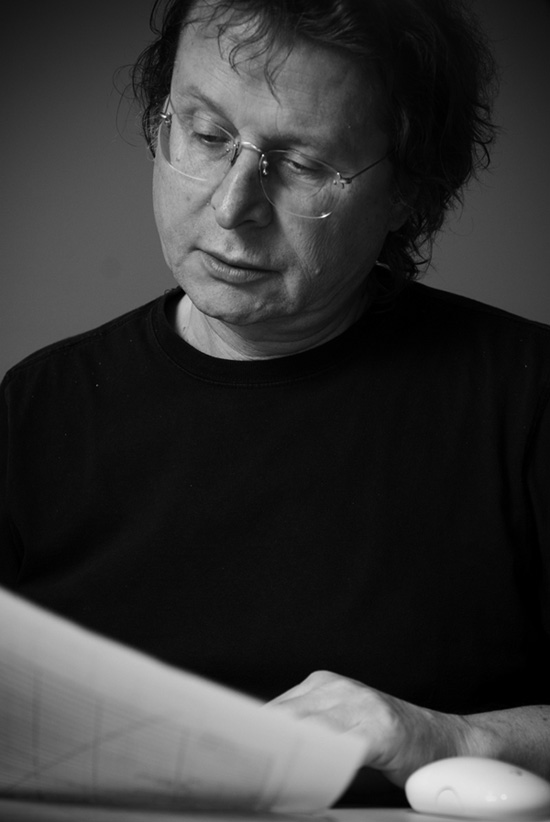 Photo: Tristan Murail
A belated happy birthday to Tristan Murail, who turned 70 on 11th March. At a time when composer birthdays are marked with endless retrospectives and whole years dedicated to their work, it seems strange that such a respected figure is not being fanfared a little more. Perhaps spectralism is out of fashion…
I would have mentioned him at the time, but was preparing for a trip to Japan. Now arrived, my intention was to do a little roundup of new music events from this corner of the globe, but it turns out that this is rather the wrong time of year, both in terms of season and because one of the main concert venues, the Suntory Hall, is closed until the end of August for renovation work. I will, however, be going to a concert of contemporary music organised by the IMS conference (one of the reasons why I am here) on Monday, so may have more to say after that. Just as interestingly I'll also have my first authentic taste of Gagaku, traditional Japanese court music. The conference itself offers a bewildering range of papers (371 free papers, 23 roundtables, and 12 study sessions to be exact) packed into just four days. I've already got a few things earmarked, and am especially looking forward to a keynote lecture that will given by Toshio Hosokawa.
What is true of Japan is true of the rest of the world—contemporary music seems really to get into its stride with the onset of festival season around May. Those looking for something in April, however, could head to the Malta International Music Festival (12th–30th). The composer in residence, Alexey Shor, has pieces being performed in almost every concert. In the UK, meanwhile, the Barbican will host a mini-festival, Sound Unbound 2017, on the weekend of 29–30th. Highlights include music by John WIlliams, experimental music from Gabriel Prokofiev and Nonclassical, some Nordic Noir from the The Samuelsens string duo and a site specific piece by Anna Meredith for the Curve Gallery.
Lack of festivals does not mean a lack of individual premieres, though these are quite scattered around. For a complete breakdown, take a look at C:T's concert listings. Almost every event includes a premiere. A few that jumped out at me include a Viola Concerto from Andreas Zhibaj in Stockholm on 5th, an as yet untitled orchestral work from Esa-Pekka Salonen in Los Angeles on 13th, a Trombone Concerto by James Macmillan in Amsterdam on 20th and a new chamber work by Colin Matthews in Winchester on 28th.
Talking of James MacMillan, younger composers will want to consider attending his Inspire Session at City Halls Glasgow on 2nd April. Part of the BBC Proms Inspire scheme, it will offer the chance to hear music by Macmillan and to submit pieces for performance by BBCSSO musicians. Those who wish only to observe the workshop section are also encouraged to attend.
0 comments
A very happy birthday to Samuel Barber, who would have been 107 today. To mark the occasion, here is a preview of a soon to be released documentary about the composer, made by Paul Moon. More information about the film is available at its official site, or on Facebook.
0 comments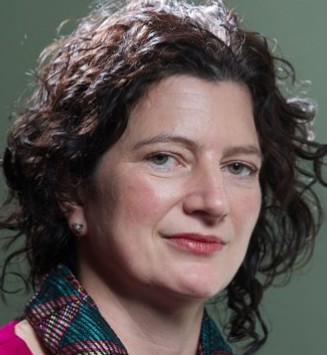 Susanna Eastburn, Chief Executive of Sound and Music

Today is International Women's Day, which celebrates the 'social, economic, cultural and political achievements of women' whilst calling for action to accelerate gender parity.

In this context two articles recently caught my attention. One had geographical relevancy to me, having just moved to the Flanders region of Belgium. It describes a study of 5,227 students from the area, asking them to rate their interest in 24 leisure activities, including in the arts; the extent to which they felt typical of their gender; and whether they felt pressure to conform to gender stereotypes. The result was that 'the more typical a male adolescent considers himself to be, the lower his interest in highbrow culture'. Conversely, the 'more gender congruent a female adolescent is, the higher her interest in highbrow cultural activities.' It went on to observe that this gender gap is reflected in the US in females outnumbering males both in school musical groups and in audience attendance for all highbrow art forms.

The second article was Chief Executive of Sound and Music, Susanna Eastburn's passionate advocacy of female composers in The Guardian on Monday. In her piece she noted that in 2014, a study found that at every stage of development 'the gap between male and female applications widened – from 50% at GCSE level, to the 35% female applicants to our summer school, to the 25% female applicants to Sound and Music's various professional artist development programmes.'

Putting the two studies together begs the obvious question: if women are statistically more likely to be interested in the arts and to be more involved in music-making as students, why are they not following through and becoming composers? Why are they are turning from being creators and participants as youngsters to consumers only as adults? It seems abundantly clear that something, somewhere, is going wrong.

With the weakening of the liberal consensus both in the US and Europe it has become more acceptable to criticise efforts to redress gender imbalances. Some would even argue (as has Milo Yiannopoulos with regard to women in science) that Eastburn's statistics are simply a reflection of women making life choices and even that there are roles to which men are more suited. Just as insidious, however, is a more subtle and unconscious bias against women composers. As Eastburn observes: 'Unconscious biases…can take many forms, from asking questions about their personal lives rather than their music, to offering shorter or lighter commissions, or even (a real-life example) asking a famous female composer who had helped her with her orchestral piece, because she clearly couldn't have done it all by herself.'

It would seem that such conscious and unconscious views are a product of hundreds of years of predominantly male musical history. The stupidity of allowing our judgements to be clouded by the past is evidenced, however, by how much progress we have actually made in the last forty years. If I think only of my native UK, the profession is effectively led by a woman, with Judith Weir as Master of the Queen's music. I was lucky enough to receive tuition from her and another woman composer, Arlene Sierra, as a student. And more widely we have names such as Helen Grime, Tansy Davies, Rebecca Saunders, Errollyn Wallen, Cheryl Frances-Hoad and Charlotte Bray. There are many more.

This is what makes Susanna Eastburn's argument so compelling. The point is, we have made progress, but not nearly enough. The statistics suggest that women composers are still being lost as they progress through the various stages of their training. But, conversely, when we realise the female talent that, against the odds, has managed to break through, the question becomes: what music are we losing because of our failure to support and promote women composers? As Eastburn says, 'it's not about tokenism, it's about talent.'

0 comments

Archive
1 | ... | 4 | 5 |

6

| 7 | 8 | ... | 21 |

Concert Listings Today & Tomorrow: