C:T talks to David Greilsammer, pianist, conductor, and artistic director of Geneva Camerata, whose performances of Cage and Scarlatti sonatas come to the UK in Feb 2017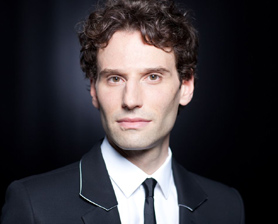 David Greilsammer

Tell us something about your background.



I was born and raised in Israel, in a very artistic home. My parents were not artists themselves, but they always cherished culture, music and arts, and made us kids understand how vital these elements are in our world. Thanks to them, I was able to discover the world of theatre, dance, painting, and literature, which today are all very central to my work. After my military service in Israel, I went to New York to study at the Juilliard School. This was an important experience in my life, because being in NYC when you are young gives you the opportunity to meet the most fascinating people and create magical collaborations with other artists. I moved to Europe after my studies, because I felt that for the programmes that I want to create, I would have more opportunities — especially since my involvement in contemporary music was growing at that time. After signing my first recording contract in France, I went on to live for 5 years in Paris, and that gave me the chance to discover both the Baroque scene and also the avant-garde contemporary world. Today, I live in Geneva, where I serve as conductor and artistic director of the Geneva Camerata, an orchestra that performs wild, eclectic, and challenging programmes!



Tell us about your recital of Scarlatti:Cage:Sonatas - what gave you the idea to pair these two composers?



I always deeply loved these two composers, because each one, in his own way, seemed like wanting to break the boundaries of sound. These two had a very clear mission, to go beyond everything that had ever been done with sound, instead of doing the same thing as others very well. And then, one day, I truly realised how stunning the similarities between their respective Sonatas are: the form was the same, the kind of writing was very much the same, and even some of the harmonies — as strange as it might sound — are similar. Their treatment of "dissonance" is very organic, very poetic. They are both radical composers, but in a constructive way that makes the listener very much "absorbed" by sound and colour. So I decided that it would be interesting to pair them. In my recital, I alternate between one and the other's Sonatas, without any break, hoping that the lines will be blurred, as much as possible…



Is finding relationships between old and new music typical of your approach?



Yes, it is a central part of my work in the last few years. The most important aspect of arts for me is searching for unique encounters, and creating a dialogue between opposite poles. It does not have to be between old and new, it can be between many other kinds opposites, but I am always interested to see what happens when two entities that were never supposed to meet, suddenly have an encounter. It is a wild moment.



What excites you about a piece of music - what keeps you interested?



I love working with the composer and to me that is an essential part of the excitement about performing a new piece. I love the long discussions between an interpreter and a composer before the process of writing starts, because these are such intense and pure moments, giving birth to a new piece of art. Of course, the excitement of the actual world premiere is always huge, but the actual process of seeing a new piece being born is to me probably the most extraordinary aspect for a musician. I truly live for that, and nothing else is more important I think— even Mozart and Beethoven are not as important as something new.



And what turns you off ?



I love many different styles of contemporary music, and I do not have a preferred "aesthetic" for new music. But I don't like it when performers choose the most "crowd-pleasing" contemporary work they can find, just so that they can say, "you see, I play contemporary music too!" It is not right to do things this way: as a performer, you have to challenge yourself, and you have to challenge your audience! Don't be afraid of making your audience upset or mad, don't be afraid of making them uncomfortable. It is part of being an artist. You are not there to just please people.




How do you respond to unsolicited work- do you give feedback? Do you ever commission new work yourself?



I mostly commission myself new works. I search for new things, I meet people, I ask colleagues for advice, always hoping to discover new, fascinating voices. For me, it is a very "active" part of what I do.



What do you see as the role (intended and actual) of new music in the modern world?



Without new music, classical music does not have any true purpose, in my opinion. Performing Bach, Chopin and Schumann is important, of course, because as classical performers we have to keep presenting this sublime music to new audiences, and keep making it a relevant art. But without contemporary music, these composers of the past will loose their purpose — they need to be presented in the context of today, and not just in the context of "great music from the past". These old composers will survive only if they are accompanied by sounds of today, I am convinced of that.



What advice would you give to a young composer just starting out?



Search for your own voice. Get inspired from all the great teachings and ideas of your teachers, mentors, and colleagues, but then, do your own thing. And fight for it.




What are your plans for the future?



With the Geneva Camerata we have some very unique projects coming up on tour, including a lot of new music. I am very excited about our orchestra's very first album that is going to be released next season — it is a crazy encounter between Baroque, Classical, and Jazz. The repertoire goes from Lully to Ives, with the most surprising dialogues between different musical worlds. I am also excited because in this album, I am conducting the Ravel Piano Concerto in G from the keyboard, for the very first time!

Find out more at: http://www.davidgreilsammer.com/
Wigmore Hall concert: https://wigmore-hall.org.uk/whats-on/david-greilsammer-201702271300


Interview by Composition:Today © Copyright 2004-2023



Comments by other Members
Posted by :

vubisobo at 10:53 on 08 February 2020
David's interview can be listen through the different pages and some blogs are helping as well. According to different steps, <a href="https://www.resumesplanet.com/">resumesplanet</a> is sharing all the details that will lead the users in giving the different formalities.
Posted by :

vubisobo at 10:55 on 08 February 2020
[url=https://gogole.com/]google[/url]
Posted by :

RonniLBarron at 08:12 on 03 February 2022
I am searching for the David Greilsammer interview online and I am so happy now after finding your post. Today I am so happy because I have found David Greilsammer's interview on this page and also I have found the https://www.bestessaytips.com/phd.php link on a google search. I am not good at writing an essay and I was worried about my essay assignments. But after finding that website, I have taken help from their professional essay writers and now I am all free from my homework.
To post comments you need to become a member. If you are already a member, please log in .