Other Resources

News Archive
Sax Workshop Sept 07

Luca Vanneschi - Ripavecchia, 16 luglio

Luca Vanneschi's piece had some interesting multiphonics. A couple seemed to have the wrong key (B instead of Bb) notated, but otherwise they produced some nice effects.



( Download Piece - 603Kb )



What do you think? Add your comments below.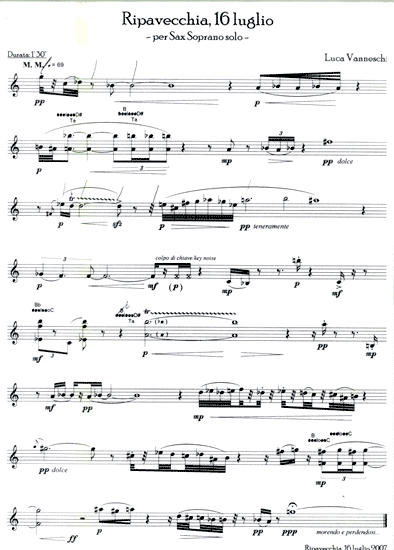 What do you think? Add your comments below.






Comments by other Members
Posted by :

augustsmp at 20:03 on 26 September 2007
Mr Vannoschi -

Your piece I find especially enjoyable as it gave me great pleasure to hear for two reasons -

a) the wonderful potrayal of so many psychological states reflected in the possibilities you explored (the a natural B flat multiphonic -- I wish I had written that!)

b) the amount I could learn from this little gem is impressive (especially the motivic development)!

Thanks

C Sahar
To post comments you need to become a member. If you are already a member, please log in .