Other Resources

News Archive
Horn Workshop July 05

Jeff Morris - Etude No.3 for horn



Jeff Morris's piece was one of the most intruiging we received, and Tim was keen to spend some time looking at the issues it raised. Jeff's score used natural untempered harmonics and Jeff had notated it using T for Thumb and 1,2,3 for the valves. The thumb indication was to tell the player to press the F switch to use the F part of the horn (where most modern horn's have both an F and a Bb system and switch between them using the F key) , but on Tim's horn the setup was reversed, so the indications were misleading. Tim suggested simply writing F for sections to be played on the F horn and Bb for Bb sections. (We will give a full explanation of the horn system on C:T at a later stage).

The second major issue was bars 11-13, which Tim said were not playable (we have left them out of the recording). Bar 13 in particular is not playable at the pitch written because lower stopped notes sound more than a semitone lower than their unstopped counterparts (again we will attempt to explain this in greater detail elsewhere).

Tim also said he would have prefered the the notation of the untempered notes to be without quarter-tone notations, which he found confusing, especially the Cs (eg in bar 2) which are closer to a C#. Tim mentioned the precendent of Benjamin Britten Serenade which similiarly notates the same harmonic as flat rather than sharp, and that may be the reason other composers have followed suit.

Finally, Tim said that when playing on the G harmonic series it was necessary to adjust the tuning of the instrument and this had lead to some of the notes in bar 21 sounding almost the same as their neighbours, but at the speed requested the effect was still worthwhile. Again, space does not permit a full explanation here, but we hope to cover these issues in more depth in a separate article.

Overall though, Tim said the piece was a delight to play and very well written for the horn. His interest in the piece was clear by the extraordinary amount of homework he had done to ensure he was using the correct fingering throughout. The extract performed is shown below, at written (transposed) pitch.

morris.mp3 (1159Kb)


What do you think? Add your comments below.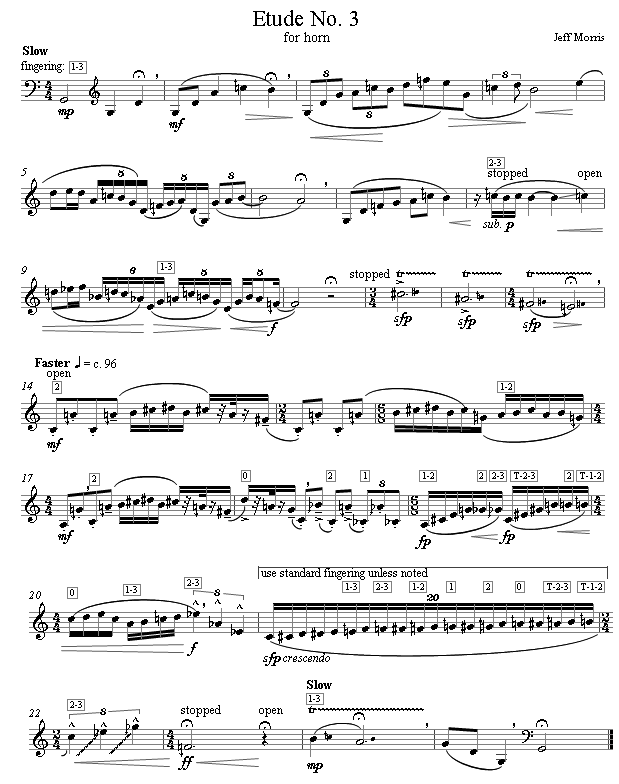 What do you think? Add your comments below.






Comments by other Members
Posted by :

Klatt56 at 02:43 on 26 August 2020
I am trying to read about this workshop and their services. The experience was really amazing with best option to have [url=https://www.resumehelpaustralia.com/careers-booster-review/]careers booster[/url] from sound bank. They all making us proud with your resources and articles.

To post comments you need to become a member. If you are already a member, please log in .