Other Resources

News Archive
Horn Workshop July 05

Peter Lawrance - Excerpts for Solo Horn



Peter Lawrance provided two excerpts which Tim said were very well written for horn. Tim liked Peter's notation for the glissandi in the first extract, saying it was clear which harmonic the grace notes needed to be played on and there was no need for further explanation in the score.

The second extract, to be played all on the C harmonic series, was also clear, and Tim said he prefered this clean way of writing the out-of-tune notes, rather than attempting to notate the fact that notes were slightly sharp or flat. The extract performed is shown below, at written (transposed) pitch.

lawrance1.mp3 (279Kb)
lawrance2.mp3 (191Kb)


What do you think? Add your comments below.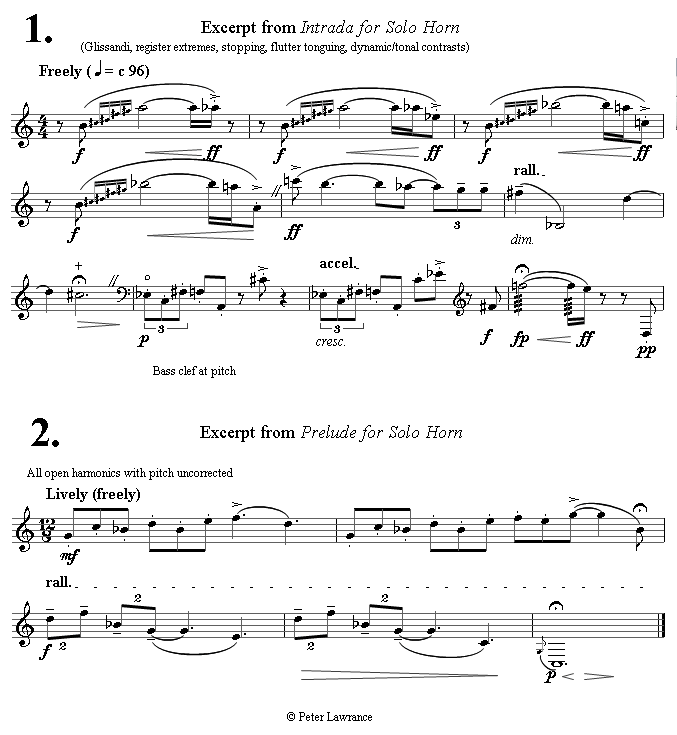 What do you think? Add your comments below.






Comments by other Members
Posted by :

Klatt56 at 06:01 on 08 March 2020
We are really happy for receiving the best articles on horn workshop lawrance. The following stories you must catch for term paper writing service reviews compositions. Then we all happy to know the importance of these articles.
To post comments you need to become a member. If you are already a member, please log in .