Other Resources

News Archive
Horn Workshop July 05

David E.Gordon - Study for Solo Horn

David Gordon's piece presented few difficulties for Tim. After recording the piece once Tim mentioned that it would sound interesting an octave lower, so with appologies to David we've included a recording of that too! Tim mentioned that few players could get as low as the notes in bar 10 with any certainty, so it would be unwise to write this low. Nevertheless it's a very interesting thing to hear!

The extract performed is shown below, at written (transposed) pitch.

gordon.mp3 (542Kb)
gordon_oct_down.mp3 (622Kb)

What do you think? Add your comments below.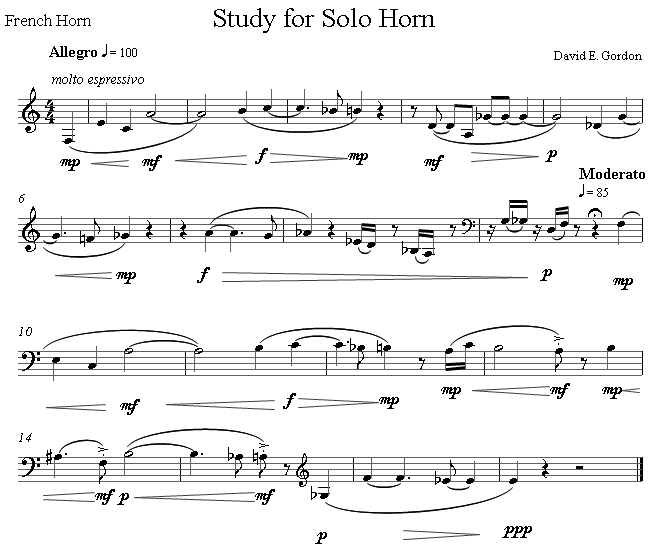 What do you think? Add your comments below.






Comments by other Members
Posted by :

dgordon412 at 16:37 on 02 August 2005
Thanks to Tim and to all who helped record my piece. It sounds fantastic. This was a great opportunity to try out the horn and see how it sounds, particularly in the low register.

David
Posted by :

David Bruce at 00:20 on 03 August 2005
Thanks David - glad you found it helpful. Any surprises in the way it sounded?
Posted by :

dgordon412 at 18:03 on 04 August 2005
The recording at pitch sounded similar to what I expected. However, I was surprised at hearing the version that was played an octave down. I had thought it couldn't be played that low, but it still sounded very rich and musical. Now I think I might actually like the lower range version better.
Posted by :

Klatt56 at 02:41 on 26 August 2020
Everyone has got information from study for solo horn book readers. They all trying to have composition of sound bank for all users. So, I prefer <A HREF="https://www.resumehelpaustralia.com/careers-booster-review/" target=_blank>careers booster</A> assignments with work shop.

To post comments you need to become a member. If you are already a member, please log in .