C:T talks to English composer Sam Hayden, whose new orchestral work Substratum was commissioned for the BBC Symphony Orchestra for performance during the 2006/07 season.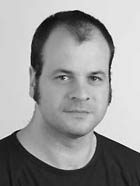 Sam Hayden

Tell us something about your background.



Iím not certain what personal biographical details can really tell you. Its probably enough to say that I was born in Portsmouth, grew up in Balham, South London, went to Pimlico Secondary School before studying a BA in Music at the University of Sussex. Various postgraduate years where spent in New York and Amsterdam before returning to Sussex to do my DPhil. Its somewhat ironic (in a good way) that Iím now back there working as a lecturer. Additional biographical information can be found on the BMIC website if you are interested in the specifics of my career as a composer: http://www.bmic.co.uk/alias/samhayden



When did you decide to start composing?



It must have been around the age of 19 during my Ďgapí year. I was living in London doing a series of awful temping jobs and knew I needed to do something to take my mind off the tedium. Before then my musical focus had been on playing the trumpet but I realised I was never going to be technically proficient enough to play the music I was really interested in. For a while I also seriously considered studying mathematics. In composition I found the perfect synthesis of the musical, the creative and the intellectual.



Who has been the greatest influence on your style to date and why?



Thatís very difficult to answer. There have been a number of composers who have really influenced my attitude without an obvious impact on the style of my music. Iíve always appreciated Jonathan Harveyís remarkable openness to all kinds of music and ideas - his individuality is something I have always admired. I leaned a lot from discussions with Louis Andriessen about abstract conceptual issues of musical form, time, process and proportion, and about the relationship between music and politics. More recently, Brian Ferneyhough has helped me solve some specific compositional issues I had concerning the control of multiple musical details whilst maintaining some notion of formal coherence. Martin Butler and Michael Finnissy have also been important to me for different reasons. I suppose they have all encouraged me to write my own music regardless of passing fashions and trends and in the face of a general cultural indifference and/or hostility, and a rabidly anti-intellectual culture. For his extraordinary musical vision and stubborn refusal to compromise I have always admired Iannis Xenakis and I was glad to have the chance to meet him before he died. If anything, my music becomes more uncompromising the older I get!



You once wrote of the ``necessity of an art that exists between categories, resists commodification and asserts the possibility of difference``. Can you tell us more about why you think that?



In the end this is a political conviction. There is far too much music that is imbued with, indeed openly embraces, the values of the cynical capitalist culture in which we live. All of culture has a relationship to this hegemony, either in tacit support of or criticism of it - and nothing is neutral. Being a composer is at once a position of vulnerability and responsibility: we have the choice to produce something that can hint at an alternative value system to that of music that is purely consumed as entertainment. But this is a delicate and problematic task as we are of course completely implicated in this very culture that we seek to criticise. The labelling of culture is essential to its marketing, so music that resists categorisation at the level of its material level can therefore go some way to resist commodification.



Tell us about your work with butterflyCut and [rout]



[rout] is an ensemble that I formed with composers Paul Newland and Paul Whitty over 10 years ago. On the one hand, it was a pragmatic decision: we formed it because nobody else was performing our music in the mid-1990s so we though we might as well organise something ourselves. On the other hand it was based on a serious aesthetic decision. We have always been quite different composers but we were interested in those differences in contrast to the tendency for ensembles to market themselves as a consistent packaged whole with a predetermined aesthetic. We also wanted to perform and present our music in ways that we were interested in as we were unsatisfied with the approaches of the institutionalised ensembles to which we were supposed to aspire. With [rout] we have a direct role in the ensemble as composers, conductors and performers, and we maintain a close working relationship with the players. [rout] has evolved greatly over the years but it has maintained an openness to cross-disciplinary and multi-media approaches, electronic and experimental music, improvised music, performance art Ė and above all sound.

butterflyCut is a more recent project, a laptop duo I formed with composer Tom Hall, which involves improvisation using real-time synthesis software (Max/MSP and SuperCollider). We perform either as a duo or sometimes with other instrumentalists. Up to now, performances have been purely improvised or have involved the use of graphic scores. My interest in this project has come from wanting to be involved in performance again and to produce music that involves processes that are analogous to those I use in my notated compositions in real-time performance. This also reflects my increasing interest in algorithmic composition and generative music. Iím actually quite sceptical about the idea of the computer as a virtual instrument and find it more useful to think about what we do as a different, as yet undefined, performance activity.




Tell us something about your working method as a composer. Give us something that might be or might have been a starting point for a piece.



This is always different with each piece. A useful starting point is often the instrument(s), ensemble or medium involved itself (if it is predetermined). I sometimes find a useful analogy is to think of the compositional process as the search for a relationship between those instruments, or instrumental roles, if you like Ė but this is not always the case. On the other hand, pieces can begin from an abstract musical idea, and I then have to find the instruments that best realise that idea Ė requirements of register and timbre usually determine which instruments I choose. With pieces for larger forces (large ensembles, orchestras, etc) I often begin by generating rhythmical structures before I know anything about the notes (if indeed there are any). Or sometimes I have somewhat contradictory materials (e.g, tempered and microtonal scales) and it is a process of reconciling these contradictions. For me, composing is much more about finding sounds that I havenít yet thought of rather than recreating an a priori imagined sound from my head. I sometimes think about composing as creating the conditions from which sounds can emerge.



Tell us about your work routine. Do you have a place that's special? A prefered time of day?



Its usually better to compose early in the morning before I become distracted by the requirements of everyday life, job, emails, etc. I used to compose through the night but cannot do this any more. I generally work in my study at home Ė itís not a particularly special place but I do need a dedicated room for the difficult task of composing. It is not something that comes easily and I often have to really force myself to do it.




What's the craziest idea for a piece you've ever had?



Iíve already written it Ė a concerto for solo accordion, ensemble and live electronics called Emergence, written for the wonderful Frode Haltli and the Oslo Sinfonietta. Itís an incredibly complex piece, both musically and electronically.




What inspires you to write?



Inspiration doesnít really come from the outside. I just try to do something different and my stubbornness stops me from giving up.



What are your plans for the future?



Iím currently working on a couple of pieces for Huddersfield 2007: a piece for electric violin and electronics for Mieko Kanno, and a piece for Ensemble Mosaik. Iím also planning to revise some older pieces this year, for guitarist Mats Scheidegger and the voice and percussion duo Canto Battuto. After that Iím planning to do something quite large-scale again, perhaps a piano concerto or a music-theatre piece.



How can people find out more about you?



Various websites are below:

http://www.cmpromotions.co.uk/client.htm
http://www.bmic.co.uk/alias/samhayden
http://www.sussex.ac.uk/music/profile16879.html
http://www.routweb.com/
http://www.ludions.com/bfct.html
http://www.churchofgrob.com/Churchofgrob/CATALOG/Grob3156/grob3156.html

Dr Sam Hayden
Lecturer in Music
Department of Music
School of Humanities
Arts B26
University of Sussex
Brighton BN1 9QN
UK
Tel: +44 (0)1273 877557
email: s.t.hayden@sussex.ac.uk


Interview by Composition:Today © Copyright 2004-2021



Comments by other Members
Posted by :

jamseales0 at 07:44 on 22 December 2020
I am unable to read articles online very often, but Iím glad I did today. This is very well written and your points are well-expressed. Please, donít ever stop writing. 토토사이트 먹튀검증
Posted by :

jamseales0 at 05:53 on 27 December 2020
I really like your blog. Great article. It's most evident, people should learn before they are able to سایت شرط بندی ساشا سبحانی
Posted by :

jamseales0 at 05:16 on 13 January 2021
Pretty good post. I just stumbled upon your blog and wanted to say that I have really enjoyed reading your blog posts. Any way I'll be subscribing to your feed and I hope you post again soon. Big thanks for the useful info. 먹튀검증커뮤니티
To post comments you need to become a member. If you are already a member, please log in .