C:T talks to composer Ross Lorraine, whose music has been performed throughout the world at many major music festivals. It ranges in style from extreme experimentalism to accessible songs for music-theatre. within what changlessness can be heard in this season's BMIC Cutting Edge Series, performed by Ensemble Exposé on 9 December at The Warehouse in London.

Listen to an extract from Ross Lorraine's New Work for bass clarinet (MP3 938Kb)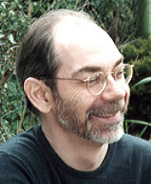 Ross Lorraine

Tell us something about your background.



I'm from Bristol originally. I studied music at Cambridge, with Hugh Wood for composition. I moved to London, and ten years later I did postgraduate studies with David Lumsdaine at King's College London, and then for four years with Harrison Birtwistle, leading to a PhD in Composition.



How did you start composing?



It took me a while to get going as a composer. I was given a ukele when I was about five - I'd go round the local shops playing Beatles songs and the shopkeepers would give me sweets and fruit. When I was a little older I would make stuff up at the piano, improvising for hours.

I remember taking an old piano to bits, making extraordinary sounds with pieces of glass stuck between the strings, and playing with an old broken harmonium, attaching it to a hoover to see what would happen... Occasionally I'd write things down, but I was a late starter in terms of "proper" music. I picked up several instruments to a fairly basic level, but music wasn't an option at my school, and in fact I got in to Cambridge to do Philosophy and changed at the last moment.

It took me a long time to get over the feeling that I was a bit of an interloper, but perhaps feeling like an outsider is good for developing an
independent attitude.



Who or what has influenced your style?



I used to play jazz and ethnic music on violin and saxophone, and later free improvisation, but I've always liked a big range of music, anything from Gershwin and Thelonius Monk to Conlon Nancarrow, Monteverdi, music from the Balkans, gamelan... In modern music I suppose Stravinsky was initially a huge influence, then Varèse, and later I fell in love with Morton Feldman and Luigi Nono.



How did you get your first commission?



An early commission was from a student of mine, who gave me six bottles of wine for writing her a song. I don't think I declared it on my tax return. My rates have gone up a bit now - it would have to be a whole case.



Where do your ideas come from?



I don't know, but I like Tom Waits's answer to that one: "I get them for free, and then I sell them to you".



Do you have particular techniques - one's you come back to again and again? Tell us a bit about them.



In my more experimental pieces, I have a bit of a thing about using sounds that are in some way on the edge of predictability or stability, sometimes breaking down the playing techniques into component parts like breathing and articulation, then recombining them so that the conventional sense of musical gesture is distorted or transformed. It's something I liked about free improvisation - that there's an interplay between what you can control and what comes about through chance.

I like collaborating closely with good players, trying to push the boundaries of what they can do. With groups like the Arditti Quartet, that can be quite a challenge, because they've seen most things before. We are lucky in the UK to have so many really dedicated performers. For example, I wrote a piece called New Work for Andrew Sparling on bass clarinet (coming out on the Metier label soon) - there's no way I could have written it without his input, because almost every sound in it was arrived at by my asking him "what happens if you do this?... "

To listen to it, you might think there's some electronic treatment of the sound, but it's all live. Of course, the skill as a composer is to take those sounds and make a shape that works. I think there are too many pieces that are just pyrotechnics.



What inspires you to write?



Paintings sometimes, like Klee or Rothko, or just a sound world half-glimpsed for a moment, that I want to explore and expand on. I like big simple shapes, like expanding registers; or just blocks of sound juxtaposed, or blending into each other.

The whole idea that 'less is more' is something I'm getting more confident about, and going to Japan was a big inspiration from that point of view. I've also been doing much more accessible stuff recently, writing cabaret-type songs with a fantastic playwright /screenplay writer called Rob Young that evolved into a musical (now in the slow process of being made into a film for Working Title). That started as a return to the simple process of sitting at the piano and making up tunes that appeal to me. And I enjoy writing for theatre - I've just done the music for a production at the Almeida Theatre - perhaps because my mother was an actress, and I have early memories of the excitement of going backstage at the Bristol Old Vic as a child.



What advice would you give to a young composer just starting out?



Don't do it unless you really have to. It's a cruel world. And I need the work.



Do you have a routine? A place that's special



I'm at my best in the morning, but you know when it's going well because then you can't wait to get back to it, and you don't notice the time passing. I don't have a special place, but I do like to work with actual sounds, trying out effects for myself if it's an experimental piece, or having the feedback of sampled sounds if it's something more commercial.




Do you do other work as well as composing?



I taught composition for about ten years, at King's College London and Goldsmith's College. And I'm the editor for Harrison Birtwistle at Universal Edition.

For more information on Ross's work visit www.britishacademy.com/members/lorraine.htm


Interview by Composition:Today © Copyright 2004-2023



Comments by other Members
Posted by :

jamseales0 at 07:35 on 10 April 2021
This blog was extremely helpful. I really appreciate your kindness in sharing this with me and everyone else! [url=https://ttattack.com]먹튀검증[/url]
Posted by :

jamseales0 at 08:30 on 11 April 2021
This is my first time i visit here. I found so many interesting stuff in your blog especially its discussion. From the tons of comments on your articles, I guess I am not the only one having all the enjoyment here keep up the good work 메이저토토사이트
Posted by :

jamseales0 at 07:16 on 12 April 2021
Great Information sharing .. I am very happy to read this article .. thanks for giving us go through info.Fantastic nice. I appreciate this post. 꽁머니
Posted by :

jamseales0 at 09:48 on 03 May 2021
You have made some decent points there. I looked on the internet for more information about the issue and found most people will go along with your views on this web site. subscription website
Posted by :

jamseales0 at 08:10 on 05 May 2021
Thanks for a wonderful share. Your article has proved your hard work and experience you have got in this field. Brilliant .i love it reading. Beachbody CEO
Posted by :

jamseales0 at 07:05 on 06 May 2021
Particular interviews furnish firsthand message on mart size, industry trends, ontogeny trends, capitalist landscape and outlook, etc. Carl Daikeler
Posted by :

jamseales0 at 07:51 on 08 May 2021
Extraordinary things you've generally imparted to us. Simply continue written work this sort of posts.The time which was squandered in going for educational cost now it can be utilized for studies.Thanks What does Carl Daikeler do?
Posted by :

jamseales0 at 10:12 on 08 May 2021
I wish more authors of this type of content would take the time you did to research and write so well. I am very impressed with your vision and insight. professional profile
Posted by :

jamseales0 at 08:20 on 09 May 2021
Just pure classic stuff from you here. I have never seen such a brilliantly written article in a long time. I am thankful to you that you produced this! youtube to mp3
Posted by :

jamseales0 at 05:45 on 10 May 2021
Extremely intriguing online journal. A lot of web journals I see nowadays don't generally give anything that I'm keen on, however I'm most definitely inspired by this one. Recently felt that I would post and let you know. Carl Daikeler linkedin
Posted by :

jamseales0 at 10:44 on 10 May 2021
Extremely intriguing online journal. A lot of web journals I see nowadays don't generally give anything that I'm keen on, however I'm most definitely inspired by this one. Recently felt that I would post and let you know. Jacksonville SEO
Posted by :

jamseales0 at 07:49 on 11 May 2021
It was wondering if I could use this write-up on my other website, I will link it back to your website though.Great Thanks. 먹튀검증사이트
Posted by :

jamseales0 at 12:00 on 16 May 2021
I was impressed with the site that you created, so memotipasi many people to be more advanced, there also kunjugi me, as a comparison eye doctor Coweta
Posted by :

jamseales0 at 08:14 on 29 May 2021
I think that thanks for the valuabe information and insights you have so provided here. thc dabs for sale
Posted by :

jamseales0 at 08:49 on 29 May 2021
A very awesome blog post. We are really grateful for your blog post. You will find a lot of approaches after visiting your post. how to make cannabis edibles
Posted by :

jamseales0 at 08:55 on 29 May 2021
This is such a great resource that you are providing and you give it away for free. I love seeing blog that understand the value of providing a quality resource for free. cannabis concentrates
Posted by :

jamseales0 at 09:03 on 29 May 2021
This blog is so nice to me. I will keep on coming here again and again. Visit my link as well.. 카지노사이트
To post comments you need to become a member. If you are already a member, please log in .