C:T talks to South African composer Robert Fokkens, who is also artistic director of Sounds Underground.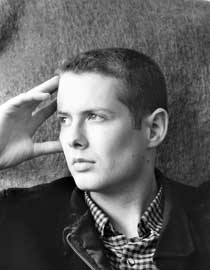 Robert Fokkens

Tell us something about your background.



I'm a South African composer working in London. I studied at the University of Cape Town and the Royal Academy of Music and completed a PhD with Michael Finnissy at the University of Southampton a couple of years ago. I have regular performances in the UK and South Africa, and have also been performed in the US, various countries in Europe, Japan and Australia.



How did you start composing?



I have sung in choirs and played the violin since I was fairly young. At high school I made some attempts at composing, and did a lot of arranging - mostly of pop music. In my gap year I worked (arranging and performing) in a cabaret ensemble, and was singing with the Cape Town Opera company simultaneously - working in music felt absolutely wonderful and natural, and Puccini sold me on being a composer.



What drives your work, what are you passions?



Given my start in composing, it won't be a surprise that vocal music and music in dramatic contexts are the things that I enjoy the most.



Tell us about your forthcoming premiere of Flights into Darkness



Flights into Darkness is a contemporary melodrama based on Oscar Wilde's iconic The picture of Dorian Gray and Austrian author Arthur Schnitzler's psychological thriller Flight into darkness. It is a dark, disturbing piece, combining music, text and drama, and was devised by the cast and myself. It is performed by actor Tom Frankland and pianist Jakob Fichert.

In this piece we are revisiting the long-neglected form of the melodrama, and drawing together texts from these two great fin-de-siecle novellas. Episodes from Schnitzler's remarkable representation of mental collapse, drawing heavily on his experience as a turn-of-the-century psychoanalyst, are interwoven with Wilde's twisted tale of art, depravity and morality.


The melodrama was popular in the early 19th century, and combines music, spoken word and dramatic action in a clearly structured relationship. The modern understanding of the word comes, no doubt, from the over-wrought style of theatre traditionally associated with this form. Both Wilde and Schnitzler have their roots in this tradition, yet undercut this with measured, at times clinical, observations - and in Wilde's case particularly, droll philosophical monologues - about the nature of madness, identity, reality and morality.


Flights into Darkness draws on these tonal resources and on contemporary theatrical practice, weaving texts highlighting these and other themes from the individual novellas into a single sinister journey through some of the darkest regions of human experience.


There are two performances - the premiere at The Warehouse in London (Theed Street, London SE1 8ST, nearest Tube: Waterloo) on Tuesday 24 March 2009 at 7.30pm, and at the Jacqueline du Prť Music Building in Oxford (St Hilda's College, Cowley Place, Oxford, OX4 1DY) on Friday 27 March 2009 at 7.30pm. Tickets are available from soundsunderground@thegreen.co.uk or by calling 07791 468398.



You are artistic director of Sounds Underground, tell us something about the group, what it does, it's raison d'etre.



This is a very exciting new role for me, having taken over as Artistic Director from the wonderful cellist Olly Coates in December.

Sounds Underground is essentially a new music event promoter. We create opportunities for composers to have their music performed by professional musicians of the highest calibre, giving them a platform for their music at a crucial stage in their careers. We collaborate with composers, performers and other artists to allow creative people to realise their visions. Launched in London in November 2004, we have already commissioned twelve new works and performed music by many emerging composers.

Our aims are to commission emerging composers and to encourage regular performances of their music; to collaborate with composers and performers to create innovative programmes; and to draw in new audiences for contemporary music. We welcome submissions of one or two scores and/or recordings from composers, and contact from performers as well, as we are always looking for people to work with.



Tell us something about your working method as a composer. Give us something that might be or might have been a starting point for a piece.



I'm not sure I can claim to have a working method, as the process seems to involve being as far away from my desk as possible most of the time. I tend to start from some sort of image or narrative - musical or otherwise - which I then explore and develop before I get any notes down. I struggle to actually start writing until I have quite a clear idea of what the piece is and a sense of how it is going to fit together as a whole.



Which non-musical influences have affected your music most?



Drama and text are, after music, the media to which I respond most strongly. I also love dance. So perhaps the human body and the voice in space are the things which I've drawn on most.



What is your musical philosophy?



I aim for clarity in my music. I also hope that my music reflects the fact that I am

non-European in some way. Most important to me though, is that a piece is interesting and has something to say for itself which the listener couldn't hear anywhere else.



Who or what has influenced your style?



There are two people who have been very important in my development. My PhD supervisor, Michael Finnissy, is an extraordinary teacher. His guidance in helping me find my voice as a composer was absolutely critical. The second person is Madosini, a South African virtuoso musical bow player - her music, and South African bow music in general, is the basis of my work on a number of levels, although this is perhaps only clearly audible in a limited number of my pieces.



What's the strangest idea for a piece you've ever had?



The most visually odd piece I've written might be a piece I wrote about the deconstruction of tango when I was at the RAM. Initially, I wanted to have three actors destroying Tango drink cans with various power tools on stage, but eventually settled for a Warholian slideshow (it was a long time ago!) of progressively mangled Tango cans.



What does the future hold for you?



In terms of writing, there are a few commissions I'm about to start, including a piece for marimba and vibraphone, and a choir and orchestra work for premiere in November. I'm also planning to work on another dramatic piece (this time with singing) for Tete-a-tete's 2010 Opera Festival.

Performances coming up include a Wigmore Hall performance with fabulous vocal trio juice on 6 April; a tour of South Africa by a Danish quartet as part of New Music South Africa's The Bow Project; two performances by Claire Booth and Andrew Matthews-Owen of my setting of David Diop's Africa for the bmic's The Cutting Edge Tour (these were supposed to happen in March but have been postponed because of illness); and the premiere of a children's oratorio in Bath at the end of April. I have also been selected for the World New Music Days in Sweden this year - I don't have any details yet, but it seems that my violin concerto An Eventful Morning Near East London, will get its second performance there.



Please list anywhere online where your work can be experienced



I don't currently have any audio material online. I'm in the process of putting up a myspace site, but a serious lack of time has prevented me getting anywhere beyond the sign-up stage at this point. If readers are interested to hear my music, please contact me through my site: http://www.robertfokkens.co.uk


Interview by Composition:Today © Copyright 2004-2023



Comments by other Members
Posted by :

RonniLBarron at 09:11 on 21 February 2021
Robert Fokkens is my favorite musical composer and because of this, I am writing an essay on him. So, I was searching about him and I am so happy after finding your post while reading bestessay review online because I was thinking about taking help from an online essay writer.
Posted by :

jamseales0 at 07:42 on 19 May 2021
Nice post! This is a very nice blog that I will definitively come back to more times this year! Thanks for informative post. Ensite Vascular
Posted by :

jamseales0 at 10:52 on 21 May 2021
Thanks for providing recent updates regarding the concern, I look forward to read more. who is Dr. Natale
Posted by :

jamseales0 at 13:23 on 22 May 2021
Extremely intriguing online journal. A lot of web journals I see nowadays don't generally give anything that I'm keen on, however I'm most definitely inspired by this one. Recently felt that I would post and let you know. Ross Levinsohn Topio
Posted by :

jamseales0 at 10:02 on 24 May 2021
i read a lot of stuff and i found that the way of writing to clearifing that exactly want to say was very good so i am impressed and ilike to come again in future.. Fresh Bros

Posted by :

jamseales0 at 13:19 on 25 May 2021
Extraordinary things you've generally imparted to us. Simply continue written work this sort of posts.The time which was squandered in going for educational cost now it can be utilized for studies.Thanks 먹튀
Posted by :

jamseales0 at 10:56 on 26 May 2021
I admit, I have not been on this web page in a long time... however it was another joy to see It is such an important topic and ignored by so many, even professionals. I thank you to help making people more aware of possible issues. 엠카지노

Posted by :

jamseales0 at 11:22 on 27 May 2021
Hey what a brilliant post I have come across and believe me I have been searching out for this similar kind of post for past a week and hardly came across this. Thank you very much and will look for more postings from you. thc gummies

Posted by :

jamseales0 at 07:55 on 29 May 2021
I am happy to find your distinguished way of writing the post. Now you make it easy for me to understand and implement the concept. Thank you for the post. saunas supremesauna.com
Posted by :

jamseales0 at 08:44 on 06 June 2021
Hi, I find reading this article a joy. It is extremely helpful and interesting and very much looking forward to reading more of your work.. click here
Posted by :

jamseales0 at 07:13 on 12 June 2021
I think this is one of the most significant information for me. And iím glad reading your article. But should remark on some general things, mylowesbenefits
Posted by :

jamseales0 at 12:48 on 15 June 2021
I truly value this superb post that you have accommodated us. I guarantee this would be helpful for a large portion of the general population. reed diffuser lavender

Posted by :

jamsebond0 at 19:54 on 04 July 2021
I definitely enjoying every little bit of it. It is a great website and nice share. I want to thank you. Good job! You guys do a great blog, and have some great contents. Keep up the good work. Personal Trainer Near Me

Posted by :

jamseales0 at 20:53 on 04 July 2021
Sea Moss also known as Irish Moss or Chondrus Crispus is a red algae species that is found along the coastal regions of the Caribbean islands, Europe and Ireland. fresh wildcrafted irish seamoss
Posted by :

jamseales0 at 06:48 on 02 August 2021
Took me time to read all the comments, but I really enjoyed the article. It proved to be Very helpful to me and I am sure to all the commenters here! Itís always nice when you can not only be informed, but also entertained! 먹튀사이트
Posted by :

jamseales0 at 08:43 on 16 September 2021
Our credit repair services work to fix past credit mistakes and verify credit report accuracy. Talk to a credit repair expert today!† ทางเข้า ufabet
Posted by :

jamseales0 at 13:22 on 23 September 2021
I love significantly your own post! I look at all post is great. I discovered your personal content using bing search. Discover my webpage is a great one as you.I work to create several content this post. Once more you can thank you and keep it create! Enjoy! spy my phone
Posted by :

jamseales0 at 12:29 on 17 November 2021
Extremely helpful post. This is my first time i visit here. I discovered such a large number of intriguing stuff in your blog particularly its exchange. Truly its extraordinary article. Keep it up. Desert safari 2021
Posted by :

jamseales0 at 06:35 on 21 April 2022
Multiple sclerosis may cause stiff muscles which can ensure it is difficult to move. website

Posted by :

AshleyChaney at 09:58 on 22 October 2022
This is a very well-written article, I have enjoyed reading it a lot. to know about celebrities with poor hygiene was very interesting. I will for sure come here again.

To post comments you need to become a member. If you are already a member, please log in .