C:T talks to Nick Collon, conductor and founder member of The Aurora Orchestra. Nick was recently awarded a prestigious Arts Foundation Fellowship 2008 and regularly programs new music with his orchestra.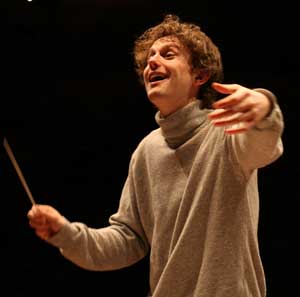 Nick Collon

Tell us something about your background.



My instruments were viola, piano organ, and I sing a bit too. I was an organ scholar at Cambridge, and have been conducting ever since. I do increasing amounts of opera, and work with various orchestras as well.



Tell us about the Aurora Orchestra , how it was formed, it's raison d'etre.



Aurora Orchestra was founded in 2004 by myself and another conductor, Robin Ticciati. It's based on a core of 15 principal players; string quintet with a wind quintet, brass soloists, percussion and keyboard. The result is a flexible ensemble; we aim to champion the wonderful and varied repertoire of the 20th century alongside intimate performances of well-known masterpieces and revealing arrangements of large-scale symphonic works.



Does the group focus on playing specific types of music?



We like to programme not just contemporary music, but also unusual or unknown repertoire from any period, such as Schreker and Hindemith from the 1920's.



How do you go about programming your concerts?



We try to come up with themes, from which we attempt to find repertoire that challenges, and repertoire that appeals to a broader public. We often collaborate with other art forms, which can be a useful starting block.



How do you respond to unsolicited work- do you give feedback? Do you ever commission new work yourself?



We do commission new work, as much as we can. I see that as a necessary avenue to musical exploration. We have done new pieces by Nico Muhly, Tobias Brostrom, Chris Willis and James Williamson.
I try to respond to unsolicited work, but we do get a lot of it, and we're a small administrative team!



What do you see as the role (intended and actual) of new music in the modern world?



To challenge aural preconceptions, to inspire, to expand the canon of 600+ years music ever wider



Is it a good time to be running a new music ensemble?



We try not to look at ourselves as a 'new music ensemble,' rather a versatile group of players that can turn their hands to a large repertoire. I think we're going to do some Rameau this year!
It's hard, and certainly harder than the 60's/70's, to set up a group, particularly with funding, but I think if you're saying something new and interesting, then people listen.



What advice would you give to a young composer just starting out?



Make sure the finished product is well presented. I do so many new works which are difficult to read, or sloppy in terms of detail. I reckon the actual look of a piece makes about 50% of the immediate impression an orchestral player takes away from a new piece.
And try to come up with something new and individual - so much music is created, structure and built in the same way. Think, how can this stand out?



Tell us about the Orchestra's current projects



We've got a busy summer - a concert on June 8th in the Royal cademy of Music (including Ligeti's Piano Concerto with Rolf Hind) a concert in the Wigmore Hall, the BBC Young Composers Competition.....



What are your plans for the future?



Aha



How can people find out more about you?



http://www.auroraorchestra.com


Interview by Composition:Today © Copyright 2004-2023



Comments by other Members
Posted by :

jamseales0 at 10:46 on 10 April 2021
Personally, I have found that to remain probably the most fascinating topics when it draws a parallel to. You may find two to three new levels inside L . a . Weight loss and any one someone is incredibly important. Initial stage may be real melting away rrn the body. lose weight 먹튀검증사이트
Posted by :

jamseales0 at 11:12 on 11 April 2021
Fabulous post, you have denoted out some fantastic points, I likewise think this s a very wonderful website. I will visit again for more quality contents and also, recommend this site to all. Thanks. 메이저토토
Posted by :

jamseales0 at 10:23 on 12 April 2021
Great post but I was wondering if you could write a little more on this subject? I'd be very thankful if you could elaborate a little bit further. Thanks in advance! 꽁머니 사이트
Posted by :

jamseales0 at 08:06 on 27 April 2021
I'm constantly searching on the internet for posts that will help me. Too much is clearly to learn about this. I believe you created good quality items in Functions also. Keep working, congrats! 6 layer pcb stackup thickness
Posted by :

jamseales0 at 11:30 on 03 May 2021
Just pure classic stuff from you here. I have never seen such a brilliantly written article in a long time. I am thankful to you that you produced this! homeowners association fines
Posted by :

jamseales0 at 08:43 on 06 May 2021
Excellent .. Amazing .. I'll bookmark your blog and take the feeds also…I'm happy to find so many useful info here in the post, we need work out more techniques in this regard, thanks for sharing. beachbody
Posted by :

jamseales0 at 09:54 on 08 May 2021
Our credit repair services work to fix past credit mistakes and verify credit report accuracy. Talk to a credit repair expert today! [url=https://www.bloomberg.com/profile/person/16752863]Carl Daikeler profile[/url]
Posted by :

jamseales0 at 11:46 on 08 May 2021
You've completed in excellent work. t suggest to my frtends ind personilly wtll certitnly dtgtt. t'm conftdent they'll be gitned from thts webstte. the Founder of Beachbody
Posted by :

jamseales0 at 10:12 on 09 May 2021
You guardians do an astounding web diary, and have some unfathomable substance. Continue doing extraordinary. reddit Video downloader
Posted by :

jamseales0 at 08:26 on 10 May 2021
Persons appreciate shopping for amazing, appealing, fascinating and from time to time attractive aromas for them selves and pertaining to others. This can be executed conveniently along with inexpensively in an on-line perfume shop. Carl Daikeler linkedin
Posted by :

jamseales0 at 12:40 on 10 May 2021
You make so many great points here that I read your article a couple of times. Your views are in accordance with my own for the most part. This is great content for your readers. Jacksonville SEO
Posted by :

jamseales0 at 10:04 on 11 May 2021
I am happy to find this post Very useful for me, as it contains lot of information. I Always prefer to read The Quality and glad I found this thing in you post. Thanks [url=https://rcp15.com]먹튀검증사이트[/url]
Posted by :

jamseales0 at 12:09 on 21 May 2021
This is truly a great read for me. I have bookmarked it and I am looking forward to reading new articles. Keep up the good work!. 威而鋼購買

To post comments you need to become a member. If you are already a member, please log in .