Christian Morris talks to Michael Sluman, an up-and-coming oboist looking for new works for the bass oboe, an 'extinct' instrument he is trying to revive.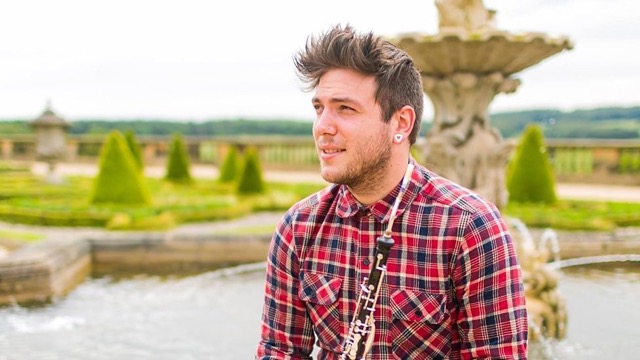 Michael Sluman

Tell us a bit about your background. How did you come to play the oboe?



I was very fortunate when I started secondary school to be offered free instrumental lessons. My form tutor was the Head of Music and she really pushed music education, as you can imagine. At the age of 11 I started to have clarinet lessons and within a year I was put in for my grade 3 ABRSM. At this point I really enjoyed music; my school had lunchtime and after-school clubs and there was also a Saturday music school run by the county music service offering a variety of ensembles.

Something I would like to point out is the importance this had on my life. Being from an underprivileged background in state education attending a school which was eventually shut down by Ofsted, having the opportunity to have instrumental lessons for free made me who I am today, and opened my world up to music.

At the age of 13 I started to learn the saxophone alongside the clarinet, but for me I was still quite unsatisfied. I felt I was missing something. When my school closed at the end of year 9 we merged with the school next to us and our school band gained some extra players. This was when I first heard the oboe. I was truly transfixed and I knew that was what I wanted to learn. However, my tutor told me to concentrate on single reed instruments: ďBe a master of one and not a jack of all trades.Ē I took this advice and stuck to single reed instruments, but I was always still dissatisfied. It wasnít until the end of my GCSEs that I managed to acquire an instrument.
At this point I was playing with my county orchestra, Saturday morning music school, county police band, a community orchestra and school ensembles. Music had seemed to take over my life and I loved every second of it. The thing all of these ensembles had in common, however, was the lack of an oboist. I took the instrument to each of them when I could make a sound. I had a very basic technique but from there I just progressed rapidly.



What happened next?



So after a year of playing the oboe it was time to audition for universities and music colleges. I applied for Leeds College of Music, The Royal Northern College of Music, Birmingham Conservatoire and the Royal College of Music, gaining a place at all four. The RNCM, however, felt right for me and I accepted my place. At this point I had never had an oboe lesson. Everything was self-taught. When I arrived at the RNCM in September 2008 I started lessons with Jennifer Galloway (Principal Oboe, BBC Philharmonic) Ė I had never heard an oboe played so beautifully! I studied with Jenny for a year and then I moved over to Valarie Taylor (Principal Oboe, Manchester Camerata). It would seem that if you have learnt the oboe in the North of England, at some point Val would have been your teacher. She was the most supportive person Iíve ever met and truly went out of her way to help me. When a person is so maternal you canít help forming a relationship with them. I owe a lot to her.

After three years at the RNCM, unfortunately I fell very ill and I had to leave my studies. It took me two years to get better and back to playing. By this time I had moved away from Manchester, so I started to look at other music colleges and so I auditioned again at Leeds College of Music. In my audition I was awarded a place and two scholarships. I commenced my studies at LCoM under Janey Miller. Janey introduced me to more unconventional instrumentation and a new world of contemporary music. Her duo New Noise (oboe and percussion) have had an inspirational career and she is just one of the most musical, technical, knowledgeable and amazing oboists I have ever had the pleasure of knowing. 
I was awarded a £10,000 scholarship to study an MMus at LCoM and I am currently halfway through my course. I am still having lessons with Janey and I will have an external professor. I have a few people in mind that I would like to continue my studies with.



You describe the oboe as quite a 'straight-laced' instrumentí, something that runs contrary to your own character. Tell us about your philosophy as an oboe player.



I feel that for the oboe there is a lot of tradition that comes with the instrument. There are some phenomenal players out there who uphold this tradition, but I feel for me there is just something missing. I want to do something different that isnít being done by anyone else.

As an oboist and as a musician I have a very open mind about playing, writing and performing styles. I am a strong believer that everyone has a right to be able to express themselves through any medium, be that music, art, film-making, textiles whatever! And if it's something that they enjoy doing and can present something, who am I to judge? If someone doesnít like my playing or the way I play something, Iím sure there will be a further 10 people who do so. Iím not going to sit and get myself upset over one personís opinion!



And you are a composer too?



I think calling myself a composer would be disrespectful to all the people who have actually studied composition all these years! I like to direct a collaborative ensemble. Basically if I have an idea in my head for a piece of music I will gather a group of friends in a dayís session. I normally present my ideas, what instrumentation I would like to use and what role they would have in the piece. We then improvise and see where it goes from there.



What brought you to buy a bass oboe?



It was entirely by chance. I have quite an obsessive personality when it comes to music. I saw one for sale at a very low price and was intrigued. I started to do some research and wanted to see what I could find online and to my surprise there really wasnít a huge amount. I think I spent about 4 days obsessing about it and thinking what I could do with the instrument. I gathered some money together, traveled down to London, tried the instrument and then bought it.
Whilst I was researching, to my surprise I found only 4 videos on YouTube, one with over 100,000 views. This made me think: people are wanting to hear and know about the instrument surely? But there is just very little information.



Tell us a little about the history of the instrument.



So I had some confusion between the bass oboe and the hecklephone. The hecklephone is the German adaptation of the instrument manufactured by Heckle. Strauss was the main writer for this instrument. Now this is pre-World War 1, when Europe was able to afford these huge orchestras. You can hear the hecklephone in Straussí Salome. Strauss started to write lower and lower for the instrument before Heckle had manufactured or improved his original instrument. For example, in the Alpine Symphony he writes down to a low F and the instrument could only go down to a B Ė however World War 1 happened and these instruments never got made, making the music unplayable for the instrument. I think now itís played by a 4th bassoonist. 
The bass oboe was manufactured in Paris by Loree at the end of the 19th century and is more oboe-like than the hecklephone.



And itís repertoire?



This is why we are doing this interview! [laughs] There just really isnít any solo repertoire out there for this instrument, which is a real shame as it is just beautiful Ė it is so unique. I think its classified as an Ďextinctí instrument and I find that slightly upsetting. The most famous solo is in Saturn from the Planets and that spans a massive 10 seconds at most.



What are the particular timbral qualities of the instrument? Why would a composer want to write for the bass oboe?



I would say, imagine a cor anglais, bassoon and tenor saxophone had some strange love child. It is just so unique and expressive. Low, rich, dark, woody, resonant is how I would describe it.




And what about the technical aspects of writing for the instrument?



The instrument, unlike the cor anglais, is written at concert pitch but it sounds one octave lower than a standard oboe. Itís like writing for a bass clarinet: treble clef, sounding an octave lower than written. My bass oboe does not have a low Bb and I can reach a G an octave above the stave.



Are there any limitations composers need to be aware of?



I would say the biggest issue is purely the weight of the instrument; the top joint of the bass oboe is around the same size as a fully assembled oboe.
I would say that as the instrument is so big the higher notes sound somewhat thinner than the low beefy notes. In Saturn the solo starts on the lowest B and is marked pp. 
Fast articulation can sometime sound a bit muddy; if I were to try and play Rossiniís Silken Ladder excerpt on the bass oboe it just wouldnít work.



What sort of pieces are you looking for?



I am mostly looking for piano and bass oboe. I would like a concerto in the future, but if anyone has any other ideas I would be more than open to any suggestions. I have a number of works currently being written with more unusual instrumentations. 
A bass flute, bass oboe, bass clarinet, contra-bassoon quartet would be very interesting.

Ideally I am looking for something that is audience friendly, accessible, and something I can perform in lunch-time recitals. I want composers to be true to themselves, and for it to be music they would like to go and listen to.



Might you be interested in more collaborative composing?



I would like to have an input in the ways of just allowing composers to know what does and doesnít work. I had a friend write something who is much more familiar with string-writing and it was virtually impossible; she wrote something like 89 bars without a beat rest! I have found the pieces that have been most successful have been the ones with the most communication and correspondence.



What is the best way for composers to send you their scores?



The best way would be via email: mikeycraigsluman@hotmail.com



Where can readers interested in finding out more about the bass oboe find out more?



There are a number of blogs online that do show the instrument. For example:

http://bandestration.com/2014/07/26/what-to-do-with-new-instruments-part-2-bass-oboe/

This is a lovely excerpt from Salome, albeit very short:

https://www.youtube.com/watch?v=nAjU8j6FvSk

And the solo from the Planets is here at 1:31:

https://www.youtube.com/watch?v=nAjU8j6FvSk



Where can readers find out more about you?



I have a SoundCloud page with a number of recordings. Some are new works, some are improvisations. However it isnít up to date. I need to put some new work on there!

https://soundcloud.com/mikey-sluman

I was also asked by my university to be featured on their online prospectus. Here I talk about the college and there are some videos of me playing:

http://prospectus.lcm.ac.uk/courses.php?new-music

I also gave a short interview to Radio 3, which was broadcast in May 2015:

http://www.bbc.co.uk/programmes/p02qf9sc



Interview by Composition:Today © Copyright 2004-2022



Comments by other Members
Posted by :

CatherineWilliams at 07:00 on 29 July 2020
Quite talented people in the music industry and they can make the best songs and play as well. The people who need the help to play the instrument of music can learn online as well. Glad to have the interview and academic writing help update here just stunning and provoking at the same time.
Posted by :

jamseales0 at 10:53 on 21 December 2020
Today, I was just browsing along and came upon your blog. Just wanted to say good blog and this article helped me a lot, due to which I have found exactly I was looking. 먹튀검증사이트
Posted by :

jamseales0 at 15:56 on 26 December 2020
Extremely helpful post. This is my first time i visit here. I discovered such a large number of intriguing stuff in your blog particularly its exchange. Truly its extraordinary article. Keep it up. یلماس بت
Posted by :

jamseales0 at 05:35 on 11 January 2021
Wow, cool post. I'd like to write like this too - taking time and real hard work to make a great article... but I put things off too much and never seem to get started. Thanks though. 먹튀검증커뮤니티
Posted by :

jamseales0 at 05:46 on 14 January 2021
Great Information sharing .. I am very happy to read this article .. thanks for giving us go through info.Fantastic nice. I appreciate this post. https://www.elucidmagazine.com/
Posted by :

jamseales0 at 08:19 on 19 January 2021
I found so many interesting stuff in your blog especially its discussion. From the tons of comments on your articles, I guess I am not the only one having all the enjoyment here! keep up the good work... สมัคร slot เครดิตฟรี แค่ยืนยันตน
Posted by :

jamseales0 at 07:56 on 23 January 2021
A very awesome blog post. We are really grateful for your blog post. You will find a lot of approaches after visiting your post. I was exactly searching for. Thanks for such post and please keep it up 메이저사이트
Posted by :

jamseales0 at 07:30 on 27 January 2021
Just pure classic stuff from you here. I have never seen such a brilliantly written article in a long time. I am thankful to you that you produced this! Kevin Galstyan
Posted by :

jamseales0 at 05:43 on 28 October 2021
Admiring the time and effort you put into your blog and detailed information you offer!.. more info

Posted by :

jamseales0 at 09:39 on 02 November 2021
Wow, What a Excellent post. I really found this to much informatics. It is what i was searching for.I would like to suggest you that please keep sharing such type of info.Thanks Custom Embroidered Keychains

Posted by :

jamseales0 at 14:44 on 13 November 2021
I think that thanks for the valuabe information and insights you have so provided here. motorcycle patches

Posted by :

jamseales0 at 12:59 on 25 October 2022
I have read your article, it is very informative and great for me.I admire the valuable information you offer in your articles. Thanks for posting it.. Trash chute closure
Posted by :

jamseales0 at 08:53 on 27 October 2022
I found so many interesting stuff in your blog especially its discussion. From the tons of comments on your articles, I guess I am not the only one having all the enjoyment here! keep up the good work... Winter Tires Ottawa
Posted by :

jamseales0 at 10:32 on 27 October 2022
An interesting dialogue is price comment. I feel that it is best to write more on this matter, it may not be a taboo topic however usually individuals are not enough to talk on such topics. To the next. Cheers. thumb latch trigger
Posted by :

jamseales0 at 14:52 on 30 October 2022
All the contents you mentioned in post is too good and can be very useful. I will keep it in mind, thanks for sharing the information keep updating, looking forward for more posts.Thanks cars2search.com
Posted by :

jamseales0 at 10:06 on 31 October 2022
This is a great article thanks for sharing this informative information. I will visit your blog regularly for some latest post. I will visit your blog regularly for Some latest post. argentina guide
Posted by :

jamseales0 at 15:03 on 01 November 2022
Spot lets start work on this write-up, I truly think this web site requirements a lot more consideration. Iíll probably be again to learn to read much more, thank you for that info. seo hong kong
Posted by :

jamseales0 at 08:57 on 02 November 2022
Itu adalah sumber daya yang hebat yang Anda berikan dan Anda berikan secara gratis. Saya sangat suka melihat blog yang memahami pentingnya menyediakan sumber daya berkualitas secara gratis. https://test-recruiter-sso.hr-manager.net/
Posted by :

jamseales0 at 10:15 on 13 November 2022
I'm very enjoyed for this blog. Its an informative topic. It help me greatly to solve some problems. Its opportunity are so fantastic and working style so speedy. ремонт на входове и стълбища
Posted by :

jamseales0 at 07:47 on 16 November 2022
Our Basset hounds puppies for sale are sweet, gentle, affectionate dog breed, and very eager to please their human. Bassets are friendly with strangers and with other animals, and they can do very well with children. Basset hounds are smart and train easily, and Bassets excel in a number of canine sports including obedience, rally, and agility. Basset Hound Temperament
Posted by :

jamseales0 at 13:10 on 24 November 2022
I am usually to blogging and i also truly appreciate your posts. The content has truly peaks my interest. I am about to bookmark your web blog and maintain checking for brand spanking new info. acim
To post comments you need to become a member. If you are already a member, please log in .