C:T talks to Andrew Cyr, Artistic Director of the New York-based Metropolis Ensemble, whose concert "There And Back Again" takes place at Angel Orensanz Center in the Lower East Side on Thursday, May 24, 2007 .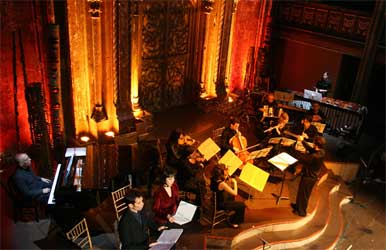 The Metropolis Ensemble at Angel Orensanz Center, NY

Tell us something about your background.



I grew up in Fort Kent, Maine, which is a Franco-American border community on the most-northern part of the continental U.S. My family was not musical, except my grandfather, who would entertain the family on Sunday afternoons with his boogie-woogie improvisations on a beat-up upright. I started playing trumpet early on, which then led to pipe organ studies, and conducting, both choral and orchestral. Hardly the future I envisioned when growing up. I was into sports, – a fanatic golfer and downhill skier, and won the Junior Amateur Golf Championship of Maine when I was in high school. From a remote corner of a remote state, my music studies have taken me from France to Montreal, and I now live and work here in New York City.



Tell us about the Metropolis Ensemble, how it was formed, and its raison d'être.



Ideas for a chamber orchestra that performed new and older music side-by-side in a mutually supportive way and featured the very best emerging talent, especially from chamber music circles, have percolated in my brain for years. While I was at a conducting retreat I met composer David Schiff who was so enthusiastic about my vision that I began to think "what if?"

You know how, once in a while, you go to a party that is just fantastic? Everything works: you know the hosts well, there's a great spread, plenty of drinks, and you go from one fascinating conversation to another, and when you finally leave, it's with a warm sense of heightened awareness and exaltation, and the thought that "I'd like to have more evenings like that!" Well, that's the feeling I hope to inspire in people who attend our concerts. The Metropolis Ensemble is a "downtown" chamber orchestra, in style and substance, very far removed from the hallowed, if rather straight-laced, halls of Carnegie or Avery Fisher. Obviously, top-notch performances of great music of all eras are paramount to our mission. But we also take great care to make sure to choose atmospheric, off-the-beaten path venues that resonate magically with the performance. We are incredibly fortunate to be able to perform at the Angel Orensanz Center in the Lower East Side. If you've never been it's well worth a visit (during one of our concerts, I might suggest). It's a reconstructed gothic synagogue and the candle lighting, intimacy, and acoustic create an enchantment that you just have to be there to experience.

Our concerts are serious music-making ventures, but we want our audience to relax and have fun, too. We serve complimentary wine during intermission and after the concert, a perfect time to interact with friends, make some new ones, and meet the composers and musicians of the Ensemble.

It was important to me that the Metropolis Ensemble be committed to presenting new or recent music at each concert. Musical art is dead if we relegate it to a museum culture, and I have found that contemporary music can be even more engaging to younger audiences than the classics which are laden with "significance." New music provides all audience members the opportunity to connect freshly with the musical substance; no one having heard it before, everyone's on equal footing. It makes for a dynamic artistic atmosphere.

I also wanted the group to play a role in educating young people about the joys of music. We have instituted a music education program in PS 11, a Title One school that, as a result of government budget slashes, doesn't have much of an arts program – and no music program after grade two – at all. We have engaged a young composer to teach elementary school kids about the rudiments of composition. So we have seven, eight, nine year old kids actually composing their own music! It's such a different tack than most school music programs take, but it is working spectacularly. The students are thrilled by the opportunity to exercise their creativity, they learn so much more about how music is actually written than they would if they were just learning a song flute or the violin. At the end of the year, our young composer/teacher takes the kids' work and weaves it into a short composition that is performed for the entire school during an assembly. You can only imagine the pride these kids feel when their compositions are heard by all their peers and teachers, along-side other works from the repertory. It's really quite emotional.




Does the group focus on playing specific types of music?



In a word, no. We do have a mission to focus on contemporary music which we craft as the main selling point of our concerts, much as it was in the time of Mozart and Beethoven. But we have chosen works from Monteverdi to Copland that exemplify some of the avant-garde tendencies already present in music of the distant, and not-so-distant, past.



How do you go about programming your concerts?



We center our concerts on the premiere of a major new work. In our upcoming concert, for example, we will present the New York premiere of a new concerto for mandolin by Avner Dorman, a young Israeli composer. In choosing other pieces to accompany it, I tried to program music that will give the audience member a real sense of theme, whether poetical, atmospheric, or purely musical, and bring out the meanings inherent in all the pieces.



How do you respond to unsolicited work- do you give feedback? Do you ever commission new work yourself?



Currently, I do not respond to unsolicited work, but I do commission new work and do want to foster the efforts of young composers. I recently commissioned a new work by Ryan Gallagher, Conspiracy of Curtains, which we premiered in October of 2006, with help from a grant from the New York State Council for the Arts. I have also just commissioned a new work for piano and chamber ensemble for our 2007-2008 season from Ryan Francis, who is currently the teaching fellow in our music education program. As our organization grows, I want to establish a workshop festival and continue to expand our capacity to directly commission new work by emerging composers.



What do you see as the role (intended and actual) of new music in the modern world?



New music is us. That isn't to say that Beethoven isn't us as well, but contemporary music has the potential to "hold the mirror" up to our times. New music, in a sense, is about creating history as it is looking toward the future.

As I suggested above, contemporary music can serve to break down barriers between the more experienced music lover and the neophyte. I therefore try to program music that works "as music', that is artistically vital, yet approachable; not academic.




Is it a good time to be running a new music ensemble?



Absolutely! And what's great is that we've so many wonderful colleagues in the city doing just that, creating networks of players, composers, and audiences and doing projects and programming that achieves very high artistic levels. Critics and musical thinkers like Alex Ross are taking note of this wave of new groups proliferating in the city, and I think that larger music organizations are trying to create new models to reach out to younger audiences. Our concerts have thus far always nearly sold out, and it's clear that there's a niche for us, and for ensembles that feature new music in a variety of ways. Here in New York, at least.



Tell us about the Ensemble's current projects



Our next concert is coming up in late May. We're featuring the U.S. Premiere of Avner Dorman's Mandolin Concerto, alongside Golijov's The Dream and Prayers of Isaac the Blind, the Chamber Symphony Op. 110a by Shostakovich, and Bartok's Rumanian Folk Dances. We are especially proud to be able to premiere the mandolin concerto, a wonderful work by someone who will certainly be making a tremendous musical impact in the decade ahead. Avi Avital, a mandolin virtuoso, will perform the work – he commissioned the piece from Avner in 2006. The whole concert is organized around a theme of music inspired both by folk music and the reanimation of memories. The music in Dreams and Prayers, led by the phenomenal clarinetist, Tibi Cziger, is a homage to communal prayer and mystic sight, with each movement evoking the languages of the Jewish people throughout their history, ancient Arameic, Yiddish, and Hebrew. Avner Dorman's work will open the concert, and in a way, his piece will connect all the works together, as his style of writing embraces so many of the successful elements that you see these other composers employ, whether structural or through powerful evocation of atmosphere, image, or emotion.



What are your plans for the future?



To continue what we do, produce new projects that keep our organization growing by connecting our musicians and audiences to the leading composers of our times. I'm also working on an exciting project with one of our lead musicians, Arnaud Sussmann, to co-curate a chamber music series to give our musicians, who mostly hail from chamber music circles, a chance to present some exceptional works for 1-5 musicians and to continue to explore unique venues here in New York. With our education program, my dream is to build on our current success at PS 11, and establish an instrumental music program that will eventually lead to the founding of an after-school orchestra. My hope is to start with the violin, in grade three, provide students free instruments, classes, etc, and then just build and add a grade after each year and continue. In five years, we'd span grades 3-8, and have enough of a program that would be able to expand into viola, cello, and bass. Then we have an orchestra at a school where there was no music program to speak of!



How can people find out more about you?



Our website, http://www.metropolisensemble.org, is a terrific place to start.


Interview by Composition:Today © Copyright 2004-2023



Comments by other Members
Posted by :

jamseales0 at 08:11 on 10 April 2021
This is my first time i visit here. I found such a substantial number of interesting stuff in your blog especially its examination. Really its inconceivable article. Keep it up. 먹튀검증사이트
Posted by :

jamseales0 at 09:03 on 11 April 2021
i really like this article please keep it up. 메이저토토사이트
Posted by :

jamseales0 at 08:07 on 12 April 2021
I felt very happy while reading this site. This was really very informative site for me. I really liked it. This was really a cordial post. Thanks a lot!. 꽁머니
Posted by :

jamseales0 at 10:07 on 03 May 2021
Your post is very helpful to get some effective tips to reduce weight properly. You have shared various nice photos of the same. I would like to thank you for sharing these tips. Surely I will try this at home. Keep updating more simple tips like this. HOA website builder
Posted by :

jamseales0 at 08:38 on 05 May 2021
A very awesome blog post. We are really grateful for your blog post. You will find a lot of approaches after visiting your post. Carl Daikeler
Posted by :

jamseales0 at 07:39 on 06 May 2021
Our credit repair services work to fix past credit mistakes and verify credit report accuracy. Talk to a credit repair expert today! who is the CEO of beachbody
Posted by :

jamseales0 at 08:08 on 08 May 2021
Your post has those facts which are not accessible from anywhere else. It's my humble request to u please keep writing such remarkable articles What does Carl Daikeler do?
Posted by :

jamseales0 at 10:24 on 08 May 2021
Interesting post. I Have Been wondering about this issue. so thanks for posting. Pretty cool post.It 's really very nice and Useful post.Thanks Mr. Daikeler's profile
Posted by :

jamseales0 at 09:02 on 09 May 2021
I really like your blog. Great article. It's most evident, people should learn before they are able to youtube to mp3
Posted by :

jamseales0 at 06:10 on 10 May 2021
I definitely enjoying every little bit of it. It is a great website and nice share. I want to thank you. Good job! You guys do a great blog, and have some great contents. Keep up the good work. the founder of Beachbody
Posted by :

jamseales0 at 11:29 on 10 May 2021
I definitely enjoying every little bit of it. It is a great website and nice share. I want to thank you. Good job! You guys do a great blog, and have some great contents. Keep up the good work. Nashville SEO
Posted by :

jamseales0 at 08:13 on 11 May 2021
I wanted to thank you for this great read!! I definitely enjoying every little bit of it I have you bookmarked to check out new stuff you post. 토토사이트
Posted by :

jamseales0 at 12:32 on 16 May 2021
Excellent .. Amazing .. I'll bookmark your blog and take the feeds also…I'm happy to find so many useful info here in the post, we need work out more techniques in this regard, thanks for sharing. eye doctor Coweta
Posted by :

jamseales0 at 11:20 on 21 May 2021
thanks for this usefull article, waiting for this article like this again. 壯陽藥

To post comments you need to become a member. If you are already a member, please log in .