C:T talks to pianist Mark Knoop, whose upcoming recital at Kings Place features new works by Richard Beaudoin, and Feldman's late piano solo, For Bunita Marcus.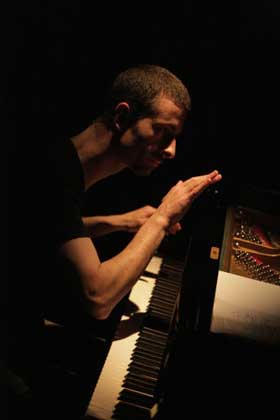 Mark Knoop

Michael Finnissy - Alkan-Paganini (excerpt) performed by Mark Knoop


Iannis Xenakis - Evryali (complete) performed by Mark Knoop

John Cage - Etudes Boreales performed by Mark Knoop

Tell us something about your background.



I grew up in Hobart, in the Australian state of Tasmania, and started playing piano at the age of six. I was lucky to have a fantastic first teacher, Eric Mitchell, who instilled in me an excitement and curiosity about a huge range of music. I moved to Melbourne in 1992 and studied at the Victorian College of the Arts, a performing arts school encompassing dance and drama as well as music, both classical and jazz/improvisation. There I joined the recently formed Libra Ensemble, later becoming one of its artistic directors, and we presented a wide range of new music, both Australian and international. Since 2000 I have been living in London, and now perform in many different situations, including with the Plus-Minus ensemble, directed by composers Matthew Shlomowitz and Joanna
Bailie, and Ensemble Exposé, directed by Roger Redgate.



Do you focus on playing specific types of music?



Not really, although longer term projects and relationships with particular composers and musicians mean that certain trends become apparent in my repertoire. I'm always interested in performing in new ways. While almost all of what I do comes from the starting point of "music" (i.e. the creation and evolution of sound over a given time), this increasingly involves other performance forms including aspects of installation art, electronic and dance forms.



Tell us about your forthcoming concerts



Next week at Kings Place (17th May) I am presenting three pieces by Richard Beaudoin which form part of his current project "Études d'un prélude", and Morton Feldman's 1985 classic "For Bunita Marcus".

Using Dr Olivier Senn's research with the large acoustic microscope at the Hochschule Lucerne, an analysis of Martha Argerich's 1975 recording of the Chopin Prélude opus 28 no 4 was created, including specific measurements of both the rhythmic and dynamic details of her performance. Beaudoin uses these data to create new musical structures which relate to the original Chopin to varying degrees, rather like a cantus firmus, or a Bach Chorale Prelude. The ghosts of both the Chopin original and of the Argerich performance hover over the resulting works.

Feldman continues to fascinate me, and in the process of learning "For Bunita Marcus" I have been continually amazed by the agility and patience with which he manipulates the musical materials over such a long timescale. In an interview, Feldman approvingly quotes Mies van der Rohe saying, "I don't want to be interesting, I want to be good."

My next concert, on 28th May at the Schott Recital Room, is with clarinettist Carl Rosman. We have been playing together since 1993 and it's always a thrilling experience rehearsing and performing with Carl.

This project juxtaposes two late romantic sonatas for clarinet and piano (by Max Reger and Sigfrid Karg-Elert) with a new piece by Adam de la Cour which is an exegesis of Antonin Artaud's 1947 radio play "Pour en finir avec le jugement de dieu". De la Cour develops Artaud's concepts into a secular exorcism for piano, organ, clarinet, voice and percussion (two players!).



What do you see as the role (intended and actual) of new music in the modern world?



I don't see the need for a 'role' for new music, or indeed anything else. Music is something we do as humans; it predates even verbal or visual communication; it just is.



What interests you in a piece of new music? What turns you off?



I am drawn to music which shows an interest in some sort of communication and is not afraid to expose itself. I have no interest in safe music.



Tell us about your current projects



At the moment I'm working with composer Matthew Shlomowitz on two new pieces which continue the evolution of his Letter Piece project. The first is a solo work for piano and sampler keyboard which will recontextualise distinctive everyday sounds and use them as the basis for compositional development. The other piece is for four performers and uses combinations of physical and musical gestures to illustrate a series of developing scenarios.

Another project is with Newton Armstrong, we are working together both on new compositions for piano and live electronics and also performing together using electronics to enhance and extend the range of the piano's resonance.

I've just premiered a new piece in Peter Ablinger's ongoing series for solo piano and recorded spoken voice, "Voices and Piano", at the recent Spor Festival in Århus, Denmark. I'll perform another new work in the series in Oslo in June.



What are your plans for the future?



Other projects include a new 'opera' for solo piano by the Norwegian
composer Trond Reinholdtsen, a reimagining of Stockhausen's
"Klavierstück X" with Adam de la Cour, and a continuation of my own
edition of Beethoven's late piano sonatas using only original manuscript
sources.



How can people find out more about you?



The best way is via my website ( http://markknoop.com/ ) which I try to
keep updated regularly. It lists most of my performances and recordings,
and there are some tracks available to listen online.

17th May concert: http://www.kingsplace.co.uk/music/out-hear/disintegrate-degenerate-decompose
28th May concert: http://www.schott-music.co.uk/shopnav/practice/events/index.html
Richard Beaudoin: http://www.richardbeaudoin.com/
LARA, Lucerne: http://www.hslu.ch/musik/m-forschung-entwicklung/m-musik-imps/m-forschung-lara.htm
Carl Rosman: http://carlrosman.com/
Matthew Shlomowitz: http://www.shlom.com/
Peter Ablinger: http://ablinger.mur.at/
Trond Reinholdtsen: http://www.thenorwegianopra.no/trondreinholdtsen


Interview by Composition:Today © Copyright 2004-2022



Comments by other Members
Posted by :

jamseales0 at 10:41 on 18 July 2020
Thankyou for sharing the data which is beneficial for me and others likewise to see. bitmain T19
Posted by :

jamseales0 at 09:15 on 25 July 2020
Mountbatten Residences by Bukit Sembawang. Call 61009266. Get Discounts, Direct Developer Price, Brochure, Floor Plan, Price List. Former Katong Park Towers. Mountbatten Residences Showroom
To post comments you need to become a member. If you are already a member, please log in .