Christian Morris talks to Marina Khorhova, an up-and-coming Russian composer known for her interest in advanced compositional techniques.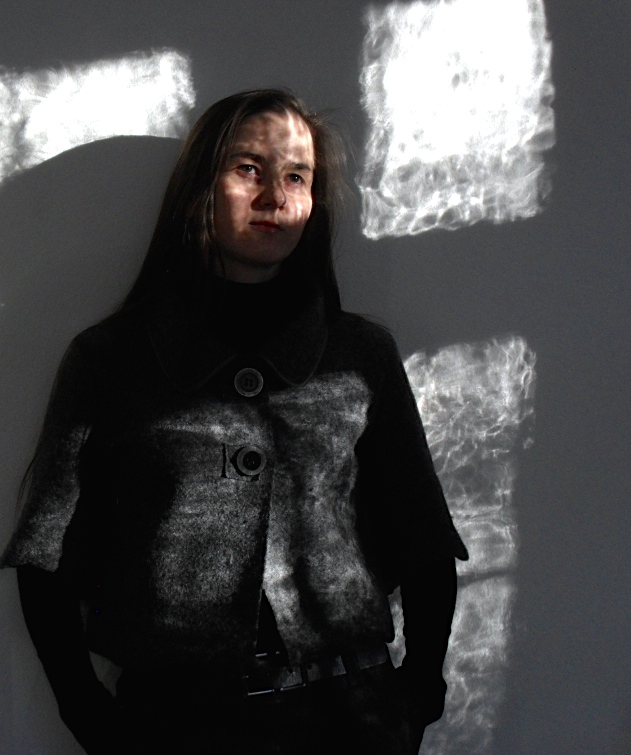 Marina Khorkova




Tell us something about your background.



I was born in Russia but have been in Europe since 2008, first in Switzerland and from 2009 in Germany. In 2008 I received a scholarship from the Paul Sacher Foundation to work on Helmut Lachenman, hence my move to Switzerland. Then I won a DAAD scholarship and moved to Germany, where I studies in the MHS Stuttgart as a composer in the soloist class for 3½ years. It was an important change that had a strong impact on several aspects of my work.




How did you start composing?



When I was seven I started to compose some short songs, even attempting to write them down. While studying in college as a pianist (1996-2000) I often freely improvised at the piano, though often I found it difficult to crystalize my ideas in notation. At the Moscow Tchaikovsky Conservatory from 2000 to 2005 and later as an aspirant composer and doctoral candidate of music theory I began to work more professionally and regularly on my compositions.



What was your first success as a composer?



In 2002 I won a competition between composers from Moscow and Paris Conservatory. My piece Music for Seven Instruments was brilliantly performed in 2002 by Parisian musicians at the festival Quinte et Plus. It was led by Hadady Laszlo, a fantastic oboist from Ensemble Intercontemporain.



Who or what has influenced your style?



Since 2009 my music has been influenced by German contemporary music. During my studies in Germany I visited many concerts and festivals of new music. I created several projects with good musicians and participated in master classes with figures such as Georges Aperghis, Frédéric Durieux, Martijn Padding, Roland Moser, Beat Furrer Brice Pauset, Toshio Hosokawa, Rebecca Saunders, Georg Friedrich Haas, Brian Ferneyhough, Mark Andre and Peter Ablinger. My former professor of composition, Caspar Johannes Walter, has given me strong artistic support and guidance, especially since, from 2005 to 2008 (after studying in Moscow Conservatory), I composed almost nothing.

Even though I would say I have been influenced by German contemporary music, however, stylistically it can be hard to say by exactly what. One significant category, however, is that of Musique Concrète Instrumentale. I find it very important to be able to look at the physical aspects of an instrument as a way of creating especially intense and expressive sounds.




Tell us a little about your approach to extended techniques in your music.



A good illustrative example of my techniques would be the string quartet I have been working on. This includes natural overtones on scordatura strings, special pressed tones placed on the overtone points and sounds and noises on the open strings. The main idea is to build fine clusters from the overtone spectrum (from 1 to 13, further if possible), which are made possible through the use of scordatura. The three sound-worlds are extremely distant from each other. The shape of the piece includes 6 phases in which, through modifications and transformations, the three sound-aspects will develop into new forms. For example: overtones become intense, with properties of more brutal sounds and vice versa. In the quartet I also have worked at finding microtonal relationships of overtones within clusters, which creates very fine frequencies.

An example of a similar piece would be my INSTALLATIONEN (2011) for organ, where I worked with graphic notation. I experimented with the instrument almost every day for three months, finding accurate ways of notating special registrations. The piece is about creating new sounds through the use of several intersecting spectra – harmonious or inharmonious, very unstable and noise-like.

My composition VORderGRENZE (2010) for clarinet, cello and prepared piano deals with the edges of life: existential sounds on the border of life and death represented by different breath sounds, reinforced with partials and translated into the instrumental parts. The fight to the last breath is the essential message of the piece, which is expressed by some extreme sound gestures. Various processes and characteristics of inhalation and exhalation were tried in quasi sound-photographs. Suffocating breath sounds, for example, are chaotic and noisy. Last breaths have a dark timbre with delicate nuances (such as wheezing) during inhalation and exhalation. The instrumentalists were also directed to blow on megaphones and this natural and quiet breathing was compared and linked, as it were, with the inhalation and exhalation of the instrumental sounds.

In PLANES (2011), for ensemble, 'erroneous reflections' are the main idea for the piece. Natural multiphonics from the piano are reflected 'erroneously' by the multiphonics created by the preparations in the piano in order to create different sound planes. Graphically displayed planes with certain textures reflect each other and create many varied relationships between sounds.



The use of extended techniques and new approaches to composition in your work is sometimes suggestive of electronic music. Is this an area of interest?



It's true – experimental techniques can sound like electronic music. Whilst I prefer to write using traditional instruments sometimes the reference to electronic music is, however, intentional.



Tell us a little about your research interests?



I have a special affinity for the music of the 11th and 12th centuries, which has influenced my opera scene 'Les Aveugles' (2009). The work is based upon the 'Kryki', a manuscript from the time that has never been entirely deciphered.

In the last few years I have researched the correlations between natural multiphonics and multiphonics produced by preparations of the piano. I used Cage's own preparation from Sonatas and Interludes for my own composition and, through the experience of working with these techniques, I have subsequently worked out my own systems.



What are your views on the current state of composition in Russia and Europe?



I think the situation in Russia is now much better than it used to be, though I think it is fair to say that it is not always easy to find the right atmosphere in which a young composer may develop.




What music do you listen to for pleasure?



It depends on my phase of work, but I am always on the lookout for new classical music discoveries. I also try to hear old works with 'new ears' and 'fresh perception' each time.




What are you working on now? What are your plans for the future?



I am currently working on a piece for soprano (Petra Hoffmann) and chamber ensemble for Camerata Variabile Basel. On December 9th, as artist-in-residence at the Villa Aurora in Los Angeles with the Lyris Quartet, I will present an evening of my music alongside the works of Helmut Lachenmann and Carola Bauckholt. I'm greatly looking forward to the production of a WERGO CD with Deutscher Musikrat and a portrait concert with Ensemble TaG in Switzerland in 2015. Other forthcoming projects include a new piece for Ensemble Ascolta as artist-in-residence in Schloss Solitude, projects with Kairos Quartet and a new piece for French ensemble soundinitiative. This last composition will be played at the Bludenzer Tage zeitgemäßer Musik Festival in November 2015. The production of my chamber opera GULAG is planned for June 2016.

For more information about Marina Khorkova:

https://soundcloud.com/marina-khorkova

http://www.villa-aurora.org/en/grant-recipient-details/grant/312-marina-khorkova.html

http://www.otte1.org/en/2013/06/marina-khorkova-komponiert-neues-werk-2/

http://musikprotokoll.orf.at/de/bio/marina-khorkova

http://www.internationales-musikinstitut.de/en/news/426-staubach-composers2014.html

http://www.nmz.de/kiz/nachrichten/neue-komponisten-fuer-die-edition-zeitgenoessische-musik-ausgewaehlt

http://www.musikrat.de/index.php?id=2135

http://www.jurgenson.org/eng/history/index.html

http://www.eilerfoundation.org/The_Staubach_Honoraria.html

http://www.kunststiftung.de/kurzportrait/marina-khorkova-499.html

http://www.neuemusikstuttgart.de/veranstaltung/events/konzertexamen-der-komponistin-marina-khorkova.html

http://www.musikforschungbasel.ch/fe/images/pdfs/c48_20_12_Khorkova.pdf

http://operstuttgart.wordpress.com/2014/01/23/der-eindringling-1/

http://www.artistsinresidence.ch/de/agenda/events/event-eintrag/article/pop-ups-raus-auf-die-gasse/

http://www.camerata-variabile.ch/konzert3.html

http://tuesdaysatmonkspace.org/shows/european-currents-villa-aurora-artist-in-residence-marina-khorkova/

http://www.ensembletag.ch/konzerte/vor-der-grenze/

http://www.mh-stuttgart.de/uploads/tx_wreventcalendar/JOCO_Festival_Flyer_FINAL.pdf

http://www.neuemusikstuttgart.de/veranstaltung/events/konzertexamen-der-komponistin-marina-khorkova.html



Interview by Composition:Today © Copyright 2004-2021



Comments by other Members
Posted by :

jamseales0 at 06:43 on 22 December 2020
I can see that you are an expert at your field! I am launching a website soon, and your information will be very useful for me.. Thanks for all your help and wishing you all the success in your business. 먹튀검증업체
Posted by :

jamseales0 at 16:37 on 26 December 2020
I think this is one of the most significant information for me. And i'm glad reading your article. But should remark on some general things, سایت شرط بندی ساشا سبحانی
Posted by :

jamseales0 at 10:16 on 12 January 2021
Very useful info. Hope to see more posts soon!. 먹튀검증커뮤니티
Posted by :

jamseales0 at 10:21 on 19 January 2021
Took me time to read all the comments, but I really enjoyed the article. It proved to be Very helpful to me and I am sure to all the commenters here! It's always nice when you can not only be informed, but also entertained! สมัคร slot เครดิตฟรี แค่ยืนยันตน
Posted by :

jamseales0 at 11:26 on 23 January 2021
I truly welcome this superb post that you have accommodated us. I guarantee this would be valuable for the vast majority of the general population. 먹튀검증사이트
To post comments you need to become a member. If you are already a member, please log in .