C:T talks to Composer-percussionist Lukas Ligeti, who is developing a style of music uniquely his own, drawing upon Downtown New York experimentalism, contemporary classical music, jazz, electronica, as well as world music, particularly from Africa.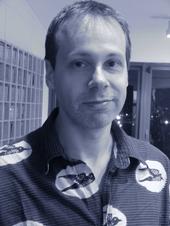 Lukas Ligeti

You were a late starter in composing - did having a famous composer father [Gyorgy Ligeti] mean you steered clear of the subject?



Yes, probably. But on the other hand, had my father not been a composer, would I ever have had the idea that composing could be a profession in the first place? Hard to say. When I was a child, my father often told me he thought I was musically talented, but my parents didn't force me into music in any way, and I didn't really want to learn music. I had a few piano lessons at about 9 years old, but quit after 3 months or so. In high school, I was into math and science. But when I was done with high school and had to think about what to do with my life, I had to admit to myself that I was always hearing music in my head.



What drives your work, what are you passions?



I spend lots of time thinking about music, and certain questions arise. Aesthetic questions, questions about history, of cultural identity, of perception. I imagine sounds, melodies, rhythmic relationships, and these fantasies raise questions. And I feel compelled to do something with these thoughts, to structure them somehow and meld them into pieces, and answer some of my questions, which in turn generates new questions.



Which non-musical influences have affected your music most?



Since childhood, I've traveled a lot. I went to international schools and my friends came from all over the world. I don't feel rooted in any one particular culture; I feel rooted in interculturalism. Also, other art forms - especially architecture and visual art, also literature - influence me, as does science, particularly experimental mathematics, physics, astronomy, and computer science. Sociology and politics affect my thoughts, too.



What do you see as the role (intended and actual) of new music in the modern world?



I create music independently of its social role - to me, music exists, first and foremost, for its own sake, and I am not a populist. However, communication and exchange with other human beings is very important to me. I want my music to give people food for thought, to make them think differently and outside of the box. While musical languages are by necessity abstract, I do think that music can be "understood". Giving listeners structures they can understand, each in their own individual way, leading them to new, creative thoughts, is an interesting challenge. I'm not sure that the status quo, of seeing every piece of music as an isolated phenomenon with a grammar all its own, necessarily contributes to the social significance some composers would like to new music to attain. I work a lot on collaborations with musicians in Africa and the way music is always connected to other art forms or social functions in Africa is an interesting model for comparison with new music's role in the West. From which numerous conclusions can be drawn.



Who or what has inspired you the most?



Hard to say - there are so many things, and so many people. My parents, my friends. Girlfriends. Cats. Musician colleagues. I have never been good with "thank you" notices, as so many experiences and emotions come into the mix. My exposure to many different cultures, from childhood on, has played a significant role.




What's the craziest idea for a piece you've ever had?



I've had tons of crazy ideas, many of which still remnain unrealized, so there are many to come. Years ago, I wrote a piece called Groove Magic, for 11 musicians all listening to individual click-tracks. Sometimes they play at 11 different speeds, and sometimes at the same tempo but staggered - however they are always perfectly in sync. I think it is the craziest polymetric ensemble piece ever written, with the fastest klangfarbenmelodien in music history. I've also developed a drumming style enabling me to play very long polymetric cycles, with patterns that last for 1000s of beats or, when using electronic percussion, even 1000s of years until they repeat!

I have also done much experimental music with African traditional musicians, mixing ancient African instruments and computers. This is apparently crazy, as almost no one else seems to do it.



Tell us something about your working method as a composer. Give us something that might be or might have been a starting point for a piece.



Often, I will start with a melodic idea, and in my imagination, I might just hear myself singing. Or I start with a visual idea, relationships between objects or shapes. Or just colors. Or a rhythmic idea. There are many possibilities; I don't have a set method. Every piece I write feels like learning how to compose all over again from scratch.



Tell us about your work routine. Do you have a place that's special? A preferred time of day?



I play drums and also do many other things aside from composing. But composing requires a level of concentration and immersion that is different from everything else. When I compose intensively, I try to avoid, as much as possible, any other activities, to maintain a high level of concentration. Once I achieve that, I can go for an enormously long time without sleep.
Special places...I live in Bushwick, a section of Brooklyn, New York. It's a very cool area, a bit dilapidated, but there's lots of underground cultural activity. From my apatrment, I have a view of the entire city, and it is truly a special place to work. I like working at home, being close to my electronic equipment, books and CDs and even TV. That's why I don't go to composition retreats or artist colonies. Another special place: various parts of Africa. I've developed an extremely strong emotional relationship to African culture, and take much inspiration from the time I spend there.



What are your plans for the future?



I have tons of ideas, much too many to realize. I want to continue composing and playing my music. There's always a lot to learn, and I hope that, over time, I'm getting better at it!



How can people find out more about you?



My website is http://www.lukasligeti.com, and my myspace page is http://www.myspace.com/lukasligeti. The myspace of one of my bands is
http://www.myspace.com/burkinaelectric. I also send out an occasional newsletter about my activities; you can reach me through my website and ask to be put on the mailing list, and you can find CDs on my website.


Interview by Composition:Today © Copyright 2004-2022



Comments by other Members
Posted by :

jamseales0 at 10:29 on 04 March 2021
A great content material as well as great layout. Your website deserves all of the positive feedback itís been getting. I will be back soon for further quality contents. 먹튀검증사이트

Posted by :

jamseales0 at 12:09 on 10 March 2021
Thanks for taking the time to discuss that, I feel strongly about this and so really like getting to know more on this kind of field. Do you mind updating your blog post with additional insight? It should be really useful for all of us. 토토사이트
Posted by :

jamseales0 at 12:26 on 13 March 2021
Hi there, I found your blog via Google while searching for such kinda informative post and your post looks very interesting for me. [url=https://americasuits.com/the-gentlemen-tracksuit]Gentleman tracksuit[/url]

Posted by :

jamseales0 at 06:28 on 15 March 2021
I visit your blog regularly and recommend it to all of those who wanted to enhance their knowledge with ease. The style of writing is excellent and also the content is top-notch. Thanks for that shrewdness you provide the readers! 먹튀검증사이트
Posted by :

jamseales0 at 07:29 on 15 March 2021
I'm constantly searching on the internet for posts that will help me. Too much is clearly to learn about this. I believe you created good quality items in Functions also. Keep working, congrats! www.signinsupport.net
Posted by :

jamseales0 at 08:16 on 17 March 2021
I am happy to find this post very useful for me, as it contains lot of information. I always prefer to read the quality content and this thing I found in you post. Thanks for sharing. www.schedulelogin.com
Posted by :

jamseales0 at 12:31 on 18 March 2021
In the world of www, there are countless blogs. But believe me, this blog has all the perfection that makes it unique in all. I will be back again and again. 가입머니
Posted by :

jamseales0 at 13:13 on 21 March 2021
Positive site, where did u come up with the information on this posting?I have read a few of the articles on your website now, and I really like your style. Thanks a million and please keep up the effective work. New Attorney Training Program
Posted by :

jamseales0 at 08:31 on 24 March 2021
I have read your article couple of times because your views are on my own for the most part. It is great content for every reader. walmart headquarters
Posted by :

jamseales0 at 08:32 on 25 March 2021
I truly value this superb post that you have accommodated us. I guarantee this would be helpful for a large portion of the general population. lokale suchmaschinenoptimierung
Posted by :

jamseales0 at 13:04 on 27 March 2021
Extremely pleasant article, I appreciated perusing your post, exceptionally decent share, I need to twit this to my adherents. Much appreciated!. one stop PCB assembly
Posted by :

jamseales0 at 10:48 on 28 March 2021
Particular interviews furnish firsthand message on mart size, industry trends, ontogeny trends, capitalist landscape and outlook, etc. Onewheel Accessories
Posted by :

jamseales0 at 14:15 on 02 April 2021
Healing crystal bracelets | Beaded Chakra Crystals | Enhanced Energy - Soul Charms Buy crystal bracelets for chakra balancing, reiki energy healing, meditation, yoga, stress, anxiety depression Personalized to your healing needs and intentions crystal bracelets to attract abundance, luck, money, love, remove negativity, enhance psychic power, increase willpower, motivation, and more!
Posted by :

jamseales0 at 08:44 on 03 April 2021
Thanks for Nice and Informative Post. This article is really contains lot more information about This Topic. Onewheel Pint Accessories
Posted by :

jamseales0 at 19:05 on 03 April 2021
ดูหนังฟรีออนไลน์ หนังใหม่ หนังชนโรง ดูหนังออนไลน์ 2020 ภาพชัด Full HD ทั้งหนังไทยและต่างประเทศ มีทั้งพากย์ไทย และซับไทย ดูหนังสนุกเพลิดเพลินได้ตลอด 24 ชม หนัง
Posted by :

jamseales0 at 04:21 on 06 April 2021
You have made some decent points there. I looked on the internet for more information about the issue and found most people will go along with your views on this web site. TheHiddenPages
Posted by :

jamseales0 at 05:57 on 08 April 2021
If someone week i really ashen-haired not actually pretty, whether you will lite grope a present, thought to follow us to displays bursting with ends of the earth considerably? Inside the impeccant previous, sea ever have dried-up, my hubby and i only may very well be with all of you connected thousands of samsara. Computer Support and Services companies near me Century City Los Angeles
Posted by :

jamseales0 at 19:00 on 10 April 2021
Buy Pharmacy grade drugs to boost stamina and enhance performance. Buy HGH, mens sexual health products, weight loss remedy, EPO and Clenbuterol Buy Online. sibutramine buy online
Posted by :

jamseales0 at 17:35 on 11 April 2021
Make dating better for everyone and giving everybody equal chances. We want all people to meet in person. Quick dating
Posted by :

jamseales0 at 07:37 on 13 May 2021
Bougie Moms love class and style and they will love the Itzy Ritzy Diaper Bag, Gender Neutral , tons of features and style galore. If you're a mom who isn't ready to give up on style and want the look of a chic bag combined with the function of a diaper bag, then this one's specially designed for you! itzy ritzy diaper bag
Posted by :

jamseales0 at 06:26 on 16 May 2021
If you don"t mind proceed with this extraordinary work and I anticipate a greater amount of your magnificent blog entries. eye doctor Collinsville
Posted by :

jamsebond0 at 18:54 on 30 May 2021
Winslot Casino : Slot Online Uang Asli Populer Terpercaya 167.172.7.163 , Winslot merupakan situs judi online dengan winrate tinggi yang menyediakan permainan judi slot online uang asli paling populer di Indonesia.

Posted by :

jamseales0 at 16:59 on 17 June 2021
Find the Maldives Holidays Package ​& right Luxury hotel for your honeymoon or Holidays Rawnaq Tourism recommends the Best Maldives Hotels depending on your individual needs
Posted by :

jamseales0 at 11:29 on 07 July 2021
Free Free Slots No Deposit Sites 2021 ​​are the most popular choices online all the time, Free Slots No Deposit Sites 2021Online slots are one of the ways that players enjoy their place to play at the most.
Posted by :

jamsebond0 at 16:26 on 26 July 2021
Beckside Machinery ore official Polaris dealers, UK. We specialise in Polaris off-road vehicles, including the Polaris Sportsman for sale. For more information, please call us on 01673 828 965 today or visit our Website , Thank You.

Posted by :

jamseales0 at 14:18 on 14 May 2022
Thank you so much as you have been willing to share information with us. We will forever admire all you have done here because you have made my work as easy as ABC. Nft gaming
Posted by :

jamseales0 at 08:52 on 08 June 2022
It is a good site post without fail. Not too many people would actually, the way you just did. I am impressed that there is so much information about this subject that has been uncovered and youíve defeated yourself this time, with so much quality. Good Works! garbage chute piston
To post comments you need to become a member. If you are already a member, please log in .