C:T talks to violinist Ittai Shapira, who has commissioned and performed many new works, and is also a composer.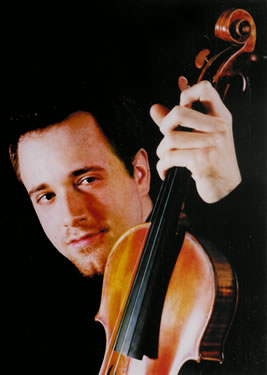 Ittai Shapira

Tell us something about your background.



I grew up in Israel where I studied with Ilona Feher, who taught quite a few of the well know Israeli violinists (Shmuel Ashkenasi, Pinchas Zukerman, Shlomo Mintz, Hagai Shaham, etc) and moved to NY at 15 to study at the Juilliard School wth Doroty DeLay and then Robert Mann. I started performing regularly as a soloist in my late teens- a very traditional career of standard repertoire at first, and in the last 10 years or so have added quite commissioned works to my repertoire. I now play 15 concertos that were written for me.



You are principally known as a violinist - how did you get into composing?



Very gradually; I studied theory which spilled into composition with Mark Kopytman (who was Osvaldo Golijov's teacher) in Israel. When I started working composers I knew, so felt comfortable making suggestions for changing passage work, wrote my own cadenzas, etc. I wrote a lot of transcriptions, fantasies on themes and 4 years ago wrote my first piece for violin and orchestra- "Virtuoso Variations"; each variation was dedicated to a different violinist- from Paganini to Grappelli and Menuhin. I have since written my own caprices and very recently a full violin concerto-"Concierto Latino"



Tell us more about the Concierto Latino



I premiered the concerto last week with the Israel Sinfonietta under Ori Leshman. It is inspired by Latin dances and has loose elements of the Tango, Flamenco, Soleare. Conga and Salsa. I didn't want to reveal my own story and perspective until after the premiere-this concerto was written as result of odd circumstances. I was attacked by a gang in New York in 2005; While it seemed like a relatively insignificant event at the time (I was released from the Hospital the next morning and played a concert a few days later) I heard very consistent sounds in my head months later. In time, I remembered it was the sounds of my falling on ice. I decided to write them down. Those sounds and my interest in Latin music (I was listening to a wide range- from De Falla to Evora and Shakira) somehow burst into melodies, which eventually turned into a concerto. The first movement, "The Attack" starts with just that-and then depicts sounds of my running away and attempts to "negotiate" with them prior to the attack. The second movement "Lament" deals with Sorrow, mourning interrupted by a dark, rustic Tango and the third , "Party" is an optimistic collection of Dances. I was honored to be able to perform it!



Who or what has influenced you most as a composer?



I make little distinction between what influences me as composer and performer, actually. When I prepare standard rep, be it the Elgar violin concerto or Sibelius, Dvorak, I make a point of getting to know their compositions for other instruments, symphonies and am of course very interested in their orchestration.

Having gotten to know composers I work with regularly, their personal stories an approach has tremendous impact. For example- my most CD release is a live performance of Shulamit Ran's violin concerto which I premiered at Carnegie Hall in 2003. Still, every time I perform it I think back at the time she told me the whole concerto was about her mother, depicting her strength and then the inevitable feeling of loss (her mother being quite ill at the time- she did make the premiere and sadly passed away 3 years ago). Dave Heath, whose works wrote a piece in the memory of Daniel Pearl which involved quite a spiritual journey and even a work called 'Naima" which was an homage to Coltraine. Avner Dorman who found an exhilarating way of combining his love for different genres in music-Baroque to Pop into his own style I find this sort of collaboration very meaningful. Every piece has its own stories and usually as performers we are removed from them, not knowing the circumstances under which the works were written. I think those personal stories pushed my buttons to write my own music.



As a violinist what do you look for in a piece of new music? And what turns you off?



I think that a piece of music should always communicate-whether it's an immediate connection or a longer process. Sounds obvious but I do get turned off when I feel I can't connect. If I am curious about a new piece, I will find a way to relate to it but there needs to be some kind of an instinctive attraction to the sound. When working with composers I always try to push the envelope, look for new sounds but of course it has to come from a place of integrity.



Do you commission new work?



Yes, I do-I have been lucky to have orchestra cooperate with me on this, and end up premiering at least one new work a year. In the last few years I have been interested in an umbrella theme of folk music; have done a Ragtimes Suite by John Novacek, a Celtic Concerto by Dave Heath and lots of other ideas in the works!:) I tend to work with composere who are quite familiar with my playing and are open to a collaborative process-lots of give and take, rewriting etc.



What are your plans for the future?



In addition to touring with a lot of standard repertoire the immediate future includes another premiere- "The Runaway Bunny" for violin, narrator and orchestra. It is based on a children's classic, and was written by four time Emmy winner, Glen Roven. I have recorded it for Sony/BMG with the Royal Philharmonic, Brooke Shields Narrrating and am looking forward to performing it with her on April 29th at Carnegie Hall with the American Symphony- the composer will be conducting. This will be a benefit that a foundation I co-founded with Hagai Shaham (The Ilona Feher Foundation) will be putting together for the Schneider Children's Hospital in Israel.



How can people find out more about you?



My web site: http://www.ittaishapira.com and also http://www.feherfoundation.org


Interview by Composition:Today © Copyright 2004-2023



Comments by other Members
Posted by :

jamseales0 at 09:48 on 10 April 2021
Intriguing post. I Have Been pondering about this issue, so much obliged for posting. Really cool post.It "s truly extremely pleasant and Useful post.Thanks 먹튀검증사이트
Posted by :

jamseales0 at 10:07 on 11 April 2021
Great content material and great layout. Your website deserves all of the positive feedback it's been getting. 메이저//메이저토토.net
Posted by :

jamseales0 at 09:02 on 12 April 2021
Today, I was just browsing along and came upon your blog. Just wanted to say good blog and this article helped me a lot, due to which I have found exactly I was looking. 꽁머니 토토사이트
Posted by :

jamseales0 at 07:25 on 27 April 2021
This is a great high resolution screen which you have shared for the users. Making a website is not an easy task but managing a good website is really a hard work. As far as this website is concerned, I am very happy. flying probe test
Posted by :

jamseales0 at 11:02 on 03 May 2021
I wish more authors of this type of content would take the time you did to research and write so well. I am very impressed with your vision and insight. homeowners association fines
Posted by :

jamseales0 at 10:00 on 05 May 2021
Nice post! This is a very nice blog that I will definitively come back to more times this year! Thanks for informative post. [url=https://insider.fitt.co/35-carl-daikeler-ceo-of-beachbody/]an interview with Carl Daikeler[/url]
Posted by :

jamseales0 at 08:26 on 06 May 2021
Wow, this is really interesting reading. I am glad I found this and got to read it. Great job on this content. I like it. Carl Daikeler
Posted by :

jamseales0 at 08:56 on 08 May 2021
I think this is an informative post and it is very useful and knowledgeable. therefore, I would like to thank you for the efforts you have made in writing this article. What does Carl Daikeler do?
Posted by :

jamseales0 at 11:15 on 08 May 2021
Nice post! This is a very nice blog that I will definitively come back to more times this year! Thanks for informative post. personal profile
Posted by :

jamseales0 at 09:34 on 09 May 2021
Thanks for Nice and Informative Post. This article is really contains lot more information about This Topic. youtube to mp3
Posted by :

jamseales0 at 07:41 on 10 May 2021
When a blind man bears the standard pity those who follow…. Where ignorance is bliss 'tis folly to be wise…. Chairman of Beachbody
Posted by :

jamseales0 at 12:25 on 10 May 2021
When a blind man bears the standard pity those who follow…. Where ignorance is bliss 'tis folly to be wise…. Billboard Advertising
Posted by :

jamseales0 at 09:36 on 11 May 2021
This is such a great resource that you are providing and you give it away for free. I love seeing blog that understand the value. Im glad to have found this post as its such an interesting one! I am always on the lookout for quality posts and articles so i suppose im lucky to have found this! I hope you will be adding more in the future... 먹튀검증
Posted by :

jamseales0 at 11:51 on 21 May 2021
This is a great post. I like this topic.This site has lots of advantage.I found many interesting things from this site. It helps me in many ways.Thanks for posting this again. 威而鋼網購

Posted by :

jamseales0 at 04:25 on 19 April 2022
Fun Drop is really a US-based CBD brand that resources its resources from American farms.  more info

To post comments you need to become a member. If you are already a member, please log in .