Christian Morris talks to the composer Helen Grime who, amongst many other things, has just started as Associate Composer with the Hallé Orchestra.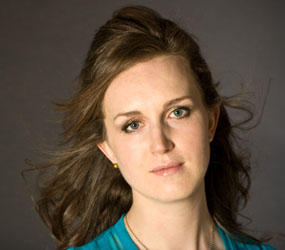 Photo:Helen Grime

Tell us something about your background.



My grandparents both taught music and my mother does too, so there was a lot of music in the house from an early age. My mother used to play me a lot of classical music. When I was very little I can remember listening to Ravel, Debussy, Bach and lots of other things. It was a huge part of my life. I started playing the piano and oboe later on. My brother and sister are both very musical too. We were lucky; we had a great education in Scotland. In primary school, at about the age of 10 or 11 I'd go out of school, just across the playground, for my piano, oboe and even composition lessons. Later the school we went to was a state school but it had a specialist music scheme in it. We used to do a lot of music during the day.



Individual composition lessons?



Yes. It was seen in our school as an important part of being an all-round musician. Composition was something that we were all given the opportunity to do. We were lucky, in that all this was paid for by the government.



And this was a specialist school?



Yes. It was called the City of Edinburgh Music School. There're a few others in Scotland. There's one near Aberdeen and one in Glasgow. I'm not sure there's anything like that in the rest of the UK outside privately funded schools such as Wells.



So this was how you started composing?



We were offered composition lessons, but it was always something I was interested in. We also had some great composition teachers. My first composition lesson was with Sally Beamish. I also had lessons with Halflidi Hallgrimsson and others. It was probably when I was about 11 or 12 and then it was something I kept doing. By the time I was 18 it was as important as the oboe and I didn't really know what to concentrate on. But then I went to the Royal College of Music to do joint principle studies, which gave me a bit of choice.



What was your earliest success as a composer?



Perhaps the Oboe Concerto I wrote for the Meadows Chamber Orchestra. I was also the oboe soloist. It was commissioned by a real supporter of mine, the Edinburgh pianist Peter Evans. He'd also commissioned a composition when I was younger and I'd written some piano pieces for him. The Oboe Concerto won an award and I was also able to play it with the Royal College of Music Sinfonietta when I was studying there. It was a really big thing for me because it gave me some exposure, opening-up other possibilities and opportunities.



Would you say that the oboe has had a wider impact on your musical style?



Yes. If I think about the type of music I write, melody is very important. Also, the sort of registers I like to write in. It's a funny thing, but I do really like high registers. I do wonder whether playing that kind of treble melody instrument is the reason for this.



Some of your compositions, such as Virga, The Brook Sings Loud or To See the Summer Sky seem reflect an interest in your surroundings or nature. Is a sense of place important to your work?



I'm not sure. I think the titles come more from poetry. That's quite important to me: what I'm reading, what I'm going to see. I'm always looking for extra-musical things that might spur the imagination, but I'm not sure about a sense of place. With my orchestral piece Virga it's more the idea of clouds and that then initiates a temporal idea with things moving at different speeds.



So you would say that the inspiration is more a visual element that becomes converted into music?



Definitely, though I'd say it's only important right at the beginning of the process. It then so becomes a musical idea that I move very far away from that during the piece.



What piece are you most proud of and why?



My ideas change about that all the time. I suppose it's often the thing that you're working on at the moment. With each piece I try to go further in some way. I'm working on a piano trio at the moment and the piece before that was an oboe quartet. The quartet has not been performed yet - the premiere is next year - I think I think I'm quite proud of that at the moment...but we'll see. When I hear it I might completely change my mind!



Do you have particular techniques - ones you come back to again and again? Tell us a bit about them.



I don't know if there're any particular techniques I could put my finger on. For me it's about the tension between the natural and intuitive and a sense of control, where everything is interrelated.



And what is your composing routine. When do you like to write?



It just depends on the stage of the piece. I find it really difficult to get going, but if I'm into a piece then I can work all day on it, if I have all day. I'll get up and start working first thing but I do really like to work at night. When it's dark it feels quieter and I can focus more.



Oliver Knussen has conducted your work. What was it like to work with him?



I've worked with Oliver Knussen quite a bit. He such a fantastic musician and, apart from the fact that he is a great composer, he's got a brilliant ear. He's also very clever but not intellectually intimidating. His music has been an important influence on me.

And his music is also very natural and intuitive-sounding, whilst also being very worked-out.

Exactly. And I think it is very detailed as well. That's something we both have in common. The fact that you might have written a five minute piece but it's got, maybe, twenty minutes of music in it.



And what other composers have influenced you?



I would say Ravel and Debussy were real influences. I was always drawn to their music as a little girl. Early music too: Monteverdi, Purcell and Byrd especially. Later on, as I've said, Knussen was important; the first time I heard his music I was just bowled over by it. Also Ligeti and Takemitsu. When I first heard the orchestral music of Takemitsu I was struck by the harmonic sound world and the fact that it was a little bit Ravel but gone to a new level. Also some Lutoslawski.



You seem to be drawn towards composers that are perhaps less rigid in their approach.



Yes, though I was also going to mention Boulez. The fluidity in his language has been an influence. And his harmony is often very beautiful. But yes, on the whole, I tend towards composers that embrace lots of things in their music. Carter's music has also been very important for me.



What advice would you give to a young composer just starting out?



A lot of success can be down to the people that you meet. Grab every opportunity that you can. If you get an opportunity to go and study somewhere then do it. For me, I went to study in Tanglewood in 2008. This was really important since I made a lot of contacts there and three of the pieces I'm writing for next year are for American groups. You never know when you write a piece for someone or somewhere what it might lead to. Though it's difficult - it doesn't come naturally to me - you do need to get yourself out there. But try to get the balance right. You don't want to try to be somebody that you're not.



You have just started as associate composer for the Hallé Orchestra. What plans do you have for this three-year partnership?



The performance of Virga on Thursday 17th November in the first concert with them. The first new piece is for 2013, so I will start to think about writing that next year. I'm looking forward to going to rehearsals before I write it in order to get used to the Hallé's unique sound: very lyrical with a gorgeous string sound. I am also really excited about developing a relationship with the players. Quite often when you write an orchestral piece you know that you're going to get one rehearsal on the day and, because you want it to be played by other orchestras, you think less about the individual orchestral musician. So it will be nice to get the chance to write them something more personal.



You've mentioned that you're currently working on a piano trio. Who is that for?



That's for an American group, the Claremont Trio. The premiere will be in Boston. After that I'm writing a trio for the Santa Fe music festival. I'll also be writing an orchestral work before the Hallé piece but that is, as yet, unannounced, so I can't go into further particulars.



In the long term, if you could choose, what genre would you like to make a contribution towards? Would you like to write an opera, for example?



I probably would like to, but I don't see myself writing a full-length opera. I'm not sure I have that in me!



Do you see yourself more as an instrumental composer?



Most of my music has been instrumental, so I do want to write more vocal music, but I would also wish to continue writing orchestral and chamber music. I've got some plans for a string quartet after I have done some of the orchestral pieces, something I've held off doing since I've not quite felt ready for it. I'm looking forward to getting my teeth into that.



Where can people go to experience your music?



My music is published by Chester. A good place to start is my composer page on their website . Also, Chester is part of Schirmer, and it is possible to preview my scores there. Virga will be played by the Hallé on Thursday 17th November Details here . You can also find more information about me on the Hallé website .


Interview by Composition:Today © Copyright 2004-2022



Comments by other Members
Posted by :

KonnorRhett at 19:56 on 10 May 2021
I would not have been able to know about this if I would not have went on this website. It had a different section about online assignment help where every specific detail about it was given with no queries left at the end. I hope that this will be helpful for others as well.

Posted by :

jamseales0 at 11:26 on 20 July 2021
Any movies is normally outstanding. You've gotten a lot of particularly as good writers and singers. Document prefer you will the best quality about financial success. face mask
Posted by :

jamseales0 at 11:38 on 20 July 2021
It is trendy write-up in addition to i love to to learn to read that write-up. your site is usually excellent therefore you include beneficial workers with your blog site. pleasant giving thanks. [url=https://www.shawmerchantgroup.com/merchant_services_sales_jobs]credit card processing careers[/url]
Posted by :

jamseales0 at 11:38 on 20 July 2021
It is trendy write-up in addition to i love to to learn to read that write-up. your site is usually excellent therefore you include beneficial workers with your blog site. pleasant giving thanks. credit card processing careers
Posted by :

jamseales0 at 11:44 on 24 July 2021
Hello I am so delighted I located your blog, I really located you by mistake, while I was watching on google for something else, Anyways I am here now and could just like to say thank for a tremendous post and a all round entertaining website. Please do keep up the great work. virtual reality
Posted by :

jamseales0 at 07:44 on 27 July 2021
Prophet Climate Ministries provides free online prophetic words to help you get rid of frustration, demonic attack, oppression, financial crisis, and more. free prophetic word
Posted by :

jamseales0 at 10:55 on 27 July 2021
Extremely helpful post. This is my first time i visit here. I discovered such a large number of intriguing stuff in your blog particularly its exchange. Truly its extraordinary article. Keep it up. exotic car rentals

Posted by :

jamseales0 at 08:45 on 04 September 2021
Im no expert, but I believe you just made an excellent point. You certainly fully understand what youre speaking about, and I can truly get behind that. https://voyance-telephone-gaia.com
Posted by :

jamseales0 at 07:49 on 12 September 2021
When we receive a verification request from members, we will first investigate all of the past operation history to make it clear whether the site is a scam site. Even if the history is not properly verified, a company that has changed or renewed domains for a long time may not of course be filtered out. 먹튀검증
Posted by :

jamseales0 at 19:24 on 27 September 2021
Phyris is a dynamic cosmeceutical skincare brand with a scientific approach and groundbreaking formulations; it guarantees beauty and skincare products that stand for optimized nature. Result-driven skincare and science deliver optimal results in the present and distant future. Looking for Best Phyris facial Singapore Perfect Beauty Bedok is official Phyris facials and skincare products We are located conveniently at the heart of Bedok Central behind Bedok Mall. Best Phyris facial Singapore
Posted by :

jamseales0 at 15:15 on 30 September 2021
Money Magnet Crystal Bracelet | Attract Wealth, Prosperity, Abundance - Soul Charms. Our Money Magnet Crystal Bracelet is handmade and the perfect bracelet to wear to bolster your manifestation of wealth, abundance, success, and financial prosperity. money bracelet
Posted by :

jamseales0 at 13:20 on 06 October 2021
Nice to be visiting your blog again, it has been months for me. Well this article that i've been waited for so long. I need this article to complete my assignment in the college, and it has same topic with your article. Thanks, great share. auto faucet collector
Posted by :

jamseales0 at 07:53 on 12 December 2021
Shop High End Collection of Cheap Wedding Rings for women, Allegra N Co Offering Premium Collection of wedding Rings at Cheapest Affordable Prices, Free Shipping Across the US. We exist to provide you the highest quality engagement and wedding rings at affordable prices. Our rings are handcrafted from start to finish, without breaking the bank. Because we believe that a wedding does not have to cost you a fortune affordable wedding rings
Posted by :

jamseales0 at 10:44 on 13 December 2021
I am going to dentitox pro reviews ​Drops, a Supliment that is supposed to help with teeth and gum problems. It's been a while since I've lookekd at an oral care product with skepticism, but Dentitiox Pro Dropsjust seems like a scam from the start .
Posted by :

jamseales0 at 07:05 on 14 December 2021
Permit Studio is permit expediting services and permit management company in Chicago. We are offering the 36 different permit expediting services ​in Chicago. We can help you with an array of permit expediting and permit management tasks in Chicago. Adding us to your team will save you time and keep you from making some costly mistakes.
Posted by :

jamseales0 at 21:10 on 20 December 2021
Explore Dormi Original™ wireless headphones are the most comfortable wireless sleep headphones ​. Secured in a soft headband, they are comfortable even for side-sleepers. Shorter charging time, a thinner headband are the most comfortable headphones to sleep in Shop now! & and get 10% OFF your order!
Posted by :

jamseales0 at 12:05 on 16 January 2022
WitLink is a global AI marketplace for AI services and pool of decentralized computing resources - Custom-built AI Solutions. AI Services and Machine Learning Training Programs. AI Services at WetLink.ai | Blockchain-Powered AI Marketplace. ai marketplaces
Posted by :

jamseales0 at 12:03 on 19 January 2022
Axiom care – Genuine repairs with genuine parts. Our fleet of mobile repair geeks can serve your phone break down/repair needs at your convenience and at an affordable price. Just book online or dial for an instant pick up request or witness your phone being repaired in front of you, just walk into any of our 5 repair center across UAE. Axiom care
Posted by :

jamseales0 at 11:45 on 25 May 2022
Logitech Scripts are very easy to use and are the most safest scripts out there as everything is developed using the software that Logitech manufacturer provides to its customers. pubg logitech
Posted by :

jamseales0 at 07:58 on 28 May 2022
I'm so glad we chose Burlington Lakeshore Vet as our vet! Everyone is so kind and helpful. Dr. Aziz always take the best care of my dog and I feel very ... burlington vet hospital
Posted by :

jamseales0 at 07:54 on 16 July 2022
In addition, the private Toto site, which is recommended for verification in Box 365, has been transparently verified and selected companies that are irrelevant to anyone using it. 사설토토
Posted by :

jamseales0 at 08:49 on 03 August 2022
Asian Brothers Network is an experienced passport service company that can help you buy a registered passport online in no time. purchase real passport online
Posted by :

jamseales0 at 11:46 on 03 August 2022
KemonBet Merupakan Situs Judi IdnSlot Terpercaya, Login Kemon Bet dan Daftar KemonBet 88 sekarang di link alternatif Kemon Bet 88. kemonbet
Posted by :

jamseales0 at 06:25 on 11 August 2022
Joker888 online slot website has collected many Joker gaming slot games. สล็อตเครดิตฟรี
Posted by :

jamseales0 at 08:15 on 13 August 2022
If you have knowledge of a person or company attempting to defraud the federal government, and you come forward with this information, you could be receive a whistleblower award for your courage and blowing the whistle by filing a Whistleblower Lawsuit. Whistleblower Attorney
To post comments you need to become a member. If you are already a member, please log in .