Other Resources

News Archive

Edward Gregson Interview
Posted on 07 June 2018. © Copyright 2004-2022 Composition:Today
Christian Morris talks to leading British composer Edward Gregson. Now ten years into retirement from a distinguished academic career, his composing work is more vigorous than ever, with his recent Four Etudes for brass band being nominated for a 2017 British Composer Award.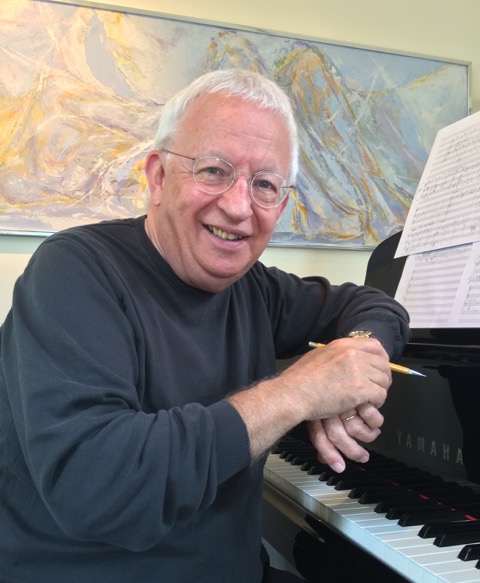 Edward Gregson

When we first started communicating by email you told me you 'had you head down orchestrating.' Would you like to let us know what you have been writing?



I've been working on a Halle commission, a large-scale piece for their Children's Choir and Orchestra. I'm delighted that they take these kinds of commissions seriously by involving the orchestra as well, because the experience for the children in the choir is so much more enhanced. They have around 80-90 voices, between 8 and 12 years of age, 'who enjoy singing and love a challenge!'

However, besides trying to write music that will both challenge and satisfy such a choir (a difficult task in itself), one of the other most demanding elements is scoring it for a full orchestra and trying to achieve a realistic balance between the forces. The work also has two narrators (male and female) that add to the overall dramatic story.

Anyway, the work is called The Salamander and the Moonraker - An Adventure Story in Music - with story and text by Susan Gregson (who also happens to be my wife!). It's around 35 minutes long (so a lot of orchestration!) and will be premiered on 1st July this year at Manchester's Bridgewater Hall. So you see why I had my head down trying to finish it when you contacted me. I should add that the choir has had the vocal score since before Xmas, so they have already been working hard on it.

Nevertheless, like many other composers, I also work on more than one piece at a time, and I have just finished writing a Euphonium Concerto for David Childs, someone who has undoubtedly done more to promote his instrument than any other euphonium player since the beginning of time! He was the first euphonium player to win the brass final of BBC Television's Young Musician of the Year (in 2000), and the first to play a specially commissioned concerto (by Alun Hoddinott) at the Proms. He is an outstanding musician, who happens to play the euphonium. The concerto will have two versions - one for orchestra and one for brass band - with the latter I suspect achieving more performances. He will be recording the concerto next January with the BBC Philharmonic under Bramwell Tovey, for the second volume of The Symphonic Euphonium on the Chandos label.

Tell us a little about your recent Four Études for brass band, which was nominated for a 2017 British Composer Award.


In 2016 I spent a year as Composer-in-Association with the wonderful Black Dyke Band - part of a three-year funding initiative with Arts Council England. The main brief was to write music specifically for the band, which indeed I did, but a 'sub-brief' was to try and promote interest in writing for the medium by working with young composers. To this end, it was my idea to try and spread the net as widely as possible, and so I set up seminars on 'writing for brass band' at three British conservatoires (those with a particular interest in the medium through performing ensembles). I am pleased to say that this has led to a number of new works being written for the medium by student composers who had never written for the medium before. I am quite proud of that!

Back to my music. One of the works I wrote for Black Dyke was Four Études, which as you mention was nominated for a BCA last year. I have written quite a few large-scale works for brass band, as you yourself know, but with this particular work I wanted to write something much more paired down, concise, and 'unusual'. The Études only last for 10 minutes with the first three each being less than 2 minutes, but the final one is the most substantial, and the most intense.

At the time of writing it, the tragedy that was Aleppo was unfolding, and my music tries to capture the outrage that so many people around the world felt at that time at the inhumanity, nay barbarism, of it all. The situation reminds me of your interview with Nigel Osborne, that heroic composer and ambassador who bravely put words into action many years before and achieved something really positive - I wish we were all so brave.

Will there be a recording of this soon?


The work has been recorded, as part of the Arts Council funding deal, and was released last year on the Doyen label. It contains the three works I wrote for Black Dyke in 2016 (including a Cornet Concerto for their 'leader' and cornet soloist extraordinaire Richard Marshall), plus some older works such as Dances and Arias which I wrote in 1984, and the work which also gives its name to the title of the CD. I'm pleased with the CD for many reasons, not least for the amazingly virtuosity (and considerable musicality) of the band, and am proud to say that it was awarded 'CD of the Year' by both of the brass band world's monthly magazines.

To go back to the beginning. What made you want to be a composer?


That's difficult to say. As with many creative people the urge was just 'there' from an early age. I started trying to compose around the age of 11 and very gradually developed a sort of understanding of harmony, counterpoint, and form, which of course are the basis of a compositional technique. Such an understanding helped me to take my ideas forward in a more meaningful way. By the time I entered the Royal Academy of Music (in 1963) to study composition I thought I had 'arrived', but then discovered I had to start all over again, and realised that my technique, and my approach to language and style, needed much more work.

My composition teacher was Alan Bush, a distinguished composer whose music has sadly declined in terms of performances. But he is too good a composer for that to be the case forever. His early string quartet Dialectic is one of the finest works for the genre by any British composer before the 2nd World War (don't take my word for it, just look up Hugh Wood's opinion in his chapter on English Music in European Music in the 20th Century).

Anyway, Alan was a fairly strict disciplinarian (as most teachers were in those days) and set about engaging me in a study of strict counterpoint amongst other things. I did ask him to teach me something about serialism, but he was rather dismissive, and said all I needed to know could be found in textbooks, or he could teach me it in an hour! Although he never used such a methodology for his own compositions, he certainly knew his Schoenberg. He was also a fine pianist (he studied with Artur Schnabel in Berlin), besides studying politics and philosophy. That was the time when he was converted to Marxism, something he believed in for the rest of his life, although I must say he never tried to ram his beliefs down the throats of his composition students.

Do you remember writing your first piece?


Yes, but I wouldn't want anyone to hear it now! It was a Sonata for piano, written when I was about 10 or 11, but it never really got out of F minor, if you see what I mean. Things did get better after that, but it took a long time...

What was your first success as a composer?


My first success was the work I wrote in my final year as an RAM student - a Quintet for Brass. It won the annual prize at the Academy for the best composition submitted in that academic year (1967). Trumpet player Philip Jones was in the audience at the premiere, and at that time he was the doyen of the brass ensemble, with his own group performing, broadcasting, and recording widely. I was very fortunate that he liked the work and asked if he could take it on his British Tour the following year (that was a 'no-brainer').

The Quintet then reached the final of the then BBC Young Composer's Competition, and following on from that was recorded by the Halle Brass Ensemble on the Pye Collector's label (how many of your readers are old enough to remember that I wonder?). And finally, and most importantly, it was the first work of mine to be published by Novello, who remain my publisher to this day.

And your biggest setback?


That happened the following year (1968). As a result of the success of my Quintet, I was approached by the English Chamber Orchestra and commissioned (with a generous fee it must be said, or at least I thought so, mainly because I didn't have much money at the time) to write a work for their forthcoming South American Tour. Such a commission was obviously a huge opportunity for a 22-year old composer, and I produced my first substantial orchestral work: Music for Chamber Orchestra. But here's the rub: the recently appointed Music Director was a fairly young pianist turned conductor by the name of Daniel Barenboim!

I was asked to meet him to go through the work, which I duly did at his flat, somewhere in Kensington if I remember correctly. I was greeted by Jacqueline Du Pre, who asked if she could sit in and listen! Barenboim and I read through the work on the piano (his score reading was something to behold) and at the end various pleasantries were exchanged. Jacqui was very complimentary about the work, but alas, as I discovered a little later via a rather embarrassed phone call from the ECO, Maestro Barenboim was obviously not so smitten. The result was that the work was not taken on their tour, was not even performed, and was put in my metaphorical (and probably literal) bottom drawer, not to emerge until considerably later on.

I am pleased to say that the work was re-introduced to the light of day following a request from Radio 3 - one of those fortuitous conversations with a producer - and was broadcast in the 1980's by the BBC Concert Orchestra - as it happens the same orchestra that much later recorded the work in a volume (now extending to a four-volume series) of my concertos and orchestral music on the Chandos label.

You are especially known for your works for brass band. What drew you to this medium?


Well, as a teenager I played in a brass band, so I guess the sound of the medium stuck with me for a long time. In addition, some of my first compositions were for brass band, for the simple reason that it was easy to get them performed. I should also add that I think the sound of a really good brass band is a very exciting one, and some of my earliest memories as a teenager were listening to original repertoire by composers such as John Ireland and Herbert Howells, as well as genre-specific composers such as Ray Steadman-Allen and Wilfred Heaton - names not known outside the brass band community but fine composers in their own right.

But you have also written widely in other forms...


Yes, that's true, and indeed most of my writing since the late-seventies has been for genres outside the brass band (ie orchestral, instrumental, choral, chamber etc). I've also dabbled in writing for the theatre and the occasional television commission. In the late '80's I was commissioned to write the music for the Royal Shakespeare Company's new History Plays cycle - titled The Plantagenets - involving writing the music for five plays. It was amongst the most enjoyable, but also the most pressurised, time I've had as a composer. Working with actors of the calibre they have was an inspiring experience.

The other genre which has occupied me for most of my career is that of the concerto. To date I've written around a dozen, the first in 1971, the most recent hot off the desk! My aim is to complete a concerto for every instrument of the orchestra, with my next two being for oboe and viola.

Is there a genre in which you harbour unfulfilled ambitions? Opera perhaps?


Well, I want to write a lot more choral music. It's a genre that has historical associations for me, as I was brought up with the sound of choirs in my head - Sunday services! I have written two large-scale works: The Dance, forever the Dance for Choir and Orchestra, and a Missa Brevis Pacem for boys' choir and wind ensemble, plus a few smaller scale pieces (both 'a capella' and with piano, organ, or ensemble), but I want to return to the genre many more times over the next few years. The human voice is, after all, the oldest of all instruments, and in many ways the most rewarding for which to write.

You are also known as an educator - at Goldsmiths College, as the Principal of the Royal Northern College of Music, with youth ensembles such as the National Youth Brass Band of Wales and on educational boards. How would you say that your work in education has influenced your life as a composer?


I started my teaching career as a peripatetic 'creative music specialist' in primary schools. That led on to my working in two Colleges of Education, then Goldsmiths College (University of London) where I taught for 20 years, the Royal Academy of Music, and finally the RNCM. During my academic life I taught composition to many students of varying abilities and application.

The teaching process itself is interesting. When one is working with children or amateurs it is a question of how to motivate and inspire, mainly through practical application. In the university or conservatoire situation it becomes, by necessity, more theoretical and analytical, although of course I always tried to ensure that the students heard their works in play-through and rehearsal via practical workshops. I taught first year undergraduates, all the way through to PhD students, and so the range of experience and ability was enormous.

When I was Head of Composition at Goldsmiths College I organised composition workshops for every first year BMus student at Goldsmiths College as part of their course (if I remember correctly in five groups of around 12, each taught by a different composition tutor). My proudest moment came when certain students who had previously neither had the confidence nor the interest in pursuing composition, decided after that first year course to take up composition for the rest of their degree, and beyond. In at least one case that has led to a professional composing career - very rewarding!

As to what you learn yourself from the process of teaching composition, well I would say quite considerable. Although the general presumption is that the teacher constantly gives out ideas to their students - which of course is true - the reverse is also true. Sometimes, by looking at the way a particular student meets a challenge, be it structurally, harmonically, contrapuntally, or through the orchestration process, you can solve a problem you might be having with one of your own compositions - now that's what I call mutual satisfaction!

What would be your perfect commission? You may pick any performer/s, alive or dead, any venue, any form.


To be honest, I don't think I have such a concept in my head. One of the joys of being a composer is meeting new musicians - instrumentalists, singers, conductors - nearly always highly stimulating. For example, I was Composer-in-Residence at last year's Presteigne Festival, when their wonderful Artistic Director and Conductor, George Vass, introduced me via rehearsals and performances of my music to a number of such musicians. The result, in more than one case, has resulted in me writing new works specially for these performers over the next few years.

What advice would you give to a young composer starting out?


Believe in yourself, and work, work, work! Talent in itself is never enough. Try and be collaborative and humble (as opposed to arrogant) when working with performers and conductors. Remember that we composers need musicians to take our music off the page and into the performance arena; and finally, try not to compose via the computer! It can become a dangerous tool for the lazy composer.

Describe your composing routine?


I'm one of the generations of composers who still use pencil and ms paper. I work with two copyists (both composers in their own right) who computer set (on Sibelius) my music much faster than I ever could. That also gives me a certain detachment from the printed score that is useful during the proofing process.

I spend a lot of time 'thinking' about a new work before I commit anything to ms paper. The gestation period can be quite long. Then, when ideas come, I gradually create an overall structural plan to envelop these ideas and their development. I mainly use traditional forms and an extended tonal language, using tonal centres rather than keys. Melody is an important factor in my music, and I have quite a highly-charged sense of rhythm, often using asymmetrical metres and phrasing. My orchestration has been described as 'colourful' and I work quite hard to be 'practical' in my writing for instruments, avoiding the extremes that some composers seem to delight in (and that players mainly dislike intensely!).

What are your future plans?


Well, one thing we composers are blessed with is that we can continue to write music until we reach the 'end zone'! My future plans are to continue to compose for many years to come. The most exciting thing is always the next composition, the next rehearsal, the next performance.

More information about Edward Gregson:

Personal Website - the best starting point; contains a wide range of information including links to numerous other articles.

Recordings (Chandos Records)
Wikipedia
New Grove (login required)





Interview by Composition:Today © Copyright 2004-2022



Comments by other Members
Posted by :

GeneralWelch at 03:47 on 06 June 2020
There are lots of people who are doing the work in the music industry and having an excellent working history as well. I have found the update on http://essaysoriginreview.com/review-on-college-paper-org/ website about the different musicians really great. Thank you and keep going to bring the valuable updates.
Posted by :

NesoomLiam at 01:15 on 14 July 2020
There is nothing better than the music industry, it is super fresh and with a touch of <a href="https://www.seoplanner.com/#">seo</a> technology has risen to a new level!
Posted by :

NesoomLiam at 01:15 on 14 July 2020
There is nothing better than the music industry, it is super fresh and with a touch of <a href="https://www.seoplanner.com/#">seo</a> technology has risen to a new level!
Posted by :

NesoomLiam at 01:16 on 14 July 2020
There is nothing better than the music industry, it is super fresh and with a touch of [url=https://www.seoplanner.com/#]seo[/url] technology has risen to a new level!

Posted by :

jamseales0 at 11:24 on 08 March 2021
Interesting post. I Have Been wondering about this issue, so thanks for posting. Pretty cool post.It 's really very nice and Useful post.Thanks 토토사이트

Posted by :

jamseales0 at 07:28 on 11 March 2021
Thanks for the tips guys. They were all great. I have been having issues with being fat both mentally and physically. Thanks to you guys i have been showing improvements. Do post more. 먹튀검증
Posted by :

jamseales0 at 10:19 on 15 March 2021
Hi there! Nice material, do keep me posted when you post something like this again! I will visit this blog leaps and bounds for more quality posts like it. Thanks... 먹튀검증사이트
Posted by :

jamseales0 at 14:05 on 16 March 2021
We are providing an Opportunity to make handsome amount of money by reselling our social media services on your own social media marketing or by selling them on Various Marketplace. best smm panel
Posted by :

jamseales0 at 11:11 on 17 March 2021
Recruitly is a cloud based Recruitment CRM and ATS system built to streamline agency recruitment processes and help businesses grow as a result. All the tools you need to run your recruitment business in one place. Visit our website to get more information. Thank You. Recruitment CRM
Posted by :

jamseales0 at 11:40 on 18 March 2021
Wow, cool post. I'd like to write like this too - taking time and real hard work to make a great article... but I put things off too much and never seem to get started. Thanks though. 꽁머니 홍보방
Posted by :

jamseales0 at 07:26 on 28 March 2021
Regular visits listed here are the easiest method to appreciate your energy, which is why why I am going to the website everyday, searching for new, interesting info. Many, thank you Onewheel Accessory
Posted by :

jamseales0 at 09:59 on 04 April 2021
Your article is extremely helpful exceptionally fascinating subject i am looking that sort of post thank for imparting to us keep it up. Onewheel Pint Accessories
Posted by :

jamsebond0 at 10:31 on 17 April 2021
All the best brands at one Place in Pakistan, Super Bazar online shopping of dresses in Pakistan Best Deals available at discounted rates Cah on delivery Service in Karachi, Lahore, Rawalpindi, across Pakistan. Please visit our website for best online shopping experience. Thank You.
Posted by :

jamseales0 at 11:46 on 18 April 2021
I am very much pleased with the contents you have mentioned. I wanted to thank you for this great article. kutools excel mac

Posted by :

jamseales0 at 15:55 on 20 April 2021
I think this is an informative post and it is very useful and knowledgeable. therefore, I would like to thank you for the efforts you have made in writing this article. mpo slot terbaru

Posted by :

jamseales0 at 08:00 on 28 April 2021
I wanted to thank you for this great read!! I definitely enjoying every little bit of it I have you bookmarked to check out new stuff you post. thc dabs for sale
Posted by :

jamsebond0 at 19:13 on 19 June 2021
If you live in the Brampton Ontario areas and are looking for scrap car removal in Brampton, Top Cash scrap car removal offers the Brampton scrap car removal service with the best & instant prices for your old Clunkers. top dollar for scrap cars brampton

Posted by :

jamseales0 at 17:15 on 26 June 2021
I just found this blog and have high hopes for it to continue. Keep up the great work, its hard to find good ones. I have added to my favorites. Thank You. become a credit card processing agent

Posted by :

jamseales0 at 15:05 on 29 June 2021
Wow! Such an amazing and helpful post this is. I really really love it. It's so good and so awesome. I am just amazed. I hope that you continue to do your work like this in the future also more info

Posted by :

ChrisC at 22:49 on 30 June 2021
I hope everything is still fine with you man! [url=https://www.shopedc.com]Jewelry Dayton Ohio[/url]
Posted by :

jamseales0 at 16:40 on 22 July 2021
Free Free Slots No Deposit Sites 2021 ​are the most popular choices online all the time, Online slots are one of the ways that players enjoy their place to play at the most.
Posted by :

jamseales0 at 11:52 on 22 May 2022
very interesting post.this is my first time visit here.i found so mmany interesting stuff in your blog especially its discussion..thanks for the post! Nft projects
Posted by :

jamseales0 at 08:40 on 28 May 2022
Thanks for the blog loaded with so many information. Stopping by your blog helped me to get what I was looking for. 먹튀검증
Posted by :

jamseales0 at 07:38 on 05 June 2022
Positive site, where did u come up with the information on this posting?I have read a few of the articles on your website now, and I really like your style. Thanks a million and please keep up the effective work. shipping container home plans
Posted by :

jamseales0 at 07:30 on 07 June 2022
Yes! Fake documents look exactly the same as real documents. The only difference is that they are NOT database registered. So, it will be a bad idea to submit a fake document like a fake passport to a location such as an airport, where they have computers connected to databases for document verification. Buy fake docs online at the best price. Order fake documents online from europeandocsexpress for the authentic and guaranteed service. Buy Passport Online A passport is one of the most coveted documents one can possess. Buy Driving License Online Driving License, we produce Only certifiable data set enlisted driver's permit. Buy ID Card Online buy fake documents online
Posted by :

jamseales0 at 10:10 on 23 June 2022
5 Star Roof Care have been providing Surrey & London quality and competitively priced roofing services for over 30 years. We offer a range of roofs for installation, from lead roofs to Flat, pitched and GRP roofs. Our roofers are fully qualified and trained to give the best possible customer service. Roof repairs London
Posted by :

jamseales0 at 14:22 on 29 June 2022
Black Swan Director: - Screenwriter: - Main Cast: Natalie Portman,Mila Kunis,Vincent Cassel,Winona Ryder Category: Drama. ดูหนัง hd
Posted by :

jamseales0 at 10:09 on 16 July 2022
latest article. How to know in advance and prevent Totosite eating out January 04, 2022; [Toto Site] Beware of impersonation victims! feat. 토토사이트
Posted by :

jamseales0 at 11:22 on 17 July 2022
Синхронното обучение в дизайнерската академия е едно от най-иновативните в страната. Тази форма на обучение се приема изключително добре от курсистите и е все по-предпочитана. Нашата цел е този начин на учене също да осигурява максимални резултати за нашите курсисти. интериорен дизайн университет
Posted by :

jamseales0 at 16:19 on 22 July 2022
As i purchased with your blog site while positioning fascination purely a little bit little submits. Fulfilling technique for extended, We will be book-marking during a period attain forms finish happens further up. Roof repairs Surrey
Posted by :

jamseales0 at 10:24 on 13 August 2022
When using a baccarat site, you must use a site that has been verified and has affiliates or has a strong capital so that no damage will occur in the future. Please use safe and guaranteed casino games. 에볼루션게임
Posted by :

jamseales0 at 13:19 on 21 August 2022
very nice post, i undoubtedly enjoy this excellent website, continue it news
Posted by :

jamseales0 at 15:03 on 23 August 2022
OBCTOP adalah situs judi slot online resmi terpercaya yang juga merupakan salah satu agen slot resmi di Indonesia yang menyediakan permainan slot online yang lengkap dengan berbagai jenis provider ternama di dunia seperti pragmaticplay, habanero dan pgsoft. slot online
Posted by :

jamseales0 at 10:22 on 24 August 2022
Johnny Depp is my idol. such an amazing guy * 안전놀이터
Posted by :

jamseales0 at 08:46 on 10 September 2022
hello!,I love your writing very much! proportion we keep in touch extra about your post on AOL? I need an expert in this space to solve my problem. Maybe that's you! Taking a look ahead to peer you. 뉴헤븐카지노
Posted by :

jamseales0 at 08:46 on 10 September 2022
hello!,I love your writing very much! proportion we keep in touch extra about your post on AOL? I need an expert in this space to solve my problem. Maybe that's you! Taking a look ahead to peer you. 뉴헤븐카지노
Posted by :

jamseales0 at 12:03 on 12 September 2022
Good day. Very cool website!! Guy .. Beautiful .. Wonderful .. I'll bookmark your blog and take the feeds additionally…I'm glad to find so much helpful information right here within the article. Thank you for sharing… Water Tank price
Posted by :

jamseales0 at 06:34 on 14 September 2022
We offer a complete solution of Packing and moving services Greater Noida to Kota as per our customer requirement at affordable prices with 100% satisfaction. Packers and Movers pune to Delhi
Posted by :

jamseales0 at 09:52 on 14 September 2022
Listcry is leading Transportation Services Hyderabad for House Shifting, Office Relocation, Goods Transport, Cargo & Commercial Shifting Provider ices ... Packers and Movers Jaipur to Ahmedabad
Posted by :

jamseales0 at 11:27 on 16 September 2022
Many designers choose to complete a bachelor's degree in interior design, which typically takes four years to complete. During their studies, students take courses in color theory, furniture design, and computer-aided drafting. How to become an Interior Designer
Posted by :

jamseales0 at 13:07 on 21 September 2022
Awesome blog! Is your theme custom made or did you download it from somewhere? A design like yours with a few simple tweeks would really make my blog shine. Please let me know where you got your theme. Kudos Miss Samsung Fascinate 3 piece outdoor bistro set
Posted by :

jamseales0 at 15:40 on 22 September 2022
Born in 2009 out of the desire to be Melbourne's pride in the cannabis industry and to poineer the goal of buying weed online in America. <a href="http://exotic-greenhouse.com/">EXOTIC GREEN HOUSE STAY HOME AND ORDER ONLINE</a>
Posted by :

jamseales0 at 11:29 on 26 September 2022
mesin138 adalah situs slot gacor yang selalu siap menawarkan game slot online gampang menang. Daftar & Depositkan uang anda sekarang!
Posted by :

jamseales0 at 09:04 on 27 September 2022
SBOBET88 merupakan situs judi online terpercaya yang membuka akun taruhan judi bola di bandar judi bola terbaik yang menyediakan permainan slot online dan ... situs slot gacor
Posted by :

jamseales0 at 06:40 on 28 September 2022
pin badges Enamel Badges provides a massive range of custom enamel badges in the UK. we offer soft and hard enamel badges, die struck badges, and printed badges. https://www.enamelbadges.com
Posted by :

jamseales0 at 12:06 on 28 September 2022
you possess a excellent weblog here! want to have invite posts on my weblog? rosin press machine
Posted by :

jamseales0 at 09:23 on 01 October 2022
I recently came across your blog and have been reading along. I thought I would leave my first comment. I don't know what to say except that I have enjoyed reading. طراحی ویلا کلاسیک دوبلکس
Posted by :

jamseales0 at 09:24 on 01 October 2022
I recently came across your blog and have been reading along. I thought I would leave my first comment. I don't know what to say except that I have enjoyed reading. طراحی ویلا کلاسیک دوبلکس
Posted by :

jamseales0 at 09:24 on 01 October 2022
I recently came across your blog and have been reading along. I thought I would leave my first comment. I don't know what to say except that I have enjoyed reading. [url=https://keitianealves.com.br/lift-detox-funciona-lift-detox-funciona-mesmo/]Lift Detox Caps Funciona?[/url]
Posted by :

jamseales0 at 12:37 on 02 October 2022
Hey! I could have sworn I've been to this site before but after reading through some of the post I realized it's new to me. Anyways, I'm definitely delighted I found it and I'll be book-marking and checking back frequently! 벳쑤아리
Posted by :

jamseales0 at 12:16 on 04 October 2022
The latest web slots Guarantee the top dispenser in Asia. The newest and most powerful slots website Certified by web traffic statistics from google . เว็บสล็อตใหม่ล่าสุด
Posted by :

jamseales0 at 12:32 on 05 October 2022
ok glad you are taking her to the vet. this will save my usual speal. depending on how long the hip has been out, you are looking at three main options, if the hip is in fact out. first an x-ray will have to be taken to prove this.. . your vet may be able to "pop" the hip back in and with some care at home to keep her quiet, you may not have any trouble.. . if the hip has been out too long to easliy "pop" back in then an ehmer sling will be applied. this will keep the leg pinched up toward the body so she can't use the leg until the muscles tighten and allow the hip to stay in place.. . worst case she will need an FHO this is where the femoral head of the femur is removed. it is not a rare sugery. it's been done several times and your vet should be able to do it or refer you to someone who can. aside from aftercare of being careful of the site and keeping her calm, most dogs do very well. she may always have a limp, but she's a pup and would adjust very well. often this is better than a hip replacement or anything else like that fho dogs tend to not have arthritis issues later on from the surgery.. . good luck and hope everything just "pops" into place tomorrow. 벳샷
To post comments you need to become a member. If you are already a member, please log in .