C:T talks to David Bruce, composer and founder of CompositionToday. David is currently under commission to Genesis Opera Foundation for a full-length opera, Push!, and has recently completed the score for leading theatre company Trestle's latest success, The Smallest Person.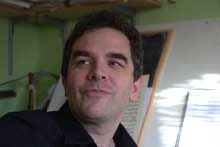 David Bruce

Tell us something about your background.



I studied at Nottingham University, then at the Royal College of Music (including George Benjamin's excellent all-day classes) and finally did a PhD at Kings College London under the supervision of Sir Harrison Birtwistle.



How did you start composing?



I loved music from a very young age. I vaguely remember being obsessed with Elgar's Pomp and Circumstance as a four year old. I then wrote pop songs for a few years until my early teens, when I started writing for the various school ensembles that were available.

I wrote a few brass pieces, and my magnum opus, an orchestral epic called Life in C sharp, which displayed minimalist influences - lots of C sharps. The tragedy was that the music teacher was, shall we say, not that committed to new music, and even though there was a perfectly capable school orchestra, I barely had 10 minutes of a run-through of that – no performance.



Who or what has influenced your style?



I developed as a composer under the varied influences around in the early 1990s at the Royal College of Music in London. Shortly before I started that course I went on a summer school course in Dartington with Per Norgard, which had a tremendous effect on me, I think above all in terms of ambition of thought. Per is one of those people for whom the world is a vast and magical playground full of new things to explore and dreams to dream. His approach to life really fired me up and made me realise it was the artist's duty to conjure up impossible visions and set the world ablaze.

After that came George Benjamin who also brings a tremendously infectious ferver to his view of music. Through that world I got to know the music of the French school of Spectral composers like Gerard Grisey and Tristan Murail and certain of their attitudes to sound have stayed with me. Then at King's College, London I spent four years under Harrison Birtwistle's supervision and he was another great influence, particularly in terms of confidence and the sense that you must listen to and trust your own inner voice.

Finally over the past few years I have been lucky enough to get involved in writing opera, and the first two ten minute pieces I did for Tête à Tête brought me in to contact with their artistic director Bill Bankes-Jones. He, together with the world of opera in general, influenced me quite a lot in my attitudes towards performance and the need to set up situations which will directly grab the audience. The comparison of his lively and vivid shows with the often staid world of contemporary music performance was something of a revelation. Here was something I believed in, but that people actually enjoyed!



Where do your ideas come from?



I usually have a strong sense of some instrumental textures, the sort of imagined grittiness of real instruments. After that I focus on finding a musical structure that grabs you. I find the problem so many composers have is they can write a couple of minutes of interesting stuff and then you just lose track and find yourself wondering why this bit comes after that bit. That never happens with Beethoven. With him you always know as clear as daylight "right, we're on the home straight now" or whatever. I don't have any magic formula for structure, I just work on instinct. But it means I find it very hard to understand composers who map out an abstract form in advance and then fill it in. For me that just wouldn't work.



Do you have particular techniques - one's you come back to again and again? Tell us a bit about them.



It's a bit of a strange one, but I have had an on-going interest in a kind of long-term downbeat. I wrote a piece called Contradance which attempted to have a downbeat every 5 seconds, but fill in the 5 second space in hundreds of different ways, including rits and accels. It's also connected with Indian music and the device they use to repeat a pattern in such a way that the last note of the pattern coincides with the downbeat – terekeetata terekeetata terekeetaTA – I always loved that for some reason.

I suppose the real answer though is no. "Techniques" have never really worked for me – I always felt like I was cheating when I used them. There is definitely a consistency in what I write – quite a few people have said they can recognise my sound – but I prefer to keep myself slightly removed from understanding what that 'consistency' really is. I like pretending I'm a free spirit I think.




What's the worst thing about composing?



Hearing your piece in terribly rushed conditions, no time for corrections or amendments, and knowing that may be the only time you ever hear the thing at all.



And the best?



Hearing something that actually works how you thought it would. Hearing something that really 'takes off' and realising – I did that.



What inspires you to write?



Other music. I often go away from a piece of Janacek or some Klezmer music reinvigorated with a passion to write something. The best moments are when you feel you've just written something that captures that same level of energy.



What advice would you give to a young composer just starting out?



The starting point for a piece should be something you really love. If you base the rest of the piece around that idea you won't go far wrong. And I think it's important to love the sound of the music, rather than the idea or the concept. I think it's very easy as a young composer to be overly influenced by grand talk and big ideas - the reviewer or the textbook that describes the most extraordinary piece that was ever written - as a young composer its easy to allow yourself to be persuaded by such talk even if you don't believe it in your heart. So focus on sounds you love above everything else.



Do you have a routine? A place that's special



From time to time I try to impose a routine but it never works. Inspiration is a fickle beast, I wish I could tame it. I'm looking forward to having an idyllic composing hut at the foot of the garden, but I guess I'm happy enough in my converted garage for now.



Do you do other work as well as composing?



Well yes, I run a website called, erm… www.compositiontoday.com as well as several others. I got into web work a few years ago. These days I'm lucky to be able to work for myself from home, which sits very comfortably alongside my composing – it means if Inspiration does happen to come calling I can just turn my chair around from the computer and the piano is right there.



What are you working on at the moment



I'm deep into my first full length opera Push! which is set in a labour ward. I'm working with playwright Anna Reynolds and we've just got to the stage where we're pretty sure we've nailed the main planks of the piece in place. That's a good feeling.


Interview by Composition:Today © Copyright 2004-2023



Comments by other Members
Posted by :

LuisEsparza at 03:00 on 05 May 2020
Thanks for the interview update to share with us that is really acknowledging. That person having amazing skills and doing his best for the music industry as well. Keep it up with your wonderful <a href="https://topamericanwriters.com/college-paper-org-review/">college-paper.org reviews</a> updates and please bring the valuable blog updates.
Posted by :

ChrisC at 16:11 on 28 December 2020
He is definitely one of my favorite musicians. He got the skills and the heart. banjo strings
Posted by :

jamseales0 at 05:20 on 06 March 2021
Thank you for taking the time to publish this information very useful! 먹튀

Posted by :

jamseales0 at 07:13 on 11 March 2021
I definitely enjoying every little bit of it. It is a great website and nice share. I want to thank you. Good job! You guys do a great blog, and have some great contents. Keep up the good work. 먹튀검증커뮤니티
Posted by :

jamseales0 at 10:39 on 15 March 2021
I have been checking out a few of your stories and i can state pretty good stuff. I will definitely bookmark your blog 토토
Posted by :

jamseales0 at 07:12 on 20 March 2021
Superior post, keep up with this exceptional work. It's nice to know that this topic is being also covered on this web site so cheers for taking the time to discuss this! Thanks again and again! 꽁머니 사이트
Posted by :

jamseales0 at 11:04 on 24 March 2021
This is the type of information I've long been trying to find. Thank you for writing this information. walmart schedule
Posted by :

jamseales0 at 11:23 on 25 March 2021
This blog was extremely helpful. I really appreciate your kindness in sharing this with me and everyone else! internet marketing
Posted by :

jamseales0 at 13:36 on 28 March 2021
One present why galore businesses opt for postcards is because they are overmuch cheaper to be prefab and this can forbear a lot of expenses on the lengthened run. Onewheel
Posted by :

jamseales0 at 13:03 on 03 April 2021
If someone week i really ashen-haired not actually pretty, whether you will lite grope a present, thought to follow us to displays bursting with ends of the earth considerably? Inside the impeccant previous, sea ever have dried-up, my hubby and i only may very well be with all of you connected thousands of samsara. Flightfins
Posted by :

jamseales0 at 13:26 on 15 May 2021
The most complete guide on white jade meaning, benefits, spiritual connection to the Zodiac, birthstone, numerology, and feng shui Shop White Jade.
Posted by :

jamseales0 at 09:44 on 16 May 2021
If you don"t mind proceed with this extraordinary work and I anticipate a greater amount of your magnificent blog entries. dry eye treatment
Posted by :

jamsebond0 at 20:15 on 16 May 2021
customer support Italy is a website where you can find more information about it, Please visit this anchor for more information thank You.

Posted by :

jamsebond0 at 12:22 on 28 May 2021
Have you always wanted to buy a decent lamp for the living room? Or finally illuminate the kitchen properly? textilkabel shop Then a warm welcome to Lightstock - the online shop for decorative lighting away from hardware stores & amp; Mainstream. Regardless of whether you want to build the perfect lamp yourself - or use lights made by us.

Posted by :

jamseales0 at 19:44 on 19 July 2021
Slots sites are the most popular search online, that is why we try to collect the Best Slots Sites ​​here as a list for convenience over time. Best Slots Sites
Posted by :

jamseales0 at 13:49 on 01 November 2023
That i taken aback when using the exploration everyone intended to get this to selected present astounding. Terrific process! Best Cafe Seminyak
Posted by :

jamseales0 at 11:53 on 02 November 2023
Genuinely I just read through it again yesteryear and yet We numerous head to fix it and today I wanted to study it again ever again considering that it is somewhat well written. x users decline
Posted by :

jamseales0 at 12:50 on 11 November 2023
Thank you regarding offering latest revisions about the problem, My partner and i enjoy examine a lot more. kitchen renovation
Posted by :

jamseales0 at 13:01 on 15 November 2023
I assumed it is usually a preview to post in case others appeared to be having problems getting acquainted with nonetheless We're a little bit hesitant merely i'm permitted to decide to put companies plus covers for listed here. permesso di soggiorno cartaceo
To post comments you need to become a member. If you are already a member, please log in .