C:T talks to trumpet quartet Bella Tromba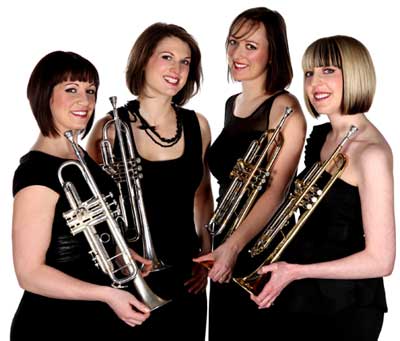 Bella Tromba

Tell us something about your background.



Four freelance trumpet players who love performing, new projects and challenges. We all play in orchestras and have our own niches everyone is committed to the work that the quartet does.



Tell us about the quartet, how it was formed, it's raison d'etre.



It was Vickieís idea to get together and play. Originally it was just for fun, to help our playing develop and have a laugh together. For a few years we concentrated on building a repertoire, doing as many performances as possible focusing on giving an audience something really good. Now our focus is on building an international reputation, working with fine chamber musicians and playing great music. We are ambitious for the ensemble.



Does the group focus on specific types of music?



Inevitably for an ensemble like ours we have to be inventive. We look for music that will take us away from the perception of trumpets just doing fanfares and brass ensembles doing cheesy arrangements. We do have original works from the Baroque and even some Mozart but most of what we do is Contemporary.



How do you go about programming your concerts?



We are currently looking for artists of all sorts to work with in order to create a vision for the next couple of years. We want to create music, plus. A real experience for the audience that goes deeper than a string of pieces in a row. We would like to be able to work with academics, scientists and artists of all kinds to create something special.

Our programmes are normally in place 6 months to a year ahead and we look at the venue, audience and our buget as contributing factors.



How do you respond to unsolicited work- do you give feedback? Do you ever commission new work yourself?



Yes, absolutely! We love working with composers. I go to a lot of concerts and lurk at the bar waiting to mug composers and persuade them that the trumpet is a fabulous vehicle for their music. In the past we have been able to raise funds for composers and we have also worked with younger composers who value getting their music played.

Sometimes people email me things they have written and we always have a look at them in a rehearsal and sometimes we are able to program them. At the moment we are particularly keen to collaborate with other performers but also to extend our work to embrace other art forms.



What excites you about a piece of music - what keeps you interested?



The thought behind it. I love hearing about the creative process. Why was it written, what do you want the audience to feel? How does it speak to us as performers on a personal level.



And what turns you off ?



Parts that are tough to read have got to be the number one difficulty. Not getting music in enough time to prepare it before the performance is tough. No rests! Thatís it though really, composers are generally lovely. (If that sounds like a suck up, it is, send us your music!)



Tell us about your current projects



A World Premiere of El Grito del Silencio by Susanne Erding Swiridoff in Toronto, Canada June 2010. Plus Canadian premieres of music that was written for Bella Tromba by Howard Skempton, Peter Longworth and Paul Burnell.

A performance of Glassblowing by Paul Burnell for Recollect 2010 at Glass Art Gallery in May

Recording Peter Longworths excellent Colori di Roma for download from our site

New pieces by John Reeman and Bruce Knockles



What are your plans for the future?



To do an album that showcases some of the very fine music that has been written for us and that breaks some ground with inspiring collaborations.



How can people find out more about you?



http://www.bellatromba.com

info@bellatromba.co.uk

Come to a concert and say hi!


Interview by Composition:Today © Copyright 2004-2023



Comments by other Members
Posted by :

RonaldR at 06:04 on 25 July 2020
It's nice to hear some really inside stories of your band and girls really rocking. I love your band very much. Wish one day I could make a music band as well with some of my friends who is interested in music. Thanks for the paper writing sites updates o your blog as well.

Posted by :

jamseales0 at 07:26 on 07 March 2021
Wonderful article. Fascinating to read. I love to read such an excellent article. Thanks! It has made my task more and extra easy. Keep rocking. 토토사이트
Posted by :

jamseales0 at 08:56 on 11 March 2021
For a long time me & my friend were searching for informative blogs, but now I am on the right place guys, you have made a room in my heart! 토토
Posted by :

jamseales0 at 11:34 on 15 March 2021
I high appreciate this post. Itís hard to find the good from the bad sometimes, but I think youíve nailed it! would you mind updating your blog with more information? 먹튀
Posted by :

jamseales0 at 13:20 on 18 March 2021
I think this is a really good article. You make this information interesting and engaging. You give readers a lot to think about and I appreciate that kind of writing. 꽁머니 사이트
Posted by :

jamseales0 at 08:34 on 28 March 2021
Extremely helpful post. This is my first time i visit here. I discovered such a large number of intriguing stuff in your blog particularly its exchange. Truly its extraordinary article. Keep it up. Onewheel Accessories
Posted by :

jamseales0 at 11:21 on 04 April 2021
I know your aptitude on this. I should say we ought to have an online discourse on this. Composing just remarks will close the talk straight away! What's more, will confine the advantages from this data. Flightfins
Posted by :

jamseales0 at 07:04 on 14 April 2021
I admire this article for the well-researched content and excellent wording. I got so involved in this material that I couldnít stop reading. I am impressed with your work and skill. Thank you so much. thc concentrates
Posted by :

jamseales0 at 15:48 on 18 April 2021
An interesting dialogue is price comment. I feel that it is best to write more on this matter, it may not be a taboo topic however usually individuals are not enough to talk on such topics. To the next. Cheers. mac cleaner activation code free

Posted by :

jamseales0 at 13:40 on 29 April 2021
I wish more authors of this type of content would take the time you did to research and write so well. I am very impressed with your vision and insight. 먹튀검증

Posted by :

jamseales0 at 07:41 on 03 May 2021
Thanks a lot for sharing this excellent info! I am looking forward to seeing more posts by you as soon as possible! I have judged that you do not compromise on quality. [url=htts://docs.google.com/document/d/1tV5N1GK0_DeBMg3rPPJSLTNwtPzKkEuCf3RJhC34Ex8/edit?usp=sharing]medical marijuana[/url]
Posted by :

jamsebond0 at 19:53 on 19 June 2021
We have been operating out of our scrap yard located right here in the city of Mississauga and we buy and process cars locally this gives our customers the best & instant price possible for their old Vehicles scrap car removal mississauga

Posted by :

jamseales0 at 17:00 on 23 July 2021
Best New Bingo Sites 2021 A2Z Sister Site Free slots no deposit No deposite casino | The Best Place To Find Casinos & their Sister Sites. We are one of the top largest UK online casino index sites, we have enclosed more than 2100 online casino brands their operating companies on our site. Please visit our website for more information and limited offers. Thank You. Best New Bingo Sites 2021
Posted by :

jamsebond0 at 09:13 on 27 July 2021
If You are looking for great quality cheap canvas prints then Oh Sign A Wall is a place where can find the perfect solution for that. Uplifting canvas picture prints or vintage iconic metal signs with tons of designs and wall stickers are waiting for you. And we continuously look for new amazing wall decor must-haves, so visit our site to order canvas prints ​or explore our trending Products.

Posted by :

jamseales0 at 16:20 on 29 July 2021
Ertisun Handmade Jewellery, Now You can buy Jewlery online from a brand inspired by Irish Nature with a passion for unique and delicate jewellery designs.Please visit our website for more details, Thank You. buy Jewlery online
To post comments you need to become a member. If you are already a member, please log in .