C:T talks to Mandolin virtuoso Avi Avital who aims to broaden the appeal of the instrument by playing and commissioning new work.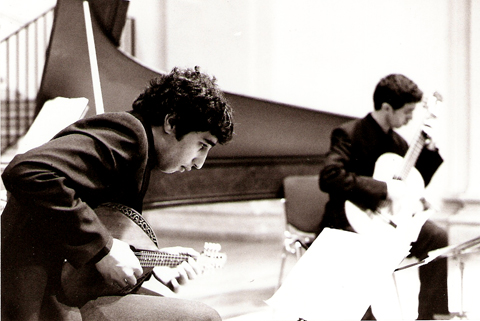 Avi Avatal

Tell us something about your background.



I was born in 1978 in Beer-Sheva, a quiet town in the southern part of Israel, just where the desert begins. Both my parents were born in Morocco and immigrated to Israel in the 1960's. I grew up in an incredible mixture of cultures; quite usual for anyone in Israel. I had in my ears Moroccan rhythms, from family gatherings celebrating a wedding or a new born (that happens quite often when you have 17 uncles!) I heard the old melodies of the European Jews whenever I went for a Shabbat dinner at one of my friends' homes, and Israeli pop songs, those that you can hear on the radio. That reflects perfectly the complexity of what people might call "Israeli Culture". When I was seven years old my parents asked me what would I like to do as an after school activity, and since I never liked Karate, the municipal conservatory in my town was the option that attracted me the most.



How did you first get interested in the mandolin?



I remember as a kid spending a lot of time with my upstairs neighbors. They were three brothers, one of them was younger then me and the other two were a bit older. By the law of kid's nature, I was looking up a little bit to the older brother who was taking mandolin classes at that time. When the time came for me to choose an instrument, he was already playing for some years and got himself a new and better mandolin. Somehow his old "beginners" mandolin ended up in my hands…






How did you become interested in Contemporary Music?



I was studying for my music degree at the Jerusalem Academy of Music, but since they didn't have any mandolin teachers, I was studying with a violin professor, playing basically the highlights of violin's repertoire like Bach's Chaconne, Ysaye's Sonatas and Saint-Saëns' Rondo Capriccioso…on mandolin of course! After my graduated I moved to Italy to study with one of Europe's most important mandolin experts, Ugo Orlandi, with whom I discovered the valuable but rather rare original repertoire for the mandolin.

After having from both worlds, I realized that sticking exclusively to the traditional mandolin repertoire would force me to play pretty much the same pieces every year, and playing only violin repertoire could be too awkward to build an international career on. I realized that a lot of the great composers throughout history, those who wrote for the mandolin and especially those who didn't, were ignoring the great potential of this wonderful instrument. I decided therefore that this historical injustice must be rectified (!) and started commissioning pieces from foremost composers, challenging them to consider the mandolin as a virtuoso instrument, and use its great sonorities and the immense pallate of colors and expressions it can produce.




What excites you about a piece of music - what keeps you interested?



I recently commissioned a fantastic mandolin concerto from the Israeli composer Avner Dorman, which I'm by the way going to perform at the end of this month (May 2007) in New York with Metropolis Ensemble. Right after getting the new score and having a brief look at it I called the composer Avner Dorman. He was naturally curious to hear what I was thinking about the mandolin part and the first thing I had to tell him was: "Avner, it's as if a mandolin player wrote it". I then took a deeper look at the new piece. After playing it a several times I had to phone him back to tell him "I feel as if I wrote it, if I could….that is".

So I guess what excites me most about a piece of music is finding my reflection in it. I believe it happens with every good piece of music (or art). Sometimes it's immediate and sometimes it requires a non-less exciting process.




And what turns you off ?



My Italian teacher's most famous phrase in class was: "č come lavorare tre ore per fare un panino" which means "it's like working three hours for making a sandwich". I might be turned off by a piece that is just so difficult and full of effects, without any real saying behind it…



Any common mistakes composers make when writing for the instrument?



Some composers think of a violin when they write for the mandolin, because of the same tuning. That might help a composer that is maybe more used to write for violin in order to find the correct left-hand positions, but one might also forget the mandolin's unique qualities.



You have commissioned a number of work from composers. What led you to choose the composers you did.



I have recently got another new Mandolin Concerto, written by a young and very promising Italian composer, Federico Gardella. It was commissioned by the symphony orchestra "I Pomeriggi di Milano" with whom I'll perform and record it on their next season. When we first met to talk about the future piece, Gardella was bringing up a lot of associations regarding the Mandolin being such a present instrument in his nation's culture. I had no doubt that he will use it in the piece in his own language.

So, as I always shaped my artistic identity by considering, confronting and reflecting my cultural reality, I would usually identify more with composers that would somehow use with their cultural baggage, like clay in the potter's hand.




Do you read unsolicited scores?



Oh yes!



What are your plans for the future?



I hope to continue to bring the mandolin to many concert halls around the world, serving the people with great compositions and fresh sounds.



How can people find out more about you?



That's an easy one: http://www.aviavital.com


Interview by Composition:Today © Copyright 2004-2022



Comments by other Members
Posted by :

KonnorRhett at 10:03 on 11 July 2021
Writing a personal statement can get pretty time consuming and hectic at the same time. That is why you should opt for personal statement writer service. They are cheap and gives you the perfect personal statement in no time. Go for it right now!

To post comments you need to become a member. If you are already a member, please log in .