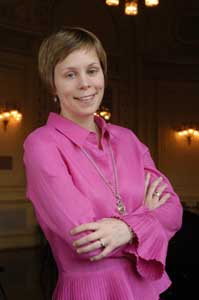 Augusta Read Thomas

C:T talks to composer Augusta Read Thomas, one of the most outstanding younger generation US composers. Augusta has had her work conducted by everyone from Boulez to Barenboim to Knussen and is currently Mead Composer-in-Residence with the Chicago Symphony Orchestra 1997- 2006. She is the Wyatt Professor of Music at Northwestern University and since 2005, has been Chair of the Board of Directors of the American Music Center. Her work is published exclusively by G. Schirmer.



What would you say are the most important influences on your music?



Music itself is definitely the most vital and sobering influence. By that I mean that music of many periods and by different composers has fascinated and nurtured me since I was a child. I love deeply the music of J.S. Bach for its precision, amazing invention, it's elegance and the nobility and grandeur of its emotional spectrum. The musics of Byrd, Mozart, Beethoven, Mahler, Debussy, Webern, Stravinsky, Ravel, Berio, Chopin, Bartok, and many kinds of Jazz are all important to me. Also music of many, varied contemporary composers, writing in all styles. I listen a lot and the accomplishments of these predecessors keep me focused and humble at the same time as they inspire me with confidence to think creatively.

Literature, especially poetry, and the visual arts are also important sources of influence. Nature of course, is my real teacher.




In what way does a visual artist impact your music?



Whether one composes in the aural or visual domain, qualities such as shape, density, balance, direction, transition, synthesis, integration, flux, light and dark, form are common concerns. So, I am fascinated by how a painter or sculptor handles or employs materials toward the final effect of an art object. I make analogies between the " still" world of objects and the temporal world of sound. I have never composed a work which attempts to correspond to a specific picture but I do see in the work of Klee and Kandinsky, for example, imaginative and creative decisions which can find correspondences in sound.
Of recent poets, the list is far too long to list! I love poems deeply.




Do you consider the audience when you're working on a composition?



The desire to make music comes from very deep inside. The urge to make and share music (communicate, if you will) is like a volcanic eruption throughout one's body. Implied in this passion to express is a recipient of the expression - someone, anyone who is a willing listener. I write music that craves a listener and believe that if one composes music that is deeply honest, personal, human and is technically and imaginatively elegant in it's articulation, it will find its audience - whoever or wherever they may be.




How do you compose? Do you sketch?



The truly creative act springs from deep necessity. That welling up, inside, of musical ideas is so urgent. The first sensation is like a spark or lightening bolt - like lighting a match - and suddenly, poof, there's an illumination, an inspiration, if you will. This glitter of energy might evoke a chord, a rhythm, a motive of a tune, which I will sing and ponder in relation to structure, form, synthesis etc. From there a macro-image and plan starts to emerge and one must understand how the musical idea unfolds and where it's potential must lead.

To aid in this mysterious process, yes, I do sketch. These take several forms and fulfill several functions. One is to notate and accurately preserve decisions already made. Others may be more speculative - an exploration, a feeling-out of ideas whose role is not yet determined. Sketches help keep track of the emerging ideas when interruptions of time and mood would otherwise be disastrous. However these are not blueprints of the final music. I do not write a short score and then orchestrate. I like to compose the full sonic event and to have the entire score in front of me.

When I give the finished score to the conductor and orchestra, I rarely change much afterward. Having already gone through so many gut-wrenching revisions, I feel quite convinced about what I have made.




What do you say when asked to describe your music? Is it easy to write verbally about your work?



I'm most articulate in music and convert exactly what I am hearing to notation. There is a smooth transmission between my ear and the manuscript paper. If asked to write a paragraph about my music, it's as if there's this huge wall between what I'm thinking, what I want to say and getting it into good prose. I am not a natural writer of words. However, communicating vocally with audiences, large or small groups and teaching about music is more immediate and comfortable for me.

Remembering the adage - " music takes over where words cease" - I am aware of its truth. One can, through technical vocabulary, describe musical phenomena - but that doesn't help the curious but uninitiated. Equally unhelpful is to say "this is how it feels" since that is an attempt to describe one's own private reaction. All I can usefully say is that my music is a colorful, bold fantasy in sound, which invites any willing listener to participate in the discovery of its "meanings." I try to control logically its seductions and its aggressions; its obvious elements and its mysterious layers. I respond faithfully to my deepest honest promptings and instinct and invite "the listener" to do likewise.




Do you think these are difficult times for young composers?



To face a blank piece of manuscript paper is difficult for anybody at any time. The artistic process is complex and arduous. If one addresses the creative act in an honest and impassioned manner, it is quite terrifying to create music - terrifying and exhilarating!

A composer's life, now as always, is a crazy balancing act between creative intensity (and the precious time needed to devote to it) and the mundane, day-to-day activities of survival. Stretches of quiet, uninterrupted time are more valuable than anyone could imagine.

We live in a time when the arts are undervalued and underestimated by the masses. Art music, whose chief value is the quality of its thought, is overwhelmed by the bombastic rituals of pop culture and their commercial exploitation. Surely not the easiest context in which to work..... but you asked about young composers. I have to say that despite some negatives, these are positive times for talented composers in terms of professional opportunities. When one thinks of the many composers whose distinguished contributions to the art were ignored beyond their lifetimes, one should be wholly appreciative of today's opportunities.




As Mead Composer-in-Residence with the Chicago Symphony Orchestra since 1997 you must read many scores and I am wondering if you can you speak about whether or not a "common practice" has emerged in new music, post 1975?



Yes, as Mead Composer-in-Residence with the Chicago Symphony Orchestra (a job that I adore, and for which I feel wholly blessed and thankful every day!) many scores and CD's of very recent music land upon my desk or in my home mailboxes each week. Over many years, this develops into to a library of fantastic riches which all of us at the CSO use and appreciate. Listening to the music of our time- the music of all my colleagues and students-- is one of the great joys of my work for the CSO and in my life in general. The music of these composers has taught me many important lessons. The scores I hear are wildly diverse and in all kinds of distinct musical styles. There are so many exceptionally talented composers working today! There is enough great music to keep our noble tradition very healthy and ever growing. People talk about "the death of classical music" but on the evidence I see and hear, I think art music is varied, wide-ranging, imaginative, inspired, and bursting of hope and promise. But this is a tangential point, so turning now to the question at hand, and in exploring the question of whether or not a "common practice" has emerged in new music that draws freely from seemingly opposing stylistic orientations (e.g. serialism, minimalism, new romanticism, jazz improvisation, indeterminacy, electronics, etc.) my vote is: no, not really. I think there are certainly categories, for instance: styles, aesthetic positions, clichés, patterns, dogmatic inspired stances, and so forth, into which many composers' works could be categorized in general terms. But the excellent composers, in their best compositions, dating say between 1975 and 2004 are searching for something deeply personal --creating a moment of exquisite humanity and raw soul, born of love and recklessness and desperation. Such music (of any style) that is alive and jumps off the page and out of the instrument as if something big is at stake is usually not "adhering" to a "common practice" and, in some fashion, cannot melt into the comfort of a common practice by its very uniqueness.

In short I hear each single work as its own totally special and distinctive galaxy. Music is multifaceted and nuanced in infinite measure, such that, for my ears, I hear the beautiful specificity of each composition, with all its exclusive shadings and gradations, and I do not dwell on the "category" of it nor can I make a nice neat box in my mind or ear called "common practice." My listening is at once too varied stylistically and also too close and granular to make any such large generalizations.




Is the 21st century A Good Time To Be A Creative Spirit?



When the muse strikes, it strikes and in that sense, making a piece of art is a timeless enterprise. Historically the fundamental creative process (interaction of intellect, imagination, emotion and materials) appears to have remained constant - challenging each successive generation of individuals to respond in their own distinctive way. The act of conceiving and technically executing a musical idea of substance is no easier now - if anything, it may be more difficult in the absence of a common practice.




How important is it that music be accessible on first hearing?



One of the most beautiful things about music whether a Byrd Mass, a Mozart Symphony, a Beethoven quartet, a Mahler song, Stravinsky's Rite, is the element of mystery these works contain. No matter how familiar we are with them, each time we revisit Bach's Goldberg Variations or Berio's Sinfonia or Boulez's Pli Selon Pli we can always find new qualities, experience new awareness, enjoy new pleasures of discovery. So, when you ask how important it is for music to be accessible on first hearing, I have to say that the psychology of listening is very complex. I do believe however, that all music of substance should have an immediacy about it. It should convey an aura of significance, which is different from accessibility. If it has immediacy, an impressive presence, access can follow with effort and with great reward. Instant gratification is only a small part of music's great treasure trove.




If you got everything out of it at first hearing, you wouldn't ever need to hear it again.



Well, there is great comfort in familiarity, no doubt, but the things in life which we can easily digest - that are self evident- are usually not those things we want to spend a lifetime thinking about. We are attracted to enigmatic things such as nature, gravity, the cosmos, space travel, God and religions, advanced math, myths, love etc. I believe we find such mysteries in art. We shouldn't panic - it's not all bad to be baffled!




Do you have suggestions about how to listen to new music?



Yes! Don't assume that someone else has the only "authentic" understanding of a work and that you "don't know enough about it" to be engaged by it. Simply open your heart, ears and mind and listen YOUR way.



Is it difficult to integrate new music into the standard repertoire of an orchestra?



Given a Utopian scenario - or even an historical one - the answer is no! It is the most obvious thing to do. Remember that it is only because we have accumulated a "standard repertoire" that the question even arises. For much of Western Music's history, repertoire was not a consideration - only new music was the concern. Thank God we have preserved and accumulated the treasures which constitute repertoire but this has given rise to the problem of old verses new and, in the minds of many, an equation which says old equals good therefore new equals inferior.

In short and in conclusion, let me say that music evolves - nothing in Mahler's music resembles anything in that of, say, Palestrina. It will continue to evolve but it's support mechanisms must afford it the opportunities to do so and, not withstanding the socio-economic, political and cultural dictates of contemporary reality, failure to do so will be catastrophic for music and thus for mankind.




Many of our members are from the UK and Europe. How would you characterize the new music scene in the US today?



The usa is a very large country, as you know, such that there are many difference new music scenes all co-existing at once. There is very little governmental funding for creative artists, which is quite different than the case in many european countries. It is extremely difficult to fund a cd of orchestral music in the usa. There are many excellent composers in the usa working today and the level of performance expertise is outstanding among our performers. I would say that it is a vibrant, ever changing, internationally diverse, and healthy scene in the usa



What was your first success as a composer?



That is hard to say. My first reaction was to say the first time i got 2 notes in the right order! But, i guess it would be when the ny philharmonic premiered my wind dance for orchestra in about 1989 to great critical acclaim.



Do you have particular techniques - one's you come back to again and again? Tell us a bit about them.



I am in love with harmony and often treat it in a somewhat ravel or berio like manner. I believe form must be the best reaction to the objects calling it into being.



What are you working on at the moment



Upcoming projects include NEW WORK for the London Symphony Orchestra; NEW WORK for the Orchestra of Paris Christoph Eschenbach conducting at the newly renovated Salle Pleyel in Paris in December 2007; VIOLIN CONCERTO commissioned with Festival Présences by the Orchestre Philharmonique de Radio France; ASTRAL CANTICLE a double concerto for the Chicago Symphony Orchestra, Daniel Barenboim conducting, Mathieu DuFour and Robert Chen soloists, for a premiere in June, 2006; SHAKIN' (Homage to Stravinsky and Elvis) for the Memphis Symphony David Loebel conducting in May 2006; NEW WORK for piano solo, for Lang Lang in spring 2006.




How can people find out more about you?



http://www.augustareadthomas.com
http://www.schirmer.com




Interview by Composition:Today © Copyright 2004-2023



Comments by other Members
Posted by :

jamseales0 at 07:16 on 31 January 2021
Great job here on. I read a lot of blog posts, but I never heard a topic like this. I Love this topic you made about the blogger's bucket list. Very resourceful. 먹튀검증사이트

Posted by :

jamseales0 at 08:59 on 01 February 2021
A very awesome blog post. We are really grateful for your blog post. You will find a lot of approaches after visiting your post. I was exactly searching for. Thanks for such post and please keep it up. Great work http://gamebnat.net/mtsite10/
Posted by :

jamseales0 at 11:42 on 03 February 2021
Super-Duper site! I am Loving it!! Will come back again, Im taking your feed also, Thanks. 안전놀이터

Posted by :

jamseales0 at 12:19 on 05 February 2021
I truly welcome this superb post that you have accommodated us. I guarantee this would be valuable for the vast majority of the general population. [url=https://singaporepropertylaunch.com.sg/properties/parc-clematis/]parc clematis showflat[/url]
Posted by :

jamseales0 at 09:45 on 06 February 2021
Thanks for this great post, i find it very interesting and very well thought out and put together. I look forward to reading your work in the future. 메이저사이트

Posted by :

jamseales0 at 10:17 on 07 February 2021
I wanted to thank you for this excellent read!! I definitely loved every little bit of it. I have you bookmarked your site to check out the new stuff you post. [url=http
://www.youtube.com/watchtime_continue=8&v=xmAwuOOrMQg&feature=emb_logo]NAPSRX Reviews[/url]

Posted by :

jamseales0 at 09:35 on 15 February 2021
Your work here on this blog has been top notch from day 1. You've been continously providing amazing articles for us all to read and I just hope that you keep it going on in the future as well. Cheers! 꽁머니

Posted by :

jamseales0 at 15:50 on 19 February 2021
Interesting post. I Have Been wondering about this issue. so thanks for posting. Pretty cool post.It 's really very nice and Useful post.Thanks sprzedaz mieszkan wloclawek
Posted by :

jamseales0 at 08:36 on 20 February 2021
Really a great addition. I have read this marvelous post. Thanks for sharing information about it. I really like that. Thanks so lot for your convene. 먹튀검증

Posted by :

jamseales0 at 07:05 on 21 February 2021
Intriguing post. I Have Been pondering about this issue, so much obliged for posting. Really cool post.It "s truly extremely pleasant and Useful post.Thanks check it out
Posted by :

jamseales0 at 11:14 on 23 February 2021
That is the excellent mindset, nonetheless is just not help to make every sence whatsoever preaching about that mather. Virtually any method many thanks in addition to i had endeavor to promote your own article in to delicius nevertheless it is apparently a dilemma using your information sites can you please recheck the idea. thanks once more. 먹튀검증

Posted by :

jamseales0 at 12:20 on 25 February 2021
Extraordinary things you've generally imparted to us. Simply continue written work this sort of posts.The time which was squandered in going for educational cost now it can be utilized for studies.Thanks lowes employee login
Posted by :

jamseales0 at 06:14 on 01 March 2021
For a long time me & my friend were searching for informative blogs, but now I am on the right place guys, you have made a room in my heart! Full Circle Health Sales Reps
Posted by :

jamseales0 at 10:54 on 24 April 2021
Wow, excellent post. I'd like to draft like this too - taking time and real hard work to make a great article. This post has encouraged me to write some posts that I am going to write soon. clipping path
Posted by :

jamseales0 at 11:23 on 25 April 2021
Make your dream villa a reality with Construction Bali. We are the best contractor in Bali and we are focus in villa construction in Bali. Jalan Patih Jelantik, Kuta Istana Galeria, Ring 11, Kuta, 80361, Badung, Bali, Indonesia Phone Number : +62818108808 bali contractor
Posted by :

jamseales0 at 15:13 on 09 May 2021
Thanks for taking the time to discuss that, I feel strongly about this and so really like getting to know more on this kind of field. Do you mind updating your blog post with additional insight? It should be really useful for all of us. Personal Trainer Near Me
Posted by :

jamseales0 at 19:12 on 09 May 2021
Incredible articles and awesome design. Your blog entry merits the greater part of the positive input it"s been getting. Video footage for sale
Posted by :

jamseales0 at 16:51 on 10 May 2021
We are truly thankful for your blog entry. You will discover a great deal of methodologies in the wake of going to your post. I was precisely scanning for. A debt of gratitude is in order for such post and please keep it up. sms automations
Posted by :

jamseales0 at 10:57 on 13 May 2021
Particular interviews furnish firsthand message on mart size, industry trends, ontogeny trends, capitalist landscape and outlook, etc. ξανθη νεα
Posted by :

jamseales0 at 06:52 on 17 May 2021
The first phase the preparation should, theoretically, be uninfluenced by the intended intensity and duration of the sound which is subsequently produced. In fact, however, so quickly are the three phases accomplished that the pianist rarely has capacity to think, in performance, of each phase separately. Viagra-twshop.com
To post comments you need to become a member. If you are already a member, please log in .