Other Resources

News Archive

Anda Anastasescu Interview
Posted on 30 March 2013. © Copyright 2004-2023 Composition:Today
Christian Morris talks to Anda Anastasescu, pianist, founder of the London Schubert Players, champion of Romanian contemporary music and creator of the European Union-funded Invitation to Composers project.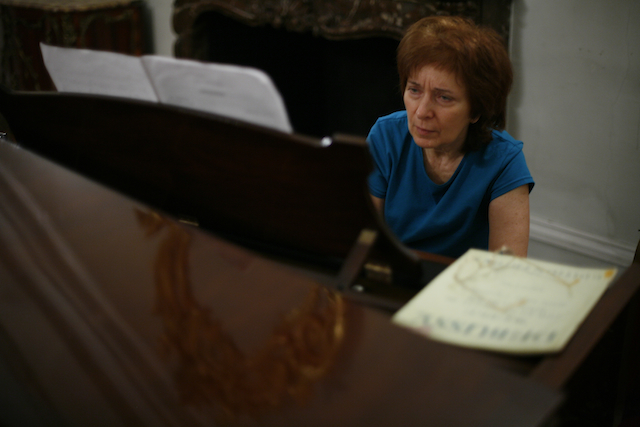 Anda Anastasescu




Tell us a little about your background in Romania.



My mother was musical and played the piano. She would have liked to have become a professional but in her day women were expected to get married and have children. So we had a piano, a beautiful piano, at home. It's not that she inspired me to play, even though we would sometimes hear her playing the piano for a short while - rather, it was the occasional holiday that we took in the summer to a place where we met a piano teacher. After the war Romania's education and cultural life was based on the Soviet model. In the late Fifties we met this teacher who had started to teach at the then only music school in Bucharest. She persuaded my mother to take me there with my sister for an audition. This is how it all started. The jury found us to have a very good ear, very good rhythm and very good this and that. So we started at music school.



How old were you at the time?



I was eight, which was late, but in Romania we have no tradition of Suzuki, with children starting an instrument at three or four. But I caught up quite easily.

One associates the Communist model with very strict discipline and hot-housing. Was it like that?

All I can say is that the moment you stepped into a music school, it was taken for granted that you would be a very serious, committed pupil. Our teachers inspired us from childhood to love music and, in a sense, to make it our religion. So every piece of music we learnt meant that we had to explore our inner self very deeply and feel that we were giving ourselves totally to the piece we were performing. This kind of work demanded, even from a young child, quite a lot of concentration and dedication. You couldn't get away from it. I couldn't say that inside the school we were regimented or pressurised. Of course we had exams, concerts and auditions all the time, so you had to prepare. There was no other way. Teachers were also very generous with their time, so we had a very large number of long, private lessons for which they were never paid. We loved having these lessons; in fact, we didn't want them to end because we were exploring the mystery of what the composer was thinking, how we could understand and feel like him, and ultimately how we could achieve the best performance. It was absolutely fascinating.

Up to what age were you in the music school?

I finished at 17. Then, after taking the Baccalaureate, we had an entry exam to the Conservatoire. There was no such thing as paying for your place. You would only be taken if they decided that you had talent, whatever your social status. It was just a question of whether you were up to becoming a very good performer, composer or musicologist.

And at the Conservatoire were there any teachers that really stood out for you?

Not as much as in the music school and not at any rate in my piano class. I had been allocated to the class of the Head of the Department, a kind and cultured man. However, I learnt more from going to concerts - Richter and Gilels were frequent performers in Bucharest - and from listening to second-hand records with Richter, Edwin Fischer, Glen Gould, Barbirolli, Bruno Walter etc. The inspiration that I got from the music school was overwhelming in comparison with what I experienced in the Conservatoire. Perhaps the Conservatoire served another purpose: it had different standards and, apart from music classes, we studied aesthetics and Marxism-Leninism! What I can say for sure is that the music school had really given me the love of music.

After that how long were you in Romania?

I came to Britain in 1972.

Was the political situation in Romania a factor in that decision?

Yes and no. I personally didn't have any political reasons to leave, not like some of my family who were landowners and had a lot of grave problems.

That was because the land was being taken from them?

Yes, sometimes at gunpoint. But that was not my particular problem. I never became a member of the Communist Party. I never asked to join and I wasn't recruited either - which was in itself quite puzzling but, because of my family background, I always thought that they didn't think me to be fit for a Young Communist! Anyway, I probably benefited from not having joined: it meant I had fewer duties and no guilty feelings at leaving the country - in fact I really didn't want to leave Romania at all, although I had had at least one frustrating experience. I was offered a summer scholarship in France for which I practised all summer. But leaving the country was difficult. You had to wait for permission until the last minute, until the plane was almost leaving the tarmac, when you would either be stopped from going or be told by the Ministry of Culture: 'Yes, we are giving you a passport'. I was refused and someone else, a Party member, went instead although the invitation had been given to me personally!

Did that happen often to you?

It happened to me twice, but having in mind how rare such opportunities for going abroad were during the regime, twice was alarming. I was sent to represent Romania officially in the 1972 Leeds Competition. That was the year Murray Perahia won it. I was immediately offered concerts at some British universities and a scholarship at the Royal Academy of Music to study with Gordon Green. I went to the Romanian embassy and asked for permission to take up the scholarship. (Incidentally, one had to pay just to put in an application.) When after three or four months, I'd heard nothing, I was informed by the Ambassador that that meant I had been refused and I had to go back immediately. By then I was terribly frightened to go back because I had stayed here for four months without an extension of the Romanian visa.

So the implication was that Romania might say that you had deserted the country?

Exactly. Having 'deserted' it for four months I was a 'traitor'. I had no idea what the consequences would be. Besides, by 22, I knew what I could do and wanted to make the most of my talent. I realised that this was probably my last chance because, with my four months 'defection', they would never give me the chance to go abroad again. In common with many who have experienced leaving a dictatorship, you dream of wanting to escape and cross the frontier, of running from the guns shooting at you from behind. In the night I would wake up in a cold sweat and finally I decided it would be madness for me to go back - a decision that landed me with a six-year prison sentence in absentia (ironically, forty years later, almost to the date, the President of Romania awarded me the decoration Commander of the Order of Cultural Merit which he personally placed around my neck at a ceremony in the Romanian Embassy in London). There were also repercussions for my family. My first seven to ten years here as an immigrant left me with a kind of void in my life. I could not see or even talk to my parents because we knew that any kind of communication between us was censored. All the time I was worrying about them and felt guilty.

How long afterwards did the situation change and you felt you could go back? Was it with the fall of Ceausescu?

Yes, that was in 1989. So, from 1972 that made it seventeen years.

A long time.

Absolutely. The first seven years went by quickly, hoping for the best all the time but with the same feeling of nothing being settled, of not getting anywhere. I had to start from zero. I didn't even have a piano for many years because I couldn't afford to buy one. Then I started teaching and I got a teaching post at the Guildhall School of Music and Drama. But, after five years, I was a bit disappointed. It had a very different attitude towards music and in relationship with the pupils.

Is this partly to do with the issue of people paying for their education?

No, not really, rather it was a case of while I gave everything I knew to the students, they were not interested. Very few were really attached to music as I was. Without meaning to give offence, they were like little robots just going from one music class to another. I didn't feel they were committed but that the more I wanted to give them on the musical side, the less interested they became. They just wanted to do the lesson and go about their own affairs. Also I found the atmosphere in the institution very impersonal. Coming from what I had as a child, I just felt that I didn't belong and didn't really see myself advancing as a teacher there. Following my leaving the Guildhall I formed the London Schubert Players as the orchestra-in-residence of the French Institute in London.

Did the period away from your own country make you more interested, when the opportunity came, to bring that culture back into your life - to champion it and to bring it to the UK, as well as later forging links through your Invitation to Composers project?

Yes, of course, but even before I was able to make some bridges in composition between Romania and Britain, I actually premièred, with the London Schubert Players, many works by international composers from countries as diverse as Spain, Norway, the United States, Argentina, China and Japan. I was more interested in contemporary composition at that stage of my life than I was as a student in Romania. When, after the Romanian revolution in 1989, it was possible for me to go back, my roots made me want to become closer to my country of birth. I had a problem because, that void over so many years meant that I was not in touch with what was happening in the cultural life of Romania, including with composition. It's a long story, but I discovered in 1990 that Constantin Silvestri, the legendary Romanian-born conductor of the Bournemouth Symphony Orchestra, had actually been a wonderful composer. The fact that he gave up composition in his 40s was only because his conducting career took over and he had no time for composition. So, now, I discovered Silvestri's music. In Romania it had been banned, on account of him being a 'defector' who had left in 1958. During my years in Romania his name had been only whispered. You could not play Silvestri in any programme. It was his music I started to explore first, in 1990. Then, in the process, other Romanian composers, many of them very senior, talked to me and showed me the wealth of Romanian composition. One day I heard a British conductor say: 'Romania? What composers? There are no composers apart from Enescu in Romania.' That was a challenge that led me to produce the first festival of Romanian composers in Britain: A Romanian Musical Adventure. That took place in 2005-2006. I have been back to Romania every year since 1990 and discovered more and more composers. I'm still doing that. After A Romanian Musical Adventure - in which I promoted 15 Romanian composers - one day I had this idea for an international composition project, which would become Invitation to Composers.

Tell us more about this project.

Invitation to Composers was created in 2008, probably in my head when I was walking in the street - that's when I get a lot of ideas. What prompted me was that, in my association with the London Schubert Players, which I founded in 1989, I encountered the problem of programming certain works in concerts, like Schubert's Trout Quintet and Saint-Saens' Septet. There were no other major works written with that particular combination of instruments. Going on tours, for example, in the case of the Trout you would take a double bass player and a double bass instrument, pay for the seat on the plane, but then you could only produce in the programme one work using that instrument. The same is true of the Saint-Saens Septet. The idea behind this project was to get composers to write pieces of great quality that could stand alongside these works and also other pieces with more unusual instrumentation such as Messiaen's Quatuor pour la fin du temps or Enescu's Chamber Symphony for twelve solo instruments - a great work, rarely performed because of its instrumentation.

So there were two aims: to make works that already existed more practical to perform and also to give composers the challenge of writing pieces worthy of standing alongside them?

I wasn't sure how the project would develop. We received about 80 works in total. At the beginning of the project we had no knowledge that we would receive even one work, let alone the quality of the works that did come. Really it was like throwing dice. The Enescu model came in the second year of the project. With it I was hoping, because of the quality of the work, that it would interest composers with more experience or even established composers. Also I find Enescu's work elusive and serious and I thought we could get works of a similar kind. I love mystery in music. I love to be made to think.

Given that the project took place in France, Romania and the UK; that it won a maximum grant from the European Union; and that you personally won a European Women of Achievement Award from the British Section of the European Union of Women 'in recognition of an outstanding contribution to pan-European Understanding and Progress'; do you see music as a great social force for good, for cross-cultural understanding? Maybe that is self-evident, but is that something that motivates you?

It is difficult to answer this because I think what motivates me are ideas that can result in bringing people together, whether it is musical or something else. For me, the rewards from this project were the relationships that we started to build with the composers: from just having the piece of music in front of us to subsequent correspondence with the composers. Then we got together with the composer to go through the piece in workshops, sometimes with an audience. It just got to be so fascinating; not just the fact that we discovered the composer but that we also discovered our own potential to understand composition; and the composers understood from us that sometimes their knowledge of the instrument was not complete or that they didn't think enough of the performers. So we started to adjust things. And I'm talking about good composers, not novices. Subsequently, many of the composers wrote for us in the second year of the project and, after the project ended, some of them composed, spontaneously, for the performers they worked with during the project.

So it developed a momentum of its own?

Absolutely. That was fascinating and the greatest surprise that I had with the project.

Tell us about your future plans for Invitation to Composers.

I think we provided very valuable inspiration to composers through the project. I always felt that we couldn't just stop it there. We recorded the music. That's fine but we wanted to continue. So, yes, I immediately had ideas for a new project. In this one, because of our experience with meeting the composers and learning that many of them belonged to both the classical as well as electro-acoustic way of writing, I thought that it would be wonderful if we could combine both. So, as well as classical instruments playing in the normal way, we could bring in electro-acoustic elements that could enhance, for example, the telling of a story. I also am very keen to develop composition that brings music together with literature, painting, poetry and theatre. For that reason I would like to involve actors as much as musicians. If I get the funding I would like to launch a project that brings together these elements, starting in 2014.

****

To learn more about Anda Anastasescu, the London Schubert Players and the Invitation to Composers Project:

Anda Anastasescu

http://www.pcuk.net/musiclink.co.uk/lsp/aa.html
Interview on BBC Radio 4
http://www.romanianmusicaladventure.org/about.html
http://www.musicweb-international.com/SandH/2006/Jan-Jun06/romania3012.htm
http://www.thisisdevon.co.uk/Pianist-s-opener-powerful-stuff/story-11734635-detail/story.html#axzz2M2GsMMMr
http://www.highbeam.com/doc/1P3-383853931.html
http://www.constantinsilvestri.com/

Invitation to Composers (information about the project) http://www.invitationtocomposers.co.uk
http://www.musicalpointers.co.uk/reviews/cddvd12/LondonSchubertPlayers.html

Full description on EU lifelong learning programme page
A European Odyssey (recording of works from the Invitation to Composers project)
A European Odyssey on Amazon

Other Links

http://www.kingsplace.co.uk/music/artists/anda-anastacescu
http://www.facebook.com/anda.anastasescu
http://www.festivalenescu.ro/index.php?id=169&L=1
http://www.icr-london.co.uk/enescu-nov08.php
http://www.concordiafoundation.com/welcome/timeline

http://youtu.be/gqKiR1rnuxs
http://youtu.be/nPqMOc8rhKw
http://youtu.be/EKyi1p2Hf_g
http://youtu.be/aC2y61BX6uU
http://youtu.be/IiJNC52gSIM
http://youtu.be/UnecRf4R3tE
http://youtu.be/vN1UkpKpzeQ
http://youtu.be/vI1snW-3bS0
http://youtu.be/EcJeJIq0OXs
http://youtu.be/pGxOGC5YASQ



Interview by Composition:Today © Copyright 2004-2023



Comments by other Members
Posted by :

jamseales0 at 07:01 on 31 January 2021
Such a very useful article. Very interesting to read this article.I would like to thank you for the efforts you had made for writing this awesome article. 토토
Posted by :

jamseales0 at 07:48 on 01 February 2021
If you set out to make me think today; mission accomplished! I really like your writing style and how you express your ideas. Thank you. 먹튀

Posted by :

jamseales0 at 12:20 on 02 February 2021
Thank you for this fascinating post, I am happy I observed this website on Google. Not just content, in fact, the whole site is fantastic. [url=https://ikjnews.com/3303/kroger-express-hr-paystub-login-take-a-look-at-this/]kroger online schedule[/url]

Posted by :

jamseales0 at 07:18 on 08 February 2021
Pretty good post. I just stumbled upon your blog and wanted to say that I have really enjoyed reading your blog posts. Any way I'll be subscribing to your feed and I hope you post again soon. Big thanks for the useful info. CNPR Pharmaceutical Sales Training
Posted by :

jamseales0 at 06:20 on 14 February 2021
I definitely enjoying every little bit of it. It is a great website and nice share. I want to thank you. Good job! You guys do a great blog, and have some great contents. Keep up the good work. 꽁머니홍보방

Posted by :

jamseales0 at 05:43 on 21 February 2021
Thank you for the update, very nice site.. 먹튀

Posted by :

jamseales0 at 09:54 on 25 February 2021
This is such a great resource that you are providing and you give it away for free. I love seeing blog that understand the value of providing a quality resource for free. lowes employee discount

Posted by :

jamseales0 at 13:08 on 25 February 2021
Thanks for a very interesting blog. What else may I get that kind of info written in such a perfect approach? I've a undertaking that I am simply now operating on, and I have been at the look out for such info. organizare evenimente

Posted by :

jamseales0 at 05:31 on 27 February 2021
hi was just seeing if you minded a comment. i like your website and the thme you picked is super. I will be back. 먹튀검증

Posted by :

jamseales0 at 10:43 on 01 March 2021
I know your aptitude on this. I should say we ought to have an online discourse on this. Composing just remarks will close the talk straight away! What's more, will confine the advantages from this data. Full Circle Health careers
Posted by :

jamseales0 at 14:56 on 18 September 2021
This particular is usually apparently essential and moreover outstanding truth along with for sure fair-minded and moreover admittedly useful My business is looking to find in advance designed for this specific useful stuffs… [url=https://mt-police.io/]먹튀폴리스[/url]

Posted by :

jamseales0 at 06:29 on 04 December 2023
Sustain the great do the job, When i understand several threads within this web page in addition to I'm sure that a world-wide-web blog site is usually authentic useful possesses bought bags connected with excellent facts. online betting
Posted by :

jamseales0 at 07:52 on 04 December 2023
This is definitely the knowledge We are acquiring all over the place. Cheers for ones web site, I merely join your blog. This is the wonderful web site. . UFABETสมัครฟรีคาสิโนออนไลน์
Posted by :

jamseales0 at 09:14 on 04 December 2023
Nexus Slot: A Gacor Promise for Online Slot Enthusiasts - Embark on a journey with the Nexus Engine slot at Gacor Promise. Learn more about the advantages, including a low minimum deposit and high RTP. Visit us to experience the thrill of Nexus slot gaming. nexus engine
To post comments you need to become a member. If you are already a member, please log in .