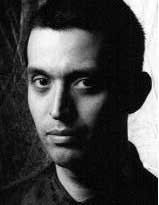 Geoffrey Alvarez

C:T talks to Geoffrey Alvarez, founder of the London based ensemble the Alvarez Chamber Orchestra



Tell us about the ACO, how it was formed, it's raison d'etre



The ACO has had two lives, in its first life, it was formed from musicians from the NYO, RAM, City of London School and ERMA and then, its aims were to play chamber orchestra works largely from the classical to the twentieth century repertoire with occasional premieres by myself and fellow composers such as Peter Copley. We attracted some of the best musicians as soloists, from Michael Collins to Nicholas Daniel and even Sir Colin Davis, who played the Mozart Clarinet Concerto with us during one rehearsal fitting us in during his lunch break from his day job at Covent Garden.

Following a concert at St John's Smith Square, I left London and disbanded the ACO to study for a D.Phil in composition at the University of York, conducting the new music ensemble there for two years. The repertoire there was all contemporary, from student works, SPNM workshops to classics by Boulez, Stravinsky and Bartok.

In 2006, I was a prizewinning finalist in the Tansman International Competition of Musical Personalities performing my concertino for piano with the Arthur Rubenstein Philharmonic Orchestra of Łodz.

It was there I was exposed to the music of Aleksander Tansman and was amazed to find how neglected he was in the UK, despite having enormous international acclaim elsewhere: his world tour in 1932-33 involving an audience with Hirohito and a week with Ghandi and an invitation by Milhaud to be a seventh member of Les Six are just two examples among countless others of his enormous recognition. It was this, in addition to conversation with his two daughters who were present at the competition, which motivated me to reform the orchestra, an organisation that seeks to champion excellence.

A very short while later, the ACO was reborn as a fully fledged charity with a board of trustees ready to tackle exciting, fresh recent and contemporary music that deserves to be heard.



Does the group focus on playing specific types of music?



There is a film by one of our supporters, Tony Palmer, 'Towards the Unknown Region', which I think sums up part of our ethic: we would like to explore areas in recent and new music that for reasons unconnected to quality is marginalized or ignored: the ACO reaches the parts other ensembles cannot reach.

This is not to say that we will not play works from the contemporary canon: we are, for instance, leading an important workshop at our host university, Roehampton, on the Folk Songs of Luciano Berio, but there are plenty of first rate ensembles already immersed in performing that important repertoire so, as already stated in the previous answer, we want to work on music that deserves exposure, irrespective of the vagaries of fashion and aggressive marketing; works which, when heard, eloquently defend their own case.



You have an upcoming season entitled 'Northern Ayres: An Anglo Polish Celebration', how do you go about programming your concerts?



This season, as I mentioned before, largely planned itself following my trip to Poland for the competition. I heard the music of Zygmunt Krauze, for instance, at a concert of the jury members, an illustrious panel which included Penderecki, Nyman, Holliger, Zur and others. His music stood out because of its simplicity, strength and technical finesse whilst Diana Burrell has a raw chthonic energy that contrasts with Tansman's Parisien finesse and élan.

Northern Ayres was also programmed in dialogue with the composers, for instance; I wanted to perform his work Idyll for 4 soloists playing folk instruments (4 hurdy-gurdies, 4 bag pipes, 4 folk violins, 4 fifes, 16 bells) and tape but he advised against this in favour of more tradition forces mixed with melodicas.



Do you ever commission work? If so how do you decide who to commission?



Commissioning is of fundamental importance to the orchestra. We are honoured that the eminent composer Bogusław Schaeffer has already written us a Harp Concerto which will feature in a future season. This was for a very personal reason: he had worked with our harpist and International Liaison Officer Elżbieta Baklarz.

Whilst we will be approaching composers whom we have heard of and admire, this will be but one of many routes to commissioning: calls for pieces, competitions, workshops for student composers and independent submissions. If anyone has other suggestions, our board of trustees would be willing to consider them. The choice of commission will eventually always rest with myself as artistic director – but often, as in the case of our forthcoming competition for a piece for harp and chamber orchestra, other composers or musicians will be called open if specialist knowledge is required (in this instance, Roxanne Panufnik, a former harpist is one of our adjudicators for our harp competition).



What role do you think new music has in society?



I would say firstly that new music has many roles in society.

Since the Hegelian dialectic inherent in 18th classical music sonata form structures, the grandiose certainties of Bach, belief and the late Baroque have gone and we now have to ask questions. A society, religion, institution, indeed the ACO itself must be open to constant questioning. There is no lingua franca, but there should be lingua activa.

In addition to questioning, society should by refreshed by the spirit of adventure: as maestro Berio told me when I visited his flat in Florence, it is not enough to compose, you must go on a sea voyage – I would like to extend the metaphor further: the sea voyage suggests at least five outcomes:

(1) it can either take you to places you have not been before via a safe, storm free route
(2) it can take you to familiar places via a turbulent voyage
(3) it can take you to strange locations via a turbulent voyage
(4) you can cruise leisurely to a familiar place
(5) you can hit an iceberg.

With new music, the unexpected is often upon us, so that any of the five outcomes are possible, and indeed, what is an iceberg for some is Elysium for others.



Where can people find out more about the ACO?



The website is a good place to start:
http://www.fiveseasonsmusic.co.uk/alvarezorchestra.htm

The harp competition is found here:
http://freespace.virgin.net/geoffrey.alvarez/PluckedfromNowhere.htm

In addition, I can always be contacted on any matters – including submission of scores, suggestions for commissions etc on the following email:
geoffrey.alvarez@virgin.net


Interview by Composition:Today © Copyright 2004-2022



Comments by other Members
Posted by :

KonnorRhett at 17:43 on 16 April 2022
This interview has really sent chills down my spine. I was just searching in order to get assignment help when I came across this interview. What a fantastic bit of information there is here!

Posted by :

jamseales0 at 13:36 on 09 June 2022
The article looks magnificent, but it would be beneficial if you can share more about the suchlike subjects in the future. Keep posting. Ethereum NFT
Posted by :

jamseales0 at 08:16 on 15 June 2022
Thanks for your post. I've been thinking about writing a very comparable post over the last couple of weeks, I'll probably keep it short and sweet and link to this instead if thats cool. Thanks. help desk services jacksonville
Posted by :

jamseales0 at 14:55 on 17 July 2022
You can safely enjoy not only Go, but also various games such as Hold'em, Poker, Seotda, and Hitgo. It is the largest domestic board game in domestic offline stores. 좋음
Posted by :

jamseales0 at 07:22 on 20 July 2022
I know this is one of the most meaningful information for me. And I'm animated reading your article. But should remark on some general things, the website style is perfect; the articles are great. Thanks for the ton of tangible and attainable help. 먹튀폴리스
Posted by :

jamseales0 at 13:42 on 22 September 2022
Saya ingin mengatakan bahwa blog ini benar-benar meyakinkan saya untuk melakukannya! Terima kasih, posting yang sangat bagus. pkv games
Posted by :

jamseales0 at 11:26 on 24 September 2022
I found your blog web site on google and verify just a few of your early posts. Continue to maintain up the superb operate. I just further up your RSS feed to my MSN Information Reader. In search of ahead to studying more from you later on!? I am often to running a blog and i actually appreciate your content. The article has actually peaks my interest. I'm going to bookmark your website and keep checking for brand spanking new information. Skup aut Łódź
Posted by :

jamseales0 at 16:05 on 24 September 2022
This looks absolutely perfect. All these tinny details are made with lot of background knowledge. I like it a lot. This was a useful post and I think it is rather easy to see from the other comments as well that this post is well written and useful 8ft slate pool table
Posted by :

jamseales0 at 07:55 on 25 September 2022
Segera setelah situs web atau blog Anda ditayangkan pada awalnya, itu menarik. Itu dan segera Anda menyadari tidak ada tubuh selain Anda dan Anda. judi bola
Posted by :

jamseales0 at 10:30 on 03 October 2022
Several years of in depth study along with advancement triggered by far the most outstanding headset loudspeaker actually developed. Bests capabilities extremely superior supplies in addition to building to supply a new higher level of audio reliability as well as quality. Combining extra-large audio motorists plus a high-power digital camera amp, Is better than gives a good unprecedented combination of super heavy bass sounds, easy undistorted highs, and really clear vocals in no way noticed just before from headset. 벳쑤아리
Posted by :

jamseales0 at 09:33 on 05 October 2022
Just wanna input on few general things, The website style and design is perfect, the written content is rattling fantastic : D. 벳샷
To post comments you need to become a member. If you are already a member, please log in .