Stuart MacRae first rose to prominence when his Violin Concerto was performed at the 2001 Proms by Tasmin Little. His 2008 piece Gaudete - also featured at the Proms - set the poetry of Ted Hughes and marked a significant development in his musical language. Recently he has written a number of stage works, including The Assassin Tree (2006) with a libretto by Simon Armitage and Remembrance Day for Scottish Opera's Five:15 series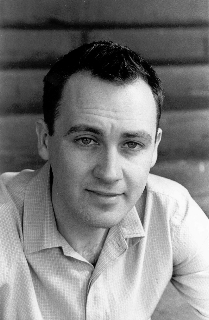 Tell us something about your background.

I was born and brought up in Inverness, though both my parents are from Skye so I spent a lot of time there too. Both my parents have 'normal' jobs, but they've been members of the Inverness Gaelic Choir for as long as I can remember - so music was always encouraged at home. I left school early and went to Durham University to study music, then Guildhall to do a Masters in composition, finishing when I was 20. I was in a big hurry in those days, for no particular reason. After that I stayed in London for a few years, spent a year in Paris and then moved to Glasgow, where I'm still based.
Click here to read the rest of the interview

0 comments | Post Comment
I went to Wilton's Music Hall last night to hear a Kreutzer concert of Mozart and pieces by Rolf Martinsson and our very own Jim Aitchison. Great concert. One of the Mozart pieces was the 'Nannerl' septet, written to celebrate his sister's birthday. If you have been to any of the Kreutzer concerts you will know that their violinist Peter Sheppard Skaerved presents all the music in a most enlightening manner, making you want to rush home and google everything and everybody and download the music onto iTunes, which indeed I did. He talked about the Mozart septet as an undiluted expression of joy, Mozart's joy at the thought of his home and family. When Peter was talking about joy, I was reminded of someone I met in Utah a few years ago, who said that she was interested in the concept of joy, which could only come after you had been truly penitential. I said at the time that I didn't think I had ever felt joy, which I think of as an extreme emotion like ecstasy or murderous rage. It has a transcendental or spiritual quality that is very different from happiness or content. (And, what I didn't say was that being truly penitential was a dubious concept in itself, not so much a grey area as a minefield.)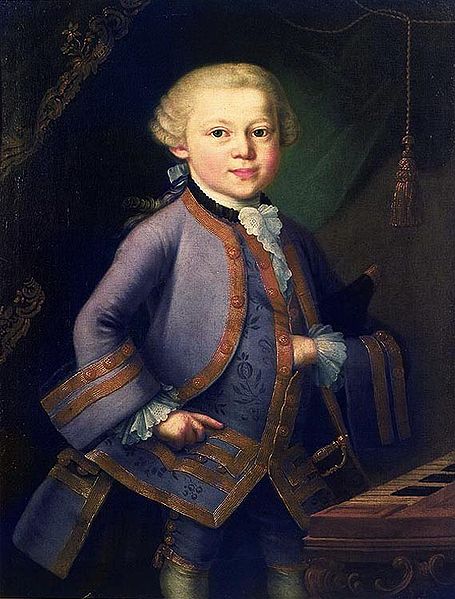 Mozart as a child
In the last blog I think I said that I believe every piece of music starts with the composer, his emotional life, something that people often forget when they temporarily take possession of a piece. Would anyone who has read about Mozart deny that he had an extremely complex character? – if you have ever met a prodigy as I have, they have a strange combination often of genius and arrested development. The value of their genius to the world can make people blind to everything else about them, especially once they are dead! But I believe that Mozart was constantly returning to his lack of childhood as a theme in his music – and more than anything, after a particularly dark or serious passage or movement he seems to erupt into a savagely hysterical burst of childishness. People talk so fondly of Mozart, as childlike or – joyous, whereas to me it always sounds like Mozart has gone into denial about whatever it was he touched upon. The sudden turn that the music sometimes takes into child-like happiness is like an arrow that points to the darkest sadness, even despair.
Click here to read the full post
1 comment | Post Comment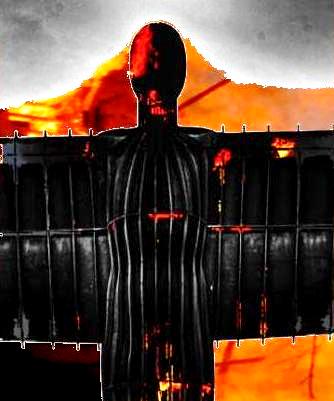 After posting my previous article, I was astonished to find myself so quickly on the receiving end of a few negative reactions to the text and to my work (not on the CT website it must be said). While I felt the speed of some of the responses was indicative of presumptions and criticism leveled without the foundation of any enquiry into the context or substance of my work, it also occurred to me that I had rather brought this upon myself by presenting such an abbreviated and unexplained overview of my activities with Antony Gormley and visual art in general. And so it seemed a timely moment to investigate some of the issues raised, with reference to the Memory Field project.
In summary, the main objections focused upon my posting of my 'sound-map' of the Angel of the North, in response to which it was stated that to corral notation into the shape of a 2 dimensional angel was meaningless in terms of how that shape would relate to the resulting sound, and further to this, to use the notion of retrograde in sound as any kind of representation of a retrograde visual structure (as in symmetrical forms such as a body), was similarly meaningless when transferred over into the new domain. It was also stated that the experience of music resides solely in the orbit of what is heard (i.e. it is a hermetic auditory-only experience) and all reference to the visual is either coincidental and/or irrelevant.


Click here to read the full post



5 comments | Post Comment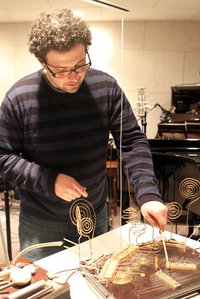 Recent or soon to be graduates from the Yale school of music comprise a fine collection of young composers, including Timo Andres whose album length work for two pianos was recently released by Nonesuch, and Ted Hearne who won the Gaudeamus prize ( and whom we interviewed on CT here). Now five of this talented group have enterprisingly got together to put on a show of their music at New York's Le Poisson Rouge this April 12th. I interviewd Chris Cerrone about the project.
Tell us about the upcoming concert.
Sleeping Giant is the premiere concert presented by a group of emerging composers that have come out of the Yale School of Music over the last few years. We'll be presenting new works by Timo Andres, Ted Hearne, Jacob Cooper, Robert Honstein and myself. I cooked up the idea for the concert when the five of us spent a weekend up in Westport, NY at the Honstein family summer cabin. There was so much joy in the group of us spending time together that for me it made sense for us to put on a concert. We're all close friends with a shared history and a strong desire to make music. As for the name, we wanted to name the concert after something New Haven-y, so we finally settled on Sleeping Giant, a park in Hamden, CT, an homage to our professor Ingram Marshall, who is famous (at least around Yale) for taking hikes and collecting mushrooms in that park.
Read more of the interview here
0 comments | Post Comment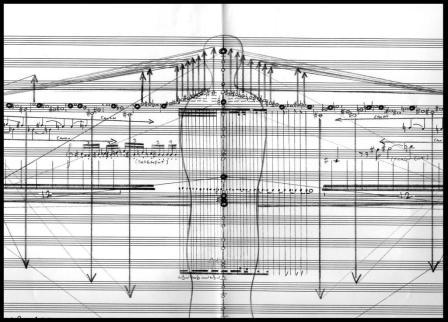 Sound-map for the Angel of the North (1995-1998)
I first met the sculptor Antony Gormley in 2007 in the spacious drawing studio of his magnificent studio complex in Kings Cross. I seem to remember our meeting was cut short by his having to rush off to an emergency dental appointment with toothache (at least I hope that's what it was). Nonetheless, Antony was fascinated by the idea of his work being used to generate music and generously encouraged what were continuing to be, my faltering and mostly frustrated efforts. It took 2 years to travel from the first ideas to the finished piece. Initially I found the severity and concentration in the material execution of Antony's work left me with no purchase with which to begin anything.
Click here to read the full post
0 comments | Post Comment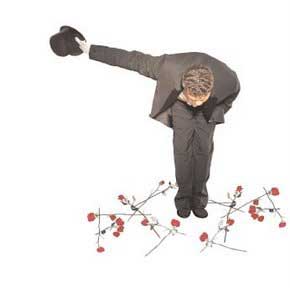 Taking a bow.

Taking a bow is one of those curious aspects of being a composer. I've sometimes caught myself wondering what is going on in a composer's mind as they jump on stage- does this moment in the spotlight make it all worthwhile; is it a terrible duty which would be avoided if only it could; or is it something somewhere in between?

I still find it a quiet source of pride how few composers are ready for that moment in the spotlight, we emerge tramp-like and awkward - the epitomy of uncool, uncommercial - we come on stage in our un-ironed jackets, or with a sock still stuck in one trouser leg. Then we scurry across the stage as quick as we can, not knowing where to put ourselves, and take an awkward bow. There's an interesting paradox in the way so many composers are so unnatural on the stage: we spend our entire lives trying to create something that is after all intended for performance 'on the stage'. We are aware of the finest, subtlest details of how certain effects in our music will come across - we can subdue an entire crowd, get them laughing or crying with our notes; and yet when we have to present ourselves in person on the stage we are likely as not to stumble on the steps before we even get there!



Click here to read the full post



2 comments | Post Comment
My concert picks for April in London:
Full-on Varèse, new sounds at Kings Place, and a good selection of contemporary and still-in-progress opera around town.

Exploring Sound and Time, Monday 12 April
Music by Harrison, Saunders and Xenakis
http://www.kingsplace.co.uk/music/out-hear/exploring-sound-and-time

Exposure at ROH2:
Two alternating programmes of opera snapshots from recent works, new works and works still under construction.
April 14/15/16/17
http://www.roh.org.uk/whatson/production.aspx?pid=13544

London Sinfonietta Varèse 360° Weekend
Complete works of Varèse over 16/18 April
http://www.londonsinfonietta.org.uk/project/var%C3%A8se-360%C2%B0

Max de Wardener, Nick Ramm and Dave Price, Monday 26 April
Featuring Harry Partch instruments including a 12 foot replica of his bass marimba, prepared autoharp and microtonal synths tuned to just intonation.
http://www.kingsplace.co.uk/music/out-hear/max-de-wardener-dave-price-and-nick-ramm
American Experiments, Thursday 29 April
Celebrating the works of John Cage, Morton Feldman, Christian Wolff and Frederic Rzewski
http://www.kingsplace.co.uk/music/weekly-themes/american-experiments
Plus two opera productions coming up:

Ades' Powder Her Face
April 26 through May 7th
http://www.roh.org.uk/whatson/production.aspx?pid=10790

Henze's Elegy for Young Lovers
April 24 through May 8th
http://www.eno.org/see-whats-on/productions/production-page.php?&itemid=182
0 comments | Post Comment

The Aurora Orchestra seems to be going from strength to strength. Now in their fifth year, they recenly debuted at Kings Place where they have a new home, and have just announced a major three year residency with LSO St Lukes which will feature a series of cross-arts collaborations, the first of which I'm attending this Friday (full disclosure: I was offered a freebie) featuring Berio's Laborintus II and John Adams's Son of Chamber Symphony.
Since I first heard about them a few years ago, I sensed a freshness in their approach and programming; and the quality of their playing was confirmed when I saw their production (together with Mahogany Opera who also feature on Friday) of the wonderful but rarely performed (let alone staged) Renard by Stravinsky.
New ensembles come and go, but these guys have an air of permanence to them.
Details of Friday's performance here: http://auroraorchestra.com/performances1.php
Read the CompositionToday interview with Aurora's Nick Collon
0 comments | Post Comment
It seems to have fallen to Radio 4 (rather than 3) to have informative and engaging programmes about classical music. The last one I heard was about the enduring power of 'When I am laid in earth,' by Purcell. Various bods were wheeled out to deliver their epiphanies and insights, and I have to say that I really enjoyed Alison Moyet's gorgeous rendition, a fifth down – how much easier to do that tricky word 'remember' -normally on a top G! Everyone had their point of view, including the muso who declared it 'the best melody of the 17th century!' Does it irritate you as much as me when people create league tables and play off one unique work of genius against another? I shouted 'shut up!' at the radio.

What was absent from a composer's point of view was just that – the composer's point of view. To me, whatever a piece of music becomes, whatever peg the composer hangs it on, it always starts with the composer. Amongst all their sense of personal ownership, nobody seemed to wonder about Henry Purcell, the human being, and what his personal input had been into those 40 bars of exquisite pain. Could anyone doubt that he identified with Dido rather than the colourless Aeneas? This is not an idle point, for Aeneas is on a mission to create a new country, surely something a creative person might identify with, and yet it is Dido's fragility and easy decline into early death that is drawn with such pain. I wondered why nobody mentioned the surely pertinent fact that Purcell was a child of 6 or so when the Great Plague hit London, and then the following Fire. And/or wondered whether Purcell, still a young man, had just experienced something similar by way of a rejection.

It is the vagueness of music and it being a non-verbal language that makes people take ownership of it, and elbow the person that was the composer out of the picture. This doesn't seem to happen so powerfully in the visual arts and it certainly doesn't happen with books or poetry. It is a wonderful thing to become totally engrossed in a piece of music. I like to binge on a particular piece, playing nothing else for days, - the music becomes subsumed into your existence like the first days of being in love. The downside of this is the ludicrous and depressing mythologizing of dead composers that goes on. If you believe that some God-given gift is at work then that rules out any influence from dreadful upbringings, or hot-housing parents. Let's face it, living composers are nothing like the Jill and John picture of dead ones. You can have a pizza and a laugh with them, get irritated by them, owe them money, talk about mobile phone tariffs with them. They can sleep with your wife or have to go to AA.
Recently I read a brilliant book about Schumann by Peter Ostwald called Music and Madness, - a psychological study based on letters and diaries. I nearly laughed out loud to read that Schumann, as a young man, may have had a sexual relationship with William Sterndale Bennett. Immediately, the two young men seemed totally recognisable as people I know now, and I felt a tremendous rush of sympathy for them. It made me want to listen to some Sterndale Bennett as well.
How different to the repulsion I feel (and I seem to be alone in feeling)towards the latest biogs of composers on BBC4, by Christopher Nupen, in which a profoundly reverential tone is taken and the things which influence other people – 'normal' people – are ignored – stuff like alcoholism, or child abuse. Psychologically, they are 100 years out of date. Near the end of the Schubert episode, which seemed to be made up of one long close up of the pianist's right hand (modern piano of course – nothing too real!), Nupen mentioned in a hushed voice that Schubert had contracted syphilis. Now I am shouting at the TV! – When, where, why?? But already he has moved on.
It is this ghastly attitude to dead composers that bedevils the lives of living ones. The lack of compassion towards their everyday existence, the lack of interest from the press as compared to the truly extraordinary interest there is in books and writers, the impoverishment that accompanies the lives of 90% of composers, is only enhanced by this romanticising of the dead. Living composers can only ever be a disappointment.
0 comments | Post Comment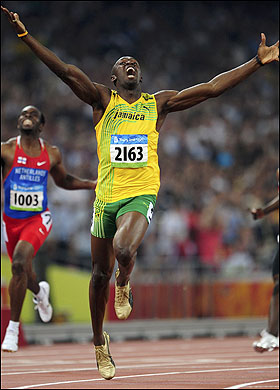 Last year I spent a couple of days at the Leeds Conductor's Competition: Britain's leading competition of this type, which happens every 2-3 years. I was there because an orchestral work of mine was being used as the modern test piece at a stage in the event in which there were only six contestants left. Each competitor had a slot to rehearse some Stravinsky, Rachmaninov, and my own piece. It was a fascinating experience on so many levels, not least in that it gave me the opportunity to hear my own music interpreted by six different conductors!

Since then I've spent some time musing over the nature of competitions, and come to the conclusion that there are basically three main types;

1) The Dead Certain. This is the sort of competition you get in sport; clear winners, and losers. Whoever runs faster than everyone else/jumps higher/scores more points or goals.



Click here to read the full post




8 comments | Post Comment

Archive
1 | ... | 20 |

21

| 22 | 23 | 24 |


CompositionToday
offers a huge range resources exclusively for composers.
The benefits of
Full Membership
include:
our comprehensive jobs, competitions and opportunities service
Create your own showcase website, including MP3 samples of your work
In-depth interviews with leading figures from the world of new music
A unique soundbank resource, where you can listen to real instrument sounds organised by range and technique.
Concert Listings Today & Tomorrow: