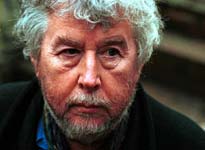 Harrison Paul Birtwistle (born July 15, 1934) is a British composer, widely seen as one of the most significant modern composers from that country.

Birtwistle was born in Accrington in Lancashire. He entered the Royal Northern College of Music in Manchester in 1952 on a clarinet scholarship. While there he met fellow composers Peter Maxwell Davies and Alexander Goehr, and together with John Ogdon and Elgar Howarth they formed the New Music Manchester group, which was dedicated to the performances of serial music and other works in a modern vein.

Birtwistle left the college in 1955, and until 1965 he made a living as a schoolteacher, but then received a Harkness Fellowship, which allowed him to study music in the United States. He subsequently dedicated himself to composition.

In 1975, Birtwistle became musical director of the newly established Royal National Theatre in London, a post he held until 1988. From 1994 to 2001 he was Henry Purcell Professor of Composition at King's College London.

Birtwistle's pieces are in a complex modernistic style. His early work is sometimes evocative of Igor Stravinsky and Olivier Messiaen (both acknowledged influences), and his technique of juxtaposing blocks of sound is sometimes compared to Edgar Varèse. His music makes frequent use of ostinatos and often has a ritualistic feel.

Among Birtwistle's better known pieces are the first work he is happy to acknowledge, the wind quintet Refrains and Choruses (1957); the piano piece Harrison's Clocks (1998); the orchestral works The Triumph of Time (1971) and Earth Dances (1986); and the operas Punch and Judy (1967), The Mask of Orpheus (1984), Gawain (1990), and The Last Supper (2000).

Birtwistle gained some notoriety in 1995 when his piece for drum kit, alto saxophone and orchestra, Panic, was premiered at the Last Night of the Proms in 1995. Birtwistle's music had not previously been heard in such a public forum, and most of the press did not hold back in its negative criticism of the piece, heard in a concert traditionally devoted to more popular classics and patriotic pieces.


Want to improve this description? You can
edit it
.