Other Resources

News Archive
Murail Gondwana & Désintégrations
Gondwana & Désintégrations
Murail: Early Works
The locus classicus of early spectral music, Gondwana is the most expansive and dramatic of Murail's earlier works, and the one in which the theoretical and the musical are most successfully balanced. The originality of Murail's musical approach is everywhere apparent, couched in a sequence of saturated harmonies which sometimes achieve a positively Messiaenic luxuriance. The work's opening few minutes, in which a single chord is gradually transformed and ultimately dissolved into a flurry of trills is a good example of Murail's spectral technique, both in the strange initial harmony (a complex, bell-like sonority generated using the studio technique of frequency modulation) and in the way Murail shapes his music in long, seamlessly evolving paragraphs – an apt musical parallel to the massive geological processes which led to the formation of the ancient super-continent of Gondwana evoked by the work's title.

Composed after an extended stint in the basement at IRCAM, the futuristic-sounding Désintégrations is one of Murail's most important works of the 1980s, and a good example of his attempts to achieve a convincing union between electronic tape and live instruments. Before composing the work, Murail made detailed analyses of the timbres of various instruments, and these acoustic deconstructions – the "disintegrations" of the title – provide the harmonic foundations for both the tape and instrumental music, with its characteristically rich palette of surreal sonorities.
CD Recommendations
Gondwana and Désintégrations: Orchestre National de France; Ensemble de l'Itinéraire; Orchestre du Beethovenhalle de Bonn; Yves Prin; Karl-Anton Rickenbacher (Montaigne Naive MO782175 with Time and Again)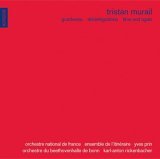 View Full Product Details

Fine performances of Gondwana by the Orchestre National de France and Désintégrations by Ensemble de l'Itinéraire, which benefits from a brighter recorded sound than the Ensemble Intercontemporain performance listed below (although the presence of pre-recorded tape inevitably curbs interpretative leeway, and there's not much to distinguish between the two readings). The third piece, Time and Again, is another important work from the 1980s combining live instruments with computer-generated tape.
Sheet Music by Murail