Other Resources

News Archive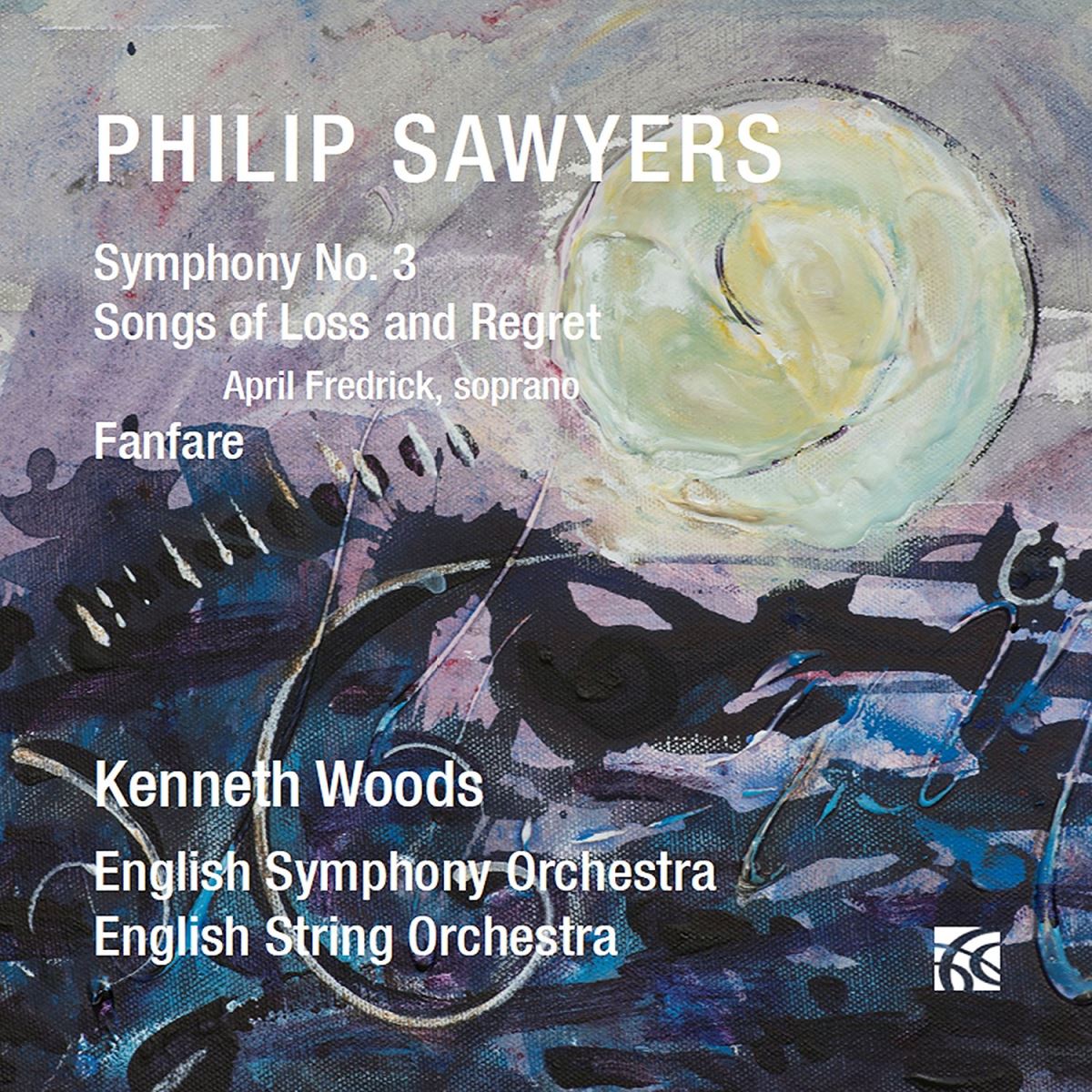 Hyperion have just released a recording of James McCarthy's cantata Codebreaker, which tell the story of Alan Turing's life through three key moments: when he fell in love as a boy, during the war and in his final hours. It's apparently optimistic opening quickly gives way to a work of great emotional depth, a fitting exploration of a man both lauded and unfairly persecuted. It is paired with Will Todd's visionary Choral Symphony No. 4 Ode to a Nightingale.
If you like your symphonies sans chœur take a look at Philips Sawyers' magnificent Symphony No. 3, just released on Nimbus with the English Symphony Orchestra conducted by Kenneth Woods. The work forms part of the ESO's 21st-century symphonies programme, as described by the composer in an interview here on C:T back in February. Tradition seeps through it in the best possible way, not just in term of structure but in the intensity of the argument. Album extras are Sawyers' Songs of Loss and Regret and his wistfully exuberant Fanfare.
Brice Pauset's Canons (WERGO), a collection of 24 short movements for piano that took him two decades to finish, are works of cerebral, crystalline beauty. Listening to them put me in mind of a fabulous afternoon I once had listening to Morton Feldman's For Bunita Marcus in an improvised concert hall in the middle of Basel. Which is not to say that the works are at all similar, but rather that both require a kind of altered state of listening; in the case of the Feldman to absorb the cosmic length, with the Pauset to comprehend the extreme compression. The performances by Nicolas Hodges are a tour de force.
NMC continues to release works in their New Music Biennial shorts project, with the issuing of Mark Simpson's After Avedon, a chamber music reaction to four photographs by American photographer Richard Avedon; 13 Vices, a collaboration between composers Brian Irvine and Jennifer Walshe; vocal work Pieces of Art by Laurence Crane; and Errollyn Wallen's Mighty River, which explores themes of slavery and freedom. There are also two disks of music by John McCabe to look forward to: Silver Nocturnes, includes this title work for baritone and string quartet with the piano quintet The Woman by the Sea and his horn quintet; Desert III, the only work on the second disk, is a piano trio inspired by the Australian desert. Both are released in November.
Apart from the Philip Sawyers, two other albums on Nimbus worth seeking out are a collection of choral works by Peter Leech, Jonathan Lee, Lawrence Whitehead, David Hugill and Robert Hugill performed by Harmonia Sacra; and the first four symphonies of Peter Racine Fricker, a lesser-known British composer who died in 1990. Naxos also completes a major recording milestone with the addition of Havergal Brian's Symphonies 8, 21 and 26 to their catalogue—they have now recorded all 32. Two disks on Divine Art Recordings, finally: Twists and Turns is a collection of music by Rob Keeley, including Four Anacronistic Dances, Three Inventions, Some Reeds in the Wind and Seven Studies for Wind Quartet; and Transitional Metal by Fumiko Miyachi is the first portrait album of her music and includes works for piano, piano duo, chamber ensemble and brass band.
0 comments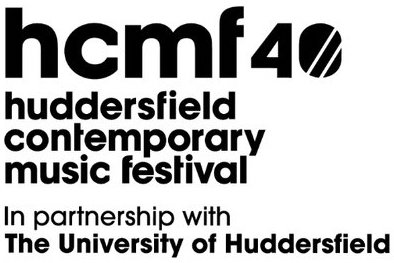 The fortieth Huddersfield Contemporary Music festival (17th November—26th), features 31 world premieres and 103 UK premieres across 33 events.
One of the first works featured will be rock guitarist Lou Reed's Metal Machine Music, a work that, once regarded as a joke, has now been hailed as a 'visionary classic.' It is the starting point for a a guitar thread that runs throughout the festival, including debuts from Belgian group Zwerm, guitarist Clara de Asis and in a new work by James Dillon that prominently features the instrument.
Other highlights include UK premieres of works by Brian Ferneyhough and a world premiere from Rolf Hind as well as new works from British composers Laura Bowler, Laura Cannell, Kit Downes, Lauren Sarah Hayes and Laurence Osborn. There will also be a concentration on two American figures, Pauline Oliveros and Linda Catlin Smith.
Mentioned in my last round-up, but worth reiterating since the bulk of the events take place in November is Wien Modern (30th October—1st December). It comprises some 48 productions, 90 events and over 50 premieres.
Also beginning in October with performances at Glyndebourne is a new run of Brett Dean's well-received (back in June, see here) Hamlet (21st–27th Oct). November, however, sees the opera touring, with performances at Canterbury (3rd Nov), Norwich (17th) and Milton Keynes (24th) and one final date in December (1st) in Plymouth.
ENO perform Marnie, a major new commission by Nico Muhly (see video, below) and the second by the American composer following Two Boys back in 2011. The libretto, by Nicholas Wright, is based upon the novel by Winston Graham. The synopsis is as follows (from the ENO website): 'Marnie is a compelling psychological thriller set in England during the late 1950s. A young woman makes her way through life by embezzling from her employers, before she moves on and changes her identity. When her current boss Mark Rutland catches her red-handed, he blackmails her into a loveless marriage. Marnie is left with no choice but to confront the hidden trauma from her past.' Performances run from 18th November to 3rd December.
Other premieres worth seeking out include a new work by Ben Smith at the opening of Series 3 of Borough New Music on 7th in St. George the Martyr, central London; John Croft's Lost Work, performed by BBC SSO in Symphony Hall, Birmingham on 17th; new works from Nik Bärtsch and the OPUS 2017 competition winner (as yet unannounced) played by the Britten Sinfonia at Wigmore Hall also on 17th; and Arlene Sierra's Nature Symphony, with the BBC Philharmonic at Bridgewater Hall on 25th.
Don't hang around, finally, if you are interested in booking tickets for performances of Stockhausen's Stimmung and Cosmic Pulses at the Barbican on 20th November. The concert marks 10 years since the composer's death and is likely to sell out quickly.
0 comments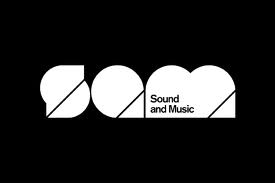 Sound and Music has announced its 2017/18 'Adopt a Composer' pairings. These are:
Anna Appleby with Merchant Sinfonia
Max Charles Davies with Côr Crymych a'r Cylch
Esmeralda Conde Ruiz with The Fretful Federation Mandolin Orchestra
Edmund Hunt with The Singers
Ben See with Stoneleigh Youth Orchestra
Peter Yarde Martin with Bellfolk Handbell Ringers
Gaynor Barradell with Edinburgh Concert Band
Congratulations to all the composers selected. We look forward to the fruits of these partnerships!
More information at the Sound and Music website.
0 comments
The European Youth Orchestra has been driven from London as a result of the UK's decision to leave the EU. It will now be based in Rome and in the northern Italian city of Ferrara. Most sadly the future of British musicians in the orchestra are also in doubt, the orchestra website saying that 'British musicians are still eligible to apply this autumn to join the orchestra in 2018, when Britain will still be a member' and that 'The arrangement for future years will depend on the details of the agreement negotiated between the EU and the UK.'
More information available here.
0 comments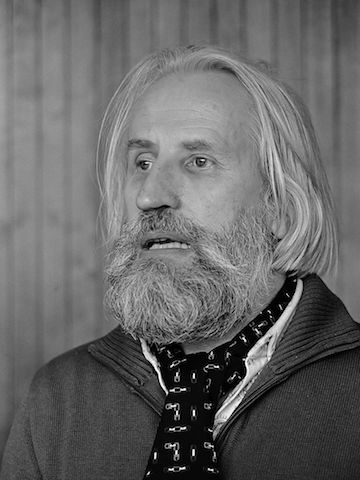 Swiss composer Klaus Huber died in Perugia, Italy on October 2nd. He was 92.
Born in 1924, Huber attended the Zürich Conservatory, studying the violin with Stefi Geyer and composition with Willy Burkhard. He worked as a teacher, including at the Basel Music Academy (1964–73) and the Freiburg Musikhochschule (1973–90). Many of his students—including Toshio Hosokawa, Brian Ferneyhough, Kaija Saariaho and Wolfgang Rihm—have become significant figures in their own right.
Huber was of the same generation as Pierre Boulez and Karlheinz Stockhausen, with whom he was often compared. Whilst he closely followed the developments of the Darmstadt school, his adoption of serialism was, however, less dogmatic—his breakthrough work, chamber cantata Des Engels Anredung an die Seele (1957, performed 1959), for example, adopts a rigorous form of serial structuring that nevertheless permits the emphasising of consonant intervals.
Hubert's other influences have included medieval and renaissance music (Cantiones de Circulo Gyrante, Agnus Dei cum recordatione); the system of modes of Arabic music (Die Erde bewegt sich auf den Hörnern eines Ochsen, Lamentationes de fine vicesimi saeculi); and Latin American liberation theology (Senfkorn, 1975). Other than serialism, specific technical preoccupations include the use of spatial acoustics (Die umgepflügte Zeit and Spes contra spem) and the creation of a new system of tonality based on third tones (first appearing in works at the end of the 80s, discussed further in video, below).
These diverse influences led Brian Ferneyhough to describe Hubert as a a composer that 'avoided being pinned down to a marketable set of stylistic fingerprints, each work being both a highly individual response to a clearly focused and technically well-honed set of issues and precise reconsideration of the relationship of contemporary music languages to the real imperfect world in which they are embedded.'
Huber was awarded many prizes during his lifetime, including the Beethovenpreis of the city of Bonn (for Tenebrae) in 1970, the Art Prize of the city of Basel in 1978, the European Church Music Prize by the city of Schwäbisch Gmünd in 2007, the Music Prize Salzburg in 2009 and the Ernst von Siemens-Musikpreis in 2009.
The manuscripts of his works are held at the Paul Sacher Stiftung, Basel.
Sources:
Wikipedia Entry on Klaus Huber
Klaus Huber at Work (also discussing the use of third tones)
Klaus Huber: Tenebrae for large orchestra (1966/67)
0 comments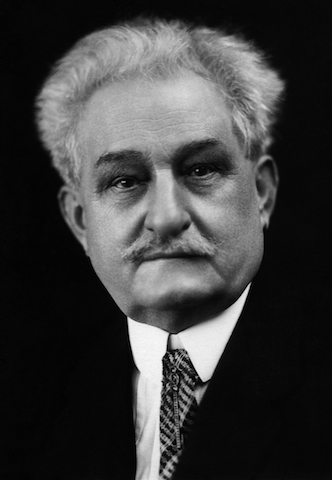 I can imagine that the story of Richard White has warmed the heart of many a middle-aged (and older) composer. White has just had his 900-page opera selected for a workshop performance at the National Opera Center Recital Hall in Manhattan. The work, entitled Hester and based upon The Scarlet Letter by Nathaniel Hawthorne was written in spare moments at home and whilst working as a security guard at Columbia University from 1991. It marks his composing debut. Richard White is 82.
Music-lovers have long been obsessed with precocious talent, constantly on the lookout for the next Mozart, Beethoven, Mendelssohn or Prokofiev. I agree that young composers should be supported, encouraged and even celebrated. But could we not do a bit more to support older composers too?
I spend hours each month compiling composer opportunities here at Composition:Today. I would say that perhaps a third of these are limited by age. The point at which you are considered too old varies but, basically, by the time you are 40 all of these competitions are off-limits. And the problems don't end there.
Often a competition rubric will require that a piece must have been written recently, usually within the last five to ten years. My guess is that there are many middle-aged composers who have been through the system, maybe churned out some major works, but have now, essentially, stopped composing because they have lost contact with decent performers and aren't sure what to do next. It takes a certain type of heroism to continue to write when no-one wants your music any more. Some, like Richard White, manage it. Others just give up.
My worry here is two-fold. Firstly, our competitions are not helping us to unearth these forgotten older works, some of which might even be masterpieces. Secondly, and more obviously, we are not unearthing the talent that went into making them. Like Janáček (pictured), whose premiere of Jenůfa at the age of 62 established his reputation, there must surely be a few older composers worth reanimating before it is too late?
0 comments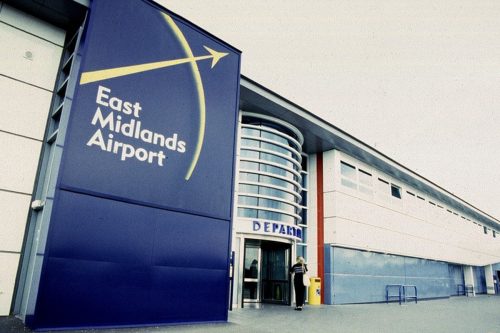 The latest request from a commercial organisation that musicians work for free has been given a withering response on social media.
The organisation in question was East Midlands Airport, who recently advertised this 'opportunity': "We are always looking for new ways to enhance our passenger experience whilst they are with us at the airport and, what better way than by showcasing some of our region's best musical talent? Unfortunately we can't offer performers a fee, but they will be well looked after by our staff while enjoying the opportunity to perform in front of a captive audience."
One response, from flautist Nicola Loten, typified the criticism:
Dear East Midlands Airport,
I am a musician based in the U.K. and I run a small, professional, baroque ensemble. We are looking for an airline to fly us to Amsterdam as I've always wanted to perform there. We would like to offer you the opportunity to fly us there, free of charge. Unfortunately we can't offer you a fee but we will be well behaved during check in and it would be great exposure for the airport amongst a group of frequent travellers.
Please let me know if this would be agreeable to you,
Nicola Loten
The airport, belatedly, realised the error of its ways, saying that the advert was 'in no way designed to undermine the skill, hard work and professionalism that is required to perform in public. We apologise for any upset caused.'
I guess we've seen variations of this story a hundred times over recent years, but it made me wonder about the equivalent situation with regard to composers. If players are sometimes treated with contempt by moneyed organisations (such as airports) that ought to know better, perhaps composers are in a position even more desperate still—they barely exist at all.
There have been many noble attempts to connect composers with private individuals and companies who might wish to commission music. I know of some such initiatives that have borne fruit. But they remain more the exception than the rule—commissions for pieces and 'composer in residence' opportunities tend to come much more from (or at least in corporation with) publicly funded bodies. And where there are real commercial opportunities, these tend to limit the scope of the composer's creativity, since they necessarily must fulfil certain commercial expectations. (This is categorically not to belittle composers who work in genres such as film music. I personally find the 'if it's commercial then it's not art' argument beyond tiresome and, in many cases, demonstrably erroneous—think, actually, of the many very great film scores.)
It would have been be nice if this airport in question, instead of saying to itself 'We need to show off the musical talent of our region, let's invite performers to come and entertain our passengers' had maybe thought 'Let's invite some composers here to make some pieces, or even do some creative workshops and events with passengers.' If they had advertised this and offered no fee, my guess would be there would have been no outcry whatsoever. Many composers would have seen it as progress.
0 comments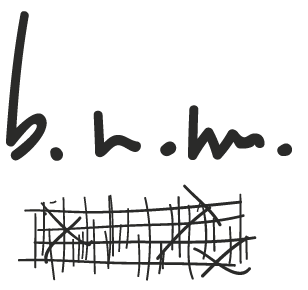 Borough New Music was founded in January of this year with the aim of celebrating the music of today and of living composers. Following its first series of concerts in February, next month it makes its return with series two (3rd October–31st). This consists of five concerts given each Tuesday at 1pm at St George the Martyr Church, SE1 1JA (just opposite Borough tube, central London). Admission is free, the concerts last some 50 minutes and light refreshments are served. In other words, perfect lunchtime entertainment.
The second series alone consists of three world premieres and a host of other established contemporary music, including of Stace Constantinou, who will be the featured composer on 17th October. Not content with this, however, the indefatigable organisers have arranged a further seven series bringing the total to nine, the last finishing on 26th June 2018. These include concerts featuring particular instruments, themed 'pot-luck' events and composer profiles: of Eva-Maria Houben on 28th November, various 'Songwriters of 2018' on 20th February 2018, Gregory Rose on 27th March, Edward Henderson on 10th April, Matthew Taylor & Sally Beamish on 29th May, and Janet Oates on 19th June. In total, these events will include 37 premieres, 23 of which are world premieres.
Artistic Director Clare Simmonds says: "Each Series in Borough New Music is a very exciting prospect for performers, composers and audiences alike. It is neither a festival, nor a 'one-off'. Rather, it's as an ongoing opportunity to celebrate the wonderfully diverse music written today."
To find out more, visit the Borough Music Festival website, here.
0 comments
Perhaps there's life in the old beast yet. Sibelius yesterday announced 'Cloud Sharing', which will allow the program 'to send Sibelius scores to the cloud for rendering that can be displayed in any web browser, posted on social media, and embedded in webpages and blogs, to be viewed by anyone, on any device.' In essence it seems like an updated version of the old Scorch technology.
In any case it is a welcome development after several years of stagnation, especially from the perspective of non touch-screen users, where updates since version 7 have been thin indeed. One wonders whether Avid are starting to feel the heat from products such as Dorico and—in terms of web sharing—Musescore. Competition is, at any rate, very good news for customers.
0 comments
Sad news with the dead of two renowned British composers.
Derek Bourgeois (1941–2017)
Derek Bourgeois died on 6th September aged 75. Born in Kingston upon Thames, he was educated at Magdalene College, Cambridge and the Royal College of Music, where his composition tutor was Herbert Howells.
As well as composing he taught at Bristol University (1970–84) and St. Paul's Girls School. He also became the Musical Director of the National Youth Orchestra, in 1988 also founding the National Youth Chamber Orchestra. His career as a conductor included with the Sun Life Band (1980–83), which also served as his introduction to the brass band world. He was also active in arts administration, as Chairman of the Composers' Guild of Great Britain and as a member of the Music Advisory Panel of the Arts Council.
Bourgeois was a highly prolific composer, especially in the field of brass and wind. By 2009 he had already composed some 44 symphonies. Astonishingly, at the time of his death this number had increased to 116.
A Cotswold Symphony, Derek Bourgeois
John Maxwell Geddes (1941-2017)
John Maxwell Geddes died on 7th September aged 76. He grew up in the Maryhill area of Glasgow later studying at the Royal Scottish Academy of Music and Drama. Whilst there he won a scholarship that enabled a period of study with Niels Viggo Benton at the Royal Danish Conservatoire in Copenhagen.
He is particularly known for his long association with the BBC Scottish Symphony Orchestra, though his composing life was far from parochial, his work taking him to the US, Europe and Russia. He was also composer in residence in Hamburg, Berlin and Bremen.
Major works include three symphonies, a number of commissions from the BBC (including, Symphony 1, Voyager, Alley Cat, An Ayrshire Suite ), works for choir, chamber music and film scores.
Symphony No. 2, John Maxwell Geddes
0 comments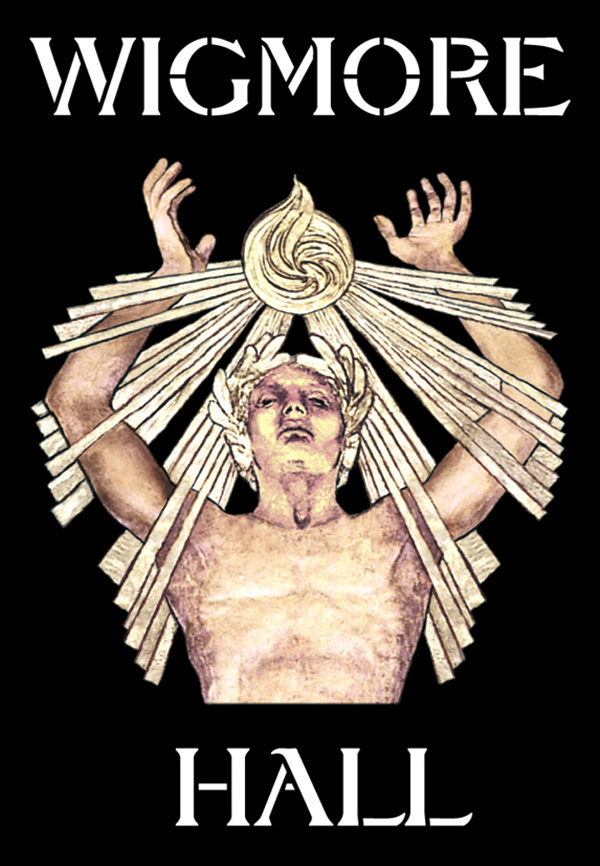 Julian Anderson is the subject of A BBC Total Immersion Day on 21st October. It begins at 1pm at Milton Concert Hall with Guildhall musicians performing chamber works Ring Dance, The Colour of Pomegrantes, Van Gogh Blue and Alhambra Fantasy; followed by an exploration of his choral music with the BBC Singers at St Giles' Cripplegate at 5pm. The day concludes back at Milton Court with performances of his orchestral works Eden, Imagin'd Corners, In lieblicher Blaue and Symphony at 7.30pm. Unlike other Total Immersion Days there does not appear to be any lectures, talks or films.
On 14th Wigmore Hall is putting on a day dedicated to Polish music, hosted by Jennifer Pike and friends. There will be music from Chopin, Szymanowski, Karłowicz, Lutosławski, Wieniawski, Knapik, Górecki, Adam Jarzębski and Grazyna Bacewicz, not to mention the UK premiere of Penderecki's Capriccio for solo violin and the world premiere of a new work by Paulina Załubska.
Other noteworthy performances in October include the premiere of a new ballet by Welsh harpist and composer Catrin Finch at the Swansea Festival on 14th; a new concert staging of George Benjamin's opera Written on Skin at LSO St. Luke's on 20th; John Williams score for Jaws simultaneously performed with a screening of the film on 21st at the Royal Albert Hall; and an as yet untitled septet world premiere by George Tsontakis at Wigmore Hall on 30th.
There is also plenty of new music, including regional and world premieres at three October festivals. The Venice Biennale (29th Sept–8th October) will explore the theme of the Orient, including in the music of Stockhausen; Scotland's Sound Festival (26th October–11th November) will include premieres by Rebecca Bruton, Jason Doell, Lawrence Dunn, Sarah Lianne Lewis, Gunnar Andreas Kristinsson, Sonia Allori, Pete Stollery, Janet Beat, Stéphane Magnin and John De Simone. The 32 days of Wien Modern (30th October—1st December), finally, will include 48 productions, about 90 events and over 50 premieres.
0 comments
A little fun for a Tuesday afternoon. The melodica men take on Holst's Jupiter:
And here's Evgeny Kissin showing off his composing chops:
0 comments
Christian Morris talks to Madeleine Mitchell, who will be giving the world premiere of a newly discovered work by Grace Williams on 7th September and whose new album, Violin Muse, will be be released on the Divine Art record label in October.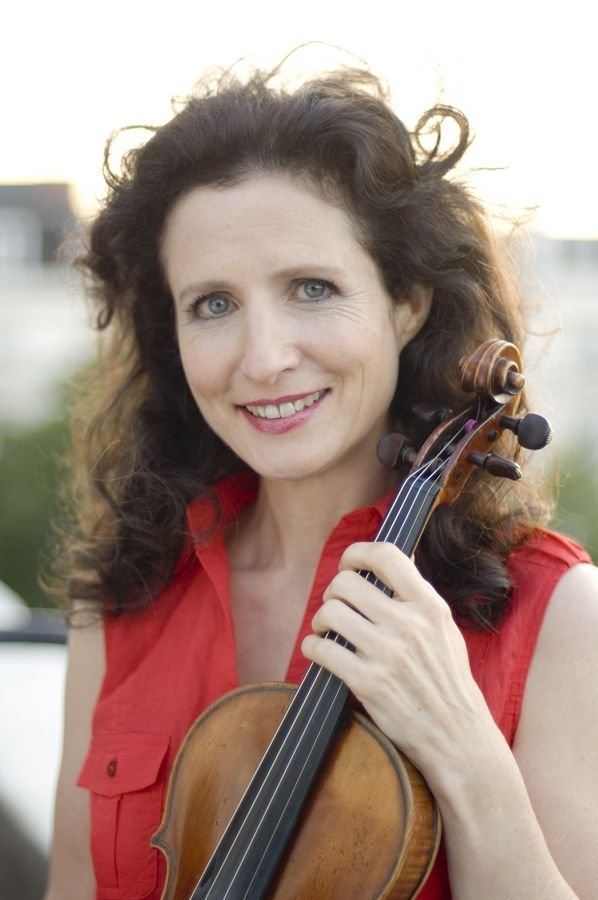 Madeleine Mitchell. Photo by Rama Knight
Tell us about your new album, Violin Muse.

This is a collection of seven world premiere recordings of violin works by established living UK composers. Five of the pieces were written for me (three as gifts), which I've premiered between 2007–15, and I've worked with all the composers on the album. It's good to have a concerto—Guto Puw's Soft Stillness(based on lines from Shakespeare's The Merchant of Venice)—and violin duos—Judith Weir's collection Atlantic Drift (celebrating the flow of traditional music between the British Isles and North America)—as well as five pieces with piano—by Michael Nyman, David Matthews, Michael Berkeley, Sadie Harrison and Geoffrey Poole. It creates an interesting mix of textures. There's a lyrical thread linking many of the works, which I think suits the violin. I'm pleased to be joined by the BBC National Orchestra of Wales under Edwin Outwater, pianist Nigel Clayton and violinist Cerys Jones; and that it's my second album for Divine Art.

I've been fascinated by the violin as a muse for composers, painters and writers and it's interesting that significant composers for the violin didn't play the instrument but collaborated with and were inspired by violinists. I've been privileged to have had around 30 works written for me over some years.

Your association with living composers goes back to the beginning of your career. Apart from those represented on this new disk, are there any highlights from these working relationships, not just in terms of the finished piece but also in the collaborative process?

I started out as the violinist/violist in Peter Maxwell Davies' seminal group The Fires of London, whilst beginning a solo career in more standard repertoire and some teaching. It was through Max that I met several composers who then wrote works for me. The first I commissioned was *Brian Elias's Fantasia for a London recital prize I'd been awarded by the Kirkman Concert Society, where I wanted to include a new piece along with Brahms and Bartok. Piers Hellawell then wrote me a violin concerto, Elegy in the Time of Freedom (1992); James MacMillan two pieces—*Kiss on Wood and *A Different World; and Robert Saxton, whose sextet I played with the Fires, wants to write me a violin sonata next year.
Click here to read the rest of the interview
0 comments
Dorico development continues apace with the launch yesterday of version 1.1.10.
From the Dorico website:
We have today released Dorico 1.1.10, the latest update to our professional music notation software, following hot on the heels of the Dorico 1.1 update that was released at the end of June.
The main focus of this update is to add graphical editing of individual chord symbols in Engrave mode, which was something that was planned for Dorico 1.1 but which needed a bit more time to get into shape. In addition to that significant bit of functionality, there are a few other minor functional improvements, and the usual crop of bug fixes.
Click here for further details. And check this video for the new functionality:
0 comments
Anyone tempted to write for Ben Neill's new Mutantrumpet?
0 comments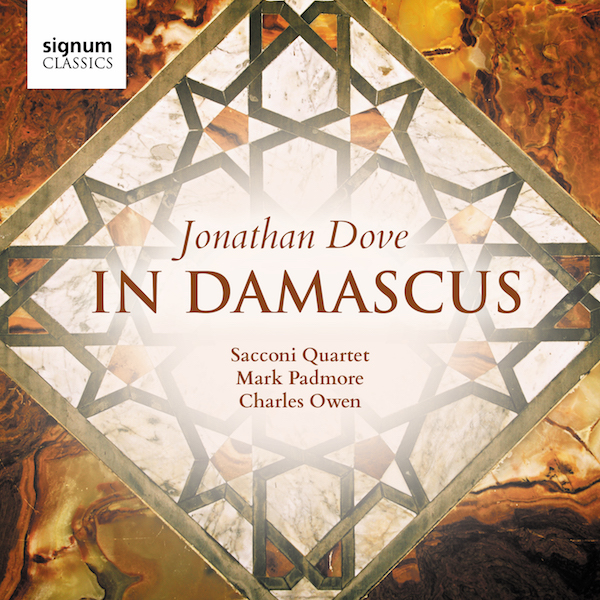 The title work Jonathan Dove's new Signum disk, In Damascus, is the composer's response to contemporary events in Syria. Written for tenor and string quartet it is a haunting collection of eleven short movements, each economically constructed in his post-minimalist idiom. It is presented with, Out of Time, for string quartet, written in memory of a dead husband, which is by turns lively and elegiac; and his expansive Piano Quintet.
NMC have started releasing works in their New Music Biennial project, these being: Winestead by Gavin Bryars, Ceumannan – Footsteps 2 by Anne Martin and Jason Singh, A Journey with the Giants of Jazz by Peter Edwards and Bethia by Daniel Elms. Not so contemporary, but certainly worthy of a look, is their collection of string chamber music works by Imogen Holst, a deleted album originally released on the Court Lane Music label. As they point out, one of NMC's missions is to rescue these types of recordings, and there could hardly be a more appropriate composer, since Holst was not only a significant figure in her own right, but her Holst foundation helped to created the NMC label.
If this kind of neglected British repertoire is your thing, also check out two releases this month on Lyrita. There is a disk of Rubbra instrumental music that comprises his Sinfonia Concertante op.38, Prelude and Fugue on a theme of Cyril Scott and his Violin Concerto Op. 103. He also appears as a pianist, performing Cyril Scott's Consolation. I also dipped into Daniel Jones's Symphonies Nos. 2 and 11. Jones is a familiar figure to Welsh musicians. Growing up I remember we had a few scratchy records of his music at home, including his Sonata for Unaccompanied Kettledrums. I think this last piece especially had left me with the idea that his style was austere and forbidding. Far from it—whilst certainly serious utterances, these symphonies are bursting with engaging ideas.
A double trio of disks to finish. On Naxos there is instrumental music by American George Tsontakis; Lori Laitman's opera The Scarlet Letter, David Mason's libretto an adaptation of the original Hawthorne novel; and a collection of choral music from Latvian composer Ēriks Ešenvalds. On Wergo, meanwhile, are two albums of string quartets, one from Wolfgang Rihm, the other by Helmut Zapf; and a collection of seven chamber works by Milica Djordjević, headed by the string quartet The Death of the Star-Knower.
0 comments
All 16 members of President Donald Trump's Committee on the Arts and Humanities resigned on Friday morning. The group, which advises the President on cultural issues, was protesting at Trump's 'support of the hate groups and terrorist who killed and injured fellow Americans in Charlottesville.' Members include musician Paula Boggs, architect Thom Mayne, actor Kal Penn and author Jhumpa Lahiri.
The full text of the letter: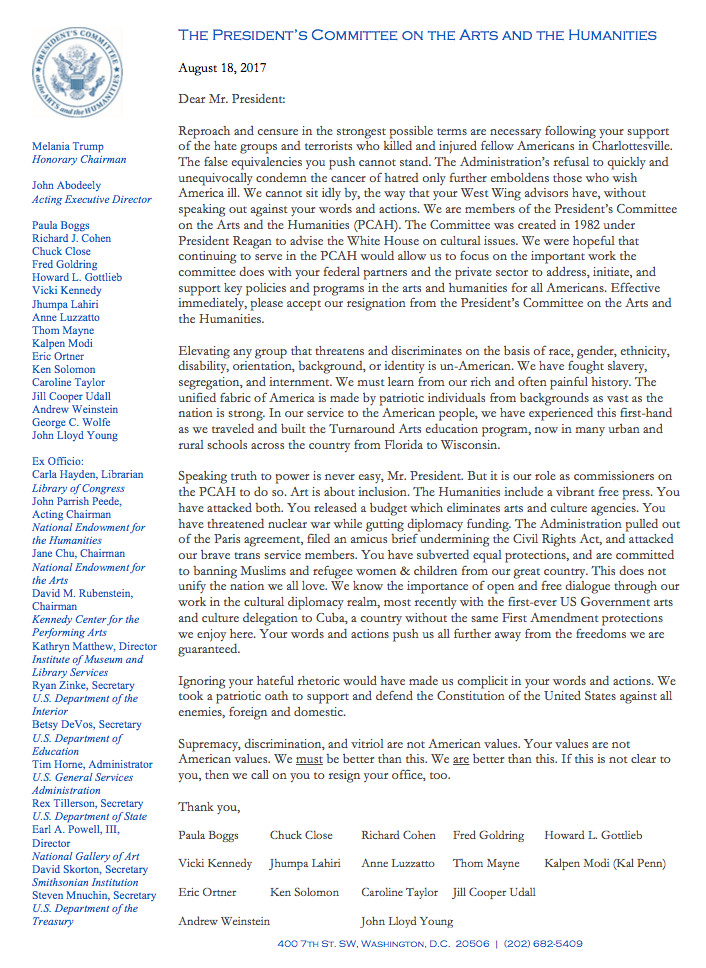 In a later twist the White House claimed that it had already decided to disband the group:
0 comments
Sad news with the loss of composers Pēteris Plakidis and Marian Varga, both on 8th August.
Pēteris Plakidis (1947–2017) was Latvian, a graduate from the Jāzeps Vītols State Conservatory in 1970, later teaching composition in the same institution (renamed to the Latvian Academy of Music). He was especially known for his Music for Piano, String Orchestra and Timpani; Variations for Orchestra, which won the Latvian Great Music Award; and his works written for various anniversaries of the Latvian National Symphony Orchestra.
In Memoriam by Pēteris Plakidis, Choir BALSIS, IBSCC Grand Prix Competition
Marian Varga (1947–2017) was Slovak. He studied piano and composition at the Bratislava Conservatory, eventually leaving to pursue his interest in rock music. With his group Collegium Musicum his music subsequently explored the interface between art and popular music, especially through his reinterpretations of music by classical composers such as Haydn, Bartók and Stravinsky, but also through original compositions. He was also known for his interest in improvisation.
Collegium Musicum - Concerto In D
0 comments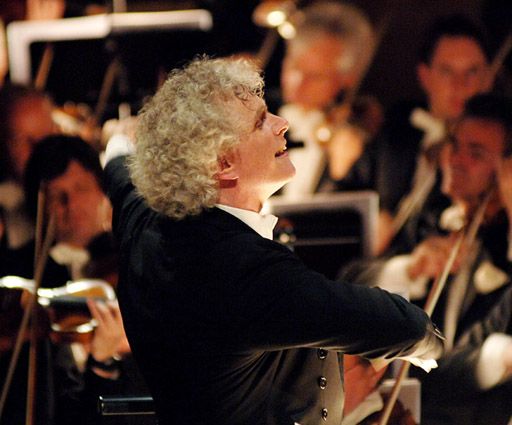 September sees the return of Simon Rattle to London as LSO Music Director, an event that will be celebrated with a series of Barbican concerts that have contemporary music front and centre. Things kick off on 14th with a concert featuring composers associated with the conductor: Oliver Knussen, Harrison Birtwistle, Thomas Adès and, with a new piece that will open the concert, Helen Grime. Each of these featured composers then will curate their own concert as part of the celebration: Knussen on 16th, Adès on 18th, Grime on 20th and Birtwistle on 23rd. The repertoire on offer in these is pretty interesting, from Machaut and Byrd to Madness, Maw and Matthews.
September marks the end of the Proms season, the last night premiere this year being Lotta Wennäkoski's, Flounce on 9th. For those looking for something after this, there is the North Wales International Music Festival on 16th. Living composer represented include Rhian Samuel, Edward Gregson, Gavin Higgins, Robat Arwyn, Paul Mealor and Oliver Tarney. There will also be music by the festival's founder, William Mathias on 24th and 30th.
Overlapping with the end of the Proms season is the Ultima Festival in Oslo (7th–16th). It is Norway's biggest festival for contemporary music, making use of a number of big and small venues within the capital. The festival opens with a concert performance of Heiner Goebbels' Eislermaterial, a tribute to one of his great musical heroes, Hanns Eisler. Other highlights include a new installation Rats–Secret Soundscpres of the City by Jana Winderen from 6th–14th; Ballerina, a new chamber opera by Synne Skouen on 8th; and a multimedia theatre work Adventures in space and time by Norwegian performance group Verdensteatret from 8th–17th. The full programme is available, here.
Warsaw Autumn (14th–24th) is likewise Poland's most important contemporary music festival, this year celebrating its 60th season. The theme is the 'troubled' avant garde. It will explore artistic issues as they were at the time of the first Warsaw Autumns and as they are today, strands including 'the phenomenon of sonorism, the orchestra, the string quartet, song, instrumental theatre, electronics, and multimedia.' Composers whose music appeared at the first festivals—Tadeusz Baird, Wojciech Kilar, Andrzej Dobrowolski, Krzysztof Penderecki, Bogusław Schaeffer, Luigi Nono, Isang Yun—will be performed at this year's festival. These will be contrasted with works by younger and middle generation composers such as Pierre Jodlowski, Tadeusz Wielecki, Christophe Bertrand, Alexander Schubert, Brigitta Muntendorf, Johannes Kreidler, and Artur Zagajewski. The opening concert features Grisey's Le noir de l'étoile, Georg Friedrich Haas's Dark Dreams, as well as Tansy Davies's Forest and circulatio by Artur Zagajewski.
In Strasbourg Musica 2017 runs from 21st to 7th October. It opens with the French premiere of Michaël Levinas's La Passion selon Marc, une passion après Auschwitz (see video below), a work which examines the painfully irreconcilable character of the Passion and the Holocaust. As well as established works by living or recent composers, there are a number of world premieres. These include works by Bruno Mantovanni, Andy Emler, Zad Moultaka, Amadeus Regucera, Jean-Patrick Besingrand, Jeremías Iturra, Benoît Montambault and Raphaël Cendo.
La Passion selon Marc
Une passion après Auschwitz (2016) Michaël Levinas
0 comments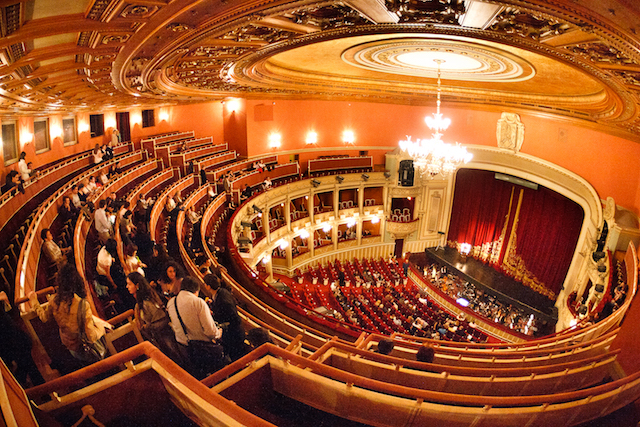 After spilling more than a few column inches over the Tête à Tête Opera Festival I thought, today, that it was probably time to move on.

Then I came across a provocative article by Anne Midgette at the Washington Post entitled 'New opera wants the same appeal as television. If only it could be as smart.' It felt unnecessarily glum. In it she says (quotes in italics):

'When was the last time you came out of a new opera — or ANY opera — feeling that you had had a vital, exciting dramatic experience? When was the last time you felt you had lost yourself in another world?'

Last week, on a number of occasions. See my review. Whilst one of the operas I saw did not really qualify as a dramatic work and another was just ghastly, the other three ticked those boxes very nicely. I don't think she's necessarily wrong that some new operas are awful (weren't they always?—think how many old operas are now justifiably forgotten), it's just I don't think that they all are.

The idea shouldn't be "We have to find a good story and tell it through arias and ensembles." Rather, it's the arias and ensembles and other musical elements that create and define the "story." I love Verdi's "Il trovatore," but it's certainly not because of the plot.

I wonder of if Midgette's love of Il Trovatore, especially when set aside her recent review of The (R)evolution of Steve Jobs, suggests that she might be missing something here? Music renders an undramatic opera lovable precisely because it can be enjoyed in its own right. I can't particularly see the harm in any contemporary composer writing an undramatic work with music so beguiling that it is as compelling as Il Trovatore. Her effusive praise of Mason Bates's score to The (R)evolution of Steve Jobs, whilst simultaneously panning the drama, would seem to put that work precisely in the Il Trovatore tradition. Is that to be despised?

With the emphasis on telling stories, opera is in effect trying to set itself up as an alternative to television — which is only setting itself up for disappointment…But opera could learn things from contemporary television's success that could help make it more dramatically effective to a contemporary audience. One is not to remain fettered by formulas but, rather, to transform them, as television has reconceived the miniseries or the sitcom ("Veep").

I don't object to the idea that old conventions may be reimagined in order to make opera more relevant for modern audiences. But I don't buy into the idea that, on the one hand, composers are not already doing this—none of the operas I saw at Tête à Tête was conventional in its approach—or, on the other, that the older forms are inherently undramatic—plenty of recent composers have derived great dramatic impetus essentially working within them (Britten and Henze, for example). In this sense I'm not sure what television teaches us.

"We need to explore new ways of getting operas out there."

Here Midgette makes the point by quoting librettist Royce Vavrek, who is doing just what she is suggesting—using new approaches to get their works into the public domain. In this case, he is 'working on a series of short opera movies with several notable composers.' She also mentions Yuval Sharon's Hopscotch 'which played out in cars on the freeways of Los Angeles, with audience members as passengers.' To this I could add a composer friend of mine who wrote a rather brilliant pop-up opera sung spontaneously in a café, or the podcast opera and opera on a train at Tête à Tête. Not to mention the fact that operas are now regularly screened at cinemas and on television—I recently saw the Aix en Provence production of Bizet's Carmen in this way (great performance, strange production, I thought). In essence, again, I'm not sure what television is supposed to teach us. Opera has already moved with the times.

The truth, it seems to me, is not that the operas the Midgette has seen and disliked are insufficiently innovative. It is, rather, that they are not good operas. The old adage holds true: in opera, as in all types of art, there are only two types—good and bad. Innovation is not, in itself, a sign of relevance.




0 comments

Archive


1

| 2 | 3 | 4 | 5 | ... | 18 |

Concert Listings Today & Tomorrow: