Other Resources

News Archive
Borough New Music reaches Series 7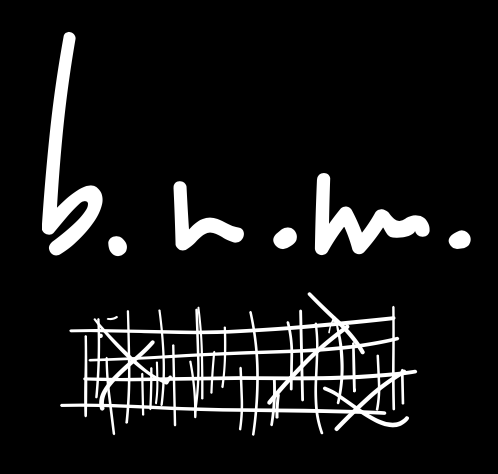 In April Borough New Music arrives at Series 7 in its mammoth cycle of contemporary music concerts. On 3rd there are works for combinations of soprano, countertenor and piano by George Crumb, HK Gruber, Ross Edwards and Julian Grant; the 10th features music by a single composer Edward Henderson, who is known for his use of founds sounds, found objects, repetition and audience participation; on 17th there are improvisations for saxophone and piano; whilst 24th features new music and theatre from the Windup Penguin Theatre Company. All the concerts are held on Tuesdays at 1pm in the very central St. George the Martyr Church, London. Ideal lunchtime fare.
Late Music season kicks off

In York, meanwhile, Late Music's new season kicks off with two concerts on April 7th. At 1pm the Fairfax Ensemble traces the story of Late Music itself, from the 1980s to the present. It will include world premieres from Emily Rowan, Natalie King, Roger Marsh, Tim Brooks and Nick WIlliams. At 7pm, meanwhile, Atéa Wind Quintet will premiere works by David Lancaster and Angela Slater (who runs a concert series of her own) as well as works by Gary Carpenter, Thea Mustrave, Berio, Ligeti and Birtwistle. Late Music's season of contemporary music concerts continues all the way to October, so be sure to have a look at their programme.
Andrea Tarrodi Weekend
From 12th–15th the Konserthuset Stockholm will host a mini festival dedicated to Swedish composer Andrea Tarrodi, whose music is known for its 'colourful richness and peculiar play of light.' The festival includes four world premieres: Wildwoods for orchestra and a new Piano Concerto Stellar Clouds on 12th (both repeated on 14th); Acanthes, Concerto for two violins and strings on 13th; and "Drache-Frau" (the wounded diva) for brass quintet 15th. As well as other works by Tarrodi, there will be pieces by Schoenberg and Debussy.
First performances
Finally, my pick of April's world premieres, starting in the UK. 12th April sees the London Sinfonietta give first performance of Philip Venables' The Gender Agenda, described as 'A concert piece like no other, The Gender Agenda will turn the Queen Elizabeth Hall into a gameshow and the audience into contestants'; on 15th the NYOS and pianist James Willshire give the first performance of Scottish composer Jay Capperwauld's new piano concerto at Glasgow Royal Concert Hall; also on 15th at the Royal Festival Hall there is the chance to hear works by Solvenian composer Vito Žuraj, including the world premiere of his Ubuquity - farces for soprano and ensemble; at the Barbican on 19th, finally, Simon Rattle and the LSO take on Helen Grime's Woven Space.
In the US on 6th at Carnegie Hall the American Composers Orchestra will give three world premieres, Hitoma Oba's September Coming, Ethan Iverson's Concerto to Scale and Steve Lehman's Ten Threshold Studies, as well as two New York premieres. In Europe, meanwhile, Péter Wolf's new Clarinet Concerto will be played by Csaba Klenyán at the Liszt Academy on 7th; a new String Trio by Jukka Tiensuu will receive its first performance by ZilliacusPerssonRaitinen at the Konserthuset on 9th; and Johannes Jansson's Peace Symphony will be played by Sveriges Radio Symfoniorkester at the Berwaldhallen, Sweden on 13th.
0 comments
Christian Morris talks to composer Sadie Harrison, whose work has been performed internationally and widely recorded. She is also known for her cross-cultural collaborative projects.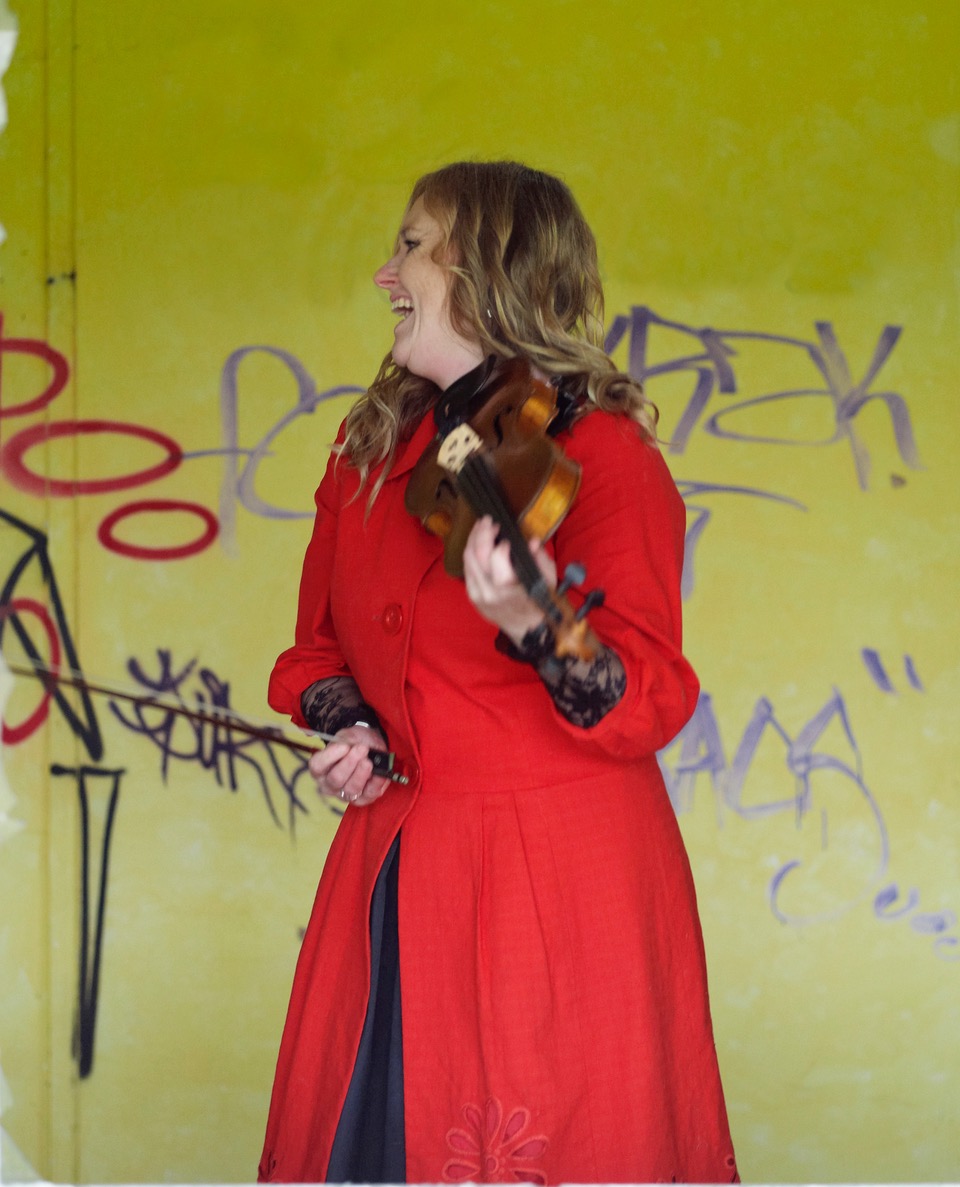 Sadie Harrison
Tell us a little about your background. How did you become a composer?

Firstly, thanks very much for asking me to contribute to Composition:Today. It's taken me quite a while to formulate answers to some of the questions - partly because I am lucky enough to have a couple of commissions on the boil at the moment but also because the opportunity has come at a time when I am thinking very hard about the path my composing has taken me on recently and, indeed, after 35 years of writing, where it might lead me next. And if I am to be honest, I do find it rather hard to discuss my work, though I am often called on to do so. My non-musician friends will tell you that composition is not something that I talk about (though they are always interested), and generally I choose not to tell people that I do it at all in order to avoid difficult questions that simply cannot be answered in a few words. I am also mindful of a comment made by Frederic Rzewski in a pre-concert talk (2012 Late Music York) when he was asked why he didn't like programme notes: 'they are vomit bags for composers!' Although I took offence at quite a lot of what Rzewski said that night, I did sympathise with his dislike of unhelpful verbosity. With this in mind, rather than contribute answers for every question I've suggested some sources for more information about specific projects as I'm going along. And there's a lot of information on my website
http://www.sadieharrisoncomposer.co.uk or publisher: http://www.uymp.co.uk

I can definitely say that I became a composer. I wasn't born one. Although music was a big part of my childhood (taking piano and violin lessons, being part of local youth orchestras), the urge to compose did not manifest itself until I went to Surrey University as an undergraduate in the early 1980s. I remember the exact moment when it happened, during a lecture about Schoenberg's Pierrot Lunaire, in particular Der Kranke Mond. I had an overwhelming visceral reaction to the piece. I immediately understood the language and wanted to write music like it. And I thought I could - something just clicked, a kind of coming home. This is a dramatic statement, but I have come to realise that I have always been searching for the right place for my music to inhabit since that moment. It's a complicated search with directions changing over time, but it has been governed by developing what I hope is a strong, flexible compositional technique and an acceptance of the style of the music I want to write. Perhaps most importantly it has been about understanding how my music can resonate usefully outside the confines of the contemporary music world, a world that I have often felt very at odds with.

A section from my current biography reads: 'For several years, Sadie also pursued a secondary career as an archaeologist and reflecting her interest in the past, many of her compositions have been inspired by the traditional musics of old and extant cultures with cycles of pieces based on the folk music of Afghanistan, Lithuania, the Isle of Skye, the Northern Caucasus and the UK. She is also well known for socio-political aspects of music-making with several works challenging stereotypes of marginalised peoples - refugees, Afghan women, the deaf, the homeless - celebrating their creativity and individuality with powerful expressions of musical solidarity.'

I think this sums up where I am now!
>> Read the rest of the interview here
0 comments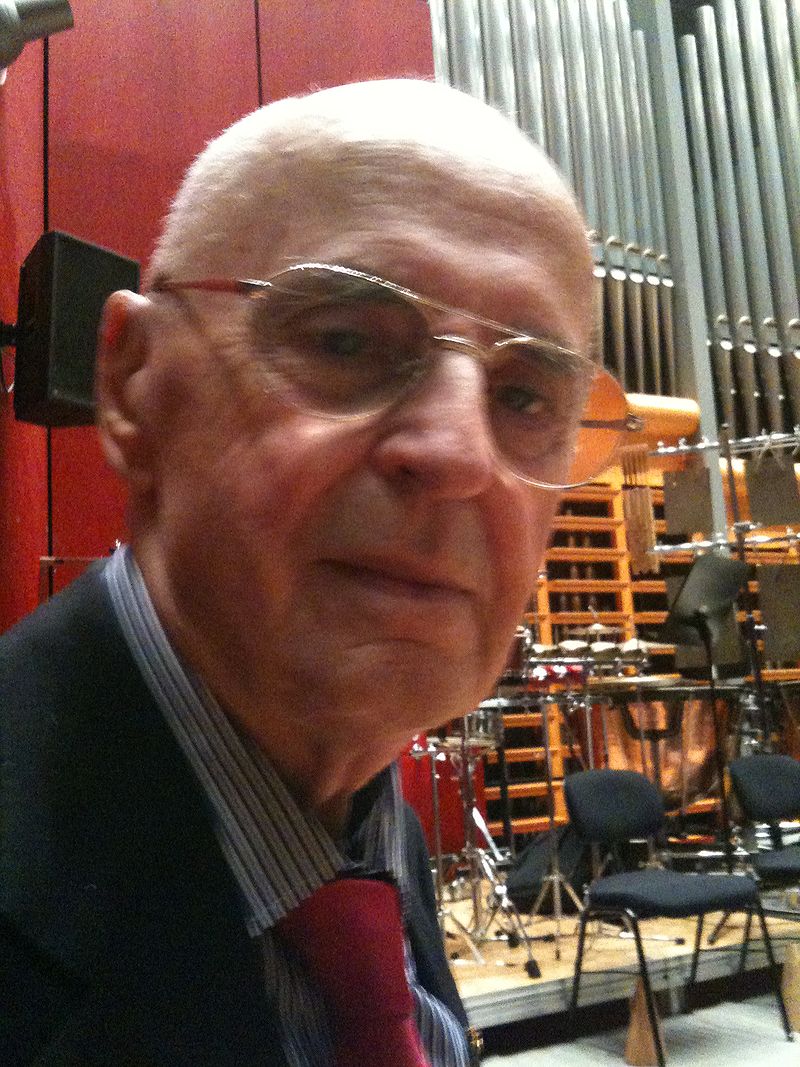 Milko Kelemen
Croatian composer, conductor and teacher Milko Kelemen died on 8th March in Stuttgart. He was 93.
Kelemen was a composition pupil of Stjepan Šulek, later studying in Paris with Messiaen and Tony Aubin and Freiburg with Wolfgang Fortner.
He held academic posts at Düsseldorf Conservatory and the Stuttgart Musikhochschule. He also founded the Zaghreb Biennale.
Rudolf Lück and Koraljka Kos divide the composer's style into three periods: 'an early corpus – Piano Sonata (1954) to Études contrapuntiques (1959) – written in a style influenced by folk music; an avant-garde period during which Kelemen experimented with musical structure; and, from Grand jeu (1982) onwards, a period marked by his discovery of a new, personal use of intervals and harmony. This last phase also assimilated earlier stylistic changes.' (New Grove Online)
Kelemen was the recipient of many awards, including a Humboldt Scholarship, the Beethoven Prize of Bonn, an ISCM prize, the Vladimier Zazor Prize and the French Chevalier des Art et des Lettres.
Milko Kelemen: Changeant (1968)
Sources: Grove Online, Wikipedia
0 comments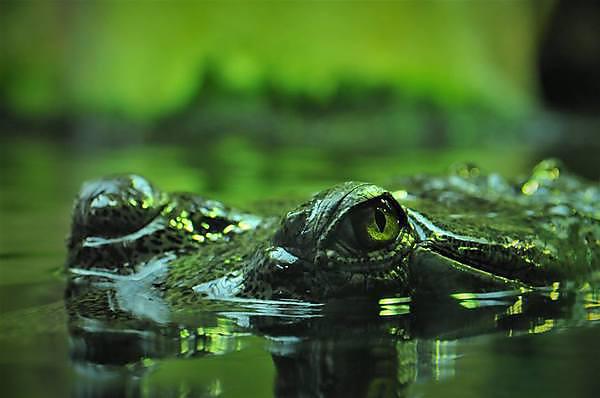 Plymouth University: Decoding Life
The interface between music, engineering and the life sciences is an ongoing area of research at Plymouth University's Interdisciplinary Centre for Computer Music Research (ICCMR). 'Decoding Life', the theme of this year's Contemporary Music Festival (2–4th March) is, then, a celebration of this research. Not all of the events involve music, but three are definitely worth checking out: on 4th Ensemble Bash premiere new works by ICCMR composers, Williams, Gimenes and Miranda, plus 2018's guest composer and music technology pioneer, Archer Endrich; on 4th there are works all inspired by life, both terrestrial and extra-terrestrial, by Richard Abbott, Alexis Kirke and Núria Bonet; and, on the same day, there is a cinematic piece of electronic music by ICCMR post-graduate research student Alan D Miles which attempts to capture and explore the experiences of epilepsy.
Zeit für Neue Musik in Bayreuth, Germany starts on the same day as Decoding Life but runs, albeit intermittently, until 11th. The emphasis is on mainstream continental (including Russian) composers, both alive and recently deceased. Highlights include a concert featuring piano compositions by Robert H.P. Platz, which will include the use of computer manipulated sound; pianist Olga Andryushchenko playing works from the former Soviet Union; and the world premiere of a new work by Leipzig-based composer Günter Neubert.
Archipel (15th–25th) in Geneva, Switzerland lists a total of thirteen intriguing festival themes, including Anagrams and Lipograms, Mechanical Shoes, Cursed Moloch, Machina Humana and Geek Music. They can all be explored here (click the flag top right for English). The festival includes many Swiss premieres and thirteen world premieres from composers Alexandre Babel, Gonzalo Bustos, Stefano Gervasoni, Céline Hänni, Wolfgang Heiniger, David Hudry, Mischa Käser, Masahiro Miwa, Javier Muñoz Bravo, Jean-Frédéric Neuburger, Michael Pelzel, Alberto Posadas and Martin Riches.
In contrast the London Ear Festival of Contemporary Music (21st–25th) has just three themes: Japanese music, composers from countries on the Baltic coastline, and the music of Luciano Berio. The first of these includes works by Toru Takemitsu, Yûta Bandoh, Misato Mochizuki, Kotoka Suzuki, Shintaro Imai and Toshio Hosokawa; the second by Dobromiła Jaskot, Dariusz Pryzbylski, Arturas Bumšteinas, Gailė Griciūtė and Martin Stauning and Erkki-Sven Tüür. The Berio thread is also a rich one, with 12 works on offer, including a number of his Sequenzas. There will also be the opportunity to hear Berio's widow, Talia Pecker Berio, in conversation with Andrew Kurowski and the Festival Directors. Aside from these themes there are a number of works from British composers and a total of 18 world premieres.
0 comments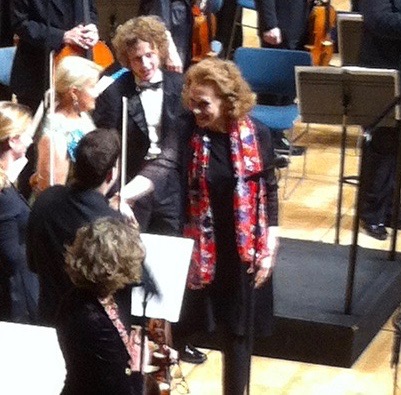 Kaija Saariaho
Kaija Saariaho has been announced as the winner of the 10th edition of the BBVA Foundation Contemporary Music Award. The prize is $500,000.
From the BBVA website:
The BBVA Foundation Frontiers of Knowledge Award in the Contemporary Music category goes, in this tenth edition, to Finnish composer Kaija Saariaho on the basis of "a contribution to contemporary music that is extraordinary in its individuality, breadth and scope." From her earliest works, the jury continues, Saariaho has exhibited "a seamless interweaving of the worlds of acoustic music and technology," a quality which the new laureate remarked, after hearing of the award, had come to her quite naturally. When she started studying music at the Sibelius Academy in Helsinki, she was frustrated at the acoustics of the venues she would attend to hear live performances. Wondering if it was possible to alter characteristics like the volume of the instruments, she began recording them and processing the sound for subsequent playback.
Meanwhile Ernst Von Siemens prizes of $40,000 each have been awarded to Clara Iannotta (Italy), Timothy McCormack (USA) and Oriol Saladrigues (Spain).
Source: Slipped Disc
0 comments
Hungarian composer László Melis died on 12th February. He was 65.
Melis studied the violin at the Liszt Academy, Budapest, before performing extensively as a founding member of the contemporary music ensemble Group 180.
As a composer Melis was best known for his music for film, winning awards for the animated film A szél ("The Wind") and Gyurmatek ("Clay Play") and composing the music for László Nemes's directorial debut Son of Saul, a widely acclaimed film that follows a Hungarian Jew tasked with managing the disposal of bodies at the gas chambers in Auschwitz-Birkenau.
Minimalist in style, Melis's compositions can be found on BMC and Hungaroton record labels. Many are also available on YouTube.
0 comments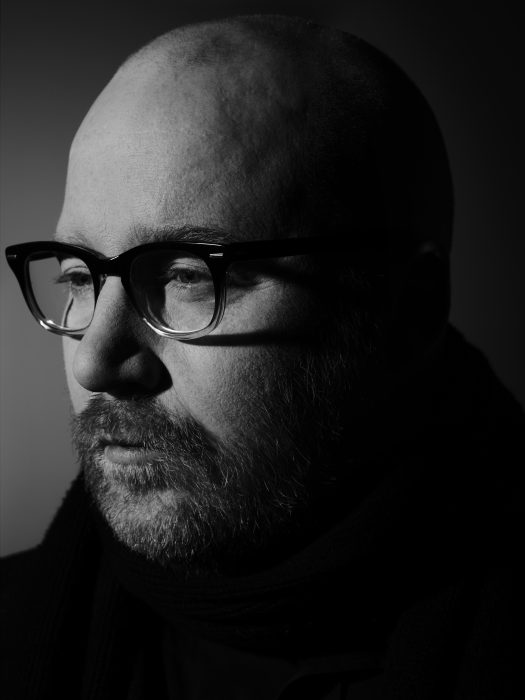 Icelandic composer Jóhann Gunnar Jóhannsson died suddenly at his apartment on 9th February. He was just 48. He is best known for his film scores, including Prisoners (2013), The Theory of Everything (2014) Sicario (2015), Arrival (2016) and The Mercy (2017). At his death he was working on the score for an animated film, Christopher Robin, based upon the Winnie the Pooh stories.
Jóhannsson also wrote music for theatre, dance and television and released a series of ten solo albums beginning in 2002. The last of these, Orphée (inspired by the Orpheus myth) was released by Deutsche Grammophon in 2016.
Born in Reykjavik, Iceland Jóhannsson learned piano and trombone before going on to study languages and literature. His composing life began as a guitarist in Indie bands using 'feedback-drenched guitar figures to create multi-layered soundscapes.' Later encounters with Brian Eno's Obscure Records albums led to a change of direction: 'I set the guitar aside and started writing music for strings, woodwinds and chamber ensemble, combining acoustic and electronic sounds.' His distinctive style, a fusion of traditional and electronic elements, was born.
It was a style that won many plaudits, including a Golden Globe for Best Original Film Score (The Theory of Everything) and Oscar nominations for Sicario and Arrival.
At the end of his life, Jóhannsson was living and working in Berlin. He is survived by his daughter Karolina Johannsdottir.
0 comments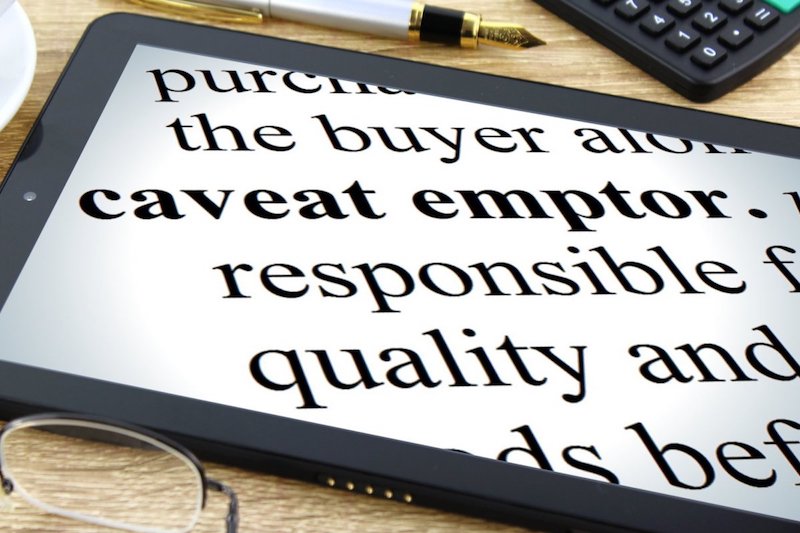 After updating C:T's opportunity page today, I came across this article by Norman Lebrecht over at Slipped Disk. It describes how this week's Singapore Violin Competition has effectively been rigged, since the grand finalists are all students of members of the jury. He goes as far as to suggest that the other violinists who entered 'should hire a lawyer and sue for the return of their expenses. They would be setting an important precedent.'
Whilst such extremes examples of nepotism are to be decried, we might as well admit to ourselves that blander, but no less pernicious, forms of favouritism have long existed in the musical world, including in composing. I certainly know of composers who have been awarded prizes or opportunities by teachers and, I might as well say it, I have probably benefited from this type of patronage myself. The phrase 'it's who you know' could not be more relevant in a career with so many practitioners chasing so few opportunities.
There are of course things that competitions can do to increase the chance that the competition will be fair, especially by asking that scores are submitted anonymously. Probably about half of all competitions I post month in, month out here at C:T do this. Whilst this is not a panacea—it's not difficult, after all, for a judge on a panel to recognise a score written by a student, even if it has no name on it—it does limit the chances of a Singapore-style stitch-up.
Beyond this I'm not sure how much more can be done. Music-making is a social activity, so it's perfectly natural that you are more likely to get musicians with whom you have a relationship to help you. Is that really nepotism? I don't think so. Unless you are a composer that doesn't mind being discovered after you're dead, you have to get out, meet people. There is nothing heroic about sitting in a lonely composing studio expecting the world to come genuflecting to your door.
A final thought on competitions, which arose from an email we received here at C:T a couple of weeks ago. It was from a composer who was worried that one of the composer opportunities posted on our opportunities page was a scam—it required money up front and in a currency different from where the website was based, the website itself was amateurish and the name of the competition organiser did not seem to appear elsewhere on the web. There was no definitive answer we could give since the competition did not differ greatly from many others posted here; many competitions ask for money up-front, some are from newcomers who may not be great at website design and even the currency problem may have had a simple explanation.
This doesn't stop me worrying about the veracity of the compositions we list here in good faith. In one competition last year, for example, entrants were not asked to pay a fee, but when the winner was selected he was asked for $19,000 towards the cost of performing the piece. You could argue that that does not matter, since he could simply refuse, but imagine his frustration if he'd written the piece specifically for the competition.
It is, then, incumbent upon us all to exercise caution and a healthy scepticism when entering composition competitions. Like the entrants in the Singapore Violin Competition, we can't protect ourselves from the nepotism of jury members, but we don't have to believe every promise we read or pay every exorbitant entry fee. The same approach, essentially, as when buying a used car. Buyer beware.
0 comments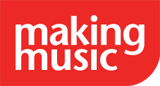 If you want to hear the best of emerging composer talent in the UK, take a look at Making Music's Adopt a Composer programme.
The scheme has run since 2000 and pairs the best of the UK's emerging composing talent with amateur choirs, orchestras and ensembles for a year. Together they produce a new composition of about ten minutes in length, which is then broadcast on Radio 3.
The pieces by the class of 2016/17 were premiered between 22nd and 26th January and will be available on BBC iPlayer for 30 days. More simply, you can hear all of the pieces, and those from previous years, here:
The 2017/18 scheme is well under way, the chosen composers and their groups being:
Anna Appleby with Merchant Sinfonia
Max Charles Davies with Côr Crymych a'r Cylch
Esmeralda Conde Ruiz with The Fretful Federation Mandolin Orchestra
Edmund Hunt with The Singers
Ben See with Stoneleigh Youth Orchestra
Peter Yarde Martin with Bellfolk Handbell Ringers
Gaynor Barradell with Edinburgh Concert Band
You can learn more about how they are getting on in blogs they are posting on the Making Music Website, the two most recent being by Anna Appelby and Max Charles Davies. It's also worth reading about the project from the perspective of the amateur groups—it's clear that they are finding the collaborations just as rewarding as the composers.
If you are interested in getting involved, the next round of applications for the scheme will open in March, for both composers and amateur groups.
0 comments
Christian Morris talks to composer Nigel Osborne, who was recently been awarded the British Composer Award for Inspiration in recognition of his human rights work.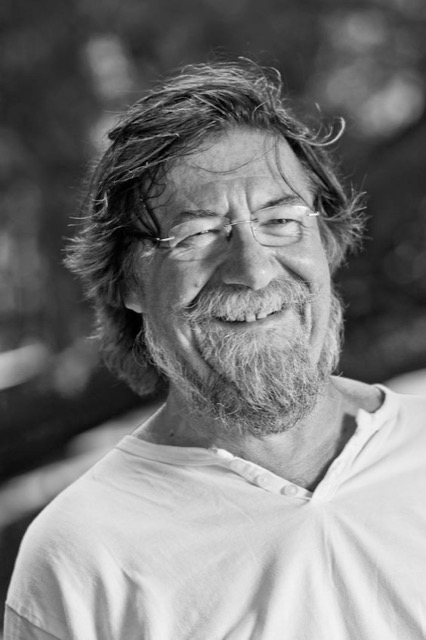 Nigel Osborne
Your early composing followed a well-established trajectory - study at Oxford and abroad, several prestigious prizes, and academic posts in Nottingham then Edinburgh. Then, in 1992, you travelled to Bosnia-Herzegovina following the outbreak of hostilities there. What motivated this decision?

In some ways I was simply getting on with what I had done before. At the point I began to work in Bosnia, I had been involved in human rights activities for over 20 years. I had of course been a member of the "'68 generation", and although I thought many of the student protest movements of the time lacked serious political purpose, I had taken part in demonstrations, particularly about the Vietnam war, and had become closely involved, for various reasons and in various ways, in the unfolding of events in both Northern Ireland and Czechoslovakia.

I had been influenced as a very young man by a lecture Sartre had given in the Club Maintenant in Paris in October 1945 - Existentialism and Humanism. Two things in the lecture had shaped the way I thought at the time. The first was the idea that we build what we become from what we are - in other words that we invent ourselves from the most raw of human materials and are responsible for the person we become and what we do; and that by understanding the nature of our own consciousness, we understand everyone else. This was the basis of a very young man's intellectual leftism.
>> Click here to read the full interview
0 comments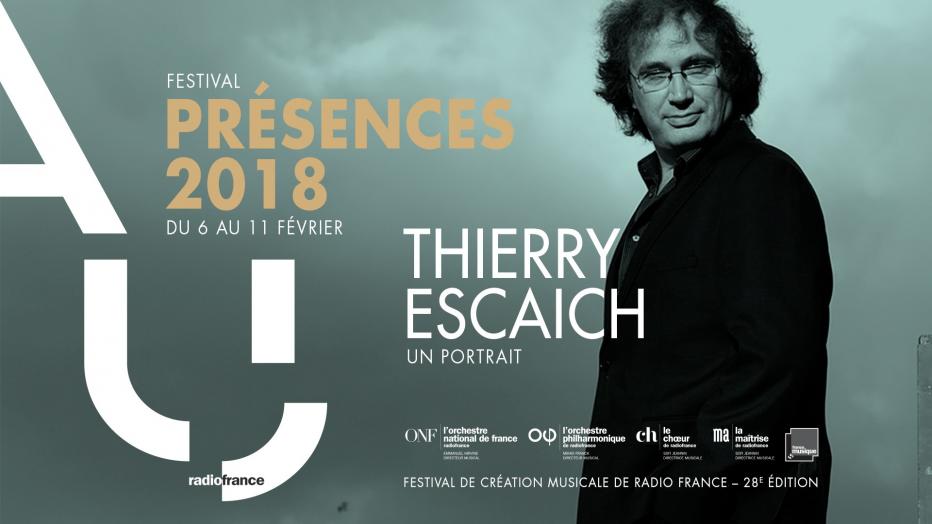 This year Radio France's Festival Présences (6th–11th February) celebrates the music of composer, organist and improvisor Thierry Escaich. As well as performances of existing works, l'Orchestre Philharmonique de Radio France will give the world premiere of a newly commissioned piece. Many other composer-performers will be also be represented, including Wolfgang Mitterer, Michaël Levinas, Lionel Bord, Laurent Cuniot, Benoît Mernier, Thierry Pécou, Burkhard Stangl, Karol Beffa, Eva Reiter and John Zorn.
The concerts take place at Radio France, Paris, principally in Studio 104. The full programme is available, here.
In the UK, Thea Musgrave, now in her 90th year, will visit the Royal Northern College of Music on 1st and 2nd February. There will be the opportunity to hear her in conversation with Clark Rundell, as well as three concerts. These will include seven of her own works, including the world premiere of From Darkness into Light played by the BBC Philharmonic, as well as premieres from Edgar Divver and Robin Wallington.
Other premieres this month include the first UK outing for George Walker's Icarus in Orbit played by the BBCSO at the Barbican on 9th; the world premiere of Mark Bowden's Three Interludes with BBCNOW at Hoddinott Hall, Cardiff on 21st; and new works by Helen Grime on 15th and Joseph Phibbs on 23rd at Wigmore Hall. Also at Hoddinott Hall are three concerts that will explore new orchestral works by up-and-coming emerging Welsh composers. These take place on 1st, 22nd and 23rd.
Lovers of music theatre will want to make time for Satyagraha, Philip Glass's opera based on Gandhi's early years in South Africa, tracing the progress of his concept of non-violent protest as a positive force for change. Performances run from 1st–7th Feb at ENO. At the Royal Opera House, meanwhile, Joby Talbot's ballet The Winter's Tale will be performed from 13th Feb–21st March.
0 comments
Whilst last year marked the centenary of the birth of Scottish composer Geraldine Mucha, 2018 will see further celebrations of her life and work.
Mucha was born in London and studied at the Royal Academy of Music. In 1945 she moved to Prague with her husband Jiři Mucha, son of the world-renowned Art Nouveau artist Alphonse Mucha. Although her music was performed in Czechoslovakia by leading ensembles, it remains largely unknown in the UK, a consequence of the many years she spent behind the Iron Curtain.
In 2017 a new recording of Macbeth and Other Orchestral Works was released via ArcoDiva and featured her ballet Macbeth (1965), Overture to The Tempest (1963) and Piano Concerto (1961); and, in November, a special centenary concert included her two String Quartets and pieces for Chamber Orchestra, performed by the Stamic Quartet and others.
To learn more about Geraldine Mucha:
Official Geraldine Mucha Website
Other Links:
0 comments
The 2018 Oscar nominations for best original score are:
Dunkirk, by Hans Zimmer
Phantom Thread, by Jonny Greenwood
The Shape of Water, by Alexandre Desplat
Start Wars: The Last Jedi, by John Williams
Three Billboards outside Ebbing, by Carter Burwell
I know who my money is on.
0 comments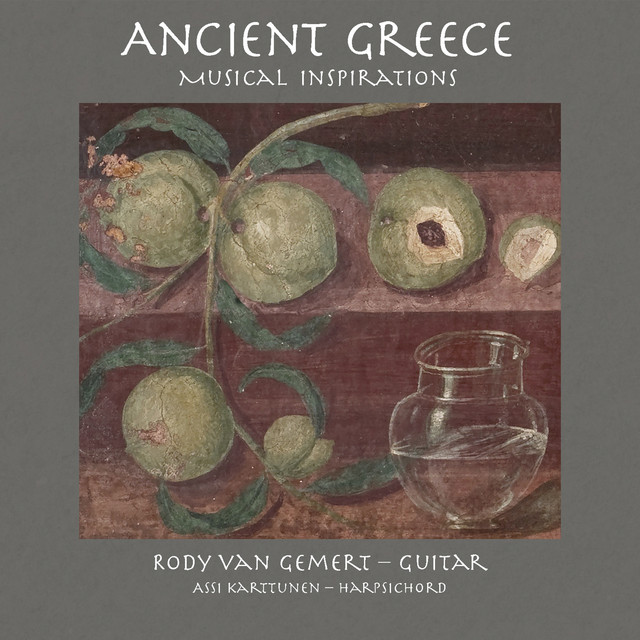 Many years ago I visited the astonishing ruins at Delphi on the Greek Peloponnese. At the end of the visit I went tiredly round the museum, looking at the many interesting if rather worthy exhibits. At the end, having left the building, I suddenly realised that I had missed one of the most important items, the First Delphic Hymn. It is the oldest surviving example of musical notation by a named composer, inscribed on a stone slab found at the site. Of course, I went back to find it. When I did the experience was unexpectedly moving. Genesis.
It comes, therefore, as no surprise to me that musicians might be moved to use ancient works as a basis for a musical project. The album Ancient Greece, Musical Inspirations, featuring guitarist Rody Van Gemert and harpsichordist Assi Karttunen is just such a project.
It is an exceptionally well thought-out programme of music, using not just the First Delphic Hymn but also two versions of the oldest surviving complete musical composition, the Seikilos Epitaph, as a frame. Around this are inserted works by Graham Lynch, Harry Partch, Maurice Ravel and Matthew Whittall. The modern works (which, in this context, includes Ravel) are all inspired in some way by the ancient world. Whether because of the redolence of the Greek theme, the felicitousness of the instrumentation or the exotic quality of the music (often rendered strange by the use of unusual tunings), the result is intoxicating. To listen is to gaze once more at that ancient stone.
Navona Records, a subsidiary of PARMA Recordings, has a very healthy back-catalogue that includes many recordings of contemporary music. They have five upcoming releases, all of which can be previewed on their website or on streaming services: Music in the Listening Place, choral works sung by the Vanderbilt University Chorale; Prisma, contemporary works by Lionel Sainsbury, Clive Muncaster, Patricia Julien, and J. A. Kawarsky; Young Prometheus, featuring works by Mark Volker; Small Stones, Modern Piano Music played by Nancy Zipay Desalvo; and Formika, a collection of chamber by Mexican composer Felipe Pérez Santiago.
NMC are currently running a 20% reduction on their annual subscription, which means if you pay now you'll get all of their 2018 releases at a bargain price. They also continue two of their recent projects this month with releases of Ray Lee's sound artwork Ring Out in their New Music Biennial series and a new collection of Next Waves works by young composers Emma Wilde, Peter Wilson, Alex J Hall, Jack Sheen, Joanna Ward and Robin Haigh.
There are three new contemporary music albums on Naxos: a collection of choral works by Norwegian composer Kim André Arnesen; String Quartets 5–7 by Richard Danielpour; and The Core-Set Project, in which Dame Evelyn Glennie's ensemble offers a programme of fourteen improvised pieces that 'push the boundaries of spontaneous music-making.' Hyperion has released the first two of Tippett's four symphonies, recorded by Martyn Brabbins and the BBC Scottish Symphony Orchestra. Number two, especially, is a marvellous work, a must-listen if you don't know it. They have also released a disk of three concertos by Aaron Jay Kernis, performed by Royal Northern Sinfonia under Rebecca Miller. Bridge, finally, have released Rube Goldberg Variations, an album of chamber music by Dmitri Tymoczko; and Morton Feldman's For John Cage, for violin and piano, one of a series of works he write dedicated to other artists.
0 comments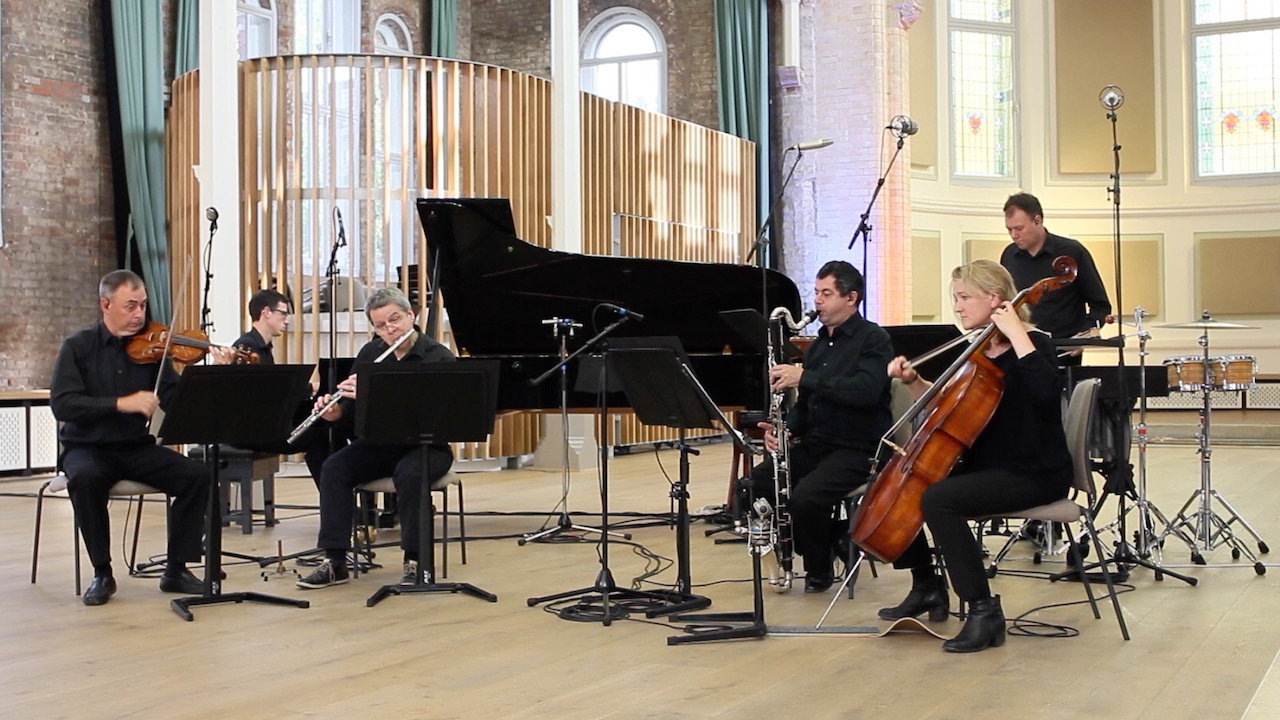 Photo: Psappha Ensemble
The Psappha Ensemble is supporting a record number of up-and-coming composers this season, making the group's Ancoats base in Manchester a prime destination for talented young composers from across the UK.
Psappha is currently working with 24 composers through its "Composing For…" talent development schemes plus a further 12 composers from the RNCM and The University of Manchester, making an exceptional 36 in all.
Each of Psappha's Composing For… schemes focus on a different instrument or instruments, with guzheng (Chinese harp), French horn, violin & cello, and flute & clarinet featured this year. The composers work with a Psappha musicians over a period of six months, leading to the creation of 24 new works. The schemes culminate in a series of filming days where Psappha makes multi-camera HD films of each new piece. Psappha's workshops at The University of Manchester and at the RNCM support advanced students of composition to write for small ensemble in various instrument combinations.
Psappha's Artistic Director selects works from the various schemes to be performed as part of Psappha's Manchester season, meaning that places are much in demand. On 15 February 2018 Psappha will give performances of six works from the ensemble's 2016-17 talent development schemes and Radio 3 will also record the concert.
Tim Williams, Psappha's Artistic Director, says: "Last year our Composing For… schemes focused on writing for flute, piano, trombone and percussion and the composers found the support we provided really beneficial….It's really exciting to be able to discover new voices and to continue the relationship for the longer-term by recommending the composers to other organizations and by performing their work."
A participant in Psappha's 2016-17 Composing For Flute scheme said: "This was an excellent composition scheme to have taken part in. Having the time to develop a piece over several months, attend workshops, and develop a working relationship with the performer is the ideal composition scenario. Receiving a professional film and recording is hugely valuable to have as evidence of my work."
Four composers from last year's Composing For… schemes have gone on to be selected to write works based on pieces of art from the Whitworth collection, supported by a Grants for the Arts Award from Arts Council England as part of the Here and Now wellbeing project. The pieces will be premièred on 17 May 2018 as Psappha invites audiences on a musical adventure through the Whitworth Art Gallery.
Psappha is also currently supporting jazz musicians Mike Walker (guitar) and Iain Dixon (reeds) to write a new work for the ensemble through a series of development workshops which began in July 2017. The premiere of this work will take place on 20 April 2018 at the Stoller Hall in Manchester.
0 comments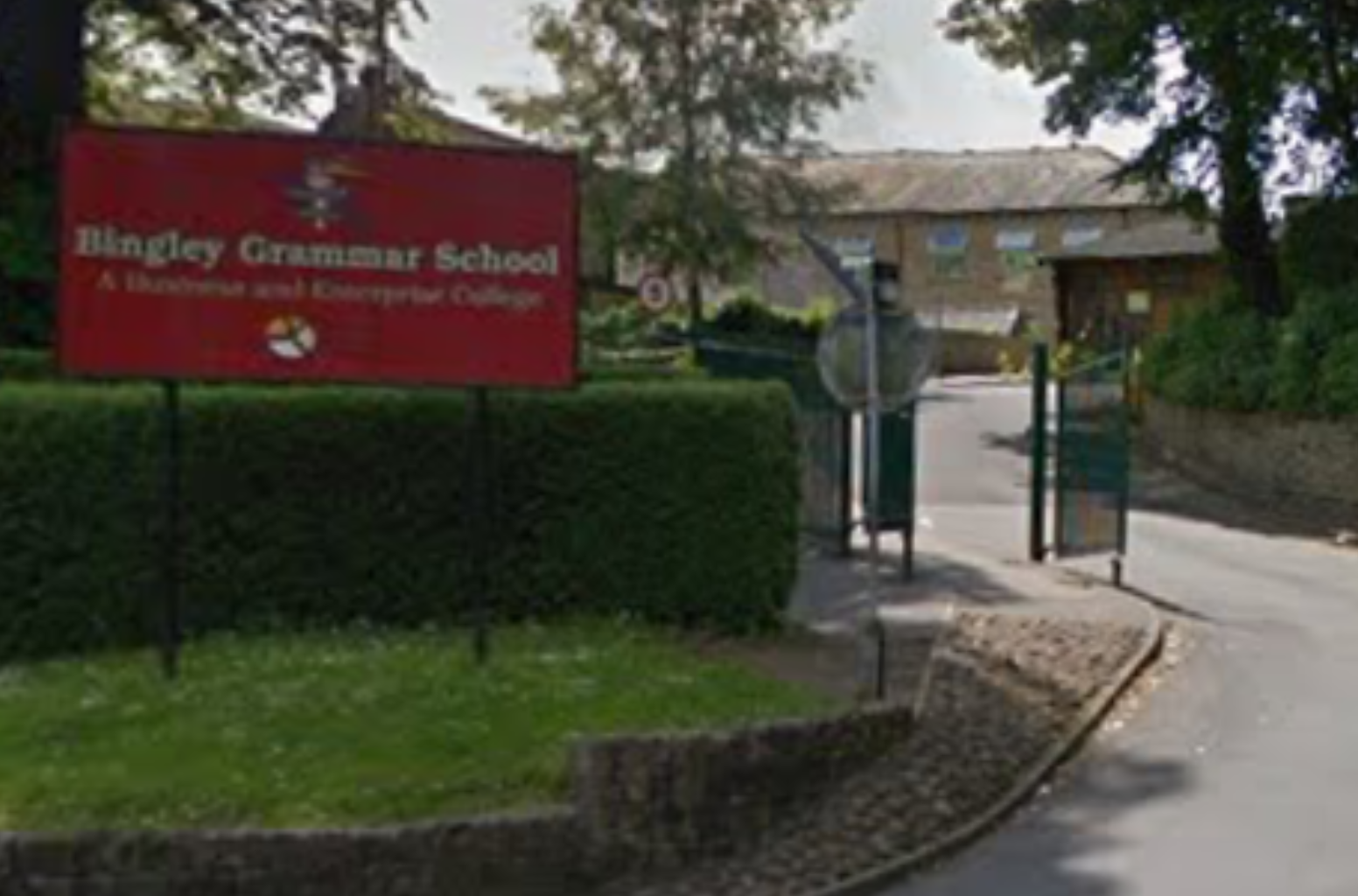 Photo: Google Maps
It has been reported that Bingley Grammar School charges children £5 per week to take GCSE music lessons after school. The decision was described by the Incoporated Society of Musicians as 'shocking and deeply troubling', whilst Andrew Lloyd Webber told The Stage that 'the arts have never been as vital as they are today and they should be free.'
Head Teacher Luke Weston defended the school's decision, saying that this has 'nothing to do with funding, it's really allowing our kids to have an extra GCSE at a time that suits them.' He also said that the new system has led to increased interest in the subject, with 25 studying this year, and that the school is still paying '99.9% of the bill. The GCSE cost is not £5 a week, it's significantly more than that.'
Whilst I have every sympathy for a school trying to do the best by its pupils—and I'm sure that that is what is happening here—this is, nevertheless, a cause for concern. First of all, whilst this particular development might be, in the (intentionally oxymoronic?) words of Norman Lebrecht, a 'rogue precedent', there has been other evidence of music being belittled as an academic subject during the last twelve months, including, last March, Charlotte C. Gill's attack on music notation and, in June, the news that the Joyce Franklin Academy in Essex had removed music from year 7 and 8 (ages 11–13) timetables in an effort to balance their budget. I wonder how many examples we are not hearing about? I think, therefore, where this sort of story appears it is important to call it out. How else are we to stop the rot?
I also think it is disingenuous for the Head Teacher to claim that charging money for pupils has 'nothing to do with funding.' In which case, why charge them? Curiously my own experience in school was rather similar to that of Bingley Grammar School. No place could be found in a crowded curriculum for GCSE music, but the school, and its music teacher, moved heaven and earth to lay on extra lessons. Whilst we didn't take it after school but in our games lesson, there was certainly no extra charge.
The Head Teacher also claims that the school covers 99.9% of the cost of GCSE music lessons. A little maths reveals the truth. If each pupil in a class of 25 pays £5 each, that is £125 per week. Let's extrapolate that out to the whole year, which would consist of roughly 39 weeks. That is £4875. My guess is that that covers a very significant percentage of the course costs. Certainly not 0.1%, unless the Head Teacher was previously paying £4,875,000 to lay on GCSE music, in which case he probably needs to shop around.
0 comments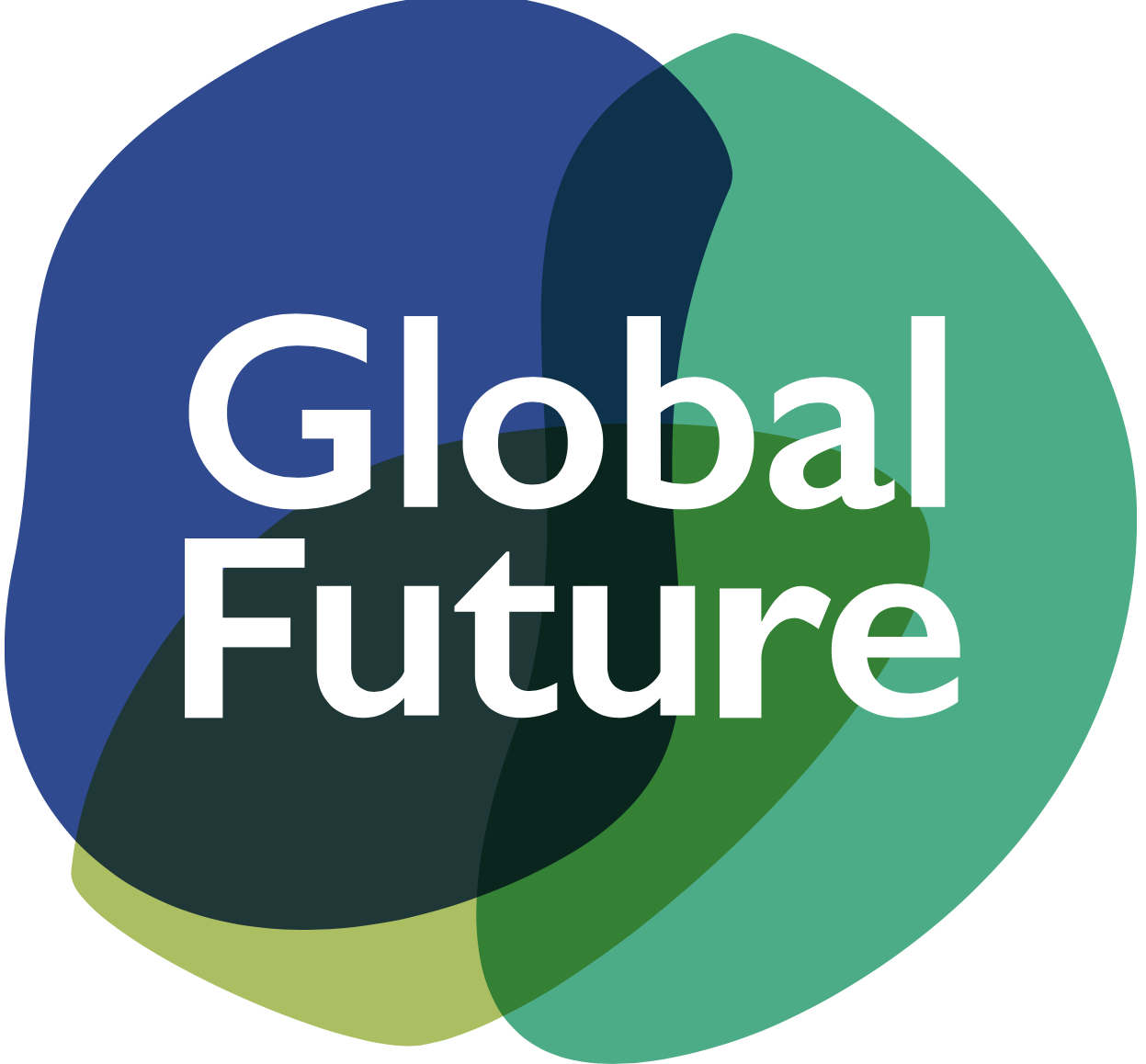 Presumably when Matt Hancock, the new UK Culture Secretary, compared the creative industries to a woolly mammoth on Tuesday, he meant 'big' and and not muddle-minded. We can only hope he is listening to the concerns of Global Future, who have published evidence that Britain's creative industries want to retain freedom of movement after Brexit.
It would be easy to accuse the government of woolly thinking on Brexit, but on this subject at least they have been fairly consistent—free movement will end when the UK leaves the EU. It will require, therefore, either a rethink on the part of the government, or for Jeremy Corbyn to whip his MPs to support any Single Market Commons' rebellion. Neither scenario seems likely.
From the Global Future Website:
A GLOBAL FUTURE REPORT DECEMBER 2017
Leading figures in Britain's Creative Industries fear a hard Brexit will damage a sector of the economy that the Government itself estimates is worth more than £87 billion a year.
A survey for the Global Future think tank with 50 of the most influential figures in creative Industries is published today.
IT REVEALS:
• The single highest priority for government action now is preserving the right for Freedom of Movement between the UK and the European Union. This is seen as more important for securing growth and vibrancy in the future even than government funding for the arts or securing trade and investment.
• The creative leaders were almost unanimous (46 out of 50) in saying a hard Brexit that ended free movement would have either a negative or devastating impact on their industries.
• A similar number of respondents said cultural diversity was one of the chief reasons behind Britain's creative success on the world stage (42), that there was now a big risk for the UK's soft power and creative reputation (46) and that morale in their sector had fallen since the European referendum last year (41).
GURNEK BAINS, CEO OF GLOBAL FUTURE, SAID:
"Britain's Creative Industries employ more people than our financial sector and make a hugely important contribution to our economy, as well as driving our soft power in the world. Until now their voice has not be heard properly in the debate about our future."
"But this survey shows that leaders in this industry regard a hard Brexit, which would severely restrict their ability to hire the talent needed to thrive, now threatens one of the things that makes Britain great."
Respondents included: Sarah Alexander, CEO, National Youth Orchestra; Nick Capaldi, CEO, Arts Council Wales; Mike Pickering, A&R, Sony BMG; Nitin Sawhney, Musician, Producer and Composer; and Alex Beard, CEO, Royal Opera House.
0 comments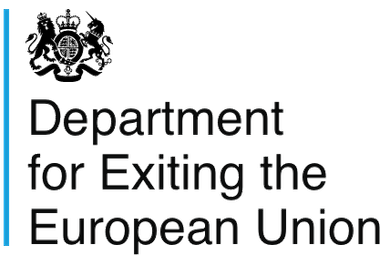 The Government has released its Creative Industries Report prepared by the Department for Exiting the EU. You can read it here.
The opening paragraph makes it clear that this is not a sectoral impact study, so don't expect 'excruciating detail.' It also covers a number of sub-sectors, so music is rather infrequently mentioned. A few interesting statements from it, however:
1. Apparently, amongst the creative industries, 'Music, performing and visual arts have the lowest proportion of EU nationals working in the sector, with 4.1%.'
2. 'The Creative Industries exported £14.7bn worth of goods in 2015, 38.6% more than in 2010, and this represented 5.2% of total UK goods exports.' Of these '"Music, performing and visual arts", "Crafts"; and, "Publishing"' were the highest export sub-sectors.
3. Whilst total exports to the EU are 39.4 (i.e. 60.6% to the rest of the world), in the realm of all Creative industries the ratio is 45% to the EU, 55% to the rest of the world. This rises to a whopping 56% to the EU in the case of 'Music, performing and visual arts.'
The first statistic misses the point, I think—most musicians are coming and going and not settling in the UK i.e. they are still making use of freedom of movement. So this wrongly suggests that Brexit will not have a big impact on the sector. The second points to the relative strength of music, amongst others, as a sub-sector. We should be mindful of this when making our voices heard. That last statistic is perhaps the most troubling; because more than half of the sector's exports go to the EU, it suggests that musicans may have greater exposure to the consequences of Brexit.
0 comments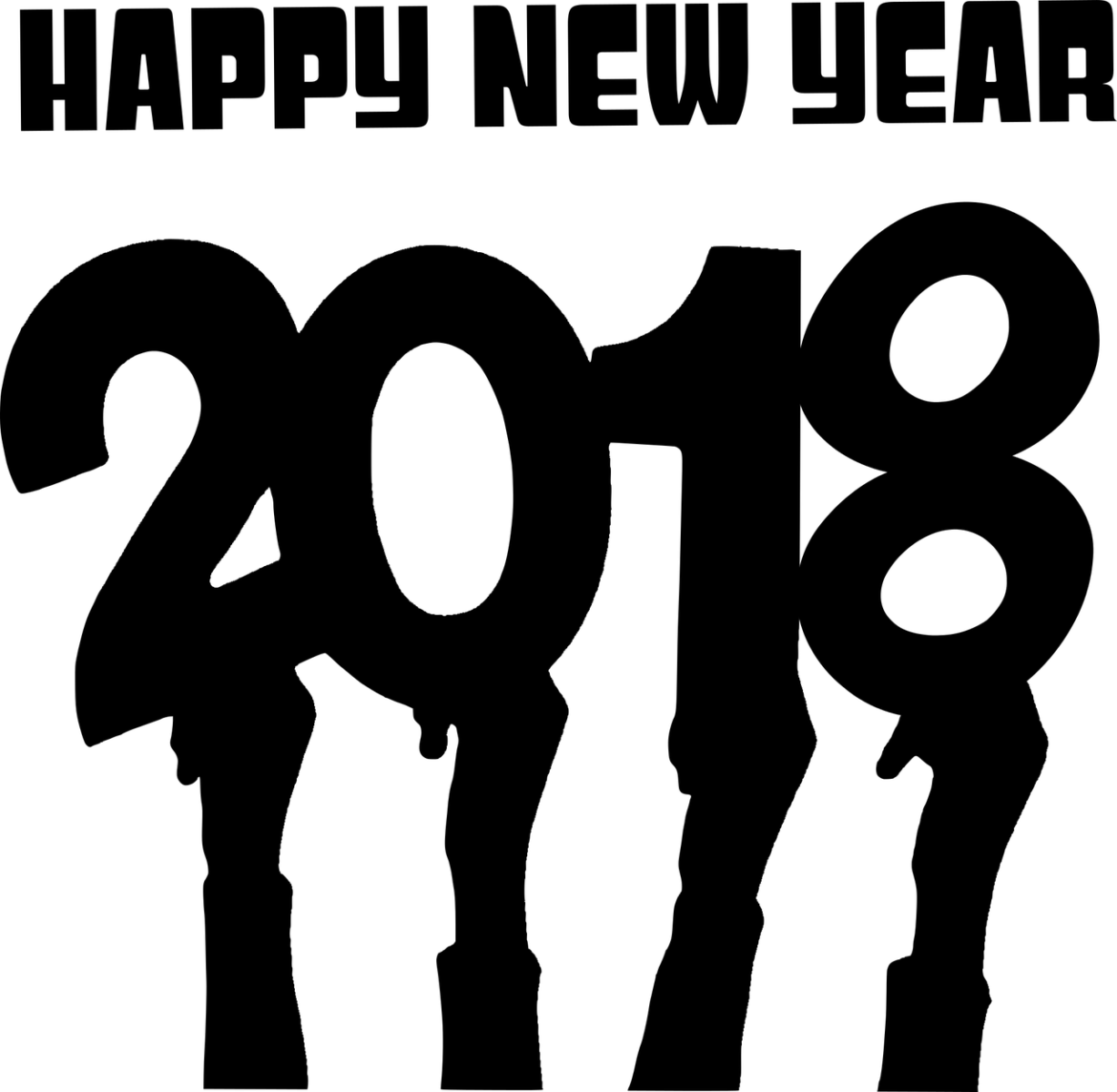 After writing the C:T review of 2017, I found myself reflecting on the things that were predicted to happen in 2017 but didn't. Chief among these was that a wave of populism would engulf Europe, with the possibility that other countries would follow the UK out of the EU.
Though this did not happen, we must be wary of complacency in 2018. In Europe problems persist: Angela Merkel still struggles to form a government and there are challenges in the east. And the UK still has big decisions to make about its future with the EU. If musicians want to preserve a spirit of cooperation with our friends on the continent it is vital we make our voices heard. The UK may be leaving the EU, but the manner of doing so is still up for grabs.
The world is an unstable and difficult place, but despite this the arts scene is as vibrant as ever. My little preview of 2018, below, is ample evidence of this. There are celebrations to mark the hundredth birthday of Leonard Bernstein; major premieres from Philip Sawyers, John Adams, James Macmillan, Philippe Manoury, Nico Muhly, Esa-Pekka Salonen, Mark Simpson, David Matthews and many others; and the usual round of festivals, of which I present a small portion here.
I will expand upon this preview in the months to come—do check in for my regular roundups. In the meantime I wish you and all C:T member and visitors a peaceful, happy and musical New Year!
January
18th Stephen Pratt, Symphonies of Time and Tide (World Premiere), Royal Liverpool Philharmonic, Philharmonic Hall, Liverpool, UK.
20th Huw Watkins, New Work (World Premiere), Brangwyn Hall, BBCNOW, Swansea, UK.
25th Sebastian Currier, New Work for String Quartet (World Premiere), Lincoln Center, Rose Building, NYC, US.
27th BBCSO Total Immersion, Leonard Bernstein. Barbican, London
February
6th–11th Festival Présences with a portrait of composer Thierry Escaich. Paris, France.
8th Symphony Without a Hero (World Premiere), Seattle Symphony Orchestra, Benaroya Hall, Seattle, US.
15th Helen Grime, New Work (World Premiere), Ruby Hughes (Soprano) and Joseph Middleton (Piano), Wigmore Hall, London, UK.
23rd Nico Muhly, Organ Concerto, (World Premiere). Los Angeles Philharmonic Orchestra, Walt Disney Concert Hall, Los Angeles, US.
23rd Composition Wales Culmination concert. Hear the latest in composition in Wales, as composers worthy of wider exposure have the opportunity to hear their works performed by the BBCNOW.
25th Philip Sawyers, Violin Concerto (World Premiere). English Symphony Orchestra, St. Peter's Square, Hereford, UK.
March
2nd–4th Peninsular Arts Contemporary Music Festival 2018. The theme is Decoding Life.
4th André Previn The Fifth Season, for violin and piano (World Premiere). Anne-Sophie Mutter, Lambert Orkis, Carnegie Hall, NYC, US.
10th Gary Kulesha, Double Concerto (World Premiere). Toronto Symphony Orchestra, Roy Thomson Hall, Toronto, Canada.
21st Judith Weir Piano Quintet (World Premiere). Schubert Ensemble, Wigmore Hall, London.
21st–25th LONDON EAR festival of contemporary music.
29th John Luther Adams, Become Desert (World Premiere). Seattle Symphony Orchestra, Benaroya Hall, US.
April
6th Michael Daugherty Concerto for Orchestra (World Premiere). Virginia Symphony Orchestra, Ferguson Centre, Virginia, US.
11th James MacMillan Saxophone Concerto (World Premiere). Perth Concert Hall, Perth, UK.
13th Esa-Pekka Salonen New Work (World Premiere). Walt Disney Concert Hall, Los Angeles, US.
17th–25h Lucerne Festival at Easter.
19th Helen Grime New Work (World Premiere).
18th Panufnik Composers Scheme Workshop. LSO St Luke's, London.
21st Mark Simpson Cello Concerto (World Premiere). Bridgewater Hall, Manchester, UK.
May
3rd Elvind Buene New Work (World Premiere). Oslo Philharmonic Orchestra, Oslo Concert Hall, Oslo, Norway.
9th David Matthews Symphony No. 9 (World Premiere). English Symphony Orchestra, St. George's, Bristol, UK.
9th–16th Vale of Glamorgan Festival
11th–27th Bath International Music Festival.
11th–27th Norfolk and Norwich Festival.
15th–3rd June Prague Spring International Music Festival.
17th–20th Northern Chords Festival.
20th Adam Vidiksis Concerto Grosso (World Premiere). The Chamber Orchestra of Philadelphia, Kimmel Centre, Philadelphia, US.
25th–3rd June St. Davids Cathedral Festival.
Also in May (details tbc)
June
1st Josef Bardanashvili, Ex Animo (World Premiere). Orchestre National de Lyon, L'Auditorium de Lyon, Lyon, France.
5th Charles Wuorinen Eros and Nemesis (World Premiere). The MET Orchestra, Carnegie Hall, NYC, US.
6th–31st Munich Opera Festival Nationaltheater and other venues in Munich.
8th–24th Aldeburgh Festival.
12th David Bedford at 80. David Bedford, Symphony No. 1; Robin Rimbaud New Work (World Premiere). BBC Concert Orchestra, Southbank Centre, London, UK.
16th Pascal Dusapin New Work (World Premiere). Château de Versailles: Royal Opera House, Paris, France.
30th–26th August Schleswig-Holstein Music Festival
Other June festivals (dates tbc):
St Magnus International Festival.
July
1st Samuel Carl Adams Concerto Grosso (World Premiere). Australian Chamber Orchestra, Sydney Opera House, Sydney, Australia.
8th Philippe Manoury Concerto for Flute and Orchestra (World Premiere). Gürzenich Orchestra, Philharmonie, Cologne, Germany.
8th–21st Soundscape. Maccagno, Italian Alps.
6th–22rd Buxton Festival. A marriage of opera, books and music, including some by contemporary composers. Buxton, Derbyshire.
HERE:
13th-8th September BBC Proms. Programme not currently available, but there will be premières aplenty. Royal Albert Hall, London.
20th–30st August Salzburg Festival. Salzburg, Austria.
Other July festivals (dates tbc):
Schlern International Music Festival
Tête à Tête Opera Festival. Described as 'our most imaginative opera laboratory', the festival focuses entirely on new music.
'Aix en Provence Festival. 'Aix en Provence, France.
August
3rd–27th Edinburgh International Festival. Programme not yet available, but there is usually a good selection of new music.
6th–18th High Score Festival. Contemporary music festival and classes. Pavia, Italy.
23rd–28th Presteigne Festival. Artistic innovation, musical discovery and, of course, new works in the Welsh Marches. Presteigne, Powys.
30th Carl Vine Symphony No.8 (World Premiere). Arts Centre Melbourne: Hamer Hall, Melbourne, Australia.
September
13th–22nd Oslo Contemporary Music Festival.
21st Richard Mills Island Signal Island Song (World Premiere). Melbourne Symphony Orchestra, Melbourne Town Hall, Melbourne, Australia.
23rd Ruta Vitkauskaite New Work (World Premiere). COMA London Ensemble, Kings Place: Hall One, London, UK.
30th Lisa Illean New Work (World Premiere). ExplorEnsemble, Kings Place: Hall One, London, UK.
Also in September (date tbc):
Beethovenfest, Bonn.
October
10th Stephen Goss, Time (World Premiere). Christoph Denoth (guitar), Kings Place: Hall One London, UK.
11th Iain Grandage (World Premiere). Melbourne Symphony Orchestra, Melbourne Recital Centre: Elisabeth Murdoch Hall, Melbourne, Australia.
28th–30th November Wien Modern. Festival that focuses on contemporary music. Vienna, Austria.
Dates not yet available:
Sound. North East Scotland's Festival of New Music. Various venues.
November
17th–25th Lucerne Festival at the Piano.
Dates not yet available:
Huddersfield Contemporary Music Festival.
December
Date not yet available:
0 comments
I'm at last tucked up with my family in a remote part of West Wales, all ready to enjoy Christmas. December's arranging work finished ahead of time, the fire roaring, a farrago of seasonal fodder.

Christmas Eve in the UK comes, of course, with one contemporary music set-piece: the commissioned work for the Festival of Nine Lessons and Carols at King's College, Cambridge. This year it is composed by fellow Welshman Huw Watkins, who has set part of the Plygain carol Carol Eliseus. The service is broadcast live on Radio 4, beginning at 3pm.

In the meantime, here's one of the best-known of the many previously commissioned Christmas carols, Judith Weir's Illuminare Jerusalem, composed in 1985 for the service that year. To all C:T members and visitors, I wish you a very happy and peaceful Christmas.

0 comments

Archive


1

| 2 | 3 | 4 | 5 | ... | 20 |

Concert Listings Today & Tomorrow: