| | | |
| --- | --- | --- |
| | Le Grand Macabre IanTipping at 11:02 on 21 September 2009 | |

Saw the opening night of Le Grand Macabre at ENO on thursday last week, thanks to a mate in the chorus. Utterly bonkers, utterly brilliant. Ligeti was simply a genius. If you have the chance to get there, or to one of the other opera houses where the same production is being staged, GO!


| | | |
| --- | --- | --- |
| | Re: Le Grand Macabre Misuc at 13:03 on 22 September 2009 | |

I quite agree about the opera. I have been waiting for an honest production for years. I haven't had the time to go myself yet, but I will.

I have been trying to arrange a group from my composition class to go.

But from the reviews, it seems that - however impressive - this production typically persists in perversely refusing to recognise the basic reason why the opera was written.

Directors - particularly of opera - can be unbelievably obtuse.

The story is set in the country depicted in Breughel's "Triumph of Death" (see attachment). The 'story' is of lovers: 'Spermando' and 'Clitoria' making love in a grave, while a figure of Death brings his army from all over the opera house to take over the Kingdom of 'Breughel-land'. The 'moral' so hauntingly brought home through an eerie passacaglia is not a happy end - it is that life goes on - whether you like it or not [and you might as well enjoy it while you've got it.]
It was evidently decided that the opera house clientele were too 'bourgeois' or innocent to accept either the names of the lovers (which were changed to the irrelevant 'Amando' and 'Amanda' nor the point of the opera. Apparently mass murder - suitably dressed up in fantasy - is OK for opera-goers - and so is love, so long as it's pure - but biology is unacceptable.

If it's not social 'realism' as understood by romantic Verismo fantasists, then it's got to be 'surrealism'- i.e. whatever nonsense a not-too-bright stage designer can dream up.

Well, I have spelled out my prejudice before going to see it, I'll see if I feel the need to revise my remarks after I've seen it.


Image Attached: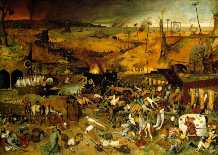 | | | |
| --- | --- | --- |
| | Re: Le Grand Macabre Misuc at 13:43 on 22 September 2009 | |

Here's a better copy of the picture


Image Attached: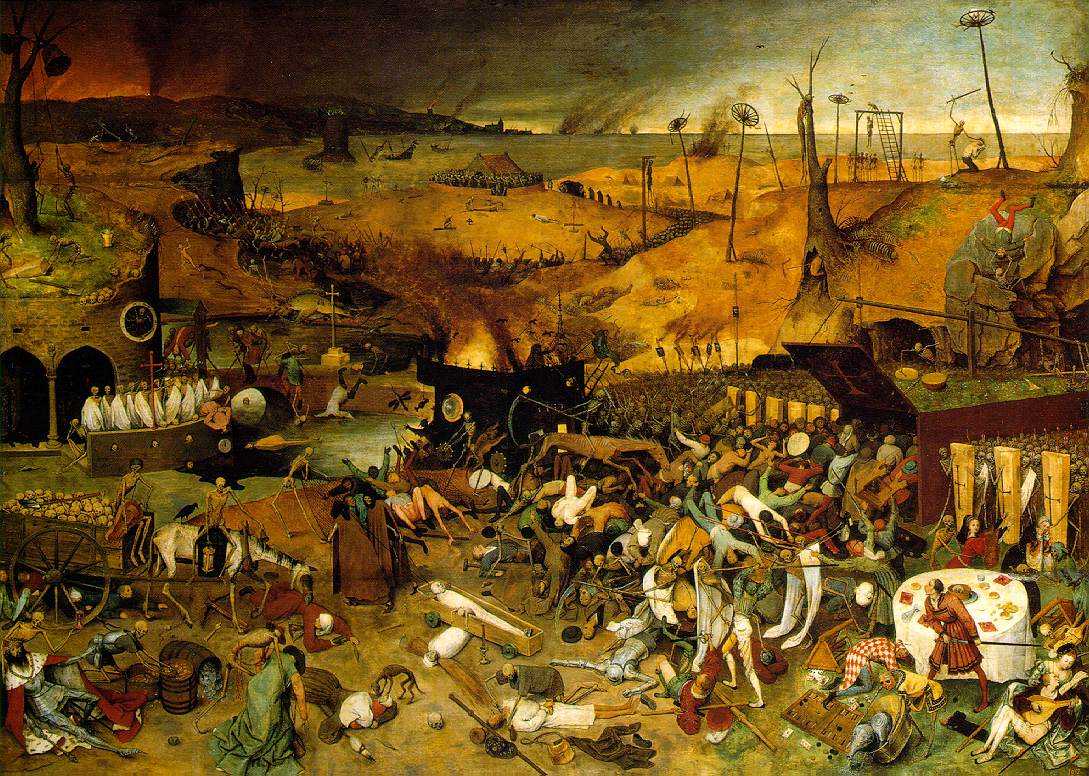 | | | |
| --- | --- | --- |
| | Re: Le Grand Macabre nickscott at 13:51 on 28 September 2009 | |

Really enjoyed their performance of the opera, Ligeti is a legend! Stage design and the performance was astounding!

I may be wrong, but I think the names were changed by Ligeti in the English translation, not by the Opera production company. I have the score (sadly not in front of me, or I would check), and I vaguely remember them being called Amanda and Amando. Seems a curious change, I agree, but I think the choice was Ligeti's, not the ENO's.


| | | |
| --- | --- | --- |
| | Re: Le Grand Macabre MartinY at 11:17 on 02 October 2009 | |

I remember some discussions - the last time it was produced in the UK. There was no argument about the high quality of the music but some people could not get over what they saw as the obscenity. There seemed to be be no possible compromise or meeting of minds over this issue. It was the same over whether one could truely appreciate church music without believing, with the same people taking obvious sides on that issue.

So even in the 21st century we still have issues over biology as Misuc has said. To paraphrase Ken Dodd: private parts should be kept out of opera, but that's a phallusy.

Must stop rabbitting on and get to a performance........


| | | |
| --- | --- | --- |
| | Re: Le Grand Macabre Misuc at 12:02 on 02 October 2009 | |

I've now seen this production.

It's true that the bowdlerisation of the names was shamefully already done by the time the score came out. Apparently to see millions of people annihilated and the world destroyed is good for a laugh, but the mere mention of a name which recalls the names of the generative bodily parts is something so obscene that it has to be censored out.

At the same time the producers set the opera in and around a giant female body:the characters emerging out of and delving into all possible orifices but one to perpetual chuckles and titters from a theatre filled to capacity with ignorant, infantile, illiterate, petty bourgeois opera-bouffes.

The stage effects were certainly 'astounding', as Nick says. But what for? What does the figure signify. Is it there just because it's supposed to be 'surrealism'? But neither playwright Ghelderode, nor Ligeti had any connection to surrealism anyway. It's not concerned with the unconscious/dreams etc. - it has more to do with symbolism: i.e. the characters represent real types/situations. The play is a sort of farcical morality play with macabre puppets etc. Ghelderode fell under the spell of Poe and the schizophrenic painter James Ensor. He also wrote "Flanders is a Dream".

I'll say more another time. I'm just about to be late for a class.....




| | | |
| --- | --- | --- |
| | Re: Le Grand Macabre MartinY at 10:41 on 13 November 2009 | |

I have been really out of things ever since mid August due to serious family illness and have only just emerged to see that the Ligeti has finished after only 6 performances and will not be coming to the provinces. I suppose that would have been too much to ask.

I do hope it has been recorded for TV like the Minotaur but I suppose it is not going to be broadcast either. Does anyone know? I will have to be satisfied with a CD...........


| | | |
| --- | --- | --- |
| | Re: Le Grand Macabre MartinY at 11:01 on 13 November 2009 | |

Opera in the UK....


There once was a time when I and my friends used to go to the opera after work in Sheffield on a Friday night to Nottingham, Manchester, Leeds etc. It was quite possible to make these journeys and get home for midnight. However all this is impossible now. You stand every chance of not being able to get to the opera house and lose all your ticket money whether travelling by train or by car.

However the answer is to be organised and make a weekend trip to the capital and work the opera around other things so the London-centric state of our culture is not that bad. Though this is not so good for anyone who has not the time or money to get to London at advance purchase cost. One can only hope TV will continue to broadcast some contemporary opera though so that we can get to keep in touch out here in the middle of nowhere, (I live exactly in the middle of all the West / South Yorkshire towns).....

My worst recent journey was failing to do 40 miles in 4 hours! and as a result missed Peter Grimes from the most expensive seats.

There also used to be a time when one could take a 'cello on a train but do not get me going on that......