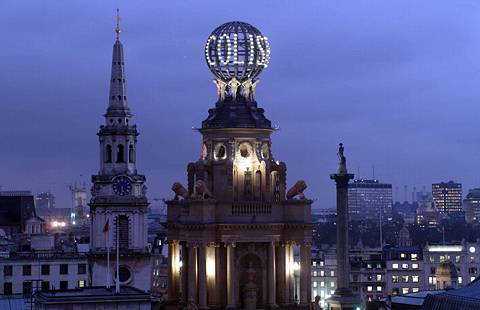 A bit of good news for anyone interested in the future of ENO.
For the last couple of years Arts Council England have been implementing vicious cut to the funding of ENO, one of our most innovative opera companies. In a press release today, however, they announced 'special funding arrangements' for the organisation, effectively an enormous capitulation. The release is as follows:
12 February 2015
The Arts Council today (12 February) announces that two organisations, English National Opera and Colchester's firstsite gallery, will not be admitted into its National portfolio of organisations for 2015-18. Instead they will be placed under special funding arrangements.
The proposed new National portfolio was announced on 1 July 2014 but confirmation of membership is subject to negotiating a funding agreement. As well as showing they will produce excellent work, all companies offered National portfolio status must demonstrate their business plans and their governance are robust enough to ensure the organisations are sustainable over a three-year funding term. In the case of these two companies the Arts Council has continuing concerns which it wants to see addressed.
The special funding arrangements with ENO and firstsite, which will run for two years, and one year respectively, will allow the Arts Council to work closely with each company as they review their business models and governance and to set rigorous milestones to monitor their progress. Entry to the portfolio at a later date will be possible, but will depend on the extent of progress made.
The Arts Council will take decisions on the future funding of both organisations following the implementation of these special arrangements.
English National Opera
ENO is offered funding for two years. The agreement will combine elements of the NPO and transition funding agreements previously proposed in July 2014. £12.38m revenue funding per year, with an additional £6.13m of transition funding, will be made available to the company over the two years to enable it to operate and make changes to its business model.
A considerable amount of work has been undertaken by English National Opera to address the challenges identified during the Arts Council's Opera and Ballet analysis and the risks highlighted in its National portfolio application. However, a number of significant risks associated with the proposed business plan remain.
This decision has been taken following a period of working very closely with ENO on their proposed funding agreement, further detailed analysis of their business model by financial consultants and recent uncertainty about ENO's senior leadership team.
firstsite
firstsite is offered funding for one year. The funding agreement will combine elements of NPO revenue funding (£814,517) and transition funding, to be confirmed, which will enable firstsite to operate and restructure.
This decision has been taken following a consultation period with key local stakeholders and funding partners, revised financial accounts from firstsite and an independent analysis of the organisation.
Althea Efunshile, Acting Chief Executive, Arts Council England said: "The Arts Council's role is to ensure that we get the best value for the taxpayer's money by investing in well run companies who delight audiences with brilliant work.
"With the very occasional exception, all the organisations we fund do just that.
"No one is doubting that ENO is capable of extraordinary artistic work but we have serious concerns about their governance and business model and we expect them to improve or they could face the removal of our funding. The challenges are similar for firstsite.
"However, we believe these organisations can inspire audiences long into the future and it is our hope and expectation that this happens."
The National portfolio now includes of 668 arts organisations (NPOs) and 21 Major Partner Museums (MPMs). 46 arts organisations join the portfolio and 60 leave. A final list of NPOs and MPMs will be published on 31 March.
The investment in NPOs for 2015/16 will be £339.5million, compared to £341.4m in 2014/15.
-ends-
For more information and a wry take on this volte face, have a look at this article by Norman Lebrecht.
0 comments | Post Comment

From March 19th–22nd the biennial London Ear Festival of Contemporary Music is holding a small series of events to keep the spirit of the festival going in its fallow year (the next full festival being in 2016). Cheekily, but appropriately, labelled 'Between the (Y)ears' this mini festival looks pretty interesting.
The theme is contemporary Italian music. It kicks off on 19th with a harp workshop with Gabriella Dall'Olio that explores the writing in Donatoni's Marches. Both performers and composers are invited to attend. Later that evening the piece will be performed at a wine and nibbles reception along with pieces by Berio, Sollima, Bozzol and Gwyn Pritchard.
On 20th there is a concert by ensemble in residence Flame with guests Laura Monaghan (soprano) and Simone Beneventi (percussion). They will perform Zeno Baldi's In Punta – a new work from the festival's 2015 call for scores, as well as pieces by Pierluigi Billone, Giacinto Scelsi and the two festival artistic directors Gwyn Pritchard and Andrea Cavallari. Later the same evening there will be a video concert featuring Morton Feldman's Palais de Mari and Andrea Cavallari's Three Flags II.
The final day (Sunday 22nd) features a midday coffee and music concert with another new work from the 2015 call for scores, Lorenzo Troiani's Sotterranee. In ombra. The other composers on offer are Luciano Berio, Francesco Filidei, Franco Donatoni, Beat Furrer and Luisa Valeria. The festival ends with a closing cocktail and concert at 6pm.
The festival takes place at The Warehouse and The Cello Factory, close to Waterloo in London. Tickets are available here.
0 comments | Post Comment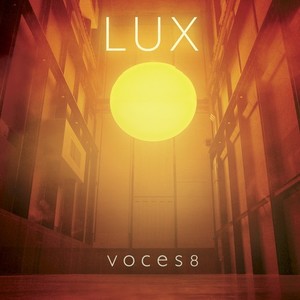 There are three new albums on Naxos worth exploring this month: wind band music by Salvador Brotons that includes his Symphony No. 6 and Symphonic Movement No. 7; Patric Standford's Symphony No. 1 and Cello Concerto; and Argentinian composer Osias Wilenski's Oboe Concerto and other works.
If you can get past the numinous packaging of Voces 8's new album Lux on Decca, there are some good things to be found on it, including works by Ola Gjeilo, John Tavener, Eriks Esenwalds, Rihards Dubra, Patrick Hawes, Will Todd and Paul Mealor. The modern works are broken up with some appropriately spiritual, though always welcome, lollipops: Tallis's O Nata Lux, Allegri's Miserere and a section from Rachmaninov's Vespers.
Jagoda Szmytka's new CD Bloody Cherries on WERGO explores physicality of sound and how it relates to the physicality of performance. It includes 7 works: 3 for amplified ensemble, the others for various combinations of amplified ensemble, amplified voices, transducer, electric guitar, cello, flute, piano and drums. The other new release on the label is a programme for saxophone, including works by Arturo Fuentes, Paulo Ferreira Lopes, Juan Camilo Hernández Sánchez, Phivos-Angelos Kollias, Tom Mays, Bernd Schultheis and Agostino Di Scipio.
There are two works for keyboard on Divine Arts. Masque is a follow-up album to Carson Cooman's well-received disk of organ music Litanies. It features his Preludes and Fugues 1–9, Preghiera and Symphony for Organ played by Erik Simmons on the instrument at Laurenskerk, Rotterdam. Beyond the River God, finally, features the harpsichord music of Graham Lynch and François Couperin.
0 comments | Post Comment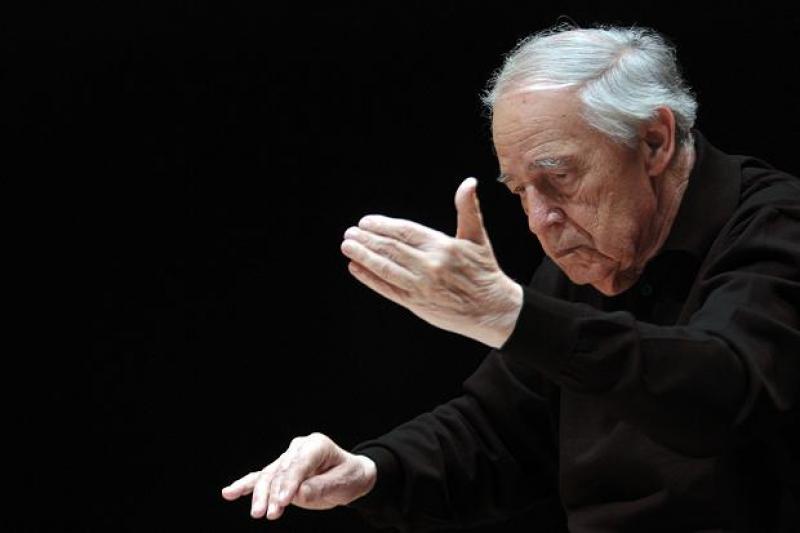 If some of Boulez's pronouncements have given the impression of narrow-mindedness in accepting the music of others, his work as a conductor suggests rather the reverse.
Celebrating this part of his career, DG has just released a 44 CD set of Boulez's recordings of twentieth century works for the label. Whilst much of this includes the usual suspects – the second Viennese school and Boulez's own works – there is also a great deal which isn't, including Bartok, Debussy (as far back as Prélude à l'apres-midi), Ravel and plenty of pre-serial Stravinsky. It comes in a rather nice limited edition box set, for £102 in the UK and $223 in the US.
DG is marketing this as the 'complete' Boulez 20th century recordings, which it clearly isn't, since it doesn't contain a single performance from his DG Mahler cycle. If you wish to have that, the 14 disk set is available at just £37 ($55). I'm aware that Boulez gets mixed reviews in this repertoire, though I think some of the more frequent criticisms – that he can be brilliantly analytical and clear, but sometimes soulless – are often exaggerated. My own favourite Mahler symphony is No. 6 ('the only sixth, despite the Pastoral', as Alban Berg said) and Boulez's interpretation of it with the Vienna Philharmonic (included in this cycle) is brilliant: tempi are ideal, he takes the crucial first movement repeat and the two most powerful parts, the slow movement and vast final movement are superbly shaped and devastating in their impact. I can't imagine, therefore, that the rest of the set isn't worth exploring too.
If the 44 CD DG set is a little too much to purchase all at once you can also buy many of the recordings in smaller sets concentrating on one or two composers at a time. There is Boulez conducts Debussy and Ravel (6 CDs, £18.79/$32), Boulez conducts Stravinsky (6 CDs £20/$26) and Boulez conducts Bartok (8 CDs, £30/$30). Particularly recommended is Boulez's complete survey of the works of Webern (6 CDs, £22/$30). No one understands this repertoire better than him, and that shows in the crystalline clarity of these performances. Also an obvious recommendation is the composer conducting his own complete works (13 CDs, $68/£44).
Boulez has dabbled more than a little in the world of opera. Two productions, both with Patrice Chéreau directing, stand out: his Wagner Ring Cycle for the 1976 centenary performance at Bayreuth and his Janáček From the House of the Dead in 2007. The former was hugely controversial, some believing that Boulez's conducting lacked the necessary expressivity, was too fast and the singing uneven. Despite this, the production did win many admirers, as this article in The Guardian makes clear. It is available on DVD at DG (having originally been released on Philips). The Janacek, a DVD I own and like a great deal, is an easier recommendation.
Another handsome boxed set worth considering was released at the end of 2014: Sony Classical's 67 CD survey of the recordings made by Boulez for CBS/American Columbia (67 CDs, $187/£89). Again there is plenty of twentieth century repertoire here including Schoenberg, Berg, Varese, Stravinsky, Berio, Carter, Messiaen and works by Boulez himself. Less well-known is Boulez's fondness for Berlioz, represented here with recordings of Symphonie Fantastique; Lelio, ou Le Reour a la vie; excepts from Benvenuto Cellini, Les Troyens and Beatrice et Benedict; Carnaval Romain; Les Nuits d'été; and La Mort de Cléopâtre. Most fascinating of all are the real rarities: Handel's Water Music, Beethoven's Symphony No. 5 and Wagner's rarely heard work for choir Love-Feast of the Apostles.
0 comments | Post Comment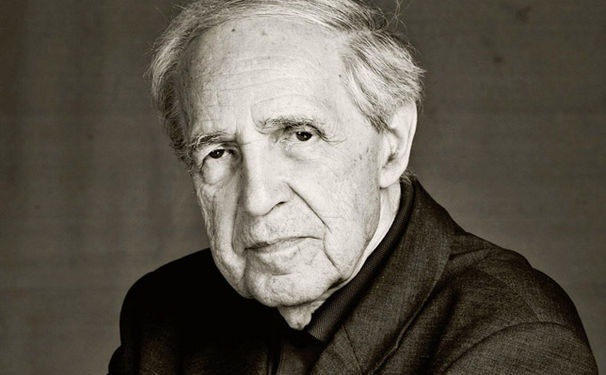 On March 26th Boulez will turn ninety. Even at this grand old age he hasn't entirely cast off the image of enfant terrible, the man responsible for some of the most intemperate remarks in the history of twentieth century music, including, yes, that one about wishing to burn down all opera houses.
It is an image which, even now, clouds my judgement of his music. There was Boulez the quasi-mathematician who serialised the composer out of the musical process. Boulez, who wished to rip up the past ('It is not enough to deface the Mona Lisa because that does not kill the Mona Lisa. All art of the past must be destroyed.'), Boulez who branded any musician who didn't feel the necessity of the serial method as 'OF NO USE' (his capitals).
Boulez's influence on European cultural life has not, in my opinion, always been healthy. His insistence that his way was the way, looks extraordinarily misguided today. How sad that some composers felt that they had to fall into line with serial orthodoxy or be branded a failure. Neither was this something experienced just by his contemporaries.
I have often pondered the influence that Boulez had on the most significant member of the older generation – Igor Stravinsky – even if it operated indirectly. It's a curious fact of Stravinsky's life, especially given his status as probably the greatest composer of the twentieth century, that he was so keen to be accepted by his peers. That surely was a factor in his decision, at the suggestion of Robert Craft, to adopt the serial method.
(You can see this facet of Stravinsky's character in this superb film by János Darvas where, at 32 minutes, he remembers, with some rancour, an imagined rebuff from Benjamin Britten. A minute before this you also see him, rather too humbly in my opinion, taking advice from Boulez about a mistake in one of his serial works.)
Of course I acknowledge the greatness of these late works – after all, Stravinsky was a superb craftsman; how could they be anything else? Also, I know that many composers (myself included) have benefited from Stravinsky's rotational take on the serial system. Despite this, I cannot, however hard I try, love them so much as those that came before. I sometimes find myself wishing that Stravinsky had had the confidence to stick to his compositional guns.
One can also forget the institutional power that Boulez has wielded, especially in France. When President Georges Pompidou was looking for a figure to set up a music section as part of a new cultural institution it was Boulez he invited for dinner. When it came to cultural/political influence Boulez, quite literally, ate at the top table.
The meal with the President eventually resulted in IRCAM. Boulez was not, perhaps, the ideal man to wield such institutional power, since he has never been stylistically openminded when dispensing patronage. I think especially of the music of Henri Dutilleux. Despite Dutilleux commissioning the 1948 version of Boulez's Le soleil des eaux he was not programmed in Boulez's Domaine Musical concerts, was snubbed by Boulez at the première of his First Symphony and had to wait many years to receive a commission from Ensemble Intercontemporain (a commission he never fulfilled). A style which, however tenuously, retained elements of tonality was, to Boulez, infra dig.
The irony is that Boulez's own compositional trajectory and also recent interviews, show that he was less dogmatic than he pretended. The early total serial works culminated in Structures I, the 'ascetic attitude' of which Ligeti described as 'akin to compulsion neurosis'. Subsequent works, beginning with Le marteau sans maître, however, showed a loosening of approach to the serial method and even the granting of freedom to performers, especially in allowing them to choose a route through a work (e.g. Third Sonata, Pli selon pli or Domaines).
In a recent interview Boulez has also acknowledged his need to balance the 'constructivism' he encountered (and even found 'a burden') in the works of the Second Viennese School with a freer approach. He also has talked about how music cannot be compared with science, in that in science things progress, whereas the music of a particular time is not to be considered superior to that of an earlier epoch. It is surely not a huge mental leap to realise that, if works are not to be judged by the mere fact of their chronological position in the canon, then neither should they judged by how completely they adopt the most cutting edge techniques.
So, in this ninetieth birthday year, what are we left with? We are left with the works. A composer is not to be judged by his personal life, writings, in the institutions or colleagues he has championed or the other composers he has conducted. He is only to be judged by his works.
Even here, however, I remain ambivalent. The early experiments with total serialism seem to me to be little more than curiosities of the time. Something that was as inevitable as, say John Cage's 4'33" and, like it, more of a thought experiment than art. I even find Le marteau sans maître, acknowledged by many as a key twentieth century masterpiece, as curiously colourless, despite the influence of gamelan and the like.
I have listened to most of the works following Le marteau. A few have really grabbed me – I cannot forget, for example, the exhilaration I first felt on hearing the orchestral version of Notations, a work of tremendous power – though others have left me bemused. Even with the latter category, however, it is impossible to reject them outright. Sometimes I listen to a piece of music and I know straight away I don't like it, usually because I can see through it. I have never had this feeling when listening to Boulez. A cynic would point to the obfuscatory complexity of his scores, which tends to make easy judgements difficult. I disagree; with Boulez one always senses a profound musical intelligence at work. This commands respect and a desire to understand better.
For many aficionados, then, 2015 will be a chance to wish Boulez a hearty 'Happy Birthday' and revel in performances of his works. I wish him many happy returns too. I will not so much be revelling in his works, however, but trying to understand them. Like parts of his oeuvre, it is likely to remain a work in progress.
Some videos worth exploring
In English:
2014 interview with BBVA Foundation
2012 interview with Universal Edition
2010 round table discussion, including interesting information about the founding of IRCAM
2009 interview on winning the Kyoto Prize
1995 interview in Amsterdam. Bad sound but Boulez is articulate and witty, so worth a look
French:
Musical creativity and mathematics
Boulez talking about Pierrot Lunaire and his own Eclat (subtitles in Spanish)
Boulez talking about his Sur Incises
Boulez at Biennale Musica 5th October 2012. Interviewed by Robert Piencikowski and Claude Samuel
Pierre Boulez talking to Michele Dall'Ongaro
0 comments | Post Comment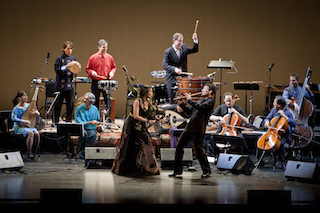 UK premières begin next month with a new work by Ben Comeau, winner of the Cambridge University Composers' Workshop, which will be played by the Britten Sinfonia at Wigmore Hall on 4th. Gerald Barry's song Crossing the Bar, will receive its first performance at the same venue on 24th. A small work, perhaps, but part of an intriguing programme: a selection of 17 songs for soprano and small ensemble commissioned over a ten year period by John Woolrich and BCMG Artist-in-Association Mary Wiegold. The programme reads practically like a who's who of contemporary music, including, as it does, such figures as: Harvey, Babbit, Adès, Birtwistle, Ruders and Sciarrino. That programme will be repeated at the CBSO Centre on 27th.
Mica Levi, also known by her stage name Micachu, also has an, as yet, untitled work to be premièred by the London Sinfonietta on 27 February as part of their 'Spectrum of Sound' concert, which will explore the advances in sonic manipulation over recent years, tracing a path from the pioneers of the 20th century to spectral music of the 21st. The concert also contains the UK première of Georg Friedrich Haas's Open spaces for 12 string instruments and 2 percussion as well as works by Xenakis and Vivier.
The London Sinfonietta are joined by the BBC Singers on 12th February for a programme of vocal music by James Macmillan, which includes the UK première of Górecki's Church Songs and MacMillan's Alleluia. At City Halls, Glasgow, meanwhile, the BBC SSO will, on 28th, give the UK premières of Manfred Trojahn's Herbstmusik/Sinfonischer Satz and Vito Žuraj's Hawk-eye (horn concerto). The concert will also mark Boulez's 90th birthday with a performance of his …explosante-fixe…, appropriately so, since the work received its UK première on Scottish soil more than 20 years ago. The concert will be recorded for Radio 3's Hear and Now programme, so there will be the chance to hear the programme even if you can't make it to the venue.
At the Miller Theatre at Columbia University, NYC on 5th February is the world première of Missy Mazzoli's Quartet for Queen Mab as part of a portrait concert that includes works for strings, voice and electronics. Also at the Miller Theatre on February 19th is a portrait concert of Italian composer Stefano Gervasoni, containing his works: Sviete tihi, Six lettres à l'obscurité (und zwei Nachrichten) and In dir. At SubCulture the NY Philharmonic Contact! series explores new music from Israel on 9th February, including the New York Première of Avner Dorman's Jerusalem Mix.
The Silk Road Ensemble, which explores the cultural traditions of the famous trade route from which it takes it name, will give a number of concerts in NYC, starting with a meet the ensemble session on February 18th at the David Rubinstein Atrium. The ensemble has commissioned many new works over its fifteen year existence, so there is sure to be much of interest.
0 comments | Post Comment

The Peninsula Arts Contemporary Music Festival (27th February–1st March) celebrates its 10th anniversary at the end of February. The theme this year, is 'Biomusic'. Professor Eduardo Miranda, Professor in Computer Music at Plymouth University, explains:
'We are witnessing a shift of paradigm in computer science as scientists are looking to building new kinds of computers: biocomputers. Machines that combine silicone processors made with microbiological organisms. We are interested…in developing new musical systems based on biocomputers.'
His new piece, Biocomputer Music, for piano and biocomputer – possibly the first work of its type – can be heard on the last day of the festival. In a similar vein, on 28th February, the gala concert will feature three new works, each inspired in different ways inspired by nature and biology: Alex Kirke's Orchestral Processing Unit, Anandi Sala Casanova's The Hidden Sea and Linas Baltas's DNA. There are is also a film, installations and a symposium (registration required) exploring the festival theme. More information and an interesting video exploring the programme is available on the festival website.
0 comments | Post Comment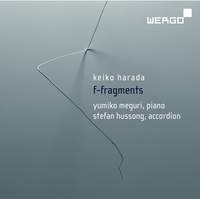 Also on Wergo (see my previous post) is Japanese composer Keiko Harada's recent disk, F-fragments featuring solo piano, accordion and duet of the same. F-Fragments, the work that lends the disk its name is a movingly austere meditation on the events surrounding the Fukushima disaster in 2012. It is followed by Book I, a virtuoso work for solo accordion that brings to mind the Ligeti Etudes or Berio Sequenzas and Nach Bach, for solo piano, a meditation on the Well-Tempered Clavier. The musical language is commendably pure, if a little austere.
Other recent Wergo releases (not, as yet, Spotifyable) include: Mark Andre's …auf…, a sequence of three orchestral pieces that 'search for new resonances and means for transitions between sounds'; works by Ukranian composer Valentin Silvestrov; a complete box set of Hans Werner Henze's 10 Symphonies played by Rundfunk-Sinfonieorchester Berlin; and John Cage's so-called 'Number Pieces' One7 and Four6 in versions for piano.
On ECM records, Souvenance is a selection of works from oud player and composer Anouar Brahem. I've only heard the preview track January, available on YouTube, but it's pretty clear that the key word here is cross-over, with his style mixing up elements of European classical and popular cultures with music from his native Tunisia. The two-disc recording is available later this month.
On Naxos, yet another rerelease from the old Maxwell Davies, Collins Classics back catalogue, this time his ballet Caroline Mathilde with bonus works Chat Moss and Ojai Festival Overture. Also on the label is Chinese composer Gan-Ru's Shanghai Reminiscences, which explores his childhood and the Chinese cultural revolution; and Jack Gallagher's Symphony No. 2.
0 comments | Post Comment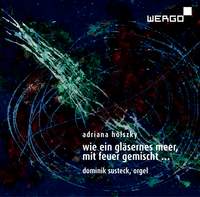 Adriana Hölszky: Wie ein gläsernes Meer, mit Feuer gemischt. Works for Organ. Wergo WER 67892.
There are some fine recent disks on the German label Wergo. If you are not familiar with their work I urge you to have a rummage around their website, especially as many of their recordings are available on Spotify.
Adriana Hölszky's disk Wie in gläsernes Meer, mit Feuer gemischt, for example, is a meaty sonic spectacular. It's astonishing the number of unusual sounds she coaxes out of the organ. As a non-specialist it is not always possible to be sure which extended technique she uses when, though one suspects half-open stops, unmixed mixtures, turning the blower on and off to detune and retune and certainly plenty of deliciously dense clusters.
In Und ich sah wie in gläsernes Meer mit Feuer gemisch, [And I saw what looked like a sea of glass mixed with fire] and Efeu und Lichtfeld [Ivy and Field of Light] furthermore, she uses percussion ingeniously to colour of the organ line, feeling, as it were, like just another drawn stop. The latter work also features a solo violin. We are told that it and organ 'appear to exist independently of one another', but the effect is just as much febrile conversation, with sudden bursts of energy sparking between the two. In the four moment Und wieder Dunkel, the percussion takes on an independent role, lending a brooding intensity of its own.
The musical language everywhere is challenging and it will certainly not be immediately apparent what underlying forces give these works their coherence. That they all unfold with an impressive, near apocalyptic inevitability is, however, undeniable. And the delicious palette of sounds that form the surface means that boredom is an impossibility.
The recorded sound is appropriately ample yet intimate enough to catch the the solo violin with clarity. Performances are superb.
0 comments | Post Comment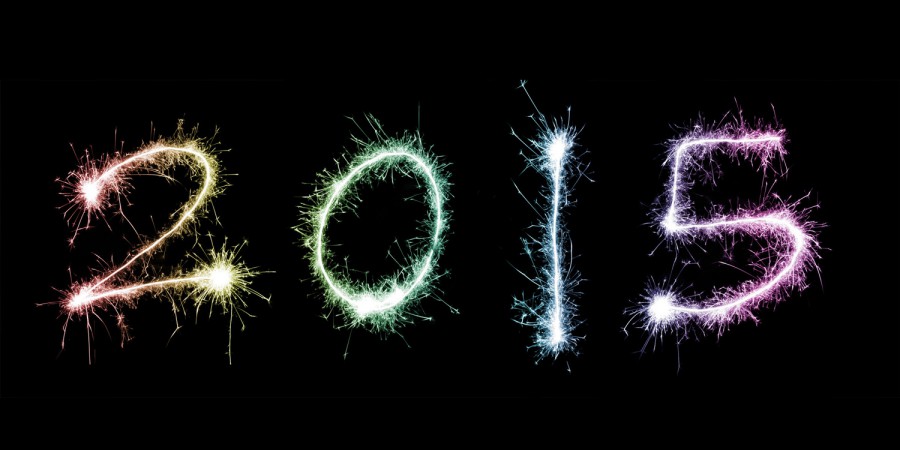 I don't know about you, but I'm always relieved when the Christmas season comes to an end. The Christmas tree, such an attractive sight at the beginning of December, is, by now, dropping needles everywhere; the rich meals and endless chocolates are starting to pall; and, fun though it was, I've now had quite enough of the saccharine yuletide soundtrack. Bah humbug.

It's now time to cast our clear-thinking, January eyes forward to see what 2015 will bring. Quite a bit as it turns out: Boulez's 90th birthday celebrations, including a Total Immersion Day at the Barbican; Tansy Davies's operatic debut Between Worlds in April; the New York Philharmonic's CONTACT! series including new music from Italy, Nordic countries, Japan and Israel; and any number of festivals and other events.

Here's then is my little preview of 2015. It is not, of course, comprehensive; I will update CT's own concert diary month by month as the year progresses, so do swing by every now and again for updates.

For now, I wish you a very Happy New Year!

January

10th Scanner New work & Naama Zisser Drowned in C (world premières). London Sinfonietta. Kings Place Hall One, London.

17th Hear and Now: Hans Abrahamsen. String Quartet No.1, Double Concerto (UK Premiere). BBCSSO. City Halls, Glasgow. London Sinfonietta. Kings Place Hall One, London.

21st James Dillon Stabat Mater Dolorosa (London première). London Sinfonietta. Queen Elizabeth Hall, London

26th–30th FOCUS! 2015: Nippon Gendai Ongaku, Japanese Music Since 1945. The Juilliard School, NYC.

28th Composer Portrait: Thierry Escaich. BBNOW. Hoddinott Hall, Cardiff.

31st Total Immersion Percussion, with a selection of works by various living composers. Four events in total. Barbican, London.

February

9th CONTACT!: New Music from Israel. Musicians from the New York Philharmonic. Lincoln Centre, NYC.

12th Concert of vocal music by James MacMilan, including two UK premières. Barbican, London.

12th–14th Birtwistle Responses: Of sweet disorder and the carefully careless

(U.S. première). BSO. Boston Symphony Hall Boston MA.

14th–15th Lachenmann's Tableau, with Berlin Philharmonic conducted by Simon Rattle. Barbican, London.

25th Tokaido Road: A Journey after Hiroshige. London premiere of Nicola Lefanu's acclaimed opera. Milton Court Theatre.

25th Composer Portrait: B Tommy Andersson. BBNOW explore a selection of B Tommy Andersson's works, as part of his role as Composer-in-Association. Hoddinott Hall, Cardiff.

27th Georg Friedrich Haas Open Spaces (UK premiere), Mica Levi New work (world premiere). London Sinfonietta. Purcell Room, London.

27th-1st March Peninsular Arts Contemporary Music Festival.

28th Manfred Trojahn Herbstmusik/Sinfonischer Satz (UK Premiere) and Vito Žuraj Hawk-eye (horn concerto) (UK Premiere). BBCSSO. City Halls, Glasgow.

March

7th CONTACT!: New Music from Nordic Countries. NYPhil. Grace Rainey Rogers Auditorium The Metropolitan Museum of Art, NYC.

8th Unsuk Chin Alice in Wonderland. Multimedia staging by Netia Jones (UK Premiere). Barbican, London.

12th–14th Thomas Adès Totentanz (U.S. première). New York Philharmonic

Avery Fisher Hall.

20th Molly Joyce, world première and other works by Monk, Balter, Adams and Dennehy. Present Music. Turner Hall Ballroom, Milwaukee.

21st Total Immersion: Boulez at 90. A number of events celebrating the work of the French composer. Barbican, London.

21st–29th Lucerne Festival at Easter

26th–28th John Adams Scheherazade.2 – Dramatic symphony for violin and orchestra (world première). Avery Fisher Hall, NYC.

28th Michael Gandolfi New work for organ and orchestra (world première). BSO. Boston Symphony Hall - Boston, MA.

Also in May (details tbc):

LONDON EAR festival of contemporary music. Currently showing the 2014 programme.

April

1st Composition: Wales - Culmination Concert. Composers worthy of wider exposure have the opportunity to hear their works performed by BBCNOW.

5th James MacMillan St Luke's Passion (London première). Barbican, London.

11th-25th Between Worlds. Operatic debut from composer Tansy Davies, who collaborates with director Deborah Warner and librettist Nick Drake on this world premiere. ENO, London.

14th Jake Heggie Camille Claudel: Into the Fire for string quartet (European première). Barbican, London.

17th Esa-Peka Salonen Nyx (UK première) with NY Philharmonic. Barbican, London.

17th David Matthews Symphony No.8 (World première): BBC Philharmonic. Bridgewater Hall, Manchester.

18th Music by five living composers. Musicians of the NY Philharmonic. Barbican, London.

22nd, 24th, 25th Georg Friedrich Haas String Quartet No 2

Atthis (UK premiere). Royal Opera House, London.

24th Christopher Rouse Prospero's Rooms (UK premiere). BBCSO. Barbican, London.

24th Richard Ayres' In the Alps. Turner Hall Ballroom, Milwaukee. Present Music.

28th Ensemble Intercontemporain: Boulez at 90. Barbican, London.

May

8th–24th Norfolk and Norwich Festival.

11th CONTACT!: New Music from Italy. Musicians from the New York Philharmonic. SubCulture, NYC.

12th-23rd Vale of Glamorgan Festival.

15th–25th Bath International Music Festival.

16th–25th July Peter Pan Richard Ayres. Richard Ayres and Lavinia Greenlaw's new opera Peter Pan receives its UK première in a new production by Keith Warner.

19th Seán Doherty New work (world première). Part of the Making Music's Adopt a Composer programme. Barbican, London.

25th–30th Northern Chords Festival.

Also in may (details tbc)

Prague Spring International Music Festival. Currently showing the 2014 programme.

The English Music Festival 2015 programme should appear today.

York Spring Festival of New Music

June

5th CONTACT!: New Music from Japan. Musicians from the New York Philharmonic. Grace Rainey Rogers Auditorium, NYC.

6th Nico Muhly Sentences (world première). Nico Muhly's new exploration of the life and ideas of Alan Turing. Barbican, London.

12th–27th Harrison Birtwistle The Corridor & The Cure (world première). Music theatre double bill. London Sinfonietta. Various Venues.

12th-28th Aldeburgh Festival.

12th–28th Gregynog Festival (in France)

19th-24th St Magnus International Festival. Orkney Islands, Scotland. Programme not yet available.

Other June festivals (dates tbc):

Munich Opera Festival Nationaltheater and other venues in Munich.

Other June festivals (dates tbc):

July

3rd-–16th Soundscape. Maccagno, Italian Alps.

5th Jonathan Dove The Monster in the Maze: a new opera for children (UK premiere). LSO, Simon Rattle. Barbican, London.

10th–26th Buxton Festival. A marriage of opera, books and music, including some by contemporary composers.

17th-12th/9th BBC Proms. Programme not currently available, but there will be guaranteed premières aplenty. 2015 season accounted on 23rd April. Royal Albert Hall, London.

18th–30th/8th Salzburg Festival

Other July festivals (dates tbc):

Schleswig-Holstein Musik Festival. Various venues, Schleswig-Holstein, Germany.

Tête à Tête Opera Festival. Described as 'our most imaginative opera laboratory', the festival focuses entirely on new music.

'Aix en Provence Festival. Some information available here. As yet, no contemporary music has been announced, but this might change.

August

3rd–15th High Score Festival. Contemporary music festival and classes. Pavia, Italy.

7th–31st Edinburgh International Festival. Programme not yet available, but there is usually a good selection of new music.

27th–1st/9th Presteigne Festival. Artistic innovation, musical discovery and, of course, new works in the Welsh Marches. Presteigne, Powys.

September

10th–19th Oslo Contemporary Music Festival.

4th–9th/10th Beethovenfest, Bonn.

Also in September (date tbc):

Warsaw International Festival of Contemporary Music. Still showing 2014 programme. Warsaw, Poland.

October

Dates not yet available:

Festival Internacional de Música Contemporánea de Tres Cantos. Contemporary music festival in Madrid, Spain.

Sound. North East Scotland's Festival of New Music. Various venues.

Wien Modern. Festival that focuses on contemporary music. Still showing 2014 programme. Vienna, Austria.

November

Dates not yet available:

Huddersfield Contemporary Music Festival.

Lucerne Festival at the Piano.

0 comments | Post Comment

Archive
1 | 2 |

3

| 4 | 5 | ... | 25 |


CompositionToday
offers a huge range resources exclusively for composers.
The benefits of
Full Membership
include:
our comprehensive jobs, competitions and opportunities service
Create your own showcase website, including MP3 samples of your work
In-depth interviews with leading figures from the world of new music
A unique soundbank resource, where you can listen to real instrument sounds organised by range and technique.
Concert Listings Today & Tomorrow: