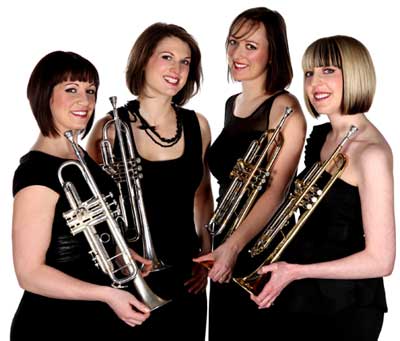 "composers are generally lovely. (If that sounds like a suck up, it is, send us your music!)" say trumpet quartet Bella Tromba.
Tell us about the quartet, how it was formed, it's raison d'etre.

It was Vickie's idea to get together and play. Originally it was just for fun, to help our playing develop and have a laugh together. For a few years we concentrated on building a repertoire, doing as many performances as possible focusing on giving an audience something really good. Now our focus is on building an international reputation, working with fine chamber musicians and playing great music. We are ambitious for the ensemble.

Click here to read the rest of the interview

0 comments | Post Comment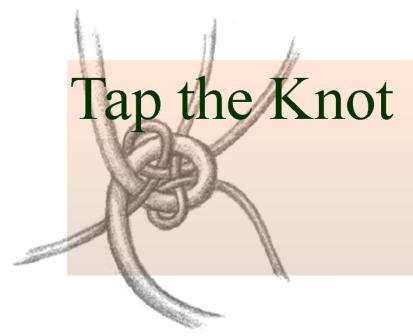 My apologies for the laziness of posting someone else's words (!), but I want far more people to be aware of Steve Soderberg's extremely acute insights into where we've come from, where we are, and the perils of where I fear we may be heading on the path of so-called serious music, art music, contemporary classical music, or however it is characterized these days.
Steve is Senior Specialist for Contemporary Music in the Music Division of the Library of Congress where he plans and coordinates internet, concert and collections-related projects focused on American contemporary classical music. He is also an authority on compositional and mathematical music theory as well as a prodigious thinker and commentator on new music in general and is a very significant figure in the contemporary American music landscape.


Click here to read the full post



4 comments | Post Comment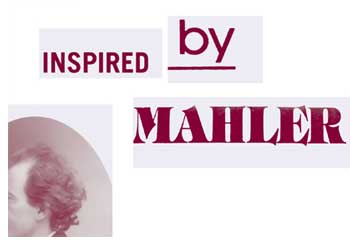 Being a composer can be an interesting experience when it comes to performances. Quite often, once a piece is off our desk and in the hands of whoever is kind, brave or foolish enough to want to perform it, there is a sense that we are ever so slightly (or, indeed, completely) superfluous to proceedings. We may be invited to the performance - for that glorious smile and wave moment - and, when unavoidable, a final rehearsal. But I can't shake the nagging thought that our presence is too often really just for show - a rubber stamp for the performance, an added (if questionable) thrill for the rest of the audience, or perhaps even a public buck-passing for the performers ("if you didn't like it, talk to HIM/HER"...).
However, every now and then, an event comes along which turns this all on its head, an event where everything is arranged to let us composers know - or at least make us feel - that someone really does want to know what we think about our music.


Click here to read the full post



0 comments | Post Comment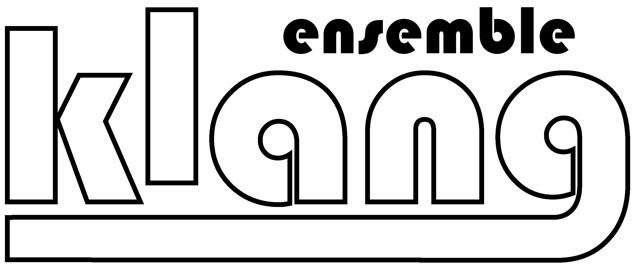 Ensemble Klang are a Dutch-based new music ensemble that have been making great waves in the Netherlands and further a field for the last few years. I have known some of the members of the group for nearly ten years now, and seen them grow as an ensemble into one of the premiere new music groups of our time. They have just released three new CDs, each disc dedicated to the music of a single composer one of which features my music. I thought it a good time to interview Pete Harden, composer, guitarist and artistic director of Ensemble Klang about the group, their background and what it's like being a new music ensemble in the 21st century.
Can you tell us a little about your background, how you got started in music, how you ended up in contemporary music?
These days I am a walking cliché: a guitar-playing composer who used to play in bands! Well, with Ensemble Klang I kind of still do play in a band.
As a child in Hampshire (UK) I was a chorister in the local Abbey choir and learnt classical guitar, switching to electric as a teenager. So my early musical experiences mixed Gregorian Chant, Nirvana and 'Switched on Bach' (one of my parents' favourite LPs!). While at university (Birmingham) I played in bands as well as new music groups before moving to the Netherlands for further studies in composition with Louis Andriessen. That was ten years ago now, and I've remained in The Hague ever since.


Click here to read the full post



0 comments | Post Comment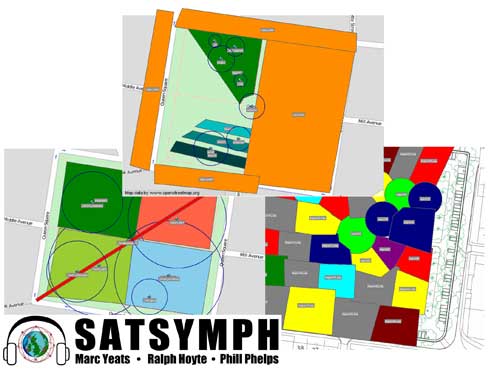 A few days ago the PRS Foundation announced the short-list for this year's New Music Award. The award offers £50,000 to a creative team towards the creation and performance of a ground-breaking new work. The award seems to be attempting to do for contemporary classical music what the Turner Prize has done for contemporary art - in particular, to attempt to stir up controversy or interest by selecting projects that have a wacky or unusual approach to making music.
I spoke with one of this year's short-listed candidates, composer Marc Yeats about his life and work, and about his 'SatSymph' proposal.

Tell us something about your background.

I didn't write this, but it's as good a précis of my background as any.

Born in 1962, an only child, brought up in London, attended a Roman Catholic school, had traumatic treatment at the hands of his father, losing his mother to cancer in 1977, when he was just 15, by which time he'd already commenced serious painting sold through private galleries, moved to Devon with his volatile father, ran a confectionary shop, experienced bankruptcy, yet all the while yearning to creatively express himself.
Click here to read the rest of the interview

0 comments | Post Comment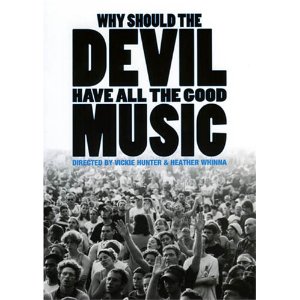 A director friend told me the other day about a well-known annual Irish arts festival where some events are held in the local cathedral and, although the church hierarchy is very supportive in general of the programmes, the two rules for concerts and plays there are that there must be no swearing and no blues. Because blues, of course, is the devil's music. This reminded me of Cliff Richard's song from a few decades ago, Why should the devil have all the good music? and the notion that did and still does exist in certain circles that there are such things as good and bad music purely because of genres rather than content. I remember, being closely affiliated in my youth with my university's Christian Union, how there was then even a notion that Stravinsky's Le Sacre was aberrant in some way – those naughty rhythms, perhaps.
Are these ideas simply the result of a misplaced Puritanism, the same kind which has led one bishop in Tipperary to ban concerts of any music from the local churches? Was Plato perhaps on the right track when he warned against the dangers of music because it could adversely affect the temperaments of listeners? Would he, in fact, be less worried if he could hear much of the music being written today? Because, to my ears, the notion of music as an emotional medium, a notion I cherish, seems to be out of favour with a number of today's composers. To be sure, we are, on the face of it, far removed from the heady days of number matrices and the myriad other devices for keeping the composer and his or her music as far from each other as possible, but on closer inspection it still seems to be deeply uncool to express oneself through one's music. Instead we are offered an endless parade (no pun intended there!) of irony and repetition, dumbed-down and numbed-up tinkling and electronica, a blurring of job descriptions between composer and sound artist warmly embraced by night-time DJs everywhere so that the last thing one can hope for, in concert or on the radio, is the opportunity to feel something.
Yes, I'm over-dramatizing the situation, but I can't help feeling that the desire to express something – anything - is seen too often as Bad Taste, and I'm not sure how we came to be in this position, or how to get out of it. Other than to keep doing what we – we expressionists – are doing.
0 comments | Post Comment
May starts bright and early at 7am for Vexations with London Sinfonietta players and 10am for an Alexander Goehr Study Day with musicians from the RNCM at Wigmore Hall. We then move on to major 20th c. orchestral statements, a multimedia opera, string quartet improv. with silent film, and other goodies.

Vexations

London Sinfonietta

1 May 2010 / from 7:00 / Kings Place

London Sinfonietta's performance of this Satie 'happening' can be visited any time during the day - the music will be set against a moving image installation.

http://www.kingsplace.co.uk/music/out-hear/codex-from-elision-out-hear-contemporary-music-kings-place-london


Alexander Goehr Study Day

Musicians From the Royal Northern College Of Music, Clark Rundell conductor

1 May 2010 / from 10:00 / Wigmore Hall
The day's three concerts will feature works of instrumental, vocal and chamber music that span a period of nearly fifty years and closes with a performance of Sing, Ariel, a cantata from the 1990s which pays homage to, among others, his teacher Olivier Messiaen.

http://www.wigmore-hall.org.uk/whats-on/productions/alexander-goehr-study-day-25364


London Symphony Orchestra / Valery Gergiev

Turangaglila-Symphonie and Lutoslawski Piano Concerto

13 May 2010 / 19:30 / Barbican Hall 

Masterpieces from 1948 and 1988, soloists Joanna MacGregor piano, Cynthia Millar ondes martenot , and for the Lutoslawski, Sergey Babayan piano.

http://www.barbican.org.uk/music/event-detail.asp?id=8646


After Life - ASKO / Schoenberg Ensemble / Tausk


15 May 2010 / 19:30
 / Barbican Hall
After Life, a multi-media opera by Dutch composer and filmmaker Michel van der Aa, based on the film by Japanese director Hirokazu Kore-Eda.

http://www.barbican.org.uk/music/event-detail.asp?ID=8560

Music of Today: Georg Friedrich Haas


20 May 2010 / 18:00 / Royal Festival Hall 

An exploration of the work of this highly original Austrian composer.
http://www.philharmonia.co.uk/concerts/20may10mot/


London Symphony Orchestra / Valery Gergiev

Turangaglila-Symphonie and Dutilleux Métaboles

20 May 2010 / 19:30 / Barbican Hall

A second chance at Messiaen's Turangaglila, paired this time with the deft and striking Métaboles by Henri Dutilleux.

http://www.barbican.org.uk/music/event-detail.asp?ID=8648


Mary Pickford in My Best Girl with the Elysian Quartet


28 May 2010 / 19:30 / Kings Place

Improvisation by the Elysian Quartet to a film by silent screen legend Mary Pickford
.
http://www.kingsplace.co.uk/music/weekly-themes/mary-pickford-in-my-best-girl-with-the-elysian-quartet



2 comments | Post Comment
Stuart MacRae first rose to prominence when his Violin Concerto was performed at the 2001 Proms by Tasmin Little. His 2008 piece Gaudete - also featured at the Proms - set the poetry of Ted Hughes and marked a significant development in his musical language. Recently he has written a number of stage works, including The Assassin Tree (2006) with a libretto by Simon Armitage and Remembrance Day for Scottish Opera's Five:15 series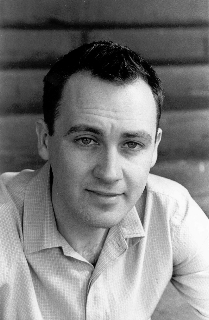 Tell us something about your background.

I was born and brought up in Inverness, though both my parents are from Skye so I spent a lot of time there too. Both my parents have 'normal' jobs, but they've been members of the Inverness Gaelic Choir for as long as I can remember - so music was always encouraged at home. I left school early and went to Durham University to study music, then Guildhall to do a Masters in composition, finishing when I was 20. I was in a big hurry in those days, for no particular reason. After that I stayed in London for a few years, spent a year in Paris and then moved to Glasgow, where I'm still based.
Click here to read the rest of the interview

0 comments | Post Comment
I went to Wilton's Music Hall last night to hear a Kreutzer concert of Mozart and pieces by Rolf Martinsson and our very own Jim Aitchison. Great concert. One of the Mozart pieces was the 'Nannerl' septet, written to celebrate his sister's birthday. If you have been to any of the Kreutzer concerts you will know that their violinist Peter Sheppard Skaerved presents all the music in a most enlightening manner, making you want to rush home and google everything and everybody and download the music onto iTunes, which indeed I did. He talked about the Mozart septet as an undiluted expression of joy, Mozart's joy at the thought of his home and family. When Peter was talking about joy, I was reminded of someone I met in Utah a few years ago, who said that she was interested in the concept of joy, which could only come after you had been truly penitential. I said at the time that I didn't think I had ever felt joy, which I think of as an extreme emotion like ecstasy or murderous rage. It has a transcendental or spiritual quality that is very different from happiness or content. (And, what I didn't say was that being truly penitential was a dubious concept in itself, not so much a grey area as a minefield.)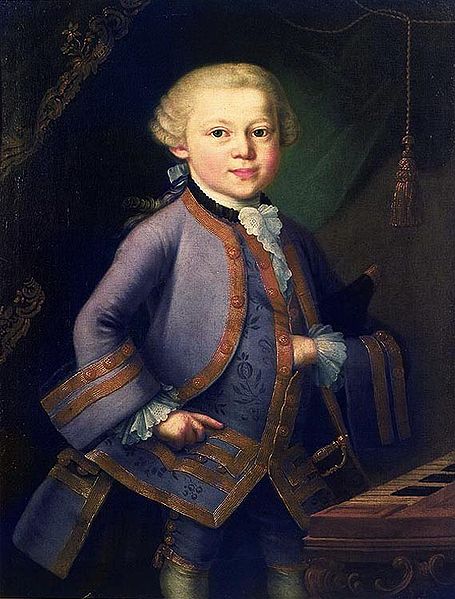 Mozart as a child
In the last blog I think I said that I believe every piece of music starts with the composer, his emotional life, something that people often forget when they temporarily take possession of a piece. Would anyone who has read about Mozart deny that he had an extremely complex character? – if you have ever met a prodigy as I have, they have a strange combination often of genius and arrested development. The value of their genius to the world can make people blind to everything else about them, especially once they are dead! But I believe that Mozart was constantly returning to his lack of childhood as a theme in his music – and more than anything, after a particularly dark or serious passage or movement he seems to erupt into a savagely hysterical burst of childishness. People talk so fondly of Mozart, as childlike or – joyous, whereas to me it always sounds like Mozart has gone into denial about whatever it was he touched upon. The sudden turn that the music sometimes takes into child-like happiness is like an arrow that points to the darkest sadness, even despair.
Click here to read the full post
1 comment | Post Comment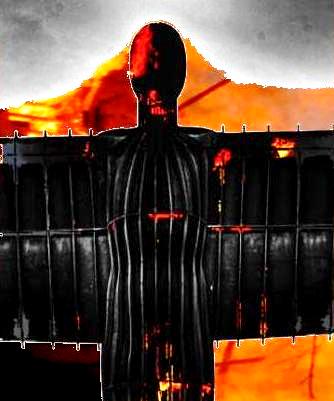 After posting my previous article, I was astonished to find myself so quickly on the receiving end of a few negative reactions to the text and to my work (not on the CT website it must be said). While I felt the speed of some of the responses was indicative of presumptions and criticism leveled without the foundation of any enquiry into the context or substance of my work, it also occurred to me that I had rather brought this upon myself by presenting such an abbreviated and unexplained overview of my activities with Antony Gormley and visual art in general. And so it seemed a timely moment to investigate some of the issues raised, with reference to the Memory Field project.

In summary, the main objections focused upon my posting of my 'sound-map' of the Angel of the North, in response to which it was stated that to corral notation into the shape of a 2 dimensional angel was meaningless in terms of how that shape would relate to the resulting sound, and further to this, to use the notion of retrograde in sound as any kind of representation of a retrograde visual structure (as in symmetrical forms such as a body), was similarly meaningless when transferred over into the new domain. It was also stated that the experience of music resides solely in the orbit of what is heard (i.e. it is a hermetic auditory-only experience) and all reference to the visual is either coincidental and/or irrelevant.



Click here to read the full post




5 comments | Post Comment

Archive
1 | ... | 17 | 18 |

19

| 20 | 21 | ... | 23 |


CompositionToday
offers a huge range resources exclusively for composers.
The benefits of
Full Membership
include:
our comprehensive jobs, competitions and opportunities service
Create your own showcase website, including MP3 samples of your work
In-depth interviews with leading figures from the world of new music
A unique soundbank resource, where you can listen to real instrument sounds organised by range and technique.
Concert Listings Today & Tomorrow: