Other Resources

News Archive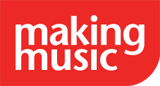 If you want to hear the best of emerging composer talent in the UK, take a look at Making Music's Adopt a Composer programme.
The scheme has run since 2000 and pairs the best of the UK's emerging composing talent with amateur choirs, orchestras and ensembles for a year. Together they produce a new composition of about ten minutes in length, which is then broadcast on Radio 3.
The pieces by the class of 2016/17 were premiered between 22nd and 26th January and will be available on BBC iPlayer for 30 days. More simply, you can hear all of the pieces, and those from previous years, here:
The 2017/18 scheme is well under way, the chosen composers and their groups being:
Anna Appleby with Merchant Sinfonia
Max Charles Davies with Côr Crymych a'r Cylch
Esmeralda Conde Ruiz with The Fretful Federation Mandolin Orchestra
Edmund Hunt with The Singers
Ben See with Stoneleigh Youth Orchestra
Peter Yarde Martin with Bellfolk Handbell Ringers
Gaynor Barradell with Edinburgh Concert Band
You can learn more about how they are getting on in blogs they are posting on the Making Music Website, the two most recent being by Anna Appelby and Max Charles Davies. It's also worth reading about the project from the perspective of the amateur groups—it's clear that they are finding the collaborations just as rewarding as the composers.
If you are interested in getting involved, the next round of applications for the scheme will open in March, for both composers and amateur groups.
Christian Morris talks to composer Nigel Osborne, who was recently been awarded the British Composer Award for Inspiration in recognition of his human rights work.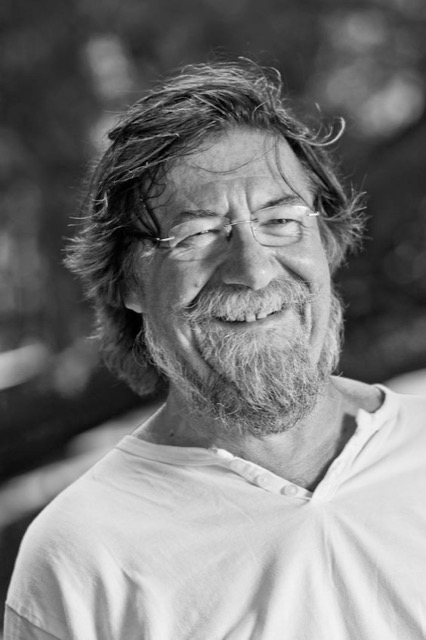 Nigel Osborne
Your early composing followed a well-established trajectory - study at Oxford and abroad, several prestigious prizes, and academic posts in Nottingham then Edinburgh. Then, in 1992, you travelled to Bosnia-Herzegovina following the outbreak of hostilities there. What motivated this decision?

In some ways I was simply getting on with what I had done before. At the point I began to work in Bosnia, I had been involved in human rights activities for over 20 years. I had of course been a member of the "'68 generation", and although I thought many of the student protest movements of the time lacked serious political purpose, I had taken part in demonstrations, particularly about the Vietnam war, and had become closely involved, for various reasons and in various ways, in the unfolding of events in both Northern Ireland and Czechoslovakia.

I had been influenced as a very young man by a lecture Sartre had given in the Club Maintenant in Paris in October 1945 - Existentialism and Humanism. Two things in the lecture had shaped the way I thought at the time. The first was the idea that we build what we become from what we are - in other words that we invent ourselves from the most raw of human materials and are responsible for the person we become and what we do; and that by understanding the nature of our own consciousness, we understand everyone else. This was the basis of a very young man's intellectual leftism.
>> Click here to read the full interview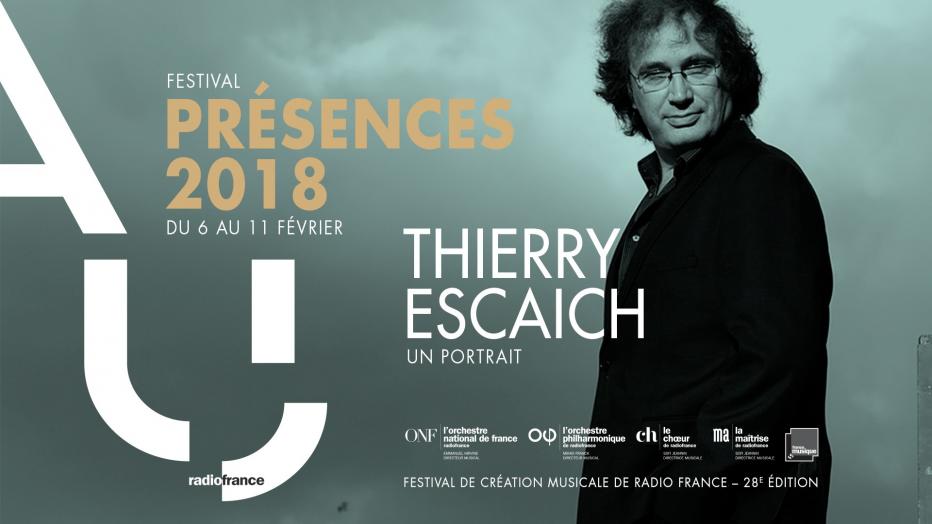 This year Radio France's Festival Présences (6th–11th February) celebrates the music of composer, organist and improvisor Thierry Escaich. As well as performances of existing works, l'Orchestre Philharmonique de Radio France will give the world premiere of a newly commissioned piece. Many other composer-performers will be also be represented, including Wolfgang Mitterer, Michaël Levinas, Lionel Bord, Laurent Cuniot, Benoît Mernier, Thierry Pécou, Burkhard Stangl, Karol Beffa, Eva Reiter and John Zorn.
The concerts take place at Radio France, Paris, principally in Studio 104. The full programme is available, here.
In the UK, Thea Musgrave, now in her 90th year, will visit the Royal Northern College of Music on 1st and 2nd February. There will be the opportunity to hear her in conversation with Clark Rundell, as well as three concerts. These will include seven of her own works, including the world premiere of From Darkness into Light played by the BBC Philharmonic, as well as premieres from Edgar Divver and Robin Wallington.
Other premieres this month include the first UK outing for George Walker's Icarus in Orbit played by the BBCSO at the Barbican on 9th; the world premiere of Mark Bowden's Three Interludes with BBCNOW at Hoddinott Hall, Cardiff on 21st; and new works by Helen Grime on 15th and Joseph Phibbs on 23rd at Wigmore Hall. Also at Hoddinott Hall are three concerts that will explore new orchestral works by up-and-coming emerging Welsh composers. These take place on 1st, 22nd and 23rd.
Lovers of music theatre will want to make time for Satyagraha, Philip Glass's opera based on Gandhi's early years in South Africa, tracing the progress of his concept of non-violent protest as a positive force for change. Performances run from 1st–7th Feb at ENO. At the Royal Opera House, meanwhile, Joby Talbot's ballet The Winter's Tale will be performed from 13th Feb–21st March.
Whilst last year marked the centenary of the birth of Scottish composer Geraldine Mucha, 2018 will see further celebrations of her life and work.
Mucha was born in London and studied at the Royal Academy of Music. In 1945 she moved to Prague with her husband Jiři Mucha, son of the world-renowned Art Nouveau artist Alphonse Mucha. Although her music was performed in Czechoslovakia by leading ensembles, it remains largely unknown in the UK, a consequence of the many years she spent behind the Iron Curtain.
In 2017 a new recording of Macbeth and Other Orchestral Works was released via ArcoDiva and featured her ballet Macbeth (1965), Overture to The Tempest (1963) and Piano Concerto (1961); and, in November, a special centenary concert included her two String Quartets and pieces for Chamber Orchestra, performed by the Stamic Quartet and others.
To learn more about Geraldine Mucha:
Official Geraldine Mucha Website
Other Links:
The 2018 Oscar nominations for best original score are:
Dunkirk, by Hans Zimmer
Phantom Thread, by Jonny Greenwood
The Shape of Water, by Alexandre Desplat
Start Wars: The Last Jedi, by John Williams
Three Billboards outside Ebbing, by Carter Burwell
I know who my money is on.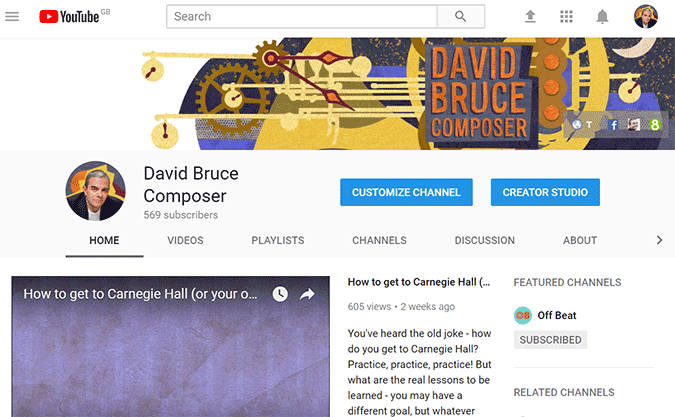 I recently started a YouTube channel to talk about music from a composer's perspective. One of the things I'm hoping to do is offer constructive advice to younger/less experienced composers about their compositions. If you are one, or you know any composers who'd be interested, please do get in touch. All you need to do is send through a score and preferably also a recording or midi file. If I feel I have something useful to say (always constructively!) I will post a video about it (perhaps alongside a few others) at a later date. Please specify if you'd prefer your submission to be talked about anonymously. My channel is David Bruce Composer and you can send any materials through to my channel name (with no spaces) @gmail.com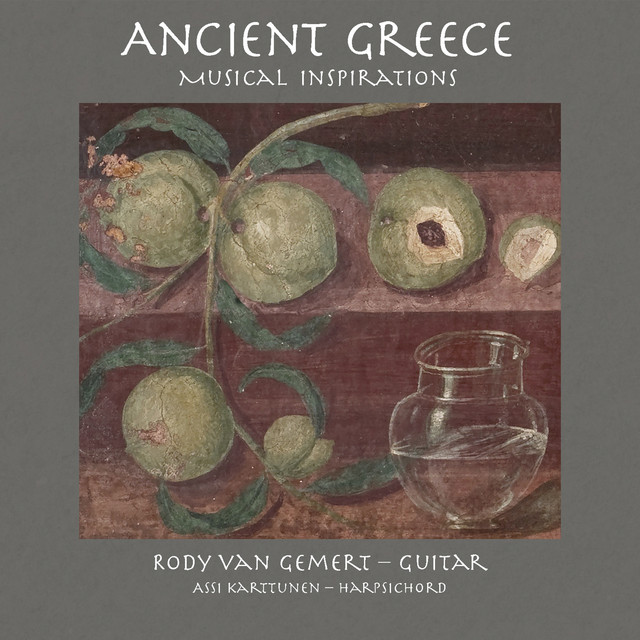 Many years ago I visited the astonishing ruins at Delphi on the Greek Peloponnese. At the end of the visit I went tiredly round the museum, looking at the many interesting if rather worthy exhibits. At the end, having left the building, I suddenly realised that I had missed one of the most important items, the First Delphic Hymn. It is the oldest surviving example of musical notation by a named composer, inscribed on a stone slab found at the site. Of course, I went back to find it. When I did the experience was unexpectedly moving. Genesis.
It comes, therefore, as no surprise to me that musicians might be moved to use ancient works as a basis for a musical project. The album Ancient Greece, Musical Inspirations, featuring guitarist Rody Van Gemert and harpsichordist Assi Karttunen is just such a project.
It is an exceptionally well thought-out programme of music, using not just the First Delphic Hymn but also two versions of the oldest surviving complete musical composition, the Seikilos Epitaph, as a frame. Around this are inserted works by Graham Lynch, Harry Partch, Maurice Ravel and Matthew Whittall. The modern works (which, in this context, includes Ravel) are all inspired in some way by the ancient world. Whether because of the redolence of the Greek theme, the felicitousness of the instrumentation or the exotic quality of the music (often rendered strange by the use of unusual tunings), the result is intoxicating. To listen is to gaze once more at that ancient stone.
Navona Records, a subsidiary of PARMA Recordings, has a very healthy back-catalogue that includes many recordings of contemporary music. They have five upcoming releases, all of which can be previewed on their website or on streaming services: Music in the Listening Place, choral works sung by the Vanderbilt University Chorale; Prisma, contemporary works by Lionel Sainsbury, Clive Muncaster, Patricia Julien, and J. A. Kawarsky; Young Prometheus, featuring works by Mark Volker; Small Stones, Modern Piano Music played by Nancy Zipay Desalvo; and Formika, a collection of chamber by Mexican composer Felipe Pérez Santiago.
NMC are currently running a 20% reduction on their annual subscription, which means if you pay now you'll get all of their 2018 releases at a bargain price. They also continue two of their recent projects this month with releases of Ray Lee's sound artwork Ring Out in their New Music Biennial series and a new collection of Next Waves works by young composers Emma Wilde, Peter Wilson, Alex J Hall, Jack Sheen, Joanna Ward and Robin Haigh.
There are three new contemporary music albums on Naxos: a collection of choral works by Norwegian composer Kim André Arnesen; String Quartets 5–7 by Richard Danielpour; and The Core-Set Project, in which Dame Evelyn Glennie's ensemble offers a programme of fourteen improvised pieces that 'push the boundaries of spontaneous music-making.' Hyperion has released the first two of Tippett's four symphonies, recorded by Martyn Brabbins and the BBC Scottish Symphony Orchestra. Number two, especially, is a marvellous work, a must-listen if you don't know it. They have also released a disk of three concertos by Aaron Jay Kernis, performed by Royal Northern Sinfonia under Rebecca Miller. Bridge, finally, have released Rube Goldberg Variations, an album of chamber music by Dmitri Tymoczko; and Morton Feldman's For John Cage, for violin and piano, one of a series of works he write dedicated to other artists.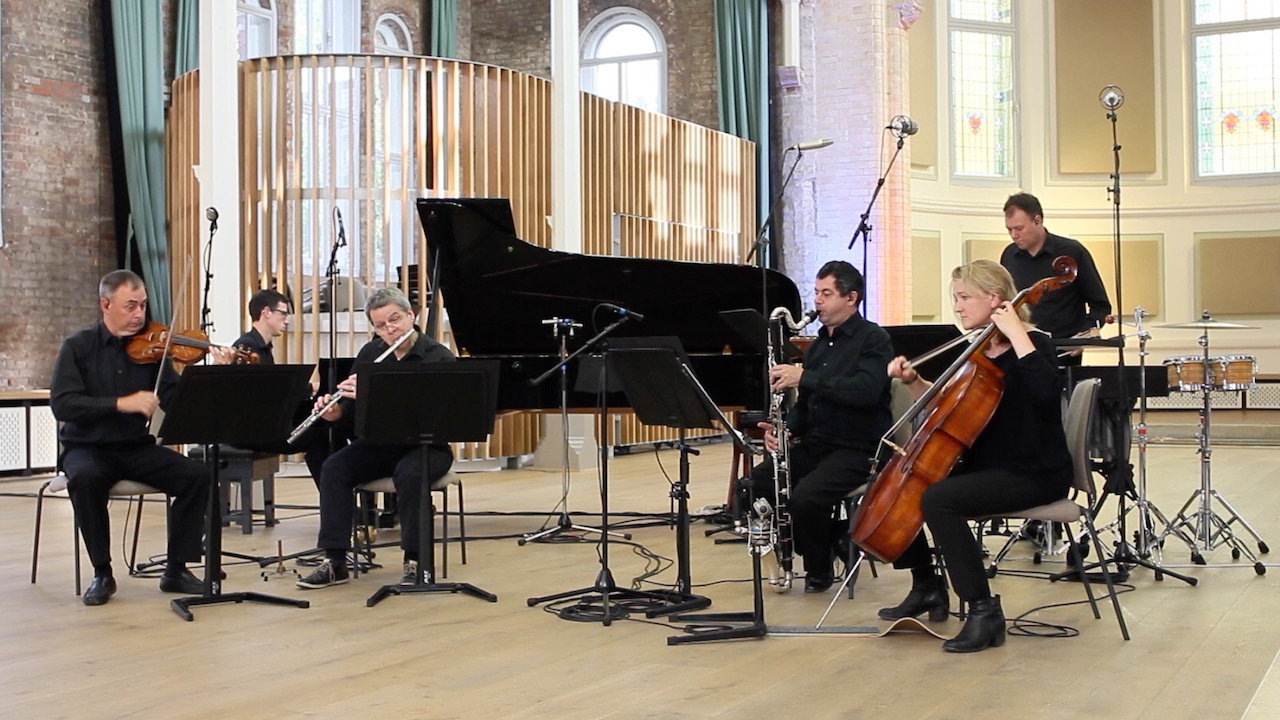 Photo: Psappha Ensemble
The Psappha Ensemble is supporting a record number of up-and-coming composers this season, making the group's Ancoats base in Manchester a prime destination for talented young composers from across the UK.
Psappha is currently working with 24 composers through its "Composing For…" talent development schemes plus a further 12 composers from the RNCM and The University of Manchester, making an exceptional 36 in all.
Each of Psappha's Composing For… schemes focus on a different instrument or instruments, with guzheng (Chinese harp), French horn, violin & cello, and flute & clarinet featured this year. The composers work with a Psappha musicians over a period of six months, leading to the creation of 24 new works. The schemes culminate in a series of filming days where Psappha makes multi-camera HD films of each new piece. Psappha's workshops at The University of Manchester and at the RNCM support advanced students of composition to write for small ensemble in various instrument combinations.
Psappha's Artistic Director selects works from the various schemes to be performed as part of Psappha's Manchester season, meaning that places are much in demand. On 15 February 2018 Psappha will give performances of six works from the ensemble's 2016-17 talent development schemes and Radio 3 will also record the concert.
Tim Williams, Psappha's Artistic Director, says: "Last year our Composing For… schemes focused on writing for flute, piano, trombone and percussion and the composers found the support we provided really beneficial….It's really exciting to be able to discover new voices and to continue the relationship for the longer-term by recommending the composers to other organizations and by performing their work."
A participant in Psappha's 2016-17 Composing For Flute scheme said: "This was an excellent composition scheme to have taken part in. Having the time to develop a piece over several months, attend workshops, and develop a working relationship with the performer is the ideal composition scenario. Receiving a professional film and recording is hugely valuable to have as evidence of my work."
Four composers from last year's Composing For… schemes have gone on to be selected to write works based on pieces of art from the Whitworth collection, supported by a Grants for the Arts Award from Arts Council England as part of the Here and Now wellbeing project. The pieces will be premièred on 17 May 2018 as Psappha invites audiences on a musical adventure through the Whitworth Art Gallery.
Psappha is also currently supporting jazz musicians Mike Walker (guitar) and Iain Dixon (reeds) to write a new work for the ensemble through a series of development workshops which began in July 2017. The premiere of this work will take place on 20 April 2018 at the Stoller Hall in Manchester.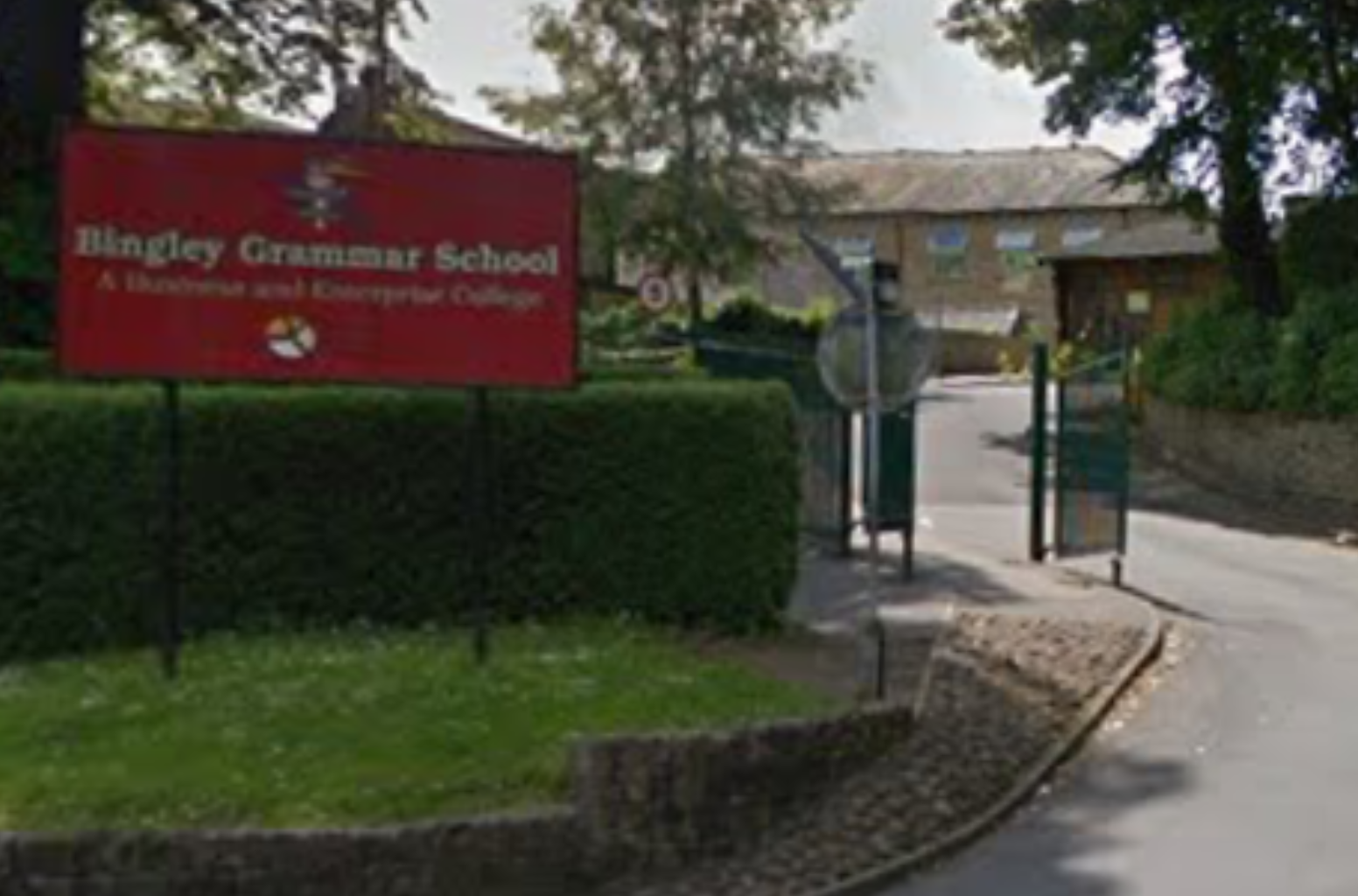 Photo: Google Maps
It has been reported that Bingley Grammar School charges children £5 per week to take GCSE music lessons after school. The decision was described by the Incoporated Society of Musicians as 'shocking and deeply troubling', whilst Andrew Lloyd Webber told The Stage that 'the arts have never been as vital as they are today and they should be free.'
Head Teacher Luke Weston defended the school's decision, saying that this has 'nothing to do with funding, it's really allowing our kids to have an extra GCSE at a time that suits them.' He also said that the new system has led to increased interest in the subject, with 25 studying this year, and that the school is still paying '99.9% of the bill. The GCSE cost is not £5 a week, it's significantly more than that.'
Whilst I have every sympathy for a school trying to do the best by its pupils—and I'm sure that that is what is happening here—this is, nevertheless, a cause for concern. First of all, whilst this particular development might be, in the (intentionally oxymoronic?) words of Norman Lebrecht, a 'rogue precedent', there has been other evidence of music being belittled as an academic subject during the last twelve months, including, last March, Charlotte C. Gill's attack on music notation and, in June, the news that the Joyce Franklin Academy in Essex had removed music from year 7 and 8 (ages 11–13) timetables in an effort to balance their budget. I wonder how many examples we are not hearing about? I think, therefore, where this sort of story appears it is important to call it out. How else are we to stop the rot?
I also think it is disingenuous for the Head Teacher to claim that charging money for pupils has 'nothing to do with funding.' In which case, why charge them? Curiously my own experience in school was rather similar to that of Bingley Grammar School. No place could be found in a crowded curriculum for GCSE music, but the school, and its music teacher, moved heaven and earth to lay on extra lessons. Whilst we didn't take it after school but in our games lesson, there was certainly no extra charge.
The Head Teacher also claims that the school covers 99.9% of the cost of GCSE music lessons. A little maths reveals the truth. If each pupil in a class of 25 pays £5 each, that is £125 per week. Let's extrapolate that out to the whole year, which would consist of roughly 39 weeks. That is £4875. My guess is that that covers a very significant percentage of the course costs. Certainly not 0.1%, unless the Head Teacher was previously paying £4,875,000 to lay on GCSE music, in which case he probably needs to shop around.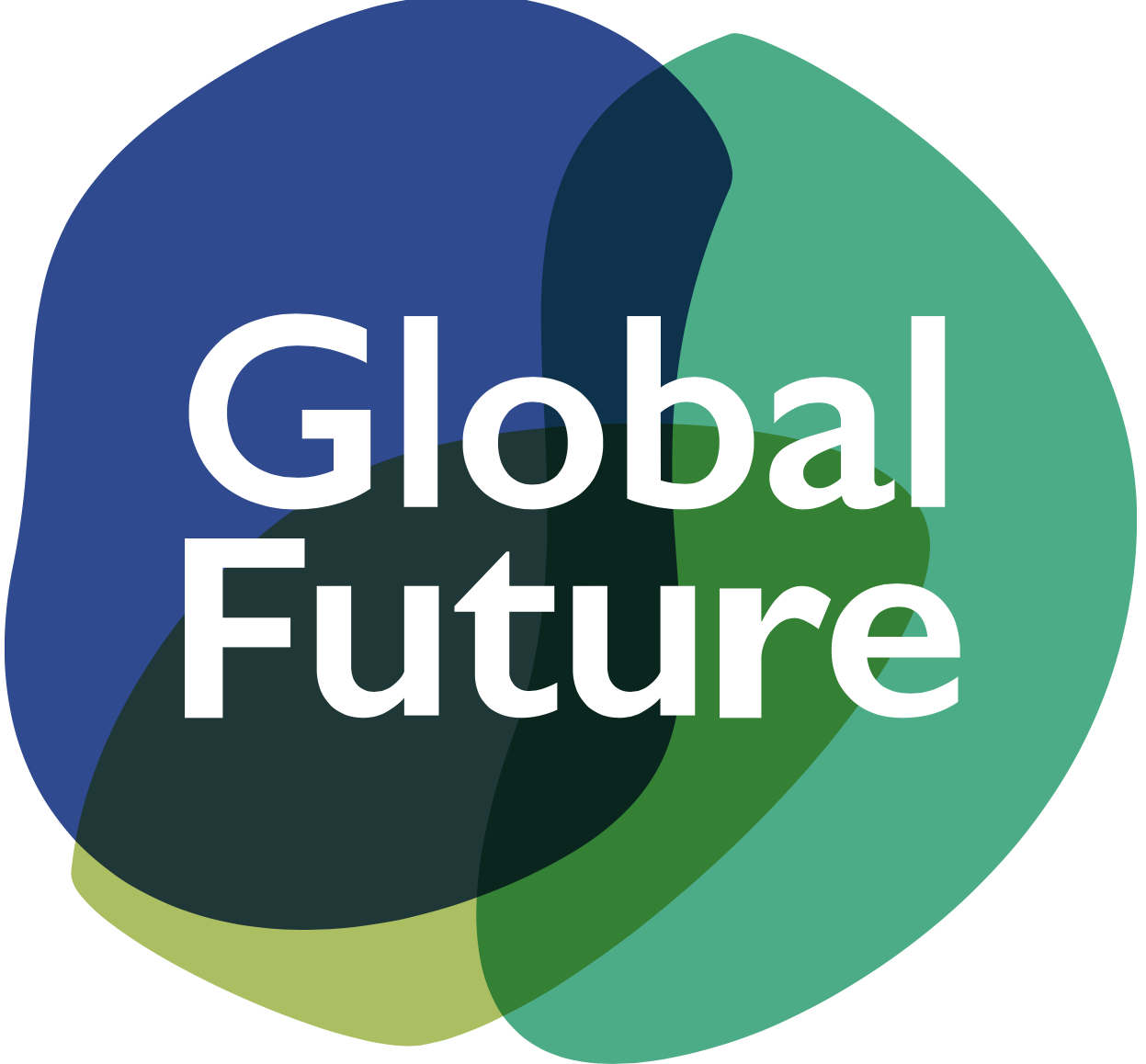 Presumably when Matt Hancock, the new UK Culture Secretary, compared the creative industries to a woolly mammoth on Tuesday, he meant 'big' and and not muddle-minded. We can only hope he is listening to the concerns of Global Future, who have published evidence that Britain's creative industries want to retain freedom of movement after Brexit.

It would be easy to accuse the government of woolly thinking on Brexit, but on this subject at least they have been fairly consistent—free movement will end when the UK leaves the EU. It will require, therefore, either a rethink on the part of the government, or for Jeremy Corbyn to whip his MPs to support any Single Market Commons' rebellion. Neither scenario seems likely.

From the Global Future Website:

A GLOBAL FUTURE REPORT DECEMBER 2017

Leading figures in Britain's Creative Industries fear a hard Brexit will damage a sector of the economy that the Government itself estimates is worth more than £87 billion a year.

A survey for the Global Future think tank with 50 of the most influential figures in creative Industries is published today.

IT REVEALS:

• The single highest priority for government action now is preserving the right for Freedom of Movement between the UK and the European Union. This is seen as more important for securing growth and vibrancy in the future even than government funding for the arts or securing trade and investment.

• The creative leaders were almost unanimous (46 out of 50) in saying a hard Brexit that ended free movement would have either a negative or devastating impact on their industries.

• A similar number of respondents said cultural diversity was one of the chief reasons behind Britain's creative success on the world stage (42), that there was now a big risk for the UK's soft power and creative reputation (46) and that morale in their sector had fallen since the European referendum last year (41).

GURNEK BAINS, CEO OF GLOBAL FUTURE, SAID:

"Britain's Creative Industries employ more people than our financial sector and make a hugely important contribution to our economy, as well as driving our soft power in the world. Until now their voice has not be heard properly in the debate about our future."

"But this survey shows that leaders in this industry regard a hard Brexit, which would severely restrict their ability to hire the talent needed to thrive, now threatens one of the things that makes Britain great."

Respondents included: Sarah Alexander, CEO, National Youth Orchestra; Nick Capaldi, CEO, Arts Council Wales; Mike Pickering, A&R, Sony BMG; Nitin Sawhney, Musician, Producer and Composer; and Alex Beard, CEO, Royal Opera House.

Archive
1 | 2 |

3

| 4 | 5 | ... | 48 |