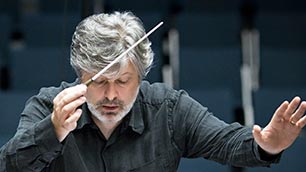 It's already time to start looking ahead to see what the New Year holds in store for contemporary music. I will do a full preview of 2014 nearer the time, but in the meantime here are some of the best concerts and events to take place in January.
UK highlights include the first performance of Larry Groves' The Rules by the National Youth Orchestra on January 5th at the Barbican; Juan Maria Solare's Fénix with the CBSO in Birmingham on 10th; Kevin Volans' Symphony Daar Kom die Alibama and James Macmillan's Tuireadh with the Scottish Chamber Orchestra at the Queen's Hall, Edinburgh on 23rd; and works by Ruth Crawford Seeger, Christopher Trapani, Brian Ferneyhough, Julian Anderson and Horatio Radulescu performed by the Jack Quartet at Wigmore Hall also on 23rd. There are also a number of themed events: a Hear and Now James Macmillan Concert at City Halls, Glasgow on 11th; a five year anniversary concert at Hoddinott Hall, where there is the rare chance to hear several pieces by the venue's namesake Alun Hoddinott; an 'Eastern Vigil' concert on 22nd given by the Estonian Philharmonic Chamber Choir, who will sing works by Arvo Pärt, Cyrillus Kreek, Vasyl Barvinski and Nikolai Kedrov; and a concert of contemporary Danish music at Hoddinott Hall, Cardiff with BBCNOW on 28th. Also of interest is a welcome revival of David Alden's 2009 production of Britten's Peter Grimes, which begins its new run on 31st January at the London Coliseum.
There are several workshop-based events that will provide practical advice and inspiration to composers. The first is the LSO Soundhub Showcase on 11th January at Jerwood Hall, London. The event will provide the opportunity to meet five of the composers in the second year of Soundhub membership as they introduce a series of new chamber works written for members of the LSO. In a similar vein, on 21st at Studio 7 at the RNCM, there will be the chance to see behind the scenes as the works of ten contemporary composers – studying at the RNCM, Chetham's Schools of Music and Salford University – are rehearsed, discussed and developed in a workshop with Camerata musicians overseen by Tansy Davies. On 28th at St. Paul's Knightsbridge the BBC Singers in collaboration with Choir and Organ magazine will hold a Writing for Choirs workshop. Conductor Matthew Hamilton and composer Gabriel Jackson will give tips and techniques on notation, score-layout, vocal ranges, text-setting and choral techniques, whilst the BBC Singers will contribute their practical experience and expertise.
In the Salle Pleyel, France on 8th January Anne-Sophie Le Rol, Glen Rouxel and Suzana Bartal will play Sonata pour deux violons and Toccata pour piano solo by Eric Tanguy; also at the Salle Pleyel on 19th there will be a world première of a new work by Alberto Colla given by Orchestre National d'Île-de-France; the Boston Modern Orchestra will give premières by Rakowski, Ueno and Ruehr at Jordon Hall on 17th; whilst in the Concertgebouw, Amsterdam on 25th harpist Gwyneth Wentink will play works by Mensingh, Pärt, Snoel, Schlomowitz, Cymatical and Simeon ten Holt. Always interested in politics, an opera production that caught my attention was Sebastian Rivas's Aliados, which Nixon in China-like examines the interaction of two world leaders, in this case Margaret Thatcher and Augusto Pinochet. Events are during the time that Pinochet was arrested in the UK and Thatcher lent him her unreserved support. The production takes place in the Théâtre de St-Quentin-en-Yvelines in Paris starting on 31st.
0 comments | Post Comment
There are three projects on NMC to discover this month. The first is a continuation of their Sinfonietta Shorts venture, which debuted in 2008 as a celebration of the ensemble's 40th birthday. The project has returned with five new bite-sized recordings of contemporary music: Axeman by Anna Meredith, es by Dai Fujikura, Little Duo by Jonathan Harvey, Duet 3 by Harrison Birtwistle and Parable by Mark Bowden. There is also a series of videos with players performers and, in the case of Jonathan Harvey, whose work was one of his last, an interview with Andrew Burke, the chief executive of the London Sinfonietta.
The Digital Discoveries project draws on the vast library of twentieth century and contemporary music held at the British Music Collection. The aim is to make hard to find music more widely available, both unfamiliar works by big name composers and those by less well-known figures that deserve to be rediscovered. Those represented include (out of 28 in total): Richard Ayres, Joe Cutler, Sam Hayden, Graham Fitkin, Tansy Davies, Luke Stoneham, Laurence Crane, Joseph Phibbs, Paul Whitty, Michael Zev Gordon, Geoff Hannan, Richard Baker, Katharine Norman, Andrew Toovey and Gabriel Jackson. The complete set is available for £35 or individual volumes may be purchased for £5.99 (mp3) and £6.99 (FLAC).
Finally, NMC mark the end of Britten's centenary year in terrific fashion: with a double-disc set of unrecorded and largely forgotten music by the composer. The focus is on works written by Britten in America and on his association with Auden and Isherwood. Whilst this is largely the music of a jobbing composer rather than the towering figure that Britten later became, there is no doubting its effervescent quality. There is knowing pastiche everywhere – blues, cabaret songs, Hollywood schmaltz, Bach chorales – a reminder of the many influences that Britten absorbed in forging his mature style. Some of the works also serve as moving mementos of troubled times, especially, for example, An American in England, six programmes about wartime conditions in England. Britten probably viewed some of the music on these disks as, in some respects, disposable. However, even such obvious pastiches as the songs Roman Wall Blues and Where Do We Go from Here? stay with you long after listening. We should be grateful indeed to NMC for unearthing them after all these years.
Other releases
Into the Ravine on Signum Records contains works written for the Carducci Quartet and premièred at the Presteigne Festival: Michael Berkeley's Oboe Quintet, Into the Ravine; John McCabe's String Quartet No. 7, Summer Eves and Adrian Williams' String Quartet No. 4. Naxos marks the death of John Tavener with a new recording of Pratirūpa in its version for piano and string orchestra, performed by Ralph van Raat with the Netherlands Radio Chamber Philharmonic. There are also new recordings of Seven Beauties Ballet Suite and The Path of Thunder by Shostakovich's pupil Kara Karayev; Symphony Elixir and Songs of Love and Solitude by Keith Burstein; Sinfonia en Negro, Double Concerto and Columbus by Leonardo Balada and Piano Quintet Mei, Lan, Zhu, Ju and other works by Gao Ping.
0 comments | Post Comment

There are a few contemporary music treats to enjoy before the classical music world dissolves into a frenzy of yuletide bonhomie.
On Friday 6th December there is the London première of Georg Frederick Haas's In Vain, described by Simon Rattle, no less, as 'An astonishing work of art that has become a cult wherever it is played. One of the first great masterpieces of the C21st.' Falling on at the end of the Southbank's year-long The Rest is Noise celebration, the London Sinfonietta will hold a 'Festival in a Day' on 8th. There will be twelve premières, including works by Edmund Finnis, Francisco Coll, Rebecca Saunders and Simon Steen-Anderson. On 12th December in City Halls, Glasgow, the BBC Scottish Symphony Orchestra will perform John Adams's City Noir, a symphony of Los Angeles inspired by classic movies and scored for large orchestra.
Perhaps inspired by the time of year, there are several concerts of more accessible contemporary music. There is iconic film music on 1st December in a 60th birthday tribute concert to Patrick Doyle, whose scores include Hamlet, Henry V, Harry Potter and the Goblet of Fire and Eragon. There will also be the world première of his score for Jack Ryan. The BBC National Orchestra of Wales's concert Americana on 2nd December includes works by Copland and Bernstein. The latter's West Side Story – Symphonic Dances also concludes a programme of Barber and Gershwin given by the BBC Symphony Orchestra at BBC Maida Vale on 6th December.
At the Musikverein, Vienna on 2nd December Ensemble Kontrapunkte present a programme that consists of music by Norbert Sterk, Judith Unterpertinger, Manuela Kere, Shih, Gernot Wolfgang and, the composer whose disc I reviewed in my previous post, Gerhard Schedl. On 8th December, Merkin Concert Hall in New York City will host pianist Aleck Karis presenting a concert dedicated to late works of the iconoclastic composer Morton Feldman. These are coupled with two pieces by Stefan Wolpe and Anton Webern's Piano Variations. On 9th December, finally, at IRCAM, Paris, Tedi Papavrami (violin), François-Frédéric Guy (piano) and Xavier Phillips (cello) will play two works by Marc Monnet – Trio No. 3 and Imaginary Travel – framed by performances of Liszt's Pensées des Morts and Bartók's Sonata for Solo Violin.
0 comments | Post Comment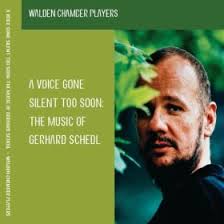 The Boston-based Walden Chamber Players have just released a tribute to Austrian composer Gerhard Schedl. It's title, A Voice Gone Too Soon, is a reference to his tragic death aged 43: he shot himself in woods near his house in Eppstein after suffering a long period of depression.
The knowledge of Schedl's end makes experiencing his haunting music all the more poignant. It often moves at slow tempi, with passages of expressive gentleness being juxtaposed with sudden outbursts that feel bitter or sardonic. His music also sings; there is a strong emphasis on achingly melancholic melody. These traits may or may not be related to Schedl's difficulties in life, it is impossible to say. What is much more certain is that each of the four chamber works on offer here—a duet, two trios and a piano quintet—show exquisite craftsmanship. Schedl's expert instrumental writing, his judgement of balance and effect, do not falter throughout the programme.
Happily, the searching qualities of the music are married to structural discipline, perhaps reflecting the composer's Austro-German lineage; he admitted, for example, to be strongly influenced by Bach. Whilst tonality is not, per se, an organising force, there is the use of pivot notes to ground the texture and even to reference, at a level of remove, tonality. This is most apparent at the end of the String Trio where a pitch centre set up at the opening of the work and a surface motive unite in what feels like an echo of a traditional cadence. A Due makes use of similar devices as well as cyclic recurrence of musical material (the opening of the last movement, for example, references the beginning of the work). A Tre is based on a single motive, used throughout. In five movements the shape is less traditional than those used in the other works, though, in some respects, the two Adagio movements, separated by one marked Moderato, feel as if they might have been conceived as one and later separated. In any case the resulting structure is satisfyingly balanced.
Most poignant of all is the final work of the programme A Cinque. It ends with an Adagio of harrowing beauty, a simple descending idea on the piano set alongside ethereal interjections from the clarinet, violin, viola and cello. Eventually the piano figure seems to win over the other instruments and the music draws to an agonising but serene close. It is draining to listen to this and at once to think of the tragedy of Schedl's end.
The Walden Chamber Players have done us a great service in recording this marvellous music, more so because they are both alive to its every nuance and completely in command of its exacting technical requirements. The recording is clean, immediate and well-balanced. Recommended.
The rest of this month's releases
Naxos have released a new recording of early Benjamin Britten Chamber music with Matthew Jones on Viola and Violin and Annabel Thwaite on Piano. With the exception of his Lachrymae: Reflections on a Song of Dowland, all were written in the period between 1925 and 1937, three—Two Pieces for Violin and Piano; Etude, for Solo Viola; and Valse in B major (written at the age of just twelve)—being world première recordings. The Maxwell Davies series continues with the composer conducting the Scottish Chamber Orchestra in performances of his Strathclyde Concertos Nos. 7 (for double bass) and 8 (for bassoon) and A Spell for Green Corn, written to celebrate both the composer's 60th and the SCO's 21st birthdays. There is a recording of Philip Glass's Concerto Fantasy for Two Timpanists in a transcription for wind ensemble, paired with the world première recording of Mohammed Fairouz's Symphony No. 4 In the Shadow of No Towers. The University of Kansas Wind Ensemble under Paul W. Popiel perform both works. Finally on Naxos, and in time for Christmas, is a disc of carols by the ever-popular Bob Chilcott, performed by Commotio under Matthew Berry.
Around the turn of the month, NMC will launch 8 volumes of music garnered from the 2004-2008 Contemporary Voices scheme. You can read about this forthcoming project on their website. More details in a future post. They will also soon release both an audio CD and DVD of Elliott Carter's 103rd Birthday Concert held in December 2011 in New York City. Preview extracts can be heard here.
0 comments | Post Comment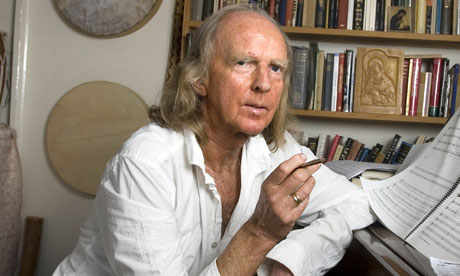 John Tavener, who died yesterday aged 69, was one of contemporary music's most remarkable figures: his ability, especially, to write works that connected with ordinary people was unsurpassed in the contemporary music world. Whilst to many this was a source of suspicion – the term 'holy minimalist', often applied to him by critics, was not one of endearment – there is little doubting that his was a distinct musical voice.
Born in 1944, Tavener began composing at Highgate School. Even at this time religion was a vital inspiration–one of his earliest compositions, written at the age of 15, was a setting of John Donne's Holy Sonnets Spit in my face you Jewes. After studying with Lennox Berkeley at the Royal Academy, he rose to prominence with his cantata The Whale, premiered in 1969 by the London Sinfonietta in their inaugural concert. On attending the first performance, the Guardian critic Meirion Bowen remarked of the 24-year old composer: 'to my mind, John Tavener is the discovery of the year. An extraordinarily gifted and imaginative composer.' The work, especially because of its association with the Beatles (who were persuaded to release it on their Apple record label), led to Tavener becoming something of a cult figure in swinging sixties London.
Bowen had also wryly observed that Tavener was 'one of the most colourful sights on the concert platform.' Tavener's distinctive looks – the tall wiry frame that lent him an aspect of ethereal delicacy – proved to be an outward sign of internal problems; he was a lifelong sufferer of a cardio-vascular condition known as Marfan Syndrome. His awareness of this in the 70s perhaps gave greater urgency to his spiritual searching. This was initially manifested in an interest in Catholic mysticism. His Ultimos Ritos (1972), for example, sets quotations from the Crucifixus of Bach's B Minor Mass against poetry of St. John of the Cross, even the disposition of the forces – the choir is arranged in the form of a cross – reinforcing the religious message. There was also a large-scale opera, Thérèse, which examined the life of the French Saint, who died at the age of 24 in excruciating pain following a loss of faith. By the time of the work's first performance in 1979, however, Tavener had already converted to the Russian Orthodox Church.
The mid to late 70s had proved to be a difficult period for the composer. The early success of The Whale had initially led to an ongoing relationship with Apple with the release of his Celtic Requiem and Nomine Jesu. However, during much of the latter period his music had lain unrecorded. His personal life too had been unhappy; he was badly affected by the failure of his brief marriage in 1974 to the Greek dancer Victoria Maragopoulou. Neither did the 1980s start auspiciously. In 1980, at the age of 36, he suffered a stroke that was to mark an intensification of his health problems. Creatively, however, this period saw the emergence of his mature compositional voice, resulting in a number of works remarkable for both their intense spirituality and their penetration into popular culture.
His 1982 setting of the Blake poem The Lamb, which contrasted mirrored intervals and simple harmonisations, won wide popularity and is probably his most frequently performed work. Subsequent compositions – Ikon of Light (1983), Orthodox Vigil Service (1984) and Panikhida (1986) – continued this trend, but it was The Protecting Veil (1988) that marked his re-emergence in mainstream popular culture. The recording of the work, a large-scale Maryan devotion for cello and string orchestra, quickly became a best-seller. Around this time the media increasingly portrayed him as a kind of spiritual guru, often photographed in quasi-religious dress and with Orthodox religious paraphernalia. It was an image that did little to win over his critics, and was something he later regretted, remarking: 'They used to come with props and dress me up and I let it go. But I find it a bit offensive now, because those pictures suggest a cheap easy spirituality when it was actually hard. I feel I should have shut up about Orthodoxy and just got on with it.'
Tavener's international popularity intensified in 1997 with the performance of his Song for Athene (1993) at the funeral of Diana, Princess of Wales. There were also, however, more substantial projects in preparation. The Veil of the Temple (2002), for example, is a work of both cosmic length and sustained simplicity, the performance lasting seven hours. His Requiem (2007), at a more terse 30 minutes, is a moving multi-faith exploration of the theme of death. The work also, sadly, marked a sudden decline in the composer's health. He suffered two heart attacks in 2007-8 and was unable to compose for several years.
One senses that the road to recovery was more than physical for the composer – that it had also led to a reappraisal in other areas. Partly this was expressed in regrets as to how his religiosity had been marketed to the detriment of his music. It is also significant that his illness had led him back to classical works that he had long eschewed. Of this potential new direction he said: 'what I am writing is scaling down. It's more intimate, more personal, much of it addressed to my family. Religion has become a more interior process.' In one of his last interviews, cruelly billed as a 70th birthday tribute, he was full of plans for the future. Sadly, these will never be fulfilled. We are left, however, with a remarkable creative life to ponder and, not least, a canon of works that prove that contemporary music can connect with ordinary people in the most vital way.
0 comments | Post Comment

Time to enjoy 2013's last gasp of contemporary concerting before the festive season kicks in…
November sees the climax of the Britten centenary celebrations, with his birthday falling on 22nd of the month. There is much to enjoy.
Glyndebourne is touring his most ascetic of operas, The Rape of Lucretia, with performances in Woking (31st October) Norwich (8th November), Canterbury (15th), Milton Keynes (22nd) and Plymouth (6th). There will also be a semi-staged performance of Albert Herring on 23rd at the Barbican. Other substantial works include his Sinfonia da Requiem in Cardiff on 1st and in Nottingham on 20th; two performance of his War Requiem, one in the Albert Hall, London to mark Remembrance Day on 10th, the other in Usher Hall, Edinburgh on 15th; and his charming children's opera Noye's Fludde in Glasgow on 17th. As well as the aforementioned Albert Herring, his birthday weekend will be marked with several events: a Britten centenary concert of vocal works at Symphony Hall, Birmingham (22nd); a come-and-sing performance of Friday Afternoons at Jerwood Hall, London; and a centenary family concert at Snape Maltings on 23rd.
Amidst the Britten celebrations, there are also a number of concerts featuring the works of living composers. There is a day devoted to the music of Julian Anderson at Wigmore Hall, London and a concert of music for organ and electronics in Colchester on 2nd; the world première of Peter Maxwell Davies' Ebb in Edinburgh with the the Scottish Chamber Orchestra in Edinburgh on 9th; two concerts of premières or recently-written music music in London on14th, one at The Forge, the other at BBC Maida Vale; Georg Freidrich Haas's in vain at Huddersfield Town Hall on 16th; a concert devoted to American music at Hoddinott Hall, Cardiff on 19th; and Andrew Smith's Norwegian Requiem at LSO St. Luke's, London on 26th.
Outside the Europe there is the opportunity to hear Louis Andriessen's Mysteriën on 3rd in Amsterdam; music by Johannes Maria Staud, Bernd Richard Deutsch and Peter Eötvös on 15th in Vienna; and a Wolfgand Rihm world première also in the city. Both of these last two feature as part of the Wien Modern festival which began last month but runs until 15th of November. Further details of the remaining concerts can be found here.
EDIT: Fool that I am, I missed one of the most important contemporary music events in this roundup. Happily, there's still time to organise your visit to the Huddersfiled Contemporary Music Festival, which runs from Friday 15th to Sunday 24th November. Full details are available here.
0 comments | Post Comment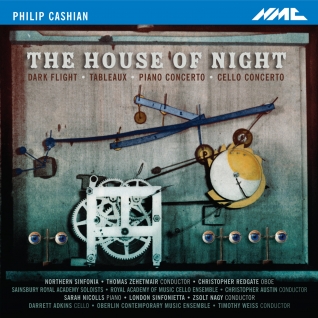 NMC's new disk dedicated to the music of Philip Cashian spans some ten years of his output. It includes his Tableaux for small orchestra, Cello Concerto, Dark Flight for six cellos, The House of the Night for oboe and twelve solo strings and his Piano Concerto. I've only spent the morning dipping into it, so will limit myself to saying that this is exciting and brilliantly inventive music, well worth checking out. Extracts are available on the NMC website together with an interview with the composer. The complete disc is available on Spotify.
EMI have just released a new recording of Britten's War Requiem, with Antonio Pappano conducting the Orchestra, Coro e Voci Bianche dell'Accademia Nazionale di Santa Cecilia with soloists Anna Netrebko, Ian Bostridge and Thomas Hampson. It's a worthy and powerful addition to the catalogue, though I found the unfamiliar timbre of the Italian choir jarring in this most English of repertoire. It also faces stiff opposition, not least from Britten's own recording and – my personal favourite – Richard Hickox with the London Symphony Orchestra and Chorus.
On Naxos there is a programme of flute music by Latvian composer Pēteris Vasks. It contains his Flute Concerto, Sonata for Flute and Alto Flute, Aria e Danza and Ainava ar putniem (Landscape with Birds) performed by Michael Faust, Patrick Gallois (flutes), Sheila Arnold (piano) and Sinfonia Finlandia. Also on Naxos, Jeremy Filsell's Tomorrow Shall be my Dancing Day, Epitaph, If God Build Not the House and Windsor Service; and David Briggs's Pange Lingua and Messe pour Saint-Sulpice receive world première recordings by the Vasari Singers conducted by Jeremy Backhouse. The composers accompany on the organ. Finally on Naxos, there is a new album containing John Cage's A Book of Music for two prepared pianos, Suite for Toy Piano and Music for Amplified Toy Pianos performed by Xenia Pestova and Pascal Meyer.
Chandos, meanwhile, have released a new album of music by John Adams with the Royal Scottish National Orchestra conducted by Peter Oundjian. It contains his Doctor Atomic Symphony, Short Ride in a Fast Machine and Harmonielehre. It's also worth checking out Chandos's end of stock, better than half price, page; there are a number recordings of music by living composers to be found there, including by Michael Berkely, Jonathan Dove, James MacMillan and David Matthews. Also of interest to many will be a new release on DG of Boulez conducting the complete Mahler Symphonies. I am intimately familiar with his recording of Number 6 ('the only sixth, despite the Pastoral' as Berg said), included in this set. Boulez often divides opinion, of course, but I found it extremely exciting – not remotely 'cold' as he is so often characterised. The rest of the set should, therefore, be worthy of exploration.
0 comments | Post Comment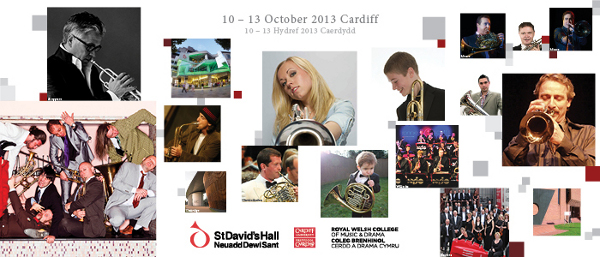 'The trumpet does no more stun you by its loudness, than a whisper teases you by its provoking inaudibility.'
So it proved this weekend at Arcomis's extraordinary International Brass Event in Cardiff. This is, by no means, a complete review – I wasn't able to attend the whole event – but I did manage to spend most of Saturday and the first half of Sunday at the festival, gobbling and binging on its many world-class concerts.
As a brass player I suppose I was inevitably going to be delighted at the prospect of hearing players of the likes of Tine Thing Helseth, Allen Vizzutti and David Childs all in one place. Nor did any of them disappoint. For me, however, it was Vizzutti who stood out. Not only does his playing exhibit astonishing mastery, he is also, it turns out, no mean composer either. Of the many pieces of his we heard, I was particularly struck by his Andante and Capriccio, a work that was refreshing in its lack of pretension: well-made music with beautiful melodies and luxurious textures and harmonies.
And amidst all the brass fireworks there was plenty of other new music to enjoy. A crack brass quintet from the London Sinfonietta tackled a technically exhausting programme of Berio, Birtwistle, Lutoslawski, Macmillan and Jackson. Byron Flucher stood out with a whimsical and well thought-out performance of Berio's Sequenza V for solo trombone. I also enjoyed the three works for quintet: Lutoslawski's Mini Overture, MacMillan's Adam's Rib and Jackson's Two Haiku. Despite admiring the incredible control of the two trumpeters in Birtwistle's The Silk House Tattoo, however, I remain puzzled by the work. Perhaps this is because it is Birtwistle at his most pared down, even the theatrical element reduced to a ritualistic marching of the trumpets round an imaginary circle. It all left me feeling a bit cold, wishing I could listen to one of his more luscious orchestral scores. The Sinfonietta concert was followed by a workshop given by players Alistair Mackie and Byron Flucher, entiled A Way into Berio. Aimed primarily at players it also provided penetrating analysis of Sequenzas V and X. Flucher's demonstration was particularly revealing. Uninformed players come to this repertoire at their peril.
David Childs' brilliant advocacy of the euphonium on Sunday morning was only let down by a programme that was, perhaps, a reminder to composers that this is an instrument that needs and deserves more repertoire. The world première of Mervyn Burtch's Nocturne and Dance stood out, a tautly written work in his characteristically astringent style. Also on offer was Karl Jenkins' Euphonium Concerto, written specifically for Childs. Often infectious and attractive it was, however, sometimes spoilt by taking itself too seriously, most notably in a badly misjudged section of multiphonics – an unnecessary nod to modernist extended techniques from a composer who prides himself in being above such things.
Throughout the concerts were interpolated a series of newly commissioned fanfares. I declare my interest here and say that one of these was written by me. Written in homage to anniversary composers Britten, Lutoslawski, Hindemith, Poulenc and Berio, they also provided musical clarion calls before and after concerts at St. David's Hall (and, in one case, at the Royal Welsh College of Music and Drama). In addition to this there was a concert of new works for brass that resulted from an Arcomis call. For me this was the beating heart of the Brass Event. As we sat listening in a nightclub-like atmosphere, glass of wine in hand, to the varied and interesting newly written works, the whole purpose of the weekend became clear. In a sense all the high-profile concerts and workshops were a foil, a brilliantly subversive feint that enabled Arcomis to get across its core message: that new music matters and that, whatever your stylistic preference, there is a living composer who can provide you with music you can love. One can only hope that Arcomis is successful in its mission to connect people to the arts. And that we can have another festival soon. Please.
For more information about Arcomis see CT's interview with its director Adrian Hull.
0 comments | Post Comment

Following their success with the 2011 International Flute Event, Arcomis (Arts Commissioning) have followed-up with a festival dedicated to brass music. The Arcomis International Brass Event takes place from 10th–13th October in Cardiff. It offers an extraordinary range of big name performers including: David Pyatt (french horn); Tine Thing Helseth, Allen Vizzutti and Håkan Hardenberger (trumpet); Oren Marshal (tuba); David Childs (euphonium); the London Sinfonietta; BBC National Orchestra of Wales; and Mnozil Brass. Composers represented include Oliver Knussen, Mark-Anthony Turnage, Edvard Hagerup Bull, James Macmillan, Luciano Berio, Mervyn Burtch and Tobias Broström. There will also be a series of newly commissioned fanfares interpolated throughout the concert series as well as a large number of behind-the-scenes workshops.
Sound, Scotland's festival of new music, takes place from 23rd October–23rd November in and around Aberdeen. It opens with a new work Framed Against the Sky by Brian Irvine. From 24th–27th October there will be an exploration of the world of microtonal music in collaboration with University of Aberdeen, including new works by Christopher Fox and Geoff Palme. The festival will also take a look at how sound and images interact in performances of Stephen Deazley's ManHigh, Joby Burgess's Powerplant and a sound tapestry by Leafcutter John.
In Italy the Venice Biennale 57th International Festival of Contemporary Music runs from 4th–13th October. There are premières of works by Sofia Gubaidulina, Evis Sammoutis, Rebecca Saunders, Andrea Portera, Claudio Ambrosini, Claudio Ambrosini, Kaija Saariaho, Giampaolo Coral, Raffaele Grimaldi, Raphaèle Biston, Ryo Dainobu, Pasquale Corrado, Eric Maestri, Zad Moultaka and many others. There is also a very wide range of more established contemporary music on offer. The full programme is available here.
In Madrid, finally, the 13th Festival Internacional de Música Contemporánea is already underway, but there remains much to hear before its conclusion on 27th October. There are world premières from David del Puerto, Leonardo Balada, Pascal Gaigne, Jesús Torres, Mario Carro, Juan Manuel Ritz, Eduardo Soutullo and Cruz López de Rego as well as music from composers such as Cage, Stockhausen, Ligeti, Gorecki, Bryars and Britten. For the first time, each concert will also be prefaced or finished with seminar discussions with composers and/or musicians.
0 comments | Post Comment

Do you have a piece of music languishing in a bottom drawer? You are rightly convinced of its merits, but do not have the financial means to get it performed?

When Harry Whalley, an Edinburgh based composer, found himself in this all too familiar predicament, instead of succumbing to bottom drawer desperation he launched his piece Entangled Music on Kickstarter, the website that aims to crowd-fund worthy projects. Digging around on the website I have discovered a whole host of other similar projects being funded in this manner: there is Meditation on 'Haec Dies' by Joseph Fear, a CD recording project of new music for solo piano on the theme 'American Vernacular', a series of vocal pieces by Daniel Knaggs, and many others. In fact, of all the creative categories on Kickstarter in 2012, music was the most successful, with a total of 5,067 receiving full funding.

The successful projects all seem to have something in common. They make reasonable financial demands and pledges can be as small as £1 (or $1 in the States). Harry, for example is asking for just £2,048. At the time of writing, with 13 days to go, he is already at £1,722. It is much the same with the other projects I have listed.

I find all this incredibly heartening. Who said that new music can't survive in the marketplace? As such, perhaps it is time for all of us to pay Kickstarter a visit and start pledging towards whatever catches our eye. And also time for us all to show some self-belief, extract those masterpieces from their dusty dwelling-places and make appeals on behalf of our own music.

0 comments | Post Comment

Archive
1 | ... | 19 | 20 |

21

| 22 | 23 | ... | 38 |