Other Resources

News Archive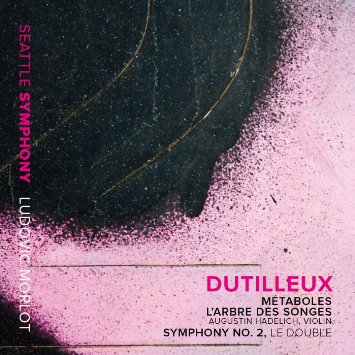 The works included on Seattle Symphony Orchestra's recent Dutilleux disk make a good introduction to the composer's music, even if I think arranging them chronologically would have given a better insight into his stylistic development. Symphony No. 2, Le Double (written 1955–9, last on the disk) is, in a way, Dutilleux's great transitional composition. It is the piece that ostensibly marked his last dalliance with older forms (he never used such a classical title as 'Symphony' afterwards) and more consonant harmonic writing. His new thinking was consolidated in the five movement orchestral work Métaboles, written immediately afterwards (1959–1964) but inexplicably first in this programme. It is justifiably considered one of the great works of twentieth century music. L'arbe des songes, a violin concerto written for Isaac Stern, is a mature work finished in 1985.
Despite the decided stylistic shift that occurred in Métaboles, a significant link with the Symphony is in the use of a form of thematic transformation often called 'progressive growth.' It was a concept that emerged gradually and is bound up in the composer's interest around this time (and, indeed, afterwards, for example in Tout un mode lointain) in variation forms. Even the title Métaboles could be thought of as a synonym for 'variation.' Whereas the Symphony takes these processes and treats them with traditional discursive, dramatic and/or lyrical intensity, in Métaboles the impression is more hard-edged, with harmony that is more dissonant and static, smooth thematic progression often replaced with abrupt contrast. Seattle Symphony Orchestra under French conductor Ludovic Morlot understand this piece well, playing with commitment whilst also retaining a kind of objective control that this clear-headed and poised music demands. The result is not revelatory but it is certainly effective.
Even without knowing L'arbre des songes well (as I do not), it is possible to see some of the common stylistic fingerprints of mature Dutilleux. There is the pictorial title, for what could have been labelled as a concerto (like Tout un monde lointain, 1967–70); a four movement structure that on first glance appears traditional, but is broken into seven sections by the insertion of interludes (Dutilleux famously added an interlude to Timbre, espace mouvement and Ainsi la nuit is broken up by a series of movements entitled Parenthèse). The musical language has much more in common with Métaboles than the symphony, though both share the use of pivot notes to ground the harmony, most obviously in the third movement; Dutilleux never stopped believing in the importance of pitch hierarchy. The sound world also has strong links with the work that followed it, Mystère de l'instant, in its somewhat nocturnal atmosphere and, most especially, because of the presence of cimbalom in both. The violin writing is, unsurprisingly, virtuosic, the soloist Augustin Hadelich managing its demands with aplomb. I would need to be more familiar with the work to give a real recommendation as to his interpretation, but my instinct is that this is a fine performance, sensitively accompanied. The balance between soloist and orchestra is ideal.
The transitional nature of the Second Symphony is, I think, what makes it so very attractive and, as such, the best starting point for anyone trying to get to know the composer's music. The First Symphony is too regressive in style to be truly representative. The works that follow the Second Symphony, including Métaboles, are not so quickly understood, even if they are ultimately just as rewarding. Symphony No. 2, Le Double manages to be accessible without feeling encumbered by the past.
The Symphony is subtitled Le Double, ostensibly in reference to the presence of, in addition to the main orchestra, a group of 12 solo instruments. The obvious analogy is that of a concerto grosso, though the reality is that the group is rather more integrated into the main orchestral body. I don't consider myself an expert in the discography of this work, but have always found myself returning to Orchestre du Capitole de Toulouse conducted by Michel Plasson, a recording that, I know, has its detractors, most especially because the 'dual' nature of the work – the small group contrasting with the large group – is not especially pronounced. Actually, and having heard the work live, I think that this is just an aspect of the writing and not a fault of the conductor. I also think it is how the composer anyway intended the smaller group to be heard, as a resonance, a continuation of the main orchestral sound (he said as much).
In this recording the smaller instrumental group is, on the whole, further forward. It does, at times make for a more effective listening experience, though it does not really give more of an impression of duality than in the other recording. Also I would say that on balance Plasson better understands the architectural forces at play. This is most apparent in the first movement where the regularly spaced and thematically critical orchestral climaxes have devastating impact. In the Seattle recording they sometimes sound a little tame. Ludovic Morlot shapes the second movement rather more successfully; in particular the build involving a long trumpet solo that leads to a luminous climax is wonderfully paced. The cleaner recording is also better appreciated here, since overall dynamic levels are much softer.
The final movement again lacks something of the necessary orchestral punch, especially in the opening. There is, though, a surprising benefit to what at first seems a rather pedestrian tempo; it renders the lengthy coda, which Morlot takes at a decent pace without seeming to rush, much more in proportion to the rest of the movement. Unfortunately the recording then ends with an inexplicable choice. Dutilleux famously changed the end of the work from a straight C# major to a clustered and questioning final chord. It appears that Morlot has decided to reinstate Dutilleux's first choice, though the effect is strange; there is a strong felling of added second, presumably from orchestral overtones.
Despite this, I wouldn't disqualify the recording from consideration. One could argue that the original ending has historical interest and, anyway, the other pieces on the disk are extremely well performed. I would, however, hesitate to recommend this disk as a first choice for those getting to know the composer's oeuvre.
I don't know how many shopping days or sleeps there are until Christmas, but I'm beginning to be fairly stressed about buying presents. There are two problems: people asking me what I want and people not telling me what THEY want. It's not really in the spirit of things to make Christmas lists, but they certainly help to relieve the pressure a little. Here are a few suggestions of my own, either things you might like to ask for or, perhaps, presents that might interest the composer in your life…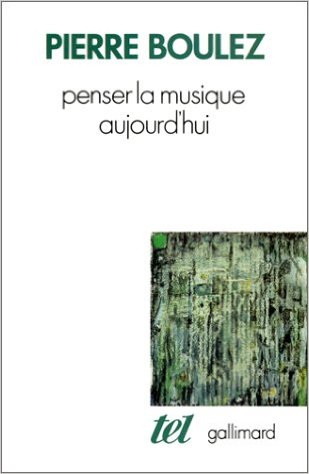 Pierre Boulez: Penser La Musique Aujourd'hui (£2-6)
A friend said to me recently that few musicians write as beautifully as Pierre Boulez. It is true; this is not just a manual of his technical approach to composition but an arresting book of musical philosophy. Even if the compositional issues may, nowadays, seem arcane or even convoluted, this is a key text in understanding twentieth-century music. The English translation, entitled 'Boulez on Music Today,' is out of print but easy to locate secondhand on AbeBooks or Amazon.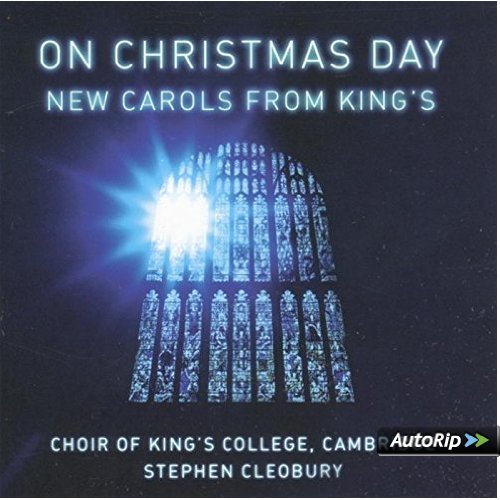 One Star at Last BBC Singers, Stephen Cleobury (MP3 download, £8)
New Carols from Kings, Stephen Cleobury (MP3 download, £15)
Stephen Cleobury is synonymous with the BBC Singers, Kings and carolling. One of his first acts on being appointed at Cambridge was to begin a tradition of commissioning a new work each year for the famous Festival of Nine Lessons and Carols. The Kings album brings together all of these new carols up to 2004 (we could do with an update). The BBC Singers recording also contains a selection of contemporary carols. There is some overlap with the first, though not enough to make it redundant.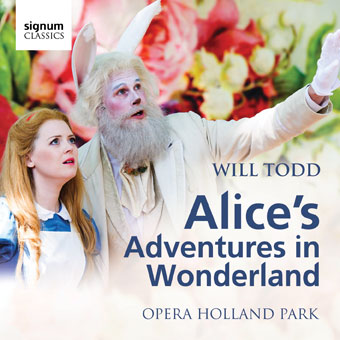 Will Todd: Alice's Adventures in Wonderland (CD, £12)
Gerald Barry: The Importance of Being Earnest (CD, £13)
These contrasting CDs illustrate the vitality of new music. The Todd, as I mentioned in an earlier review, wears its antecedents like a rose, not remotely self-conscious when pastiching and parodying popular musical styles. The result is both immediately accessible, fun and so much more than the sum of its parts. The Barry, by contrast, is written in a much more challenging and technically consistent idiom. He manages to pull off a similar trick, however, the music being effervescent and witty. If in doubt just listen to the outrageous and hilarious piano solo that prefaces the words 'Did you here what I was playing? I don't play accurately. Sentiment is my forte.' Infectiously entertaining.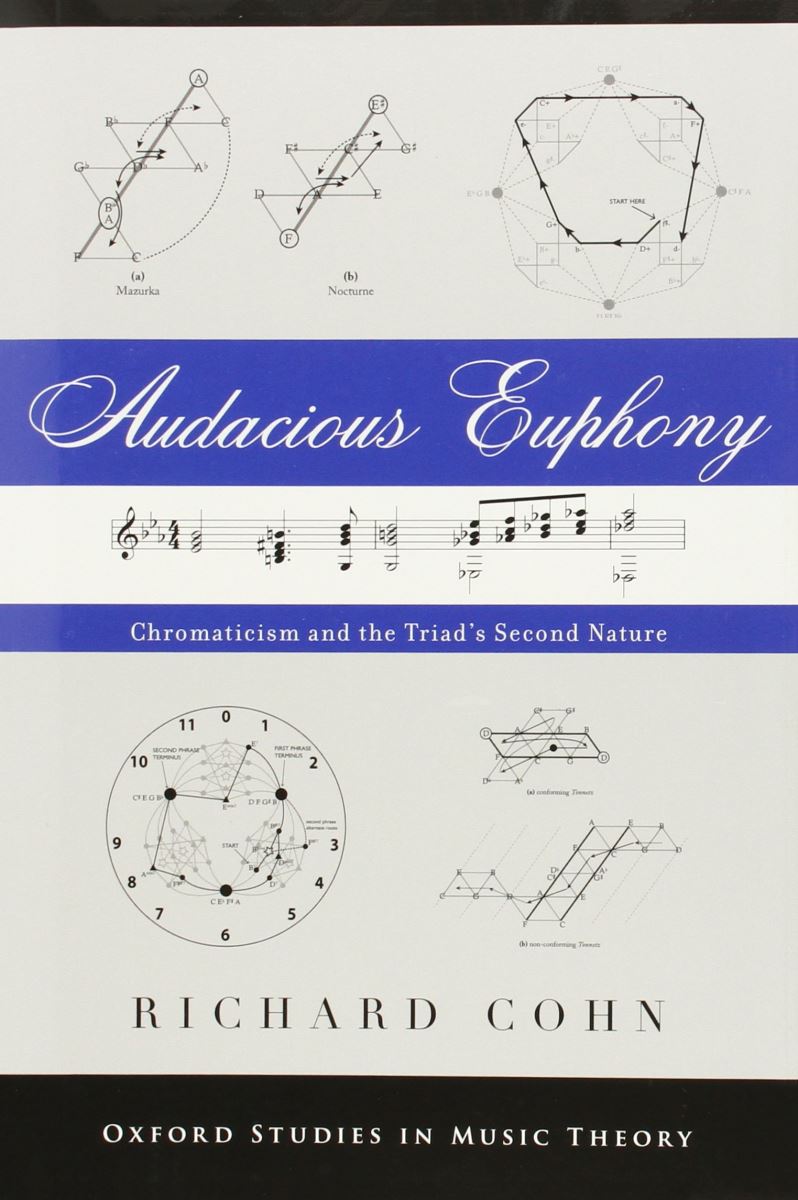 Audacious Euphony: Chromatic Harmony and the Triad's Second Nature (Oxford Studies in Music Theory) (£25)
On the recommendation of a friend, this book is on my own Christmas list. I haven't read it yet, so it may seem a little strange me mentioning it here. What it appears to promise, however, is fascinating: a systematic explanation of how composers have been able to avoid tonality and atonality, following a middle path that allows them to flirt with both. My own music sits in the middle like this and I'm rather hoping that some technical explanations might help me to tidy up some of my compositional thinking…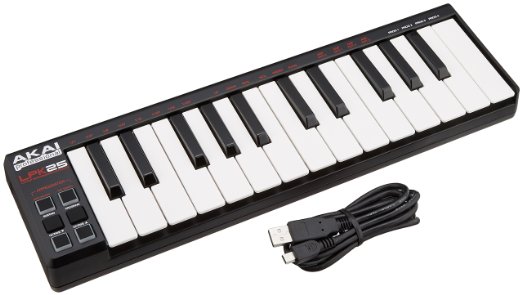 AKAI LPK25 | 25-Key Ultra-Portable USB MIDI Keyboard Controller for Laptops (£31)
I can't fault this little keyboard. Over the last couple of years it has been from West Wales to Mexico, Guatemala, Switzerland, France and then back again. The keys are small, which in turn allows space for two octaves whilst keeping the whole thing diminutive and light, important considerations when on the move. It's certainly not for playing but, as an input device for Sibelius, it's allowed me to continue arranging and composing wherever I have been.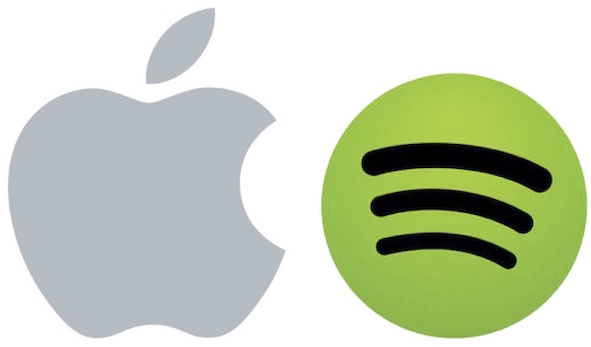 Spotify or Apple Music Subscription (price varies: see description)
Actually these don't appear to be as straightforward to give as presents as you might hope: not only is there the three-month trial period with Apple Music, which would anyway reduce the impact of such a present, but neither specifically allow you to give the service itself. You can, however, buy a Spotify gift card which can be redeemed against a subscription. Similarly, with Apple, of course, you can buy iTunes tokens, the problem being that the present-receiver will probably end up buying something completely unrelated from the iTunes store.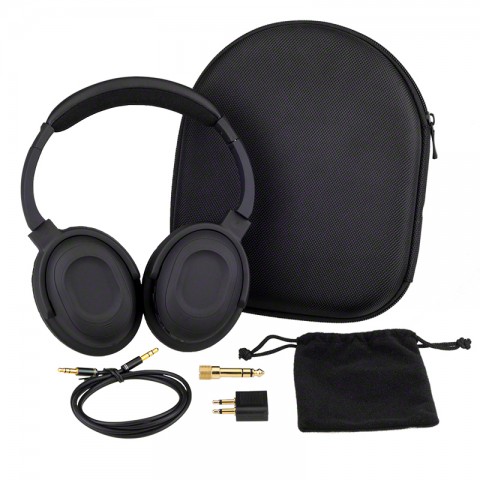 Over-Ear Headphones (£31–£270: several suggestions)
I've tested a number of different over-ear headphones recently. If you're looking for noise cancelling I suggest two options. Cheap and cheerful are the 7dayshop AERO 7 Noise Cancelling Headphones (£35). I've had a pair of these for a year. The sound at this price is more than acceptable, the noise cancelling as effective as anything I've heard elsewhere. The only downside is that I find them uncomfortable to wear for more than a couple of hours at a time. It will come as no surprise that my high end recommendation goes to Bose QuietComfort 25 Noise Cancelling Headphones (£270). They are incredibly comfortable, have much better sound, though, in my opinion, the noise cancellation is not substantially better than the cheaper pair. For those not worried about noise around them or, for that matter, about it escaping from the headphones and annoying others then open-backed are a good way to go. A great pair of headphones in this class are Sennheiser's HD598 (£130). The cream colour even look pleasingly retro. For a compromise between an open design and full noise cancelling go for a fully closed headphone. In this case an excellent option are Bose SoundTrue II, the sound is balanced (so many headphones I tried were bass-heavy) and detailed. Even better, in my opinion, are AKG's K550. They are good value at £110 and the sound is superlative. If you don't believe me, take a look at What Hi-Fi's review.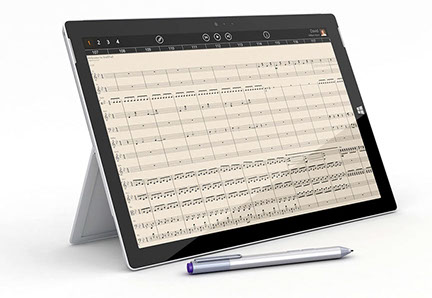 Microsoft Surface Pro 4 (from £749), Staffpad (£54) and Sibelius (prices vary: around £460 for pro version with yearly upgrade plan)
An extravagant present, I admit. It also sticks in my craw a little to recommend it since I normally prefer Apple products. Unfortunately, there is no Apple equivalent that comes close to the elegance of this score-writing solution. It's possible, of course, to run Sibelius on a Mac, but not the incredible new Staffpad programme, which closely mimics the feel of writing music with pen and paper – Mac doesn't support touch input. The iPad, which does have this input, does not run Sibelius. Unfortunately, at the moment, neither does it support Staffpad, though you might consider Notion, which has just added handwriting and stylus support. Even then, the fact of the matter is that to run legacy programmes like Sibelius and stylus-based products requires two machines if you are an Apple user and one if you buy something like the Microsoft Surface. Pull your finger out Apple!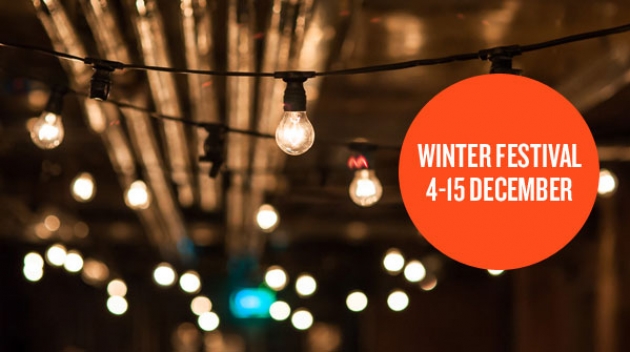 Christmas may come earlier every year, but new music seems to be developing a bit of resilience to the onslaught of carolling, Messiahs and candlelit choirboys. There's plenty to enjoy well into December.
The Spitalfields Winter Festival runs from 4–15th December. As well as 'dining experiences, film screenings, historic walks, singing workshops and family entertainment' there are seven new music events. Two of these stand out. On 7th December The Riot Ensemble give the UK première of Djuro Zivkovic's Night Music and the world première of Helga Arias Parra's Incipit, who describes her music as 'experimentation, risk and control in that exact order.' Also intriguing is the performance of 10-year-old Marie-Louise Ptohos's Moon Dance, part of the ensemble's Young Composer of the Year project. You can see a copy of this and the other participants' imaginative scores here. On 11th December The Choir of Royal Holloway perform music by Baltic and Scandinavian composers Arvo Pärt, Rihards Dubra, Vytautas Miškinis, Bo Hansson, Ēriks Ešenvalds, Ola Gjeilo, Einojuhani Rautavaara.
On 13th December the Casals Quartet and pianist Alexander Melnikov hold a Shostakovich Day at the Barbican's Milton Concert Hall. The three concerts focus on his String Quartets and Preludes and Fugues for piano. There will also be readings from the composer's letters.
A much less well-known, but also interesting, figure is Elisabeth Lutyens. Known for her wholehearted adoption of modernism, her music has not been widely performed since her death in 1983. She will be the topic of a Discovering Music day at City Halls, Glasgow on 14th December with presenter Stephen Johnson and BBCSSO conducted by Jac van Steen. Works played will include Music for Orchestra II, op.48; Rondel, op.108; and Music for Orchestra IV, op.152. The next Discovering Music day will feature the music of Anthony Payne on 21st Feb 2016.
Premières this month include Matthias Pintcher's Idyll played by BBCSSO on 3rd. On the same day at The Queen's Hall, Edinburgh is Hirda, a new opera written in collaboration between Chris Stout and Gareth Williams. In Birmingham on 4th, BCMG present works by Dominic Muldowney and Howard Skempton including, respectively, world premières of Smooth between sea and land and The Rime of the Ancient Mariner. Back in London, meanwhile, there is the first chance in the UK to hear James MacMilan's Women of the Apocalypse on 4th and Andrew Norman's Switch on 11th; with the world première's of James Moriarty's Windows on 6th and Magnus Lindberg's Violin Concerto No. 2 on 9th.
Full-circle, and proving that contemporary music does do Christmas, at BBC Maida Vale on 17th December is the chance to hear six world premières, all of them SATB carols selected as part of the BBC Radio 3 Carol Competition. If you can't beat them, join them.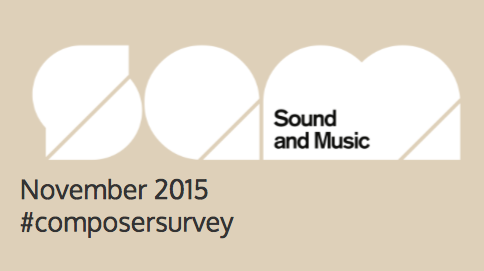 Sound and Music has just published the results of its second Composer Commissioning Survey. This year it aims to give a more international perspective, with the Australian Music Centre also providing data. Not surprisingly, it makes for grim reading. The average commission fee last year was £1392. This year it is £918. Whilst SaM are quick to point out that the two figures are 'not directly comparable' the sum is, nevertheless, 'incredibly low.'
Further analysis also reveals the disparity between what composers actually receive and what they believe is fair. Asking someone how much they should earn may seem a slightly pointless exercise; you'd think the answer would be 'as much as possible.' In the case of composers the opposite seems to be the case. On average, for example, composers suggested that a 60-minute major work should command the fee of £17,532. Such a project might take anything up to a year, so this sum does not seem avaricious. The survey does not, unfortunately, provide a direct comparison with real-world figures, but the range of fees on offer for such projects as a 'Digital Installation', 'Small', 'Medium' and 'Large scale' works are all low, ranging from £157 to only £2258. Neither do these figures include the many respondents who were commissioned but received nothing.
Other interesting, but perhaps not surprising, perspectives include: that composers believe that there is not enough time for rehearsals; that commissions seem to be fewer and worse paid over the last three years; and that, if anything, the situation in Australia is even more bleak than in the UK.
For a complete picture, head over to Sound and Music.
I had hoped to bring you some of my thoughts on the MANCA Festival here in Nice, France. I was particularly looking forward to the two Michel Pascal premières (see my interview, below). Sadly, events conspired against this. It is, perhaps, not realised how profound an effect the attacks in Paris have had on the rest of the country. Here in Nice – about as far away from the capital as it is possible to be – three days of national mourning led to the cancellation of three days of festival events.
It must be stressed, of course, that this happened as a mark of respect, not from fear or security worries. The French people show a spirit of defiance that is remarkable. Tonight I will be attending the first big concert of the foreshortened MANCA Festival. I have no doubt that we will be perfectly safe, but, as concert-going life restarts here in France, we should take a moment to reflect on the significance of Friday's attacks, Bataclan in particular.
Whilst the choice of this venue may have been incidental – the terrorists were looking for a place where security was poor but many people were present – Daesh (also known as Islamic State), were keen to suggest otherwise. In their statement they referred to 'precisely chosen targets', which included 'the Bataclan theatre for exhibitions, where hundreds of pagans gathered for a concert of prostitution and vice.'
If it is debatable how direct an influence Daesh had in the selection of Bataclan, there is no doubt that music has always been one of its central targets, a sign, in their eyes, of the West's degeneration. In Syria earlier this year musicians were punished with 90 lashes for playing 'un-Islamic' instruments, which were also destroyed: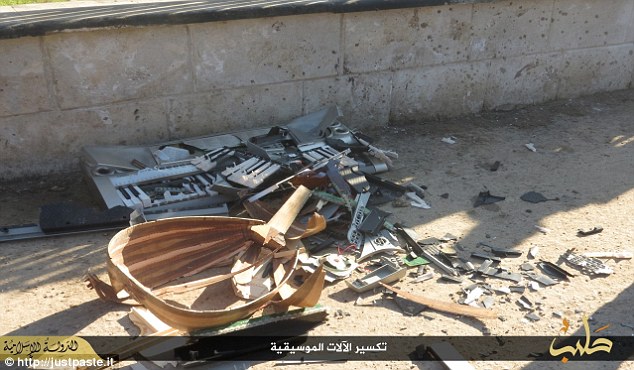 Soon afterwards, in Libya, Daesh fighters symbolically burnt a number of drums: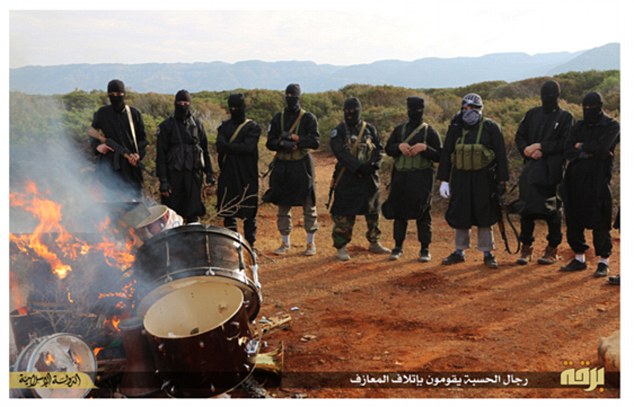 In this sense, the choice of Bataclan had extra significance. It was also an attack on a concert venue, an attack on music.
I don't expect many musicians or lovers of music see themselves as being on any kind of front line. Most of us probably try to avoid politics, except as a topic of debate or when we are complaining about the latest arts cuts. Now, however, is a good moment to remember how lucky we are to be able to ply our trade in free societies, where our creative impulses are not haunted by the spectre of masked men knocking on our doors. The freedom to express ourselves, and the freedom of others to appreciate this in our concert halls, is a sacred and beautiful thing. It must be cherished and defended.
After setting down these thoughts I came across this shocking article, which seems of particular relevance in this context. I think the video it links to speaks for itself.
Christian Morris talks to French composer Michel Pascal, whose 'Requins' and 'Never Die' are premiering at the 2015 MANCA festival.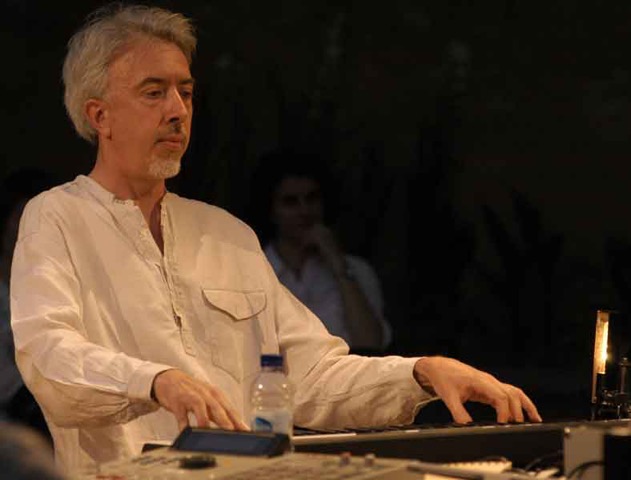 Photography © Luc Henri Fage
What was your earliest success as a composer?

The first piece that received a good audience outside the conservatoire area was an acousmatic music composed for a painter named J.M.Sorgue. A series of very large ink drawings called "Falaises et Emergences", on view at the Musée Granet in Aix-en-Provence in 1980. The funny thing is that the same piece was played in Albi the year after and Jean Etienne Marie heard it there without meeting me. Because he liked it he contacted me and offered me to be his assistant at CIRM in 1982. This is why I'm now in Nice.

Who or what has influenced your style? I'd be very interested to hear about your experiences being taught by and/or working with Amy, Berio, Lutoslawski, Dutilleux, Xenakis and others.

Many people and experiences influence one's style. Some on very large scales, some other only with a few words given at the very right moment. I met the composers that you talk about and many others in very different situations, some in workshops, others in close professional situations, some very briefly, others around classes along a year or more. Even people that have nothing to do with music can influence your style. For example, during a concert with Jean Etienne Marie in Valberg under snow, I was remembering a childhood memory coming from another mountain, waiting that my father will stop speaking with his cousin in a mountain farm stuck under snow. The farm clock was ticking and the conversation was so incredibly slow, very few words, very much silence thinking between them, and time almost cruelly measured with this beautiful ticking... Jean Etienne Marie smiled to me and told: "so you had good composition teacher".

As a student in music, I've been bewitched by the ability to design, transform and precisely set the inner matter of sounds with electroacoustic techniques, even more today with the computer power. So most of the great French electroacoustic composers have influenced me. With a special thought for Bernard Parmegiani who died 2 years ago, and he was a delightful human being. I was also amazed with the Ligeti's pieces of the seventies decade, with the freedom thinking of several composers (including Berio and Dutilleux). It is impossible to tell in a few words about one's influences and give names without forgetting some. More, you may be changed by one piece or even a part of the piece, and do not like the rest of the composer's production forever. It does not matter, I like when contemporary musicians give us to hear things that raise questions. They are part of a movement of fertile human ideas, a picture in sound of their time. From the moment you accept to renew your usual way of listening, open your mind to different point of views, forget hearing (and thinking) on a pre-fabricated level, there will be so many beautiful and interesting things to discover: no end until life itself ends.
>> Click here to read the rest of the interview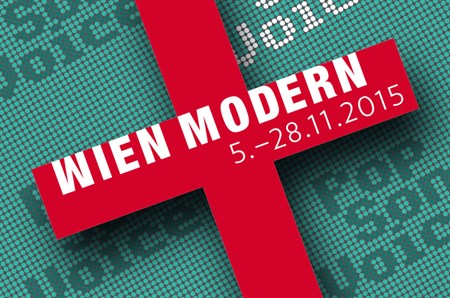 As well as the Manca Festival here in Nice, there are two other major music European festivals to look forward to in November. The opening concert of Wien Modern (5th–28th November) celebrates the 90th birthday of Pierre Boulez with a performance of Pli Selon Pli given by the ORF Radio-Symphonieorchester Wien, soprano Marisol Montalvo and conductor Cornelius Meister. New works in the festival will be seen through the prism of popular music, with a series of crossover projects focusing especially on the music of younger composers. The winning entry of the Erst Bank Composition Prize, Substantie by Syrian composer Peter Jakober, will receive its world premiere performance on 13th.
Swiss composer Jürg Frey is composer in residence at this year's Huddersfield Contemporary Music Festival (20th–29th November). There is a sound installation of his work throughout the festival, a public masterclass with PhD students from the University's Centre for Research in New Music, a 'Meet the Composer' session as well as concerts and premieres. There are so many other world and UK premieres it is impossible to list them all here. One that is particularly special, however, is the first performance of Karlheinz Stockhausen's Plus-Minus (realised by Derek Bailey) on 20th.
Other premieres this month include: at Wigmore Hall on 6th the Arditti Quartet play a new work by Harrison Birtwistle together with the UK premiere of Michael Jarrell's ...in verästelten Gedanken... (Nachlese VIIb); at the same venue the following day the Nash Ensemble give the first performance of Ring Dance by their Composer in Residence Julian Anderson; at the Royal Opera House, a major new commission, Morgen und Abend by Georg Friedrich Haas, runs from 13th–28th; in Birmingham on 15th November BCMG perform their Sound Investment Commission FRACTURES: Monk Unpacked by Melinda Maxwell; at the Barbican on 18th the Britten Sinfonia perform a new work written in collaboration between Simon Bainbridge and jazz bassist Eddie Gomez. On 26th November, finally, at City Halls, Glasgow, there a number of UK premieres in a BBCSSO concert that includes, most substantially, Rebecca Sounders' Alba for solo trumpet and symphony orchestra. The concert will also be broadcast on BBC Radio 3's Hear and Now. Lovers of Welsh music would also do well to go to the BBC National Chorus of Wales Concert at BBC Hoddinott Hall on 15th. There are no premieres, but there is the chance to hear some rarely performed works by Grace Williams, Alun Hoddinott, Mervyn Burtch, William Mathias and others.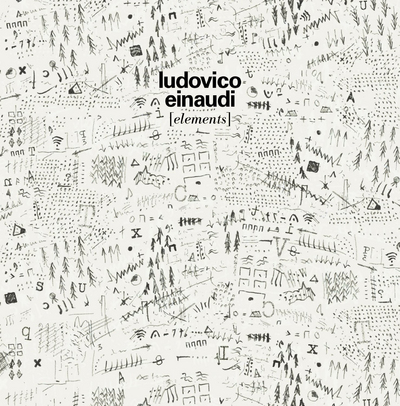 Congratulations to Ludovico Einaudi, whose album Elements debuted at number 12 in the popular music charts this week, the most successful classical composer since Henryk Gorecki's Symphony of Sorrowful Songs in 1992. The Telegraph yesterday sought to present this as a revelation, as if – good Lord – people might actually want to listen to contemporary classical music. It even went so far as to highlight Einaudi's cutting edge credentials by evoking the name of his teacher, Luciano Berio. But the popularity of the album is not surprising. Five minutes in its company will tell you that his music fits a genre of contemporary music that has often found a wide audience: relaxingly tonal, certainly well-written but maybe a little anodyne. That's not to criticise; I'm delighted that a living composer is popular, but I would only really consider it news-worthy if it were something a bit more challenging.
If you are looking for something more in this vein, a good place to go is Wergo. They have just released settings of Giacomo Leopardi poetry by composer Klaus Oswald's sung by WDR Rundfunkchor Koeln. There is also a disk of music by Vito Žuraj entitled Changeover, consisting of five instrumental works, as well as a collection of the complete works for piano duet and two pianos by György Kurtág, all originally published in the eight volume Játékok ('Games').
On Naxos there is a new album of chamber music from Chinese composer Jia Daquan; Penderecki's song cycle Powiało na mnie morze snów… composed for the Chopin bicentenary celebrations in Warsaw in 2010; orchestral music by composer-pianist Walter Saul; and a programme of wind ensemble music by Steven Bryant, Joel Puckett and John Mackey.
NMC have just released Echo and Narcissus, an album of Ryan Wigglesworth orchestral works conducted by the composer. Available for preorder on Nonclassical, meanwhile, is The Art of Remix #Ep1. The first track of this, Cortical Songs by John Matthias and Nick Ryan, is available for streaming on both Spotify and Apple Music.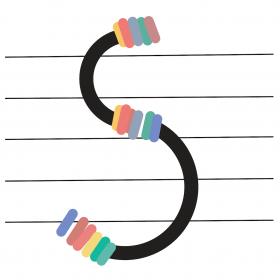 Björk's Biophilia in 2011 was a watershed moment for me. A cross-disciplinary project that married music, artwork, games, animation and wider environmental themes, it provided a compelling demonstration of how apps might be an ideal medium for new music. It was a shame to revisit it today and to find that it has not been well cared-for in the intervening years. It now crashes like a pig.
I thought that Biophilia would be followed by a host of similar projects, hoping, indeed, that they might be musically a bit more experimental. It seems such an obvious way of introducing our iPad addicted younger generation to new music, if not in the home then certainly in school music lessons. Sadly, the anticipated avalanche never happened, probably because contemporary classical music is as devoid of cash as it is abundant in imagination.
Given this I was delighted recently to come across Sonorama by composer and artist Claudia Molitor. The app is designed to be listened to on the train from St. Pancras to Margate, with journeys between each station along the way being accompanied by readings, archive recordings and original compositions.
Whilst the app can't approach the multimedia slickness that was Biophilia, it is, nevertheless, beautifully presented. The opening screen gives the option to learn more about the app, to browse by all content or to explore the musical journey in a map of the train route. The easiest way to navigate is by the latter method, since this gives a better sense of both the musical and physical voyage. Of course, the best way to listen is whilst actually on the train from St. Pancras to Margate (take the Southeastern Highspeed train via Ashford International, if you're interested). Even without this, however, the material on offer is wonderfully evocative, thought provoking and, in the composed sections, gently – the music rarely insists – compelling.
As if to emphasise the cross-disciplinary nature of this work, the graphic score, a work of art in itself, is on display at Turner Contemporary until 1st November. It is also viewable in the app. There is also an accompanying book, available here. The app itself is only available on iOS, though other mobile devices can stream it from the web.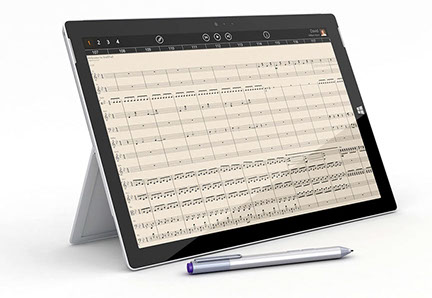 There was much talk of doom after the close of the UK Sibelius Office in 2012. With hindsight, it now seems that it was justified. The next paid upgrade to the software did not occur until the beginning of 2014 and, even then, it was labelled version 7.5 rather than 8, an acknowledgement, perhaps, that the suite of incremental improvements did not represent a major advance. I was not tempted to upgrade.

I confess I did not even notice the release of Sibelius 8 until a few days ago. Given that I spend the majority of my working life using the software, that seems incredible. I am certainly on Avid's mailing list (I've just checked) but can see nothing specifically about Sibelius, the only Avid software I use. Could it be because this update is even more lukewarm than 7.5? As far as I can see, the most interesting addition to the software relates to the addition of annotation options for Microsoft's Surface stylus, a complete irrelevance to Apple Mac users.

Even from a Microsoft PC perspective, however, Avid are not doing enough to keep Sibelius in the game. The recent demonstration of StaffPad on Microsoft's Surface 4/Surface Book provided compelling evidence that the future of music notation software in touch and stylus, not mouse and pointer. It is a lesson that Apple would also do well to heed. Whilst their recently announced iPad Pro would theoretically be capable of supporting StaffPad, it is so late to the game that there is no guarantee that it will be ported. Also, Microsoft's strategy of combining tablet with laptop is now beginning to pay dividends. How many hard up composers would buy both an Apple Mac in order to use legacy software like Sibelius and an iPad Pro to run a next generation program like Staffpad, when Surface will happily run both?

Archive
1 | ... | 19 | 20 |

21

| 22 | 23 | ... | 47 |