Other Resources

News Archive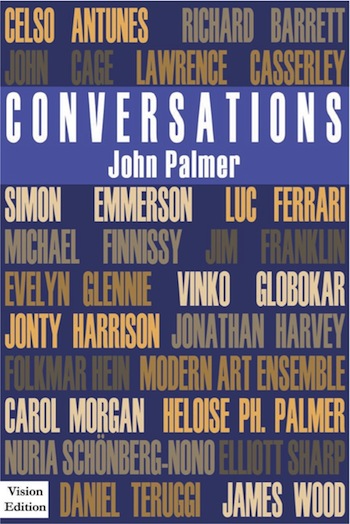 Conversations is John Palmer's new book published by Composer's Edition in partnership with Palmer's own enterprise, Vision Edition. It contains 20 conversations with major figures in contemporary music: 13 composers, 4 players, a conductor, tonmeister and founder of a music archive. It is an impressive list of names, including figures such as John Cage, Jonathan Harvey, Michael Finnissy, James Wood, Luc Ferrari, Richard Barrett, Evelyn Glennie and Nuria Schönberg-Nono.
Palmer is very deliberate in preferring the term 'conversation' to 'interview' – certainly the tone that comes across throughout is one of an exchange of ideas between friends. That said, the conversations don't ramble. Most begin with questions about background and musical formation, leading to more specific questions as the conversation develops. Palmer manages this unfolding expertly.
The oft-repeated structure allows readers to gain useful perspectives. It is fascinating, for example, to see the varied routes by which each of the composers came to music. There's the more traditional choir and organ background of Harvey and Wood and then those with much less conventional early years. Richard Barrett and Daniel Teruggi, for example, became composers relatively late in life, both having being primarily interested in science.
Palmer also does a good line in reusing more imaginative questions, which can be just as revealing of his own interests and motivations. These range from technical information about a composer's electronic setup, to his frustrations about musicians' inability to perform aleatoric scores. My favourite concerns Palmer's belief that music has an intrinsic power to change people; he is convinced 'that an accurate listening experience may not only stir new perceptions of life, but also trigger a radical change of consciousness…therefore, by multiplication, it can initiate a potential change in the world.' It's an interesting idea that provokes fascinating responses.
In the more specific questions it is abundantly apparent that Palmer both knows his stuff and has done his homework. He asks Wood about his coming across Aristoxenes's treatise Stoicheia Rhythmika in the 1980s and the effect on his music, a vital key, it turns out, to understanding his development. He takes Harvey through all the key moments in his musical formation and understands the importance of Rudolf Steiner and the influence of Eastern religions upon his work. There are, likewise, penetrating questions about Richard Barrett's socialism, Finnissy's eclecticism, the influence of Borges on Casserley, the influence of Japanese music on Jim Franklin, mathematics in the music of Elliott Sharp.
Neither is Palmer afraid to ask difficult questions. Conductor Celso Antunes remarks at one point that 'there are developments [in new music] which I find frankly boring and sometimes completely nonsensical in musical terms.' With an elegantly polite preamble Palmer asks 'I would like to know which music directions you perceive as being nonsensical and why? Can you be as specific as possible, please?' There is a frank and revealing discussion with Evelyn Glennie about the loss of her hearing and some beautifully tongue-I think-in-cheek exchanges with John Cage. With the later, for instance, the questions 'Do you actually hear the sounds you write while you are composing?' and 'You once said you don't have a feeling for harmony. Is that really true?' provoke unexpected and hilarious responses.
John Cage is, indeed, one of the 'superstar' conversations that will rightly attract people to this book. Others highlights include the wide-ranging and substantial interviews with Jonathan Harvey, Michael Finnissy, Evelyn Glennie and James Wood. I loved the spontaneity and energetic fun of Luc Ferrari's conversation, despite the trouble he had speaking in English, and Nuria Schönberg-Nono offers a unique perspective on twentieth-century music, having been both the daughter of Schönberg and wife of Luigi Nono. Her role as a founder of a musical archive also has resonance for me here in Basel, with my daily visits to the Sacher Foundation. As well as these grand figures, however, you should read this book for those that you know less well or not at all. The interviews will have you scurrying to your computer to look for more information and musical extracts.
A number of the interviewees are particularly known for their electroacoustic and acousmatic composition. Some may find that limiting, but it is to mistake the purpose of the book: it doesn't pretend to be a neat cross-section of contemporary composition. Palmer also has considerable experience in this area – a significant minority of his own output being for the medium – and this puts him in a good position to be able to ask the right questions. The result is that many of these conversations powerfully advocate a too often neglected field of contemporary composition.
Some of these conversations have already been published in music journals. If you are a regular subscriber or have access through JSTOR you might want to double-check how much overlap there is. For those without access, or even those who would like to have these fascinating, illuminating and entertaining conversations in one place, the book is an easy recommendation.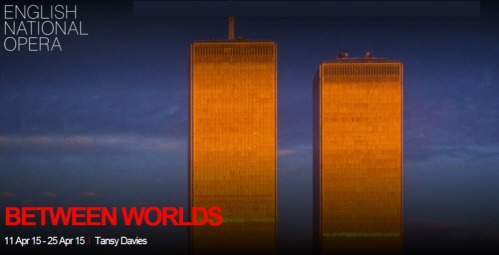 A concert last night by students of the Hochschule für Musik revealed much about standards in Swiss higher education. The ambitious programme contained Cage's First Construction (In Metal) and Six for six percussionists, Feldman's Instruments II, Improvisations sur Mallarmé II (No. 3 from Pli selon pli) and Ligeti's Piano Concerto.
The two Cage works are eminently performable by students, as was proved. I need not have been so sceptical that they could pull off the Boulez and the Ligeti, however. The two soloists coped brilliantly with the distinct virtuosic requirements of each work: soprano Céline Wasmer singing Boulez's difficult lines with otherworldly expressivity; pianist Krill Zwegintsow providing machine-like stability in the Ligeti. Student Ensemble Diagonal likewise provided sensitivity in the former, thrillingly focus in the latter. Only in the Feldman did the need for fine control tax the players to the point where it was in danger of interfering with the meaning of the music. And this hardly surprised; the Feldman, which is a long span of pianissimo entries, often in difficult tessituras, requires phenomenal control. Conductor Jürg Henneberger, who is obviously a bit of a fixture here in Basel (he also conducted the Ensemble Phoenix concert on 16th), did a superb job leading these youngsters.
Tomorrow, the Hochschule in cooperation with OperAvenir, give their first performance of a new production of the Rape of Lucretia at Theater Basel. It's one of the few Britten operas I don't know at all, so I hope to visit before the end of the run on 25th April.
Talking of opera, 11th April sees the world première of Tansy Davies's Between Worlds with ENO (performing at the Barbican, not the Coliseum). The title of the work derives from the dreadful scenario it describes: a group of people are trapped in one of the World Trade Center Towers, above where it has been hit and therefore unable to descend. They are, quite literally, 'caught between earth and heaven, life and death.' There are a total of eight performances the last being on 25th April.
There are two chances in the UK to hear works by emerging composers. The first is at Hoddinott Hall, Cardiff on 1st April, where selected composers from the workshop stage of the Composition:Wales project will have their pieces performed by BBC NOW under Jac van Steen. Meanwhile in London the LSO Soundhub project will perform chamber compositions by Maxim Boon, Laurence Osborn, Helen Papaioannou, Robert Szymanek, Laurie Tompkins and Aaron Holloway-Nahum; all of whom are in the second year of their membership of the scheme.
The Budapest Spring Festival runs from April 10th–26th. As well as more standard orchestral fare, there are a few premières on offer. On 24th April there is there first chance to hear Péter Nógrádi's Partita - Four paintings by Csontváry for the string orchestra, Zoltán Kovács's Pictures of Taormina and László Dubrovay's Csontváry - 3 symphonic images for orchestra. There are also works by Miklós Kocsár and Péter Tóth. The day after is the Hungarian première of Gyula Fekete's piano concerto The Dream of the Red Chamber.
Other notable premières this month include James Macmillan's St Luke's Passion at the Barbican on 5th (London première); Robert Matthew-Walker's Sonata No. 2 for violin and piano (world première) at Wigmore Hall on 12th; Jake Heggie's Camille Claudel: Into the Fire (European première) at the Barbican on 14th; David Matthews' Symphony No. 8 (world première) at Bridgewater Hall on 17th; Georg Friedrich Haas's Atthis (UK première) at Royal Opera House on 23rd–25th; and Christopher Rouse Prospero's Rooms (UK première) at the Barbican on 24th. The New York Philharmonic are also in London around the middle of the month, bringing with them a taste of their Contact! series in the form of works by Daniel Bjarnasson, Timo Andres, Missy Mazzoli, Esa-Pekka Salonen and Shulamit Ran at the Barbican on 18th.
A 'Happy Birthday' to Pierre Boulez, who turned 90 just the day-before-yesterday. If you would like to listen to selections from the Barbican Total Immersion day, this is available on iPlayer for the next three weeks. There is also a 45-minute tribute programme with Petroc Trelawny, Paul Driver and Morag Grant. The celebrations of his work continue into April with Peter Eötvös conducting Livre pour cordes and Rituel in memoriam Bruno Maderna with the LSO at the Philharmonie de Paris on 20th and Matthias Pintscher conducting Syrinx, Memoriale and Sur Incises with Ensemble Intercontemporain at the Barbican on 28th.
Another couple of interesting concerts here in Basel. I say in Basel, but the first was actually in Germany. One of the curiosities of this city is that its suburbs are in three countries: Switzerland, Germany and France. It goes a long way to explaining why everyone seems fluent in at least three languages.
I headed a bit further into neighbouring territory on 13th, however: to the Konzerthaus Freiburg (see first photo), where the Sinfonieorchester Baden-Baden und Freiburg were playing Lachenmann's Tableau, Beethoven's Piano Concerto Nr. 3 and Berio's Sinfonia.
I was there mostly for the Berio, which I've never heard in concert. It was every bit as brilliant as I'd hoped, especially the crazy parody in the third movement of Mahler's Symphony No. 2. Lachenmann – an immensely tall and impressive figure – was present for the performance of his Tableau. The work, I confess, left me nonplussed. Despite, to borrow a phrase from my more enthusiastic companion, the work being like a beautiful garden of sound, I had difficulty connecting these sounds into a comprehensible whole.
On 16th I headed to Bahnhof für Neue Musik, a little bit, perhaps, like Basel's version of Nonclassical in London. It has a similar relaxed approach to concert going and makes use of a pretty interesting venue: the Gare du Nord Station near the border with Germany. There is a rather grand, if slightly faded, bar. You are then free to take your drink into the concert area, which used to be the station's first class waiting room (second photo).
The concert programme consisted of Ensemble Phoenix Basel playing two works by young composers that had been awarded prizes by the group: Vladimir Guicheff Bogacz's bulle apenas and Matthias Renaud's Concerto for Piano and Ensemble. Both were written in response to John Cage's Sixteen Dances, which formed the second half. Of the two, Vladimir Guicheff Bogacz's was easily the most successful, partly because of the relative reserve with which it deployed the four available percussion players. It was a trap that Matthias Renaud's Concerto did not, sadly, avoid; the work becoming a chaotic barrage of percussion sounds and extended techniques. It was a relief when the Cage came, which was an object lesson in deploying generous resources, using few notes, to maximum effect.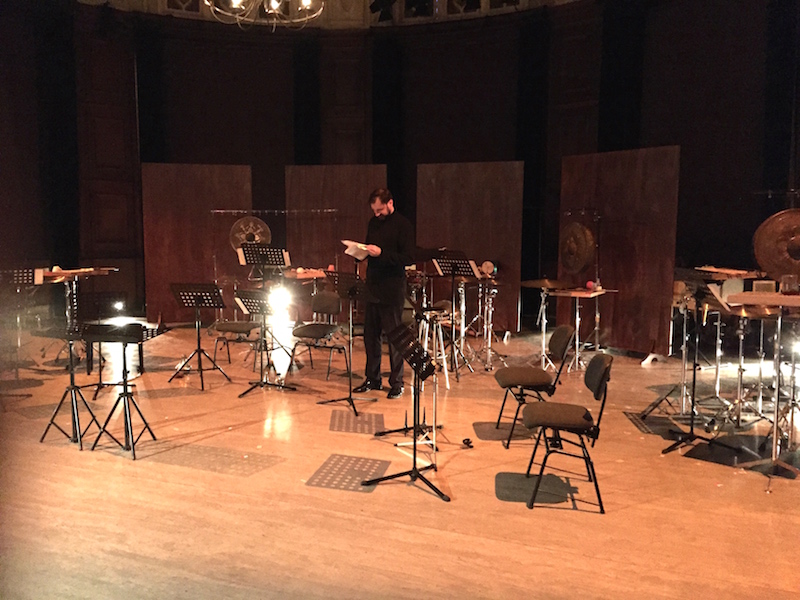 One curiosity here has been the difference in pricing and audience attendance at the concerts I've been to. The large hall at Freiburg, Germany was completely sold out for a concert that consisted of mostly newish music. It cost €11. The Gare du Nord concert was 30 CHF (almost the same in euros); the Feldmann, Ligeti, Stahnke concert earlier in the month was 50CHF (which nearly provoked a wallet attack). These are prices that make me, a person that is enthusiastic about new music, think twice. They seem to have the same effect on others: neither Swiss concert was well attended.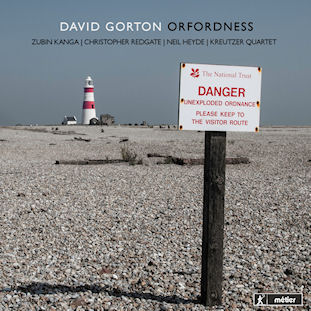 DG have just reissued Boulez's Le Domaine Musical collection, which can be added to my earlier guide to the composer's recordings. It features performances from the seminal Paris concerts between 1956 and 1967, including works by Stockhausen, Berio, Messiaen, Varese, Kagel, Henze, Stravinsky, Schoenberg, Berg, Webern and, of course, Boulez. Perhaps, most intriguing of all, is the inclusion of two works by Giovanni Gabrieli, presumably to give context to other compositions on one of the programmes. Gabrieli as sixteenth century modernist, perhaps?
Also just reissued on the same label is Max Richter's 2004 album The Blue Notebooks both on CD and vinyl, the latter being a sure sign of its popularity. I'd check it out on Spotify first if you are in any way tempted: you will either love or hate its zen-like simplicity.
Two Naxos disks containing chamber music that is neglected for different reasons. The first is a collection of music for violin and piano by little-known composer Alexandre Tansman (1897-1986). If you'd like to get an idea of the style it's worth checking out his disk of chamber music with clarinet, available on Spotify. It's not at all what I expected: by turns romantically lyrical, quirkily dissonant and ascetically controlled. Whilst Bernstein is well-known for his musicals and handful of choral and orchestral pieces, a new disk explores some of his music for piano, including an early Piano Sonata and his Anniversaries, a sequence of short pieces written for people close to him. Also on Naxos is a disk of two Malcolm Arnold films scores, The Roots of Heaven and David Copperfield played by the Moscow Symphony Orchestra.
On WERGO Rolf Reim's new disk contains four works, all of which draw upon story telling and theatricality to achieve their effect. The style is uncompromising but, at the same time, full of lightness and humour. This is particularly apparent in Lenz in Moskau, for trumpet, trombone, guitar, piano, two drums and recorded voice where a story is unfolded simultaneously in voices and instruments, the brilliantly sardonic interjections being easily as pictorial as the spoken text. Also on WERGO this month is Detlev Mueller-Siemens' new disk TRACES, which contains four works for chamber ensemble written between 2002 and 2009; and Charlotte Seither's Equal Ways of Difference that has five works written for combinations of violin, cello and piano.
On Métier David Gorton's powerfully uncompromising new disc contains Orfordness for piano, Austerity Measures II for oboe and string quartet, Fosdyke Wash for piano and string quartet and the Second Sonata for Cello, with electronics. Orfordness, which also lends its name to the title of the disc, includes taped USAF messages about a UFO sighting. 'This is eerie, this is strange', says one of the men in the recording, a description that could well be applied to this unnervingly creepy music.
Sure to be popular is the Tallis Scholars' Tintinnabuli, a programme of works celebrating the 80th birthday year of Arvo Pärt. Extracts are available to listen to here. The performances, typically of this group, sound gorgeous.
Two, as yet, unreleased disks worth looking forward to. Tomorrow NMC release a new disk of horn music by Peter Maxwell Davies, Gerald Barry, Colin Matthews, Huw Watkins, David Matthews, Mark-Anthony Turnage and Robin Holloway with the Nash Ensemble, Huw Watkins on piano and Paul Watkins on cello. At the time of writing extracts were not available, thought that sure to change on release day. Less imminent, though available now for pre-order, is Tyondai Braxton's label debut on NMC on May 12th with HIVE, a recording of eight pieces that debuted at New York's Guggenheim Museum in 2013. Scout I, the last track on the disk is available to listen to now.

Despite waxing lyrical about the joys of being on the road, the comfort of a Pembrokeshire Christmas almost persuaded me to give up my nomadic lifestyle. I have finally, however, dragged myself away God's own county and am back in Basel, Switzerland. Not particularly adventurous, perhaps, but the need for change has to be balanced by the need to get on with projects – for now Basel is the best place to continue work on the Dutilleux sketches, which is increasingly looking like it might occupy me for the next ten years.
It's exciting to be back in a city with a thriving cultural life. On Friday I heard the Basel Sinfonietta play Ligeti's Hamburgishes Konzert, Manfred Stahnke's Trace Des Sorciers and Morton Feldman's Coptic Light at the Musiksaal.
I'd heard the Stahnke in rehearsal the day before, where it had left me pretty unconvinced; there seemed to be little sense of structural cohesion and the players appeared to struggle with the microtonal tuning. It was strange, therefore, to be so won over in the concert. The balance was better in the hall and the many generous ideas did seem to form a larger narrative. A reminder not to rush to judgement.
The Sinfonietta played the Ligeti manfully, in particular Olivier Darbellay coped superbly with the extravagant extremes of tessitura in the solo horn part. The work remains, however, frighteningly difficult to perform. Four natural horns trying to pitch complex chords is a recipe for ensemble problems.
The Feldman presents its own issues, though here this is to do with balance and control in a long, essentially static, span. The Sinfonietta played brilliantly, however, with conductor Michael Wendeberg allowing the work to unfold without fuss. It was a disappointment when the piece ended, so hypnotically had it held me.
Boulez seems to be much on musicians' lips in Basel. He is, by all accounts, in poor health and may not be able much to take part in his 90th birthday celebrations. One Boulez in Basel story crops up again and again, however, and is worth retelling.
Boulez had a long association with Paul Sacher, the founder of the city's famous music library, and, until his death in 1999, would stay with him when visiting the city. This no longer being an option, in 2001 Boulez stayed in a local hotel. This was, unfortunately, just after the terrorist attacks in New York.
On seeing his name pop up somewhere on a computer, the local police did a background check on what, to them, was an entirely unknown figure. It had somehow found its way onto a list of possible suspects, perhaps because of some of his famously intemperate remarks about burning down opera houses and destroying all art of the past.
Given the attitude of Muslim extremists to music and other forms of art, as so disgustingly demonstrated by Isis recently, it is perhaps not surprising that the police were somewhat alarmed. Boulez was raided at his hotel, his passport and train ticket seized. After further investigations, and presumably some red faces, the situation was ironed out.
I'm told that the next time he visited Basel the Chief of Police was on hand to welcome him with a large bouquet.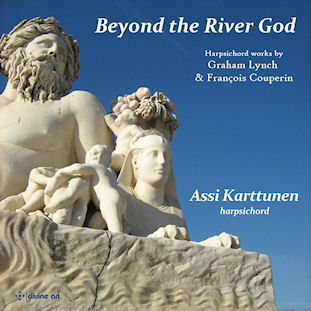 Harpsichord Music by Graham Lynch and François Couperin. Assi Karttunen (harpsichord). Divine Art dda25120.
Alex Ross describes Graham Lynch's style as puzzling 'over the classic distinction between 'tonal' and 'atonal', writing in praise of the neither-here-nor-there.' It's a pretty good analysis, though in the context of the works on this disk it, perhaps, underplays the extent to which the music is made up of recognisable (and therefore accessible) tonal elements. I'd also be coy about using the word 'atonal'. Whilst often correct in the sense of being 'not tonal', the surface of the works abound with generous and attractive melodic writing and, even when the harmony is nicely unpredictable, the extensive use of pivot pitches always keeps the music centred.
Beyond the River God, for example, presents three tonally derived ideas at the outset: a spread extended chord, a lovely melody and rocking homophonic chords. They appear throughout, sometimes obviously in a cyclical sense, sometimes appearing to lurk under the surface directing harmonic traffic. Ay! is tonal (though always interestingly so), being made up of flowing arpeggios that are given point and poise by the gradually emerging tango rhythms beneath. Admiring York Waterfall and Present-Past-Future-Present are more stark, with In Peterna lying somewhere in between.
Structural matters are handled with admirable lucidity. The shape of Beyond the River God derives from Lynch's use of the rondeau/couplet idea associated with the seventeenth century school of French clavecinists, most notably, François Couperin (five of whose works appear on the disk). In Admiring Yoro Waterfall the opening group of material, notably a two note whole tone figure, features several times, then gives way to a more obviously pictorial representation of the waterfall before returning at the end, all occurring over a carefully worked out pitch ground plan. The Six Strings from In Petenera elucidates a repeated phrygian idea based round a single pitch. Present-Past-Future-Present opens with a thoroughly explored 'walking' idea that reappears in the final movement. All the works also have a strong feeling of cadence, often underlined by a moment of silence before the launching of a new phrase, making the musical shapes easy to follow. Only in Sound Sketches did I feel that the musical argument was, perhaps, a little too pared down, neither the simple ground plan or arpeggiated surface providing enough interest. It is, anyway, only a very small piece at the end of the disk.
The pitfalls of a generous (nearly 80 minute) programme of music on a instrument with limited means of dynamic and timbral variation are obvious enough. In some ways, interpolating the music of Couperin with that of Lynch was a necessary practicality; the disc contains all of Lynch's harpsichord music to date which, by itself, would not have been enough to fill the disk. It also, however, provides a happy solution to the 'lack of contrast' issue – the ear is never tired by one style or the other. Also, I have to say, the quality of Lynch's writing is very much a match for that of his illustrious predecessor. Not that it's a matter of competition, since the two styles sit very comfortably together: though, Beyond the River God excluded, Lynch seems to want to avoid drawing comparisons between his style and that of his antecedents, in its lucidity, fecundity and understanding of the medium there are definite parallels.
I'm not in a position to judge the authenticity of the ornamental minefield of the Couperin except to say that the performances strike me as stylish and assured. In the Lynch Karttunen plays with verve, commitment and a total grasp of the structural issues at play. A highly rewarding disk.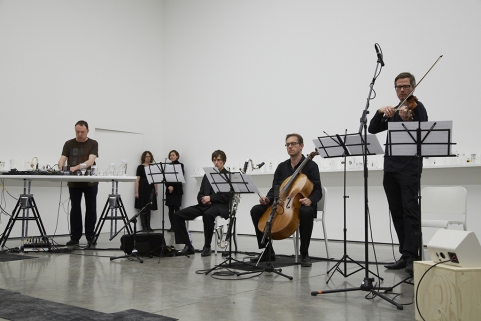 If you've not already been, Christian Marclay's solo exhibition continues throughout March at the White Cube Bermondsey. It features his new video installation Pub Crawl in which he 'coaxes sound from the empty glasses, bottles and cans that he finds abandoned on the streets of East London during early morning walks. In a series of projections that run the length of the gallery's corridor, these discarded vessels are hit, rolled and crushed, forming a lively sound track that echoes throughout the space.' The exhibition also features shorts concerts on 1st, 8th, 15th, 22nd and 29th in which the London Sinfonietta will play new commissions that respond to the space.
At Wigmore Hall on 4th the Britten Sinfonia première a new work by Dutch composer Joey Roukens whilst Magnus Lindberg's new piece will played by Leila Josefowicz (violin) and John Novacek (piano) on 19th. Both works are, as yet, untitled. Pitch up to learn more.
On 8th at the Barbican there is the chance to see the UK première production of Unsuk Chin's Alice in Wonderland with a multimedia staging by Netia Jones, which will combine 'the darkly imaginative illustrations of gonzo-artist Ralph Steadman with live action, interactive animated projections, eye-popping costumes and choreography.'
On 31st March at Hoddinott Hall in Cardiff BBCNOW under Jac van Steen
will workshop new works by Charlie Barber, Gareth Churchill, John Cooney, Nathan James Dearden, Jordan Hirst, Ray Leung, Nicholas Mills and John Senter. Several of these pieces will then be selected for public performance the following day.
An Englishman in New York, Thomas Adès makes his NYPhil conducting debut on 12th, conducting the US première of his own Totentanz alongside works by Beethoven and Berlioz. On 7th the NYPhil present one of their Contact! concerts, this time exploring music from Nordic countries, including premières from Per Nørgård, Kaija Saariaho and Ðuro Živković.
Also in New York there are two residencies at The Stone, a space dedicated to experimental and avant-garde music. The first, beginning on 17th, features composer/accordionist Guy Klucevek and will feature three world and seven New York premières. The second, beginning on 26th, features composer Lukas Ligeti with a number of guest artists including Marilyn Crispell (piano), Susie Ibarra (percussion) and Eyal Maoz (guitar).
In France, finally, Dai Fujikura's new opera Solaris receives its première on 5th March at Théâtre des Champs Élysées, with a subsequent performance on 7th. It is based upon the same 1961 Stanislaw Lem novel that inspired the famous film adaptation by Andreï Tarkovsky. Ensemble Intercontemporain are conducted by Erik Nielsen.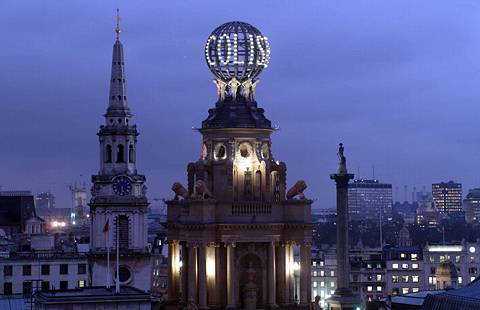 A bit of good news for anyone interested in the future of ENO.
For the last couple of years Arts Council England have been implementing vicious cut to the funding of ENO, one of our most innovative opera companies. In a press release today, however, they announced 'special funding arrangements' for the organisation, effectively an enormous capitulation. The release is as follows:
12 February 2015
The Arts Council today (12 February) announces that two organisations, English National Opera and Colchester's firstsite gallery, will not be admitted into its National portfolio of organisations for 2015-18. Instead they will be placed under special funding arrangements.
The proposed new National portfolio was announced on 1 July 2014 but confirmation of membership is subject to negotiating a funding agreement. As well as showing they will produce excellent work, all companies offered National portfolio status must demonstrate their business plans and their governance are robust enough to ensure the organisations are sustainable over a three-year funding term. In the case of these two companies the Arts Council has continuing concerns which it wants to see addressed.
The special funding arrangements with ENO and firstsite, which will run for two years, and one year respectively, will allow the Arts Council to work closely with each company as they review their business models and governance and to set rigorous milestones to monitor their progress. Entry to the portfolio at a later date will be possible, but will depend on the extent of progress made.
The Arts Council will take decisions on the future funding of both organisations following the implementation of these special arrangements.
English National Opera
ENO is offered funding for two years. The agreement will combine elements of the NPO and transition funding agreements previously proposed in July 2014. £12.38m revenue funding per year, with an additional £6.13m of transition funding, will be made available to the company over the two years to enable it to operate and make changes to its business model.
A considerable amount of work has been undertaken by English National Opera to address the challenges identified during the Arts Council's Opera and Ballet analysis and the risks highlighted in its National portfolio application. However, a number of significant risks associated with the proposed business plan remain.
This decision has been taken following a period of working very closely with ENO on their proposed funding agreement, further detailed analysis of their business model by financial consultants and recent uncertainty about ENO's senior leadership team.
firstsite
firstsite is offered funding for one year. The funding agreement will combine elements of NPO revenue funding (£814,517) and transition funding, to be confirmed, which will enable firstsite to operate and restructure.
This decision has been taken following a consultation period with key local stakeholders and funding partners, revised financial accounts from firstsite and an independent analysis of the organisation.
Althea Efunshile, Acting Chief Executive, Arts Council England said: "The Arts Council's role is to ensure that we get the best value for the taxpayer's money by investing in well run companies who delight audiences with brilliant work.
"With the very occasional exception, all the organisations we fund do just that.
"No one is doubting that ENO is capable of extraordinary artistic work but we have serious concerns about their governance and business model and we expect them to improve or they could face the removal of our funding. The challenges are similar for firstsite.
"However, we believe these organisations can inspire audiences long into the future and it is our hope and expectation that this happens."
The National portfolio now includes of 668 arts organisations (NPOs) and 21 Major Partner Museums (MPMs). 46 arts organisations join the portfolio and 60 leave. A final list of NPOs and MPMs will be published on 31 March.
The investment in NPOs for 2015/16 will be £339.5million, compared to £341.4m in 2014/15.
-ends-
For more information and a wry take on this volte face, have a look at this article by Norman Lebrecht.

From March 19th–22nd the biennial London Ear Festival of Contemporary Music is holding a small series of events to keep the spirit of the festival going in its fallow year (the next full festival being in 2016). Cheekily, but appropriately, labelled 'Between the (Y)ears' this mini festival looks pretty interesting.
The theme is contemporary Italian music. It kicks off on 19th with a harp workshop with Gabriella Dall'Olio that explores the writing in Donatoni's Marches. Both performers and composers are invited to attend. Later that evening the piece will be performed at a wine and nibbles reception along with pieces by Berio, Sollima, Bozzol and Gwyn Pritchard.
On 20th there is a concert by ensemble in residence Flame with guests Laura Monaghan (soprano) and Simone Beneventi (percussion). They will perform Zeno Baldi's In Punta – a new work from the festival's 2015 call for scores, as well as pieces by Pierluigi Billone, Giacinto Scelsi and the two festival artistic directors Gwyn Pritchard and Andrea Cavallari. Later the same evening there will be a video concert featuring Morton Feldman's Palais de Mari and Andrea Cavallari's Three Flags II.
The final day (Sunday 22nd) features a midday coffee and music concert with another new work from the 2015 call for scores, Lorenzo Troiani's Sotterranee. In ombra. The other composers on offer are Luciano Berio, Francesco Filidei, Franco Donatoni, Beat Furrer and Luisa Valeria. The festival ends with a closing cocktail and concert at 6pm.
The festival takes place at The Warehouse and The Cello Factory, close to Waterloo in London. Tickets are available here.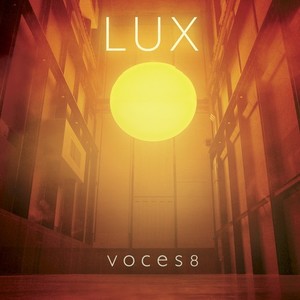 There are three new albums on Naxos worth exploring this month: wind band music by Salvador Brotons that includes his Symphony No. 6 and Symphonic Movement No. 7; Patric Standford's Symphony No. 1 and Cello Concerto; and Argentinian composer Osias Wilenski's Oboe Concerto and other works.

If you can get past the numinous packaging of Voces 8's new album Lux on Decca, there are some good things to be found on it, including works by Ola Gjeilo, John Tavener, Eriks Esenwalds, Rihards Dubra, Patrick Hawes, Will Todd and Paul Mealor. The modern works are broken up with some appropriately spiritual, though always welcome, lollipops: Tallis's O Nata Lux, Allegri's Miserere and a section from Rachmaninov's Vespers.

Jagoda Szmytka's new CD Bloody Cherries on WERGO explores physicality of sound and how it relates to the physicality of performance. It includes 7 works: 3 for amplified ensemble, the others for various combinations of amplified ensemble, amplified voices, transducer, electric guitar, cello, flute, piano and drums. The other new release on the label is a programme for saxophone, including works by Arturo Fuentes, Paulo Ferreira Lopes, Juan Camilo Hernández Sánchez, Phivos-Angelos Kollias, Tom Mays, Bernd Schultheis and Agostino Di Scipio.

There are two works for keyboard on Divine Arts. Masque is a follow-up album to Carson Cooman's well-received disk of organ music Litanies. It features his Preludes and Fugues 1–9, Preghiera and Symphony for Organ played by Erik Simmons on the instrument at Laurenskerk, Rotterdam. Beyond the River God, finally, features the harpsichord music of Graham Lynch and François Couperin.

Archive
1 | ... | 19 | 20 |

21

| 22 | 23 | ... | 44 |