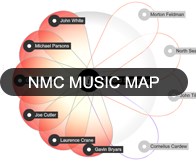 For a bit of Friday fun why not take a look at NMC's Music Map , an interactive application that explores links between composers? It launches with the composer you have chosen placed in the centre of the screen. Surrounding him or her like petals you will see others with whom the composer shares stylistic links. There is also a petal that shows who taught the composer and surrounding the 'flower', this time like orbiting planets, is a summary of the composer's style. In the bottom left is a panel to listen to musical extracts. Perhaps the most fun to be had, however, is by clicking on composers to make a 'musical map journey'. Rather like the six degrees of separation theory, it can provide some interesting links. It is possible, for example, to get from the lush tonal conservatism of Elgar to the integral serialism of Milton Babbitt, the composer who once wrote a paper entitled 'Who cares if you listen', in just four steps: via Anthony Payne, Elisabeth Lutyens and Robert Saxton. Inevitably there is a certain degree of subjectivity in the links but it makes for an interesting way of discovering new music.
0 comments | Post Comment
Apart from individual concerts, just updated here, there are several important festivals this coming month. As ever, I've not included concerts from these festivals in the main round-up. Instead follow my links to festival websites below.

The Festival Internacional de Música Contemporánea de Tres Cantos takes place in Madrid from October 6th to 28th. The programme concentrates on the music of Spanish composers, though there are also performances of works by Alfred Schnittke, Elliott Carter, Maxwell Davies and Arvo Part.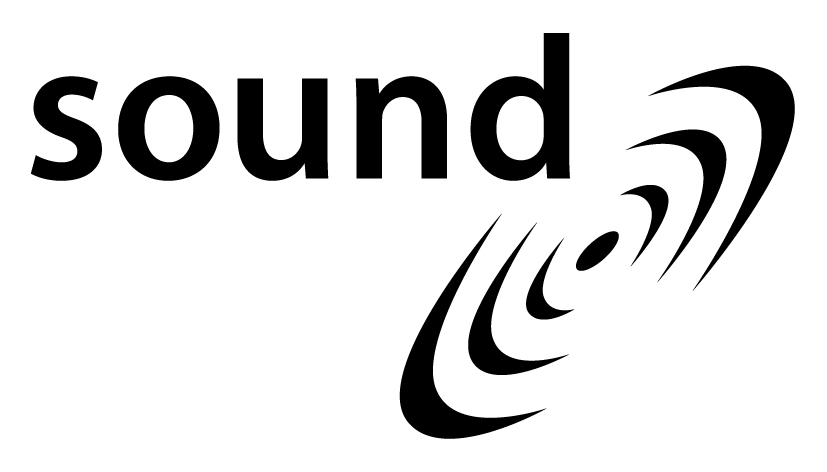 Sound, which takes place in a number of venues in North East Scotland, has become, since inception in 2005, a vital and thriving place to experience new music. Among the highlights this year include a 4-day programme of opera, with performances taken out of the theatre and staged in more unusual venues; the finale of the Three Cities Project (linking Aberdeen, Bergen and St Petersburg); a Red Note Ensemble Noisy Night; a primary school project based on Edward Lear's poems led by Daniel's Beard; a sound map of Aberdeen; and Matthew Herbert's visceral One Pig. The 2012 sound Festival runs from 19th October to 18th November.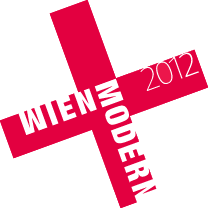 In contrast to the relative youth of Sound, Wien Modern, which runs from 22nd October to 16th November, this year celebrates its 25th anniversary. The birthday is being marked with a series of concerts chosen by Lothar Knessel, one of the festival's founders. Marking his centenary year, there will also be a special focus on the works of John Cage.
0 comments | Post Comment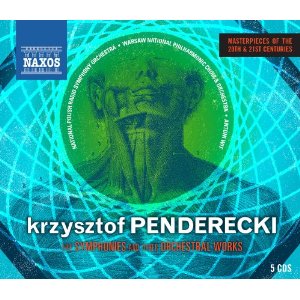 Apart from the excellent Retorica disk reviewed in my last post, there are a number of other new recordings worth checking out this month.
There are five releases on Naxos. The survey of the symphonies of Maxwell Davies under the baton of the composer continues with the issue of his classically proportioned Fourth and the single movement Fifth, played by the orchestras for which the works were originally written: the Scottish Chamber Orchestra and the Philharmonia respectively. In a similar vein, Antoni Wit and the Warsaw Philharmonic and Choir continue their increasingly impressive survey of the music of Penderecki with the release of the boxed set of Symphonies 1-5, 7 and 8 (No. 6, I believe, is still being written) and a disk of choral/orchestral music: Hymne an den heiligen Adalbert, Song of Cherubim, Canticum Canticorum Salomonis, Kosmogonia and Strophen.
In the American Classics series there is a recording of music by Claude Baker conducted by Leonard Slatkin and Hans Vonk with the Saint Louis Symphony Orchestra. The programme consists of The Glass Bead Game, Awakening the Winds, Shadows: 4 Dirges-Nocturnes and The Mystic Trumpeter. I don't know the composer but, having dipped into the disk on Spotify, I can say that the music is fascinatingly mercurial and atmospheric. Well worth a listen. Atmospheric, but in a different way, would also be a good description of Vivian Fung's Violin Concerto, Glimpses and Piano Concerto Dreamscapes with the Metropolis Ensemble. Here the effect is an intelligent mix of East meets West via Gamelan and John Cage prepared piano. Finally, there is a new disk of music for wind band that comprises Chen Yi's Dragon Rhyme, Kurt Weill's Violin Concerto and Jennifer Higdon's Soprano Saxophone Concerto. It is worth checking out even if you're not a fan of the genre, since the composers on the disk admirably exploit the range of which this type of instrumental group is capable.
Apart from Retorica, there are also two exciting new releases on NMC. The first is an all-Knussen programme consisting of Choral, Autumnal, the Whitman Settings, Secret Psalm and Prayer Bell with BCMG and the BBC Symphony Orchestra under the baton of the composer. The disk, sadly, doesn't seem to be on Spotify, so I've been unable to check it out properly. Little tasters are, however, available on the NMC website. The second is a disk of music by Tansy Davies entitled Spine, including the substantial works Iris, Falling Angel and the five movement Loopholes and Lynchpins for piano. Those who familiar with her music will know what to expect - urban but urbane: grungy but sophisticated - for those who don't, this is a good place to start, even if the disk Troubairitz on Nonclassical might be more immediately accessible. Also on Nonclassical, but this time only just released, is Cello Multitracks, featuring the music of Gabriel Prokofiev played by cellist Peter Gregson. Don't forget, finally, to check out the 20x12 page on NMC. Now the Olympics are over the project is drawing to an end, but it is perhaps even more compelling now the full range of works can be experienced.
0 comments | Post Comment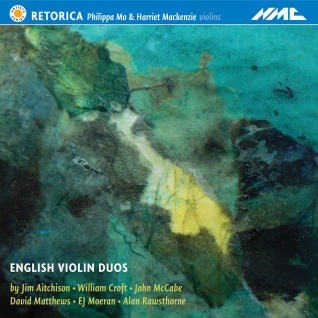 If a programme of music for two violins does not sound like a very appealing prospect, check out Retorica's debut disk, just released on NMC. Violinists Harriet Mackenzie and Philippa Mo have made it something of a mission to bring this little-known repertoire to a wider audience. Even the name of their duo - the Italian feminine form of the word rhetoric - is a reflection of this: just as rhetoric could be said to be artful persuasion in speech, they seek to do the same through their playing. They succeed here by the oratorical bucket-load.
The all-English programme consists of: Jim Aithison's Syruw: Five Kazakh Tableaux, John McCabe's Spielend, Moeran's Sonata for two violins, William Croft's Sonata IV Op. 3 No. 4, David Matthews' Eight Duos, and Alan Rawsthorne's Theme and Variations. It is a well thought-out programme; many of the pieces have a distinct feeling of place, especially by their link to the English pastoral tradition (or in some cases their reaction against it). The Croft, placed mid-programme, in itself a lovely piece, also acts as a clever amuse oreilles before we return to the twentieth-century for the last two works. It also ends with the same lilting rhythms with which the Matthews begins, providing a nice sense of connectivity.
There is a strong pictorial element in many of these works, none more than the first on the disk, Jim Aitchison's Syruw. The composer has long forged connections with the art world, and this piece was designed to be performed with an exhibition that explored Kazakh life and textiles. It consists of a series of delightful and expertly-realised vignettes, from the stillness of the opening, whose little disturbances presage the gentle breeze of the second movement through to 'an exaggerated tale', which seems capture a storyteller in the very act. The Matthews has a similarly visual feel. There is a sense of connectedness between some of the movements, especially in the emphasis on the pastoral and, in the sixth movement entitled 'Contra-Pastoral', its urban equivalent. The whole can also, however, be understood as a series of hors d'oeuvres-like 'moments', each element entire unto itself, but much more satisfying when consumed together.
The other three twentieth-century works on the disk use more abstract structures. In the case of the Rawsthorne this is a closely argued theme and variations, though the emphasis on short movements provides a not dissimilar feeling to the Aitchison and Matthews. There is no doubting the fact, however, that this was intended as a much more serious work, the theme of the opening being skilfully and inventively manipulated throughout, with the final movement recapitulating some of the early variations in order to bring the piece to a satisfyingly cogent close. Spielend, the German word for 'playing', by John McCabe is based upon the idea of the musicians 'playing their themes against each other and playing with the musical material.' The thirteen-minute, single-movement work, begins with exhilaratingly spirited hocketing interspersed with flourishes. It is followed by a long central section that explores two reminiscences of the Violin Sonata of Poulenc before returning to the vigour of the opening. Moeran's Sonata for Two Violins is the most traditional of the twentieth-century works on the disk. The influence of English folksong is everywhere imprinted on the music, though his frequent diversions into more adventurous harmonic territory avoids the 'cow-pat' element of which many of his contemporaries were guilty. This is especially evident in the final movement in which, after 12 straightforward passacaglia statements, the music is allowed to roam more freely.
What is especially striking about the pieces on this disk is that, perhaps because the limited resources force the composers to make every note count, each has a structural tautness that facilitates rapid engagement with the listener. This is not to say the composers give away everything too quickly; far from it, this is music that challenges and rewards repeated hearings. The other extraordinary quality of these works is the way in which each composer has made limited resources sound rich and even symphonic. In this they are aided by the brilliant performances of Mackenzie and Mo. It is clear that they not only understand the subtleties of the music they are playing but they want to 'wow' you into loving it as much as they do. In this they totally succeed. The recording too strikes an excellent balance: it is both intimate but with sufficient acoustic spaciousness for the music to feel full.
0 comments | Post Comment
Having written a eulogy to the music of William Mathias not many weeks ago, I managed to forget to mention the upcoming North Wales International Music Festival, which was founded by the composer. It runs from the 22nd-29th September and focuses on more popular contemporary music, making a special feature of the works of Karl Jenkins and royal composer Paul Mealor. The twentieth anniversary of the composer's death will be marked by performances of his Anniversary Dances and Let the People Praise Thee O God. His daughter, Rhiannon Mathias, will give the festival Eucharist address on 23rd September.
A heads-up also for Ultima, the Oslo Contemporary Music Festival, which runs from 6th-15th September. The introduction to the festival from Director Mars Petter Hagen makes a virtue out of pointing out that there is no theme, but instead links will become clear as the festival unfolds: 'whether it is in the intervals, between the concerts, at the fragile acoustic micro level in a newly composed and never performed piece, in a brutal, musical collision, or somewhere totally different.' That may sound a bit nebulous, but a quick glance at the programme, here, reveals a very wide range of interesting concerts.
On Septermber 19th, finally, the BE OPEN Sound Portal arrives at Trafalgar Square as part of the 2012 London Design Festival: 'An alien black, rubberised structure will be home to finely-tuned audio technologies aimed at delivering pure acoustic experiences to visitors in the middle of Trafalgar Square.' It will also play host to musicians and sonic artists who have been commissioned to produce new works in the space. More information is available via SaM.
0 comments | Post Comment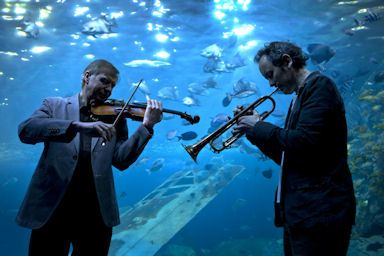 There are several festivals that feature new music in September. I've included a selection of concerts from them in my monthly round-up on CT's concert page. As always, however, a more complete programme can be found by browsing individual festival websites: the Warsaw Festival of Contemporary Music (16th-24th September); the Festival de Música de Alicante (21st-29th September); Musikfest Berlin (31st August-18th September); and Beethovenfest, Bonn (7th September-7th October). I should also make special mention of the Presteigne Festival, which I forgot last month. Whilst it started on 23rd August, it still has a few days left to run. There is much left to enjoy. Tomorrow, for example, there is the chance to hear Sally Beamish's String Quartet no. 2 'Opus California' and the world première of Michael Berkeley's Oboe Quintet. The festival's final concert on 28th August contains Paul Patterson's Allusions for two violins and string orchestra and the world première of the revised version of Sally Beamish's No, I'm not afraid.
Of the other individual concerts, Fish Music (see photo), taking place in Plymouth on 13th September, especially caught my eye. It comprises a sound installation where fish in an aquarium become musical notes. Their position in relation to a stave placed in front of them is interpreted by improvising musicians. Whilst its success no doubt relies more upon the skill of the performers than the position of the fish, the concept is a fascinating one; I imagine the combination of the hypnotic movement of fish and music is felicitous indeed.
0 comments | Post Comment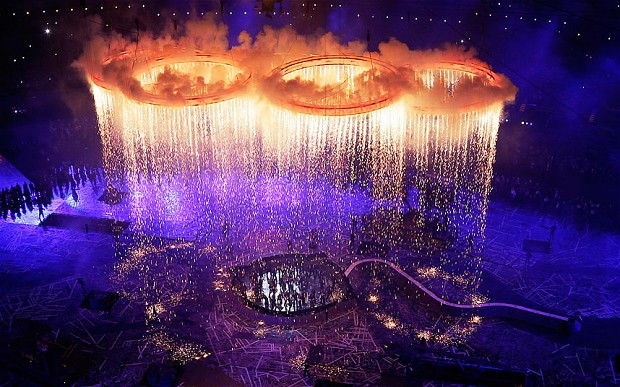 Okay, I admit it: hosting the Olympics was not such a bad idea after all. As I've watched I have found myself whooping, shouting, crying with joy and often turning the television off because I can't take the stress. This is strange, since I've not much more than a passing interest in sport. Granted, I enjoyed seeing Andy Murray avenge his defeat at the hands of Roger Federer, and it's been thrilling to see the cyclists and rowers perform so brilliantly. Maybe, however, it's because the spirit of the Olympics, especially in the journey athletes have to make in order to achieve mastery, is something with which musicians can connect. Music, like sport, demands sacrifice.
New CD Releases
The Olympics continue to be a source of inspiration this month for composers taking part in the 20x12 project. There are three new tracks available on NMC: Aidan O'Rourke's jauntily minimalist TAT-1, inspired by the first transatlantic telephone cable; the astringent and powerful mini-opera Our Day by Conor Mitchell, set against the backdrop of events in Northern Ireland in 1972; and Oliver Searle's mercurial Technophobia, which brings together conventional and unconventional instruments played by young disabled musicians and their peers.
Elsewhere, as musicians concentrate their efforts on the concert hall, there are only a few new recordings. The music of Catalan composer Xavier Montsalvatge (1912-2002) features in two releases. There is a collection of his music for two pianos - Barcelona Blues, Tres Divertimentos, Sum Vermis and 5 Invocations al Crucificado - on Naxos; and Partita 1958, Cinco Canciones Negras, the premiere recording of Calidoscopi Simfonic and Sinfonia de Requiem on Chandos. Described by Aaron Copland as 'The Messiaen Monster', the Turangalila-Symphonie, now acknowledged as one of the great works of the twentieth century, receives a new recording with Juanjo Mena and the Bergen Philharmonic Orchestra on Hyperion. Warner Classics, finally, have released a very enticing 6 CD collection featuring pianist Pierre-Laurent Aimard playing music by Debussy, Ives, Messiaen, Ravel, Carter, Boulez, Beethoven and Liszt.
BBC iPlayer
If you missed the BBC Proms over the last week, I thoroughly recommend picking up the world premieres of James MacMillan's Credo and Charlotte Bray's At the Speed of Stillness on BBC iPlayer (follow my links). Some may find the MacMillan difuse, but there is no doubting his ability to make the familiar - both in terms of raw musical language and established forms - seem excitingly new. The Bray, in contrast, showed commendable focus. Other works still available on iPlayer as I write include Knussen's Symphony No. 2 with the BBC Philharmonic under Noseda and the UK premieres of Langgaard's Symphony No. 11 Ixion and Gudmundsen-Holmgreen's Incontri played by BBC Symphony Orchestra under Dausgaard.
Embedded
A quick reminder to finish. For those interested in Sound and Music's excellent Embedded programme, there are still a few days left to apply. There are three calls: no.w.here, an organisation based in Tower Hamlets that combines film production alongside critical dialogue about contemporary image making; Music Hackspace, a platform that supports the development of innovative new projects using new technologies; and BBSO, which offers a year-long partnership to write new works of up to 12 minutes for symphony orchestra. The deadline for these calls is August 13th. More details are available on the Sound and Music website.
0 comments | Post Comment

Whilst I've just updated CT's concert listings for August, there is such a range of concerts this month that I would also recommend checking out individual festival programmes, of which many of the concerts are a part.
In the UK, the BBC Proms continues throughout August. For a quick summary, take a look at my preview blog, here. Also worth checking out is the exciting and innovative Tête à Tête opera festival. It runs from 2-19th August and contains over 70 performances from 30 companies. I've not tried to summarize this wealth of performances on the concert-listing page so strongly recommend taking a look at the programme for yourself. The Edinburgh festival also gets going on 9th August and includes a number of concerts that include new and recent music. I've included several of these in CT's listing or, alternatively, you can look directly on the festival's music page, here.
On the continent the Lucerne Festival Summer Festival runs from 8th August to September 15th and this year focuses on the theme of 'faith' with a particular emphasis on the music of the two composers-in-residence, Philippe Manoury and Sofia Gubaidulina. The Salzburg Festival got under way on 20th July and continues until 2nd September. It contains, almost as a festival within a festival, a series of 14 concerts, entitled Salzburg Contemporary. This features a host of exciting music, including works by Lutoslawski, Heinz Holliger, Zimmerman, Dallapiccola, Berio, Boulez, Scelsi, Ligeti, Stravinsky and Berg.
0 comments | Post Comment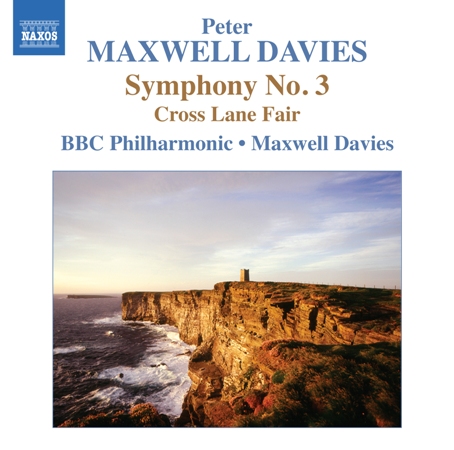 A quiet month. Only Naxos – as usual – has produced new albums of recent music. Three of these are in its American Classics series. There is a recording of music by Alan Hovhaness with his Symphonies 1 and 50 and Mount St. Helen with Schwartz and the Seattle Symphony Orchestra; Peter Menin's Symphony No. 3 and the concertato Moby Dick, also with the Seattle forces; and a programme of David Del Tredici piano works, the first recording in a complete survey, including: Aeolian Ballade, Ballad in Lavender, Ballad in Yellow, S/M Ballade and Gotham Glory. The Hovhanesss and Menin, who were near contemporaries, make an interesting contrast, the Hovhaness wholly refusing to engage with modernism, Menin more astringent even if still essentially tonal. Del Tredici, who unlike the other two is still alive, is known as the father of American Neo-Romanticism. His works are attractive and approachable, though, especially in the 'pianistic terror' that is S/M Ballade, with plenty of substance too.
Perhaps the most important of Naxos's releases this month is a new recording of Maxwell Davies's Symphony No. 3 and Cross Lane Fair, since it is features the composer himself in charge of the BBC Philharmonic Orchestra. The symphony owes much of its structure to the principles of architecture, though Davies has also written that 'the architectural proportional devices...related at least as directly to the spiralling mollusk shells on my desk...and to the spirallings of the huge breakers crashing in from the Atlantic on that same shore.' Like many of his pieces, therefore, it is very firmly rooted in his adopted island of Orkney. Written in four movements that might, in their slow-fast-fast-slow plan, owe something to Mahler 9, it is a work of great power that, nevertheless (and perhaps like Mahler), requires the listener to work at its understanding. As if to sweeten the deal it is paired with the much lighter Cross Lane Fair, an attractive and accessible work that is inspired by memories of a fairground near Salford.
The 20x12 project continues to be a great source of discovery and, to my mind, the most interesting offshoot of the Olympic Games. NMC have recently released three new pieces in the series: The Voyage by Michael Wolters, Zatopek! by Emily Howard and Fire by CT founder David Bruce. These new works greatly enrich what was already a delicious smorgasbord of new music. As before, they are available as a subscription download, and as individual tracks on iTunes, Amazon and Spotify.
0 comments | Post Comment
Perhaps you needed to be a brass player fully to appreciate Mark Anthony Turnage's Canon Fever, the world première of which opened the First Night of the Proms on Friday. Ruthlessly and relentlessly written, it provided the BBCSO players with a chance to exhibit the exuberant, atavistic side of their musical personalities. The result was three minutes of exhilarating music. It was a breath of fresh air in a concert that then descended into patriotic navel-gazing. Catch it on BBC iPlayer whilst you can.

0 comments | Post Comment

Archive
1 | ... | 17 | 18 |

19

| 20 | 21 | ... | 32 |