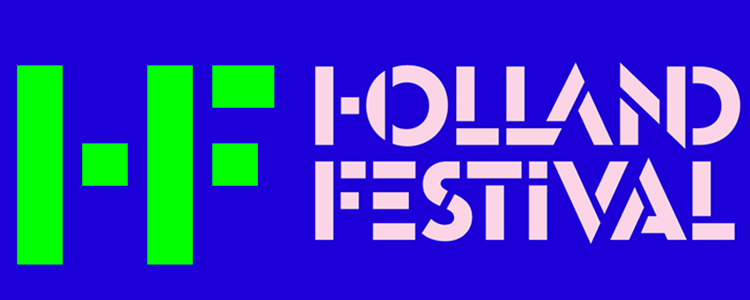 Holland Festival (Holland, Amsterdam) 30th May–23rd June
The Holland Festival takes place in numerous venues in Amsterdam and features dance, film, the visual arts, theatre and also a wide range of concerts, many of which feature new music. This year there is a particular focus on the music of Pierre Boulez, in concerts and also more exploratory events.
On 1st Jean-Guihen Queryas is joined by students of the Musikhochschule Freiburg to give a lecture recital on Boulez' Messagesquisse for solo cello and six cellists. There is also a series of concerts on 4th and 11th in which students of the Royal Conservatoire perform reinterpretations of early Boulez works and, on 14th, a concert performance of Répons, Boulez's first work combining traditional instrumentation and real-time manipulated sound. Beyond the Score, on 2nd, meanwhile, features a set designed by architect Frank Gehry on which key works from Boulez's œuvre are played together with with letters, poems and archival footage.

Aldeburgh Festival (Snape, UK) 12th–28th June
There is also a chance to see a version of the Gehry/Boulez project at the Aldeburgh Festival on 17th, where it is called A Pierre Dream: A Portrait of Pierre Boulez and features the Royal Academy of Music Manson Ensemble conducted by Susanne Mälkki. The same ensemble will also perform his Improvisation sur Mallarmé I and II on 19th.
The major première at the festival this year is Harrison Birtwistle's new opera The Cure on 12th, 14th and 15th. The libretto, by David Harsent, is inspired by classical mythology and will be paired with their earlier collaboration The Corridor.
Other premières include Martin Sucklings Visiones in a late-night concert on 20th and Saed Haddad's In Contradiction for two cellos and ensemble on 25th. The latter also features works by Birtwistle, Knussen, Benjamin and Ligeti. Also intriguing is the world première performance on 24th of Tal Rosner's new video accompaniment to Britten's Four Sea Interludes and Passacaglia. That concert is also worth attending for the chance to hear Helen Grimes' Everyone Sang.

St. Magnus International Festival (Orkney, UK) 18th–25th June
Featuring concerts, theatre, food and drink, films and education projects the St. Magnus International Festival is, of course, most synonymous with the music of its founder Peter Maxwell Davies. On 20th there will be the chance to hear the world première of his new work for solo violin, with other new pieces by Sally Beamish and Adrian Sutton. His Ebb of Winter will also be played by the Scottish Chamber Orchestra on 21st. Also on 21st is festival director's music for Greenvoe, featuring the prose of George Mackay distilled by Festival Poet Stewart Conn.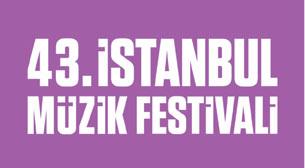 Istanbul Music Festival (Istanbul, Turkey) 31st May–29th June
The 43rd Istanbul Music Festival consists of 27 concerts and 5 premières. These include the world première of Hasan Niyazi Tura's symphonic poem commemorating the 100th anniversary of the Gallipoli War in the opening concert held on Sunday and Armenian composer Tigran Mansurian's In memoriam Komitas Vardapet for viola and piano on 10th.
0 comments | Post Comment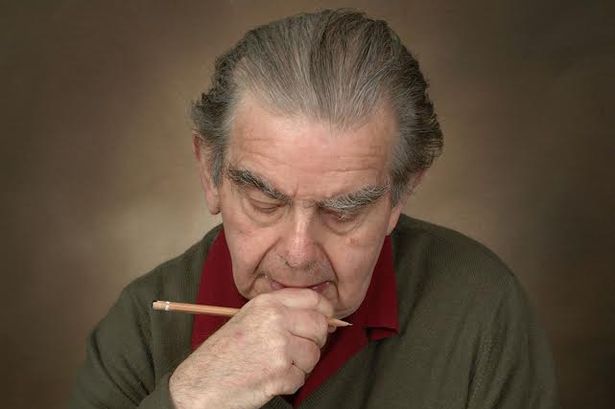 Many readers will not have heard of Mervyn Burtch, a Welsh composer who died on 12th May aged 85. For Welsh musicians his is a very familiar name indeed. His practical attitude to composition – the belief that a composer should serve his community – resulted in a large body of work, a significant proportion of which was written for amateurs and children. In this way Burtch touched the lives of many Welsh people.
Burtch hailed from Ystrad Mynach, attending Lewis School at Pengam, where he was taught by the composer David Wynne, a key early influence. His career also followed a similar path: he became Head of Music at Lewis School for Girls before teaching at the Welsh College of Music and Drama from 1979. It was probably his experience as a schoolteacher that enabled him to write so effectively for young people.
In an age when composers agonise over their style, Burtch, it at least appeared, had few such doubts, producing more than 650 works over his long life, including 17 string quartets, 14 concertos and numerous youth operas, choral and brass band works. In reality his style, accurately described elsewhere as 'brisk, clear and concise, with an instantly recognisable voice' was the product of hard-won professional determination. Neither should his fecundity obscure the fact that, especially in his more introspective works, his musical language could be stark and challenging.
Burtch will probably be best remembered for his youth operas, a product especially of the Welsh College of Music and Drama Schools' Opera Programme, which he directed. These include works based upon well-known tales, such as The Pied Piper (his first opera for schools, written whilst still a teacher) and Alice in Wonderland (1997); others suggesting elements of Welsh culture, as in The Dragon of Abercwmgoch (1984); or the much more outlandishly titled Percy the Martian (1988) or Sam Sparrow and the Coca Cola Well (1992). His reach into youth music making wasn't just through the medium of opera, however: there was also a substantial quantity of amateur music for choirs and brass band.
My own first experience of his music was playing second cornet in the première of his Concerto for Piano, Brass and Percussion in the National Youth Brass Band of Wales. What was interesting, looking back, is that the work was an intensely serious one with, as I remember, a dark, brooding slow movement and a finale of sardonic Shostakovich-like energy. His success in writing for amateurs was a product of him understanding what was and wasn't possible whilst, at the same time, not compromising his style.
Others have written of his kindliness and unassuming nature. I had lunch with him once at the age of 17, also in the company of A.J. Heward Rees, who was then Director of the sadly now defunct Welsh Music Information Centre. I was incredibly impressed to be meeting a real composer and, I think, a bit tongue-tied. He was easy-going, natural and incredibly encouraging. I saw the same thing some years later during the rehearsals for The Pied Piper in 1999, where he patiently played piano for rehearsals of a little group of very young players in the Welsh College of Music Pre-Junior Department.
Given that Burtch became such a fixture in Welsh musical life, it seems astonishing that the discography of this composer is so limited. On Spotify I am able to locate only one recording, his Aladdin Overture, which shows the composer at his most urbane and fluent, but does not give a fair view of his compositional range. For more introspective Burtch try the Four Portraits of Alice in Wonderland (1982, rev. 1993) or his Dream Sequence (1986) for horn and piano. If you can track them down there is also a short collection of his choral music, recorded by the Cardiff Polyphonic Choir, and also individual works on collections of other (especially Welsh) music, including his Prelude, Arioso and Dance, Three Welsh Folksongs and Sonatina.
For more information
0 comments | Post Comment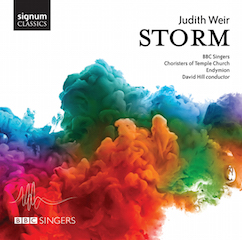 Storm is Signum Classics' new disc of Judith Weir vocal music performed by the BBC Singers under David Hill. It consists of All the Ends of the Earth, for chorus, percussion and harp; her set of evening canticles, written in 2011 for St. John's College, Cambridge; Missa del Cid; The Song Sung True; and Storm.
Weir's ability to render the familiar new is often remarked, especially in her propensity to deploy tonal/modal elements in a manner that avoids cliché. That is everywhere apparent here, the language being accessible without dumbing-down. Her ability to renew also extends into other areas. Whilst the Magnificat and Nunc Dimittis takes a traditionally compact approach to the setting of the evening canticles, two of the other works offer a rich reimagination of existing forms. The Missa el Cid is a mini opera, one in which the confrontation between the words of the narrator, the liturgy and the text of the 13th century Cantar del Mio Cid provide a striking dramatic tension. All the Ends of the Earth manages a similar feat, this time reworking elements Perotin's Viderent Omnes into a work of ravishing polyphonic beauty in which the spirit of earlier composer is, nevertheless, never far away.
The last work on the disk is a reminder of Weir, the practical community composer. Originally written in response to a commission from a local schoolteacher to set Shakespeare's Our revels now are ended, it grew into a longer work of five movements for SSAA+treble chorus and 9-piece ensemble. It is music of poised beauty in which the spirit of Britten's best music for amateurs never feels far off. The performance, in which the purity of the Choristers of Temple Church so effectively contrast with the rich sounds of the BBC singers, is a delight.
0 comments | Post Comment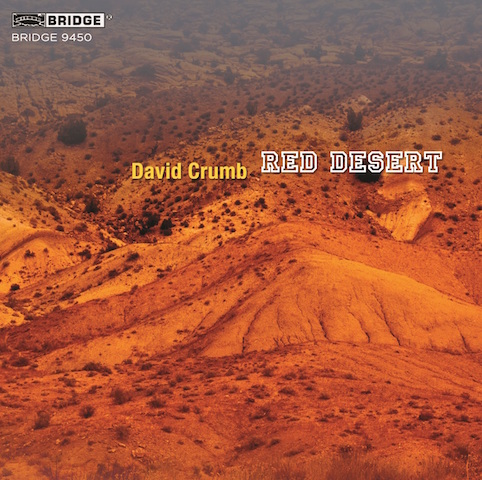 Time to dismantle the hustings, take off rosettes and breathe a sigh of relief that the UK election, possibly the most tedious campaign I can remember, is finally done with. At least the end was exciting, though I hate to think of what it harbingers for the future of the UK. It's good today to be back looking at musical things: a pretty good range of new CD releases.
On Bridge Records Paul Lansky's Contemplating Weather is a choral cantata commissioned to celebrate the 100th anniversary of Western Michigan University School of Music. As the title suggests, it sets poems that examine various facets of climate. The style is attractive, though a little anodyne for my taste. Don't let that stop you making up your own mind, however. On the same label, David Crumb's new disk contains four chamber works, the most substantial of which, the three movement Red Desert for Baritone and Piano also lends its title to that of the album. There is plenty of meat on offer here, from the witty dialogue of Soundings to the vast contemplative spaces of Rock Cathedrals (first movement of Red Desert). It is well-written music, not afraid to embrace a wide harmonic range. Worth exploring.
Such advice also applies to two new disks on Signum, which, like the aforementioned, can also be Spotified. I'm going to write a little more about Judith Weir's new choral disk Storm in a separate blog post, safe to say that I am enjoying it a great deal. Also just released is Tamsin Waley-Cohen's programme of music for solo violin, which consists of works by Bartok, George Benjamin, Penderecki, Carter and Kurtág. I've only dipped into this. It's serious and astringent fare, but rewarding for the same reasons.
On Naxos a new Penderecki album consists of two choral works, his Magnificat and the much later (and therefore less avant garde) Kadisz performed by the Warsaw Boys' Choir, Philharmonic Choir and Orchestra under Antoni Wit. There is a disk of orchestral works by Zhou Long, including his Symphony Humen 1839; Joan Tower's Violin Concerto, Chamber Dance and Stroke; Pinho Vargas's opera Os Dias Levantados, an exploration of the coup of 1974 that ended Portugal's fascist regime; the latest issue of Naxos's series of orchestral music by Gian Francesco Malipiero, most substantially containing his Sinfonia degli eroi (Symphony of Heroes); and, more lightheartedly, a reissue of the definitive restoration of Korngold's music for the 1938 Warner Bros.' production of The Adventures of Robin Hood.
A couple of other Spotifiable options to finish. Dutton Epoch have just put together a 3 for the price of 2 deal on a collection of works by Arthur Butterworth, a Manchester-born composer who died in 2014. Symphony No. 1 and 4, and the Viola Concerto, plus an interesting monologue from the composer talking about his life and music are available for streaming. The music itself, as the composer says, takes an individualist route, not attempting originality but rather using familiar, especially tonal, elements to forge his style. On Decca meanwhile, there is a new two-disk collection of piano works by Philip Glass played by Valentina Lisitsa. It includes the famous opening to Glassworks, arrangements from the soundtrack to The Hours and Metamorphosis 1-5.
0 comments | Post Comment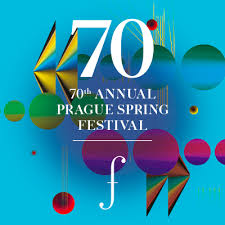 I was sorely tempted to head from Basel to Prague in May: a month in a beautiful (and relatively cheap) European city with a major music festival sounded promising. As well as a wealth of other repertoire played by world class performers, new music events at the 70th Prague Spring Festival include: a revival of Ľubica Čekovská's opera adaptation of Oscar Wilde's The Picture of Dorian Grey on 19th; the Prague Philharmonic Choir singing John Tavener, Arvo Pärt, Veljo Tormis and Eric Whitacre on the same day; the Czech premiere of Einojuhani Rautavaara's Apotheosis from Symphony No. 6 on 21st; and Berio and Britten on 23rd and 27th. Unfortunately my commitments will keep me here, but, if you're tempted, there's still plenty of time to organise a visit; the festival runs from 8th–3rd June, (though the first few days are a flute and clarinet competition, the official opening concert being on 12th).
The York Spring Festival is looking to create a carnival atmosphere in the city over the course of the weekend of 9th–11th May, with a spirit of exploration and openness to all genres. There are some imaginative events on offer. On 9th Latrabjarg: an Ecological Requiem for electric cello, counterternor and chamber ensemble by James Cave and Christopher Mullender explores loss of culture and the natural world; the Dark Inventions' concert on 10th mixes folk song with music by British composers, including the the work Firewheel by Philip Cashian. On 11th there is a morning of new music debate and discussion, the day being rounded off by a Nonclassical Contemporary Music Club Night at 9.30pm.
The Vale of Glamorgan Festival (12th–23 May) takes place in a variety of venues in South East Wales. This year the focus is on celebrating Arvo Pärt's 80th birthday, with performances spread throughout the festival programme. There will also be the chance to hear music by British/Bulgarian composer Dobrinka Tabakova, including her Fantasy Homage to Schubert, Frozen River Flows, and the UK premieres of Such Different Paths and Of the Sun Born. World premieres include Between the Waves by Tom Green and Xiao Ying's Septet. Other living composers represented include Peter Reynolds, John Adams, Richard Ayres, Tan Dun and Jaan Rääts. On 12th there is also a New Music Day, where the Nieuw Ensemble will play compositions by emerging composers at the Royal Welsh College of Music and Drama.
The English Music Festival (22nd-25th) focuses largely on an undeservedly neglected seam of repertoire: more conservative English composers of late 19th and 20th centuries, including figures such as Havergal Brian, Vaughan Williams, Alwyn, Parry, Stanford and Howells. There are also a couple of world premieres and a concert of music given by composer/pianist Lionel Sainsbury.
Some other festivals worth exploring in May, especially if you are nearby include: the Techtonics Festival (1st–3rd) in Glasgow; the Norfolk and Norwich Festival (8th–24th); the St. Davids Cathedral Festival in Pembrokeshire, Wales (22nd–31st); the Northern Chords Festival in Gateshead, Durham, Corbridge and Newcastle upon Tyne (25th–30th); and the Holland Festival (30th May–23rd June) in Amsterdam.
A quick heads up that the Proms programme is now published. You can see it here.
Also two Helen Grime world premieres worth seeking out: her Concerto for Clarinet and Trumpet will be performed on 7th May at Bridgewater Hall Manchester by the Halle with soloists Lynsey Marsh (clarinet) and Gareth Small (trumpet); a new String Trio by The Chamber Music Society of Lincoln Center at Wigmore Hall on 8th.
0 comments | Post Comment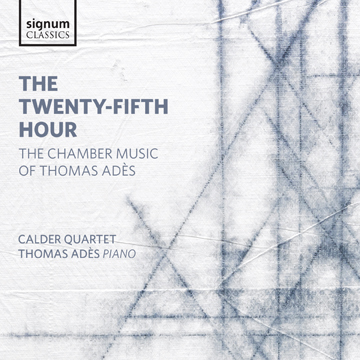 There's a trio of contrasting discs on Signum Classics this month. Flight is a collection of works by Oliver David (b. 1972) performed by violinist Kerenza Peacock with the LSO. It's colourful if pretty light fare, music to be consumed. If you like the style but prefer something a bit more profound, you could check out Bob Chilcott's dramatic St. John Passion with Wells Cathedral Choir conducted by Mathew Owens. Both recordings are available on Spotify. For the more adventurous I recommend Signum's disk of chamber music by Thomas Adès. It contains his metrically dazzling Piano Quintet; Arcadiana, most remarkable for its moving homage to Elgar in its sixth movement O Albion; and The Four Quarters, which uses the daily cycle as its central metaphor.
Towards the end of his life John Cage wrote a series of works entitled Two. The number refers to the number of performers, with a superscript suffix (Two1, Two2 etc) denoting the piece within the series. WERGO has just released the performance of Two3 for Japanese shō and conch shells. The only performance I have heard of the work lasts for ten minutes, so I'm not sure how it becomes the two-disk epic presented here. Possibly for die-hard fans only. Also just released on WERGO is Giacinto Scelsi's Suite 9 and 10 for piano performed by Sabine Liebner and a collection of organ music by Gerhard Stäbler. The latter takes it's name from one of the pieces on the disk, Heiss! I've heard this wacky and experimental work, which is so full of original and fascinating sounds you barely realise you are listening to the king of instruments.
Two discs of electronic music. On Nimbus there is a three CD + 1 DVD complete collection of electro-acoustic works by Douglas Lilburn (1915-2001), who is often considered to be the father of New Zealand music. The disc derives its rootedness by using found musical material from the New Zealand environment. Audio tracks from the collection are available on Spotify. Also using found material is Karen Power's it is raining while you listen, a series of frozen sonic moments for electronics/electronic+acoustic instruments. It is released by Farpoint Records in an attractive limited edition with poetry, texts and photographs commissioned by the composer.
Keep an eye out, finally, for the soon-to-be-released disk Wild Cyclamen on NMC. It contains songs by Hugh Wood exploring the themes of youth, love, lust and longing in settings of poetry by DH Lawrence, Laurie Lee, Robert Graves and Lawrence Durrell.
0 comments | Post Comment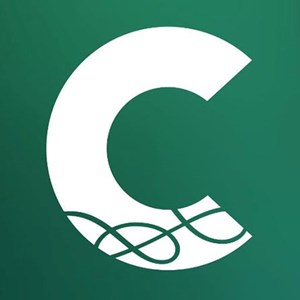 Whilst flicking between record label websites this afternoon, I came across the Composed app, a collaboration between Classic FM, Decca and Deutsche Grammophon that presents a curated list of classical music for £4.99 per month. I was unable to download the desktop version, which requires you to be in the UK, but my login to the Apple App Store seemed to be enough to persuade them of my Britishness. There doesn't appear to be an Android version, which is short-sighted.
The feel of Composed is very 'Classic FM', with a high degree of emphasis on the core classical repertoire organised by moods, collections and composers. It all feels a bit dumbed-down if you're an experienced consumer of classical music, though I liked the emphasis on searching by composer – if you prefer classical music this is how you choose a piece. It is a mistake, however, not also to allow searches by performer. It's a decision, just like the trumpeting of 'curation', that feels like an admission that the collection lacks depth; the presence of only two record labels means that this is no Spotify.
Where the app might be useful is for those with a budding interest in classical music. The 'moods' and 'collections' sections are a lot of fun and contain heaps of good music, including the entire Classic FM Hall of Fame. There's even a 'Nervous Newcomer' playlist, which contains a series of familiar lollipops to draw people in. And when you start digging deeper you can find some quite challenging stuff. There's music by Boulez, Berio, Birtwistle, Cage, Henze, Varèse, Berg, Webern etc. I'm all for finding ways of introducing classical music to the masses and then maybe gradually winning them over to more recent fare.
The problem for Composed, however, is that Spotify also does themed playlists. Granted, it's not as slick and Spotify costs twice as much, but you then get a far more comprehensive collection of classical music, plus the added bonus of having other genres – pop, blues, rock etc – available. As such, it's difficult to recommend Composed, though, if you're interested, the app gives you free access to its collection for a month, which by itself might make it worth investigating.
0 comments | Post Comment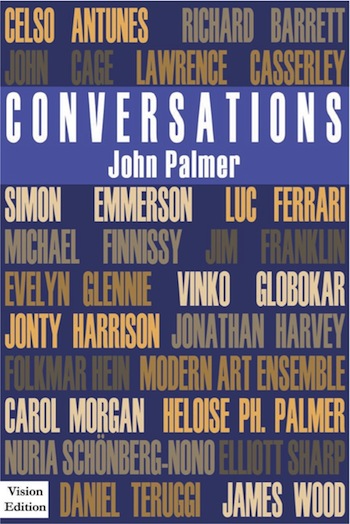 Conversations is John Palmer's new book published by Composer's Edition in partnership with Palmer's own enterprise, Vision Edition. It contains 20 conversations with major figures in contemporary music: 13 composers, 4 players, a conductor, tonmeister and founder of a music archive. It is an impressive list of names, including figures such as John Cage, Jonathan Harvey, Michael Finnissy, James Wood, Luc Ferrari, Richard Barrett, Evelyn Glennie and Nuria Schönberg-Nono.
Palmer is very deliberate in preferring the term 'conversation' to 'interview' – certainly the tone that comes across throughout is one of an exchange of ideas between friends. That said, the conversations don't ramble. Most begin with questions about background and musical formation, leading to more specific questions as the conversation develops. Palmer manages this unfolding expertly.
The oft-repeated structure allows readers to gain useful perspectives. It is fascinating, for example, to see the varied routes by which each of the composers came to music. There's the more traditional choir and organ background of Harvey and Wood and then those with much less conventional early years. Richard Barrett and Daniel Teruggi, for example, became composers relatively late in life, both having being primarily interested in science.
Palmer also does a good line in reusing more imaginative questions, which can be just as revealing of his own interests and motivations. These range from technical information about a composer's electronic setup, to his frustrations about musicians' inability to perform aleatoric scores. My favourite concerns Palmer's belief that music has an intrinsic power to change people; he is convinced 'that an accurate listening experience may not only stir new perceptions of life, but also trigger a radical change of consciousness…therefore, by multiplication, it can initiate a potential change in the world.' It's an interesting idea that provokes fascinating responses.
In the more specific questions it is abundantly apparent that Palmer both knows his stuff and has done his homework. He asks Wood about his coming across Aristoxenes's treatise Stoicheia Rhythmika in the 1980s and the effect on his music, a vital key, it turns out, to understanding his development. He takes Harvey through all the key moments in his musical formation and understands the importance of Rudolf Steiner and the influence of Eastern religions upon his work. There are, likewise, penetrating questions about Richard Barrett's socialism, Finnissy's eclecticism, the influence of Borges on Casserley, the influence of Japanese music on Jim Franklin, mathematics in the music of Elliott Sharp.
Neither is Palmer afraid to ask difficult questions. Conductor Celso Antunes remarks at one point that 'there are developments [in new music] which I find frankly boring and sometimes completely nonsensical in musical terms.' With an elegantly polite preamble Palmer asks 'I would like to know which music directions you perceive as being nonsensical and why? Can you be as specific as possible, please?' There is a frank and revealing discussion with Evelyn Glennie about the loss of her hearing and some beautifully tongue-I think-in-cheek exchanges with John Cage. With the later, for instance, the questions 'Do you actually hear the sounds you write while you are composing?' and 'You once said you don't have a feeling for harmony. Is that really true?' provoke unexpected and hilarious responses.
John Cage is, indeed, one of the 'superstar' conversations that will rightly attract people to this book. Others highlights include the wide-ranging and substantial interviews with Jonathan Harvey, Michael Finnissy, Evelyn Glennie and James Wood. I loved the spontaneity and energetic fun of Luc Ferrari's conversation, despite the trouble he had speaking in English, and Nuria Schönberg-Nono offers a unique perspective on twentieth-century music, having been both the daughter of Schönberg and wife of Luigi Nono. Her role as a founder of a musical archive also has resonance for me here in Basel, with my daily visits to the Sacher Foundation. As well as these grand figures, however, you should read this book for those that you know less well or not at all. The interviews will have you scurrying to your computer to look for more information and musical extracts.
A number of the interviewees are particularly known for their electroacoustic and acousmatic composition. Some may find that limiting, but it is to mistake the purpose of the book: it doesn't pretend to be a neat cross-section of contemporary composition. Palmer also has considerable experience in this area – a significant minority of his own output being for the medium – and this puts him in a good position to be able to ask the right questions. The result is that many of these conversations powerfully advocate a too often neglected field of contemporary composition.
Some of these conversations have already been published in music journals. If you are a regular subscriber or have access through JSTOR you might want to double-check how much overlap there is. For those without access, or even those who would like to have these fascinating, illuminating and entertaining conversations in one place, the book is an easy recommendation.
0 comments | Post Comment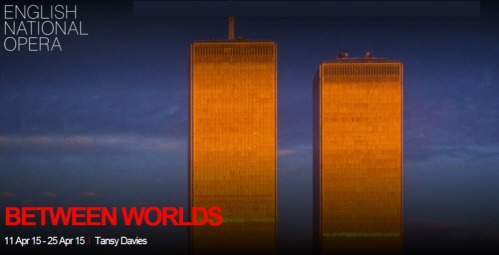 A concert last night by students of the Hochschule für Musik revealed much about standards in Swiss higher education. The ambitious programme contained Cage's First Construction (In Metal) and Six for six percussionists, Feldman's Instruments II, Improvisations sur Mallarmé II (No. 3 from Pli selon pli) and Ligeti's Piano Concerto.
The two Cage works are eminently performable by students, as was proved. I need not have been so sceptical that they could pull off the Boulez and the Ligeti, however. The two soloists coped brilliantly with the distinct virtuosic requirements of each work: soprano Céline Wasmer singing Boulez's difficult lines with otherworldly expressivity; pianist Krill Zwegintsow providing machine-like stability in the Ligeti. Student Ensemble Diagonal likewise provided sensitivity in the former, thrillingly focus in the latter. Only in the Feldman did the need for fine control tax the players to the point where it was in danger of interfering with the meaning of the music. And this hardly surprised; the Feldman, which is a long span of pianissimo entries, often in difficult tessituras, requires phenomenal control. Conductor Jürg Henneberger, who is obviously a bit of a fixture here in Basel (he also conducted the Ensemble Phoenix concert on 16th), did a superb job leading these youngsters.
Tomorrow, the Hochschule in cooperation with OperAvenir, give their first performance of a new production of the Rape of Lucretia at Theater Basel. It's one of the few Britten operas I don't know at all, so I hope to visit before the end of the run on 25th April.
Talking of opera, 11th April sees the world première of Tansy Davies's Between Worlds with ENO (performing at the Barbican, not the Coliseum). The title of the work derives from the dreadful scenario it describes: a group of people are trapped in one of the World Trade Center Towers, above where it has been hit and therefore unable to descend. They are, quite literally, 'caught between earth and heaven, life and death.' There are a total of eight performances the last being on 25th April.
There are two chances in the UK to hear works by emerging composers. The first is at Hoddinott Hall, Cardiff on 1st April, where selected composers from the workshop stage of the Composition:Wales project will have their pieces performed by BBC NOW under Jac van Steen. Meanwhile in London the LSO Soundhub project will perform chamber compositions by Maxim Boon, Laurence Osborn, Helen Papaioannou, Robert Szymanek, Laurie Tompkins and Aaron Holloway-Nahum; all of whom are in the second year of their membership of the scheme.
The Budapest Spring Festival runs from April 10th–26th. As well as more standard orchestral fare, there are a few premières on offer. On 24th April there is there first chance to hear Péter Nógrádi's Partita - Four paintings by Csontváry for the string orchestra, Zoltán Kovács's Pictures of Taormina and László Dubrovay's Csontváry - 3 symphonic images for orchestra. There are also works by Miklós Kocsár and Péter Tóth. The day after is the Hungarian première of Gyula Fekete's piano concerto The Dream of the Red Chamber.
Other notable premières this month include James Macmillan's St Luke's Passion at the Barbican on 5th (London première); Robert Matthew-Walker's Sonata No. 2 for violin and piano (world première) at Wigmore Hall on 12th; Jake Heggie's Camille Claudel: Into the Fire (European première) at the Barbican on 14th; David Matthews' Symphony No. 8 (world première) at Bridgewater Hall on 17th; Georg Friedrich Haas's Atthis (UK première) at Royal Opera House on 23rd–25th; and Christopher Rouse Prospero's Rooms (UK première) at the Barbican on 24th. The New York Philharmonic are also in London around the middle of the month, bringing with them a taste of their Contact! series in the form of works by Daniel Bjarnasson, Timo Andres, Missy Mazzoli, Esa-Pekka Salonen and Shulamit Ran at the Barbican on 18th.
A 'Happy Birthday' to Pierre Boulez, who turned 90 just the day-before-yesterday. If you would like to listen to selections from the Barbican Total Immersion day, this is available on iPlayer for the next three weeks. There is also a 45-minute tribute programme with Petroc Trelawny, Paul Driver and Morag Grant. The celebrations of his work continue into April with Peter Eötvös conducting Livre pour cordes and Rituel in memoriam Bruno Maderna with the LSO at the Philharmonie de Paris on 20th and Matthias Pintscher conducting Syrinx, Memoriale and Sur Incises with Ensemble Intercontemporain at the Barbican on 28th.
0 comments | Post Comment
Another couple of interesting concerts here in Basel. I say in Basel, but the first was actually in Germany. One of the curiosities of this city is that its suburbs are in three countries: Switzerland, Germany and France. It goes a long way to explaining why everyone seems fluent in at least three languages.
I headed a bit further into neighbouring territory on 13th, however: to the Konzerthaus Freiburg (see first photo), where the Sinfonieorchester Baden-Baden und Freiburg were playing Lachenmann's Tableau, Beethoven's Piano Concerto Nr. 3 and Berio's Sinfonia.
I was there mostly for the Berio, which I've never heard in concert. It was every bit as brilliant as I'd hoped, especially the crazy parody in the third movement of Mahler's Symphony No. 2. Lachenmann – an immensely tall and impressive figure – was present for the performance of his Tableau. The work, I confess, left me nonplussed. Despite, to borrow a phrase from my more enthusiastic companion, the work being like a beautiful garden of sound, I had difficulty connecting these sounds into a comprehensible whole.
On 16th I headed to Bahnhof für Neue Musik, a little bit, perhaps, like Basel's version of Nonclassical in London. It has a similar relaxed approach to concert going and makes use of a pretty interesting venue: the Gare du Nord Station near the border with Germany. There is a rather grand, if slightly faded, bar. You are then free to take your drink into the concert area, which used to be the station's first class waiting room (second photo).
The concert programme consisted of Ensemble Phoenix Basel playing two works by young composers that had been awarded prizes by the group: Vladimir Guicheff Bogacz's bulle apenas and Matthias Renaud's Concerto for Piano and Ensemble. Both were written in response to John Cage's Sixteen Dances, which formed the second half. Of the two, Vladimir Guicheff Bogacz's was easily the most successful, partly because of the relative reserve with which it deployed the four available percussion players. It was a trap that Matthias Renaud's Concerto did not, sadly, avoid; the work becoming a chaotic barrage of percussion sounds and extended techniques. It was a relief when the Cage came, which was an object lesson in deploying generous resources, using few notes, to maximum effect.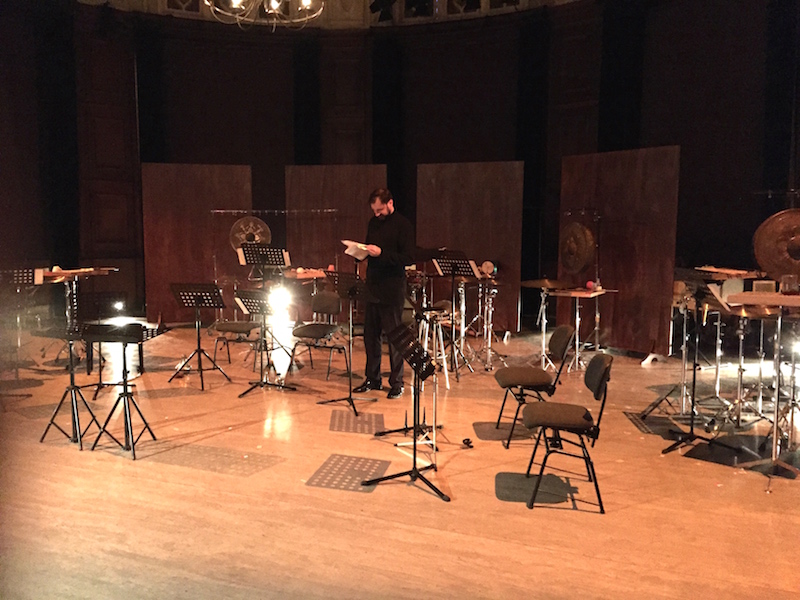 One curiosity here has been the difference in pricing and audience attendance at the concerts I've been to. The large hall at Freiburg, Germany was completely sold out for a concert that consisted of mostly newish music. It cost €11. The Gare du Nord concert was 30 CHF (almost the same in euros); the Feldmann, Ligeti, Stahnke concert earlier in the month was 50CHF (which nearly provoked a wallet attack). These are prices that make me, a person that is enthusiastic about new music, think twice. They seem to have the same effect on others: neither Swiss concert was well attended.

0 comments | Post Comment

Archive
1 | ... | 16 | 17 |

18

| 19 | 20 | ... | 41 |