Other Resources

News Archive
C:T talks to David Greilsammer, pianist, conductor, and artistic director of Geneva Camerata, whose performances of Cage and Scarlatti sonatas come to the UK in Feb 2017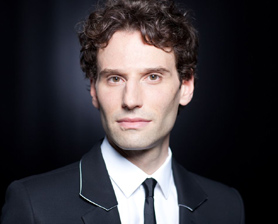 David Greilsammer
Tell us something about your background.

I was born and raised in Israel, in a very artistic home. My parents were not artists themselves, but they always cherished culture, music and arts, and made us kids understand how vital these elements are in our world. Thanks to them, I was able to discover the world of theatre, dance, painting, and literature, which today are all very central to my work. After my military service in Israel, I went to New York to study at the Juilliard School. This was an important experience in my life, because being in NYC when you are young gives you the opportunity to meet the most fascinating people and create magical collaborations with other artists. I moved to Europe after my studies, because I felt that for the programmes that I want to create, I would have more opportunities — especially since my involvement in contemporary music was growing at that time. After signing my first recording contract in France, I went on to live for 5 years in Paris, and that gave me the chance to discover both the Baroque scene and also the avant-garde contemporary world. Today, I live in Geneva, where I serve as conductor and artistic director of the Geneva Camerata, an orchestra that performs wild, eclectic, and challenging programmes!

Tell us about your recital of Scarlatti:Cage:Sonatas - what gave you the idea to pair these two composers?

I always deeply loved these two composers, because each one, in his own way, seemed like wanting to break the boundaries of sound. These two had a very clear mission, to go beyond everything that had ever been done with sound, instead of doing the same thing as others very well. And then, one day, I truly realised how stunning the similarities between their respective Sonatas are: the form was the same, the kind of writing was very much the same, and even some of the harmonies — as strange as it might sound — are similar. Their treatment of "dissonance" is very organic, very poetic. They are both radical composers, but in a constructive way that makes the listener very much "absorbed" by sound and colour. So I decided that it would be interesting to pair them. In my recital, I alternate between one and the other's Sonatas, without any break, hoping that the lines will be blurred, as much as possible…
>> Click here to read the rest of the interview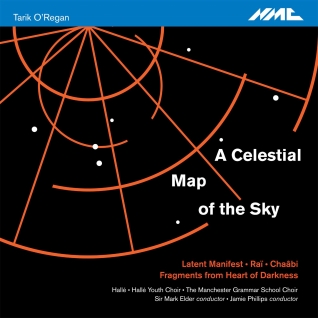 NMC D220 Hallé, Hallé Youth Choir, The Manchester Grammar School Choir, Jamie Phillips and Sir Mark Elder.
It seems ridiculous that a disk that has no overt political agenda should, as the clock ticks inexorably down to the triggering of Article 50, have acted to calm my jittery Brexit nerves. It's not been fun being British on the continent these last few months, wondering what on earth is going to happen once we leave the EU.
There's something unashamedly international about this disk, a tonic at a time when our politics seem much meaner. O'Regan himself was brought up in the UK, but spent a lot of time in North Africa, his mother being born in Morocco but from an Algerian family. He now lives and works in New York City. These myriad cultural influences are woven deftly into his accessible musical language.
The opening work, for example, A Celestial Map of the Sky, contains a collage of texts with a distantly international tone. One of the threads which binds the whole together is Walt Whitman's Salut au Monde! which includes the lines:
I see the cities of the earth, and make myself at random a part of them.
Within me latitude widens, longitude lengthens; Asia, Africa, Europe, [...] America;
I see the cities of the earth;
I am a real Parisian;
I am a habitan of Vienna, St Petersburg, Berlin, Constantinople; I am of Adelaide, Sidney, Melbourne;
I am of London, Manchester, Bristol, Edinburgh, Limerick;
That these words are performed by the fresh, and excellent, voices of The Manchester Grammar School Choir (for whom the work was written) and the Hallé Youth Choir, makes them more poignant still. Citizen of nowhere Mrs. May? Count me in.
The music itself reflects wonderfully the changing tone of the different texts. There is the mystical opening of the Gerald Manly Hopkins, the positive and exhilarating energy of the Whitman, the more tonally ambiguous and searching quality of the Mahmood Jamal. Tarik O'Reagan identifies himself as a fan of Benjamin Britten. There is certainly an element of that here in his responsiveness to the text, his facility in writing for young voices and the flexibility of his musical style. Combined with this, there are more obviously American elements—hints of minimalism, a certain stylistic unpretentiousness, an occasionally Coplandesque 'openness' to his orchestration—making him truly transatlantic.
The stylistic net is drawn wider still in two works: Raï and Chaâbi. Written for orchestra alone they draw upon popular North African dance forms, though the composer is quick to observe that 'neither is an ethnographic study.' Raï, which is Moroccan influenced, takes things a stage further with the inclusion of darbuka drums, which add a propulsive energy to the proceedings. In fact, of the two, Raï is rather the more successful, its taut rondo structure containing a plethora of well-executed ideas. Chaâbi, has a wonderfully elegiac quality, especially in the opening dialogue between soloists and orchestra. It nevertheless feels a little diffuse, and towards the end some of the ostinato patterns begin to overstay their welcome. As if to emphasise this point, the download version of the disk contains a bonus track, Now Fatal Change, for solo violin and countertenor, based on the same material as Chaâbi. It is a beautiful work, poised and focused in a way that Chaâbi can't quite manage. It also once again highlights the Britten (this time via Purcell) influence.
J.S. Bach's Sonata No. 3 for Solo Violin in C Major provides the inspiration for Latent Manifest, which was commissioned as part of a programme of musical transcriptions at the 2010 BBC Proms. O'Regan explains that his method of transcription is also derived from Bach, for when the composer himself adapted the violin piece for harpsichord 'the result was more fantasia than conventional transcription.' The same is certainly true here. The opening is a literal enough quotation, but O'Regan quickly leads us on an exhilarating reinterpretation of the original material. The brassy, and expertly prepared, peroration five minutes in had me clutching the arms of my sofa in delight.
The programme ends with Fragments from Heart of Darkness, a suite extracted from O'Regan's chamber opera Heart of Darkness, based upon the novel by Joseph Conrad. Again that text is seems apposite for our troubled times—though seen through the prism of imperialism, the central question of how one race perceives another remains relevant. The piece, the most substantial in the programme, works in a way that opera suites don't always manage—we are not merely presented with a bouquet of nice moments from the larger work, but a composition that contains a thrust and narrative drive of its own. It's not unlike listening to a Strauss tone poem; it is vividly pictorial and contains a circularity (we begin and end in the same place) familiar from, say, An Alpine Symphony. In any case it provides an excellent conclusion to this splendid and highly recommended programme of music.
A Celestial Map of the Sky: Interview with Tarik O'Regan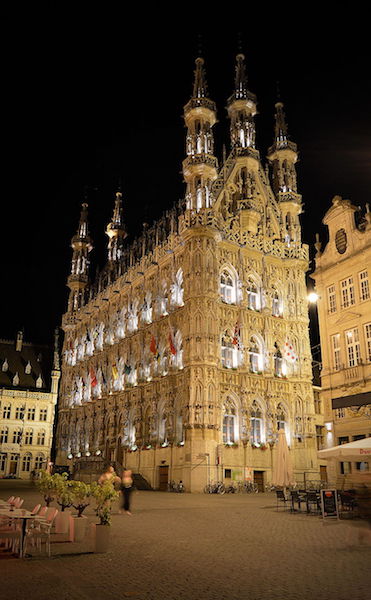 Leuven City Centre
It is with some exhaustion that I have just updated the concert listings here on C:T. Another period of change sees me now living in Leuven, Belgium, having wended my weary way here from sunny Nice a couple of weeks ago. Hunting an apartment has been enervating, rendered more stressful by the desire to become established before Mrs. May begins the business of Brexit.
I hope, soon, to be able to bring some more interesting perspectives from this part of the world. I am, indeed, excited by the possibilities. Nice is a beautiful place, but it is artistically out on a limb. Here I am one train stop from Brussels, with other important cultural centres within easy reach, including London, Paris, Amsterdam and Cologne.
One thing I can report is that linguistically Belgium is fascinating. Here in Leuven the main language is Dutch, or Flemish to be exact. Yet one can quite happily get by in daily life speaking English which, whilst not being an official language, is much preferred to French. And yet if you take that one-stop train journey to Brussels the world turns Francophone. The eastern cantons of Eupen-Malmedy, on the other hand, are Germanic. Different regional languages are, of course, pretty common in Europe—indeed I grew up with this in Wales—but the degree of linguistic homogeneity within each region makes one feel that Belgium is several countries in one, a fact, I suppose, reflected in the country's federal system of government.
Anyway, I digress. March is still a bit early in the season to be a bumper month for new music, but if you cast your eyes around there is, as ever, plenty going on. On 3rd Oliver Knussen will conduct BCMG and Huw Watkins in the world premiere of Helen Grime's new Piano Concerto at Wigmore Hall, with a second opportunity to hear the work at the CBSO Centre on 5th. In New York on 3rd, meanwhile, Gene Pritsker's new Violin Concerto with Big Band will be premiered by Vesselin Gellev at The Cutting Room, 19th West 24th Street.
James MacMillan receives a brace of premieres at the Queen's Hall, Edinburgh in March. The first, on 4th, is his Concertino for Horn and Strings, to be played by Alec Frank-Gemmill accompanied by the Scottish Chamber Orchestra. On the 23rd is the Scottish Premiere of his Stabat Mater, performed by The Sixteen.
At the Concergebouw, Amsterdam on 11th is the first performance of a new Requiem by Willem Jeths. If one premiere is not enough in a concert, however, there are two concerts worth checking out. On 19th, the New London Children's Choir celebrates its 25th anniversary with a programme that includes eight world premieres. Similarly, in Paris on 30th Ensemble Intercontemporain marks its fortieth anniversary with concert that includes seven new works, each of which is based on one of the days of Genesis.
At Wigmore Hall on 25th, finally, is a day dedicated to the music of Thomas Adès. It begins with a concert at 1pm that contains his The Four Quarters, Concert Paraphrase on Powder Her Face and Piano Quartet, as well as music by Lutosławski and Walton. At 6pm is the chance to hear Adès in conversation with Wigmore Hall Director John Gilhooly. The day concludes with BCMG performing his Concerto Conciso and Arcadiana Op. 12 alongside works by Kurtág, Janáček and Gerald Barry.
The BBC Concert Orchestra recently performed a tribute concert to mark the 85th birthday of John Williams, the complete concert being available here.
Much more fun, and educational, however, are their three performances of Star Wars, Jaws and Jurassic park, now available on the Radio Two website. They are interactive, so that you can zoom around the orchestra spotlighting different instrumental sections. Doing so reveals interesting details of orchestration. Unfortunately, it seems that Flash is required, so it won't work on mobile.
I have always been amazed at the opportunities offered by Ablaze Records. Especially I've wondered how they manage to finance such a lavish range of competitions.
Well, according to a story over at Slipped Disc, they do it by asking the winning composer to pay for the performance. Composer Nikita Suhih recently won a competition, but was then asked to stump up $19,000 for the performance.
Caveat emptor…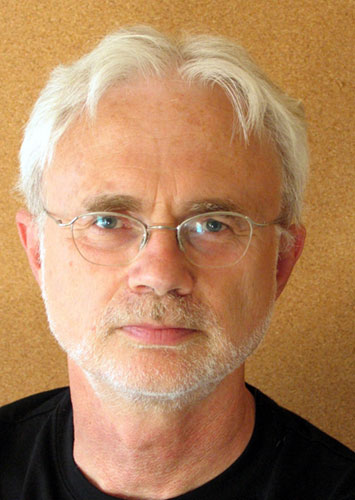 John Adams, who turns 70 this month, has just given some reactions to political events in the U.S. The interview, with Gabe Meline, can be found, here. Well worth a read…
This also come as the Seattle Symphony tonight plays a programme of music from the seven countries whose immigrants were banned from entering the country. From their website: 'As artists and Americans, we are committed to freedom of expression and the open exchange of ideas which create an environment of mutual understanding and the capacity for empathy. At the Seattle Symphony, we are inspired to add our voice in the hopes that we can come together through music.'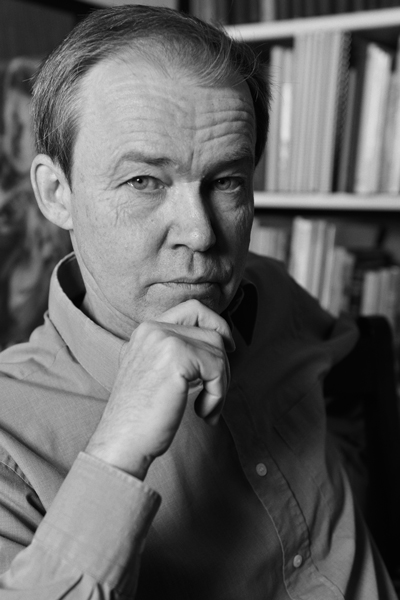 Ashwood Photography London
Christian Morris talks to Philip Sawyers, whose Symphony No. 3 will be premiered by the English Symphony Orchestra on 28th February at St John's Smith Square, London.
Tell us a little about your background. How did you come to compose?
Almost as soon as I started learning the violin at the age of 13, making up music just seemed a natural thing to do. I was very lucky at Dartington College of the Arts, where I studied for my A-levels, in having an inspirational teacher in the person of Helen Glatz. She held a 'composers' workshop' every Friday and we were encouraged to bring anything we had written, however incomplete, to have played through and given her perceptive observations. It was a marvellously practical way to learn your craft. At the Guildhall I was a first study violinist so composition was not part of the course and I was left to find my own way. I had pieces performed and received various comments from my peers and from some of the composition staff. My most memorable occasion was conducting my Symphonic Music for Strings and Brass and having Rubbra make encouraging remarks about it.
You seem to have led a busy professional life after studying at Guildhall. Was there much time for composition?
After the Guildhall I had to make a living and again was lucky in getting a contract with the ROH orchestra where I played from 1973 to 1997. During that time I also freelanced with other orchestras, including the LSO and BSO, and, amazingly, found time to play in some light music and pop sessions as well! The marvellous thing about the ROH was the list of amazing world-renowned conductors and soloists, of whom I have many happy memories. This clearly left little time for composition but, although fellow musicians and audiences enjoyed my music, it was distinctly out of fashion. In the late 60s and into the 70s only the fashionable avant-garde composers following on from Stockhausen and Boulez seemed to get commissioned and large organisations like the BBC seemed only interested in 'cutting-edge' work. This I found hugely discouraging as a mostly 'tonal' composer and that played some part in my drop in output during those years.
Click here to read the rest of the interview.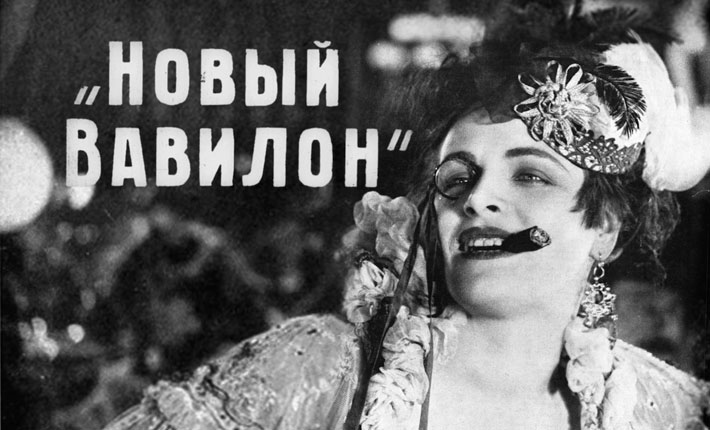 On 25th March at The Barbican is the chance to hear Shostakovich's piano score New Babylon, which will accompany a screening of the film. This is the first performance of the work as it was originally conceived.
From the Barbican website:
Shostakovich's spectacular first film score, New Babylon, was written when he was just 23 years old and is, alongside The Nose, his most important early dramatic work. Numerous re-writes of the film were demanded even before shooting started and the directors' final cut completed in December 1928, when the composer was contracted to join the production. His myriad musical quotations matched a fast cross-cut film to produce a work of astonishing complexity and precision unequalled in silent film composition.
However, after two industry preview screenings with the composer himself performing his original solo piano score, the Moscow Sovkino office ordered the removal of over 20% of the film. Re-editing Shostakovich's score to match proved impossible, parts were incomplete and early performances, a series of debacles, were beyond the abilities of cinema orchestras. Remaining copies of the piano score, destined for smaller cinemas and now unfitted for the re-edited film, were sold off. A rare surviving copy has provided the material for this first public performance.
A very happy birthday to John Williams, who turns 85 today.
It would be impossible to number the composers I've met who have been influenced by him in some way. For me, his film scores were among my first introductions to classical music, even before I knew his name—his soundtrack to E.T. was one of the first vinyl single singles I bought.
It seems that the younger generation are just as enamoured by his music as was mine. Here are a couple of kids fanfaring the master six months ago. His reaction is delightful.
And here he is talking about the scoring of E.T. Though it's a relatively well-known fact, it's worth hearing the part where he describes how, in the final section, Spielberg cut the film to match the music, not the other way around.
The Konzerthaus Berlin has put out a series of videos in which an orchestra provides soundtracks to everyday events. They're very tongue in cheek, but a lot of fun. Perhaps there are even some real composition ideas in there somewhere...

Here's the first, entitled Currywurst:

Archive
1 | ... | 15 | 16 |

17

| 18 | 19 | ... | 53 |