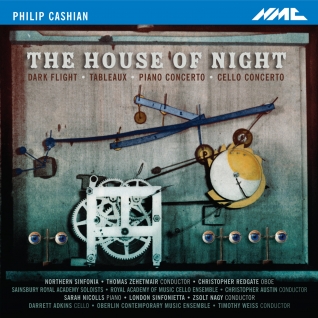 NMC's new disk dedicated to the music of Philip Cashian spans some ten years of his output. It includes his Tableaux for small orchestra, Cello Concerto, Dark Flight for six cellos, The House of the Night for oboe and twelve solo strings and his Piano Concerto. I've only spent the morning dipping into it, so will limit myself to saying that this is exciting and brilliantly inventive music, well worth checking out. Extracts are available on the NMC website together with an interview with the composer. The complete disc is available on Spotify.
EMI have just released a new recording of Britten's War Requiem, with Antonio Pappano conducting the Orchestra, Coro e Voci Bianche dell'Accademia Nazionale di Santa Cecilia with soloists Anna Netrebko, Ian Bostridge and Thomas Hampson. It's a worthy and powerful addition to the catalogue, though I found the unfamiliar timbre of the Italian choir jarring in this most English of repertoire. It also faces stiff opposition, not least from Britten's own recording and – my personal favourite – Richard Hickox with the London Symphony Orchestra and Chorus.
On Naxos there is a programme of flute music by Latvian composer Pēteris Vasks. It contains his Flute Concerto, Sonata for Flute and Alto Flute, Aria e Danza and Ainava ar putniem (Landscape with Birds) performed by Michael Faust, Patrick Gallois (flutes), Sheila Arnold (piano) and Sinfonia Finlandia. Also on Naxos, Jeremy Filsell's Tomorrow Shall be my Dancing Day, Epitaph, If God Build Not the House and Windsor Service; and David Briggs's Pange Lingua and Messe pour Saint-Sulpice receive world première recordings by the Vasari Singers conducted by Jeremy Backhouse. The composers accompany on the organ. Finally on Naxos, there is a new album containing John Cage's A Book of Music for two prepared pianos, Suite for Toy Piano and Music for Amplified Toy Pianos performed by Xenia Pestova and Pascal Meyer.
Chandos, meanwhile, have released a new album of music by John Adams with the Royal Scottish National Orchestra conducted by Peter Oundjian. It contains his Doctor Atomic Symphony, Short Ride in a Fast Machine and Harmonielehre. It's also worth checking out Chandos's end of stock, better than half price, page; there are a number recordings of music by living composers to be found there, including by Michael Berkely, Jonathan Dove, James MacMillan and David Matthews. Also of interest to many will be a new release on DG of Boulez conducting the complete Mahler Symphonies. I am intimately familiar with his recording of Number 6 ('the only sixth, despite the Pastoral' as Berg said), included in this set. Boulez often divides opinion, of course, but I found it extremely exciting – not remotely 'cold' as he is so often characterised. The rest of the set should, therefore, be worthy of exploration.
0 comments | Post Comment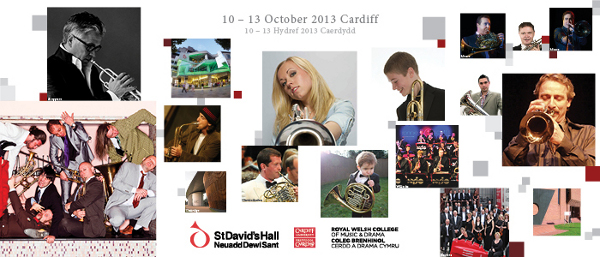 'The trumpet does no more stun you by its loudness, than a whisper teases you by its provoking inaudibility.'
So it proved this weekend at Arcomis's extraordinary International Brass Event in Cardiff. This is, by no means, a complete review – I wasn't able to attend the whole event – but I did manage to spend most of Saturday and the first half of Sunday at the festival, gobbling and binging on its many world-class concerts.
As a brass player I suppose I was inevitably going to be delighted at the prospect of hearing players of the likes of Tine Thing Helseth, Allen Vizzutti and David Childs all in one place. Nor did any of them disappoint. For me, however, it was Vizzutti who stood out. Not only does his playing exhibit astonishing mastery, he is also, it turns out, no mean composer either. Of the many pieces of his we heard, I was particularly struck by his Andante and Capriccio, a work that was refreshing in its lack of pretension: well-made music with beautiful melodies and luxurious textures and harmonies.
And amidst all the brass fireworks there was plenty of other new music to enjoy. A crack brass quintet from the London Sinfonietta tackled a technically exhausting programme of Berio, Birtwistle, Lutoslawski, Macmillan and Jackson. Byron Flucher stood out with a whimsical and well thought-out performance of Berio's Sequenza V for solo trombone. I also enjoyed the three works for quintet: Lutoslawski's Mini Overture, MacMillan's Adam's Rib and Jackson's Two Haiku. Despite admiring the incredible control of the two trumpeters in Birtwistle's The Silk House Tattoo, however, I remain puzzled by the work. Perhaps this is because it is Birtwistle at his most pared down, even the theatrical element reduced to a ritualistic marching of the trumpets round an imaginary circle. It all left me feeling a bit cold, wishing I could listen to one of his more luscious orchestral scores. The Sinfonietta concert was followed by a workshop given by players Alistair Mackie and Byron Flucher, entiled A Way into Berio. Aimed primarily at players it also provided penetrating analysis of Sequenzas V and X. Flucher's demonstration was particularly revealing. Uninformed players come to this repertoire at their peril.
David Childs' brilliant advocacy of the euphonium on Sunday morning was only let down by a programme that was, perhaps, a reminder to composers that this is an instrument that needs and deserves more repertoire. The world première of Mervyn Burtch's Nocturne and Dance stood out, a tautly written work in his characteristically astringent style. Also on offer was Karl Jenkins' Euphonium Concerto, written specifically for Childs. Often infectious and attractive it was, however, sometimes spoilt by taking itself too seriously, most notably in a badly misjudged section of multiphonics – an unnecessary nod to modernist extended techniques from a composer who prides himself in being above such things.
Throughout the concerts were interpolated a series of newly commissioned fanfares. I declare my interest here and say that one of these was written by me. Written in homage to anniversary composers Britten, Lutoslawski, Hindemith, Poulenc and Berio, they also provided musical clarion calls before and after concerts at St. David's Hall (and, in one case, at the Royal Welsh College of Music and Drama). In addition to this there was a concert of new works for brass that resulted from an Arcomis call. For me this was the beating heart of the Brass Event. As we sat listening in a nightclub-like atmosphere, glass of wine in hand, to the varied and interesting newly written works, the whole purpose of the weekend became clear. In a sense all the high-profile concerts and workshops were a foil, a brilliantly subversive feint that enabled Arcomis to get across its core message: that new music matters and that, whatever your stylistic preference, there is a living composer who can provide you with music you can love. One can only hope that Arcomis is successful in its mission to connect people to the arts. And that we can have another festival soon. Please.
For more information about Arcomis see CT's interview with its director Adrian Hull.
0 comments | Post Comment

Following their success with the 2011 International Flute Event, Arcomis (Arts Commissioning) have followed-up with a festival dedicated to brass music. The Arcomis International Brass Event takes place from 10th–13th October in Cardiff. It offers an extraordinary range of big name performers including: David Pyatt (french horn); Tine Thing Helseth, Allen Vizzutti and Håkan Hardenberger (trumpet); Oren Marshal (tuba); David Childs (euphonium); the London Sinfonietta; BBC National Orchestra of Wales; and Mnozil Brass. Composers represented include Oliver Knussen, Mark-Anthony Turnage, Edvard Hagerup Bull, James Macmillan, Luciano Berio, Mervyn Burtch and Tobias Broström. There will also be a series of newly commissioned fanfares interpolated throughout the concert series as well as a large number of behind-the-scenes workshops.
Sound, Scotland's festival of new music, takes place from 23rd October–23rd November in and around Aberdeen. It opens with a new work Framed Against the Sky by Brian Irvine. From 24th–27th October there will be an exploration of the world of microtonal music in collaboration with University of Aberdeen, including new works by Christopher Fox and Geoff Palme. The festival will also take a look at how sound and images interact in performances of Stephen Deazley's ManHigh, Joby Burgess's Powerplant and a sound tapestry by Leafcutter John.
In Italy the Venice Biennale 57th International Festival of Contemporary Music runs from 4th–13th October. There are premières of works by Sofia Gubaidulina, Evis Sammoutis, Rebecca Saunders, Andrea Portera, Claudio Ambrosini, Claudio Ambrosini, Kaija Saariaho, Giampaolo Coral, Raffaele Grimaldi, Raphaèle Biston, Ryo Dainobu, Pasquale Corrado, Eric Maestri, Zad Moultaka and many others. There is also a very wide range of more established contemporary music on offer. The full programme is available here.
In Madrid, finally, the 13th Festival Internacional de Música Contemporánea is already underway, but there remains much to hear before its conclusion on 27th October. There are world premières from David del Puerto, Leonardo Balada, Pascal Gaigne, Jesús Torres, Mario Carro, Juan Manuel Ritz, Eduardo Soutullo and Cruz López de Rego as well as music from composers such as Cage, Stockhausen, Ligeti, Gorecki, Bryars and Britten. For the first time, each concert will also be prefaced or finished with seminar discussions with composers and/or musicians.
0 comments | Post Comment

Do you have a piece of music languishing in a bottom drawer? You are rightly convinced of its merits, but do not have the financial means to get it performed?
When Harry Whalley, an Edinburgh based composer, found himself in this all too familiar predicament, instead of succumbing to bottom drawer desperation he launched his piece Entangled Music on Kickstarter, the website that aims to crowd-fund worthy projects. Digging around on the website I have discovered a whole host of other similar projects being funded in this manner: there is Meditation on 'Haec Dies' by Joseph Fear, a CD recording project of new music for solo piano on the theme 'American Vernacular', a series of vocal pieces by Daniel Knaggs, and many others. In fact, of all the creative categories on Kickstarter in 2012, music was the most successful, with a total of 5,067 receiving full funding.
The successful projects all seem to have something in common. They make reasonable financial demands and pledges can be as small as £1 (or $1 in the States). Harry, for example is asking for just £2,048. At the time of writing, with 13 days to go, he is already at £1,722. It is much the same with the other projects I have listed.
I find all this incredibly heartening. Who said that new music can't survive in the marketplace? As such, perhaps it is time for all of us to pay Kickstarter a visit and start pledging towards whatever catches our eye. And also time for us all to show some self-belief, extract those masterpieces from their dusty dwelling-places and make appeals on behalf of our own music.
0 comments | Post Comment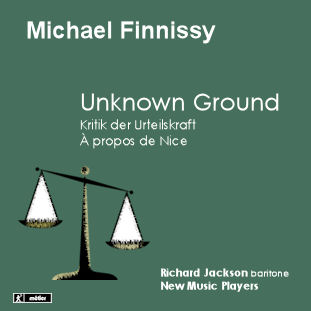 I often write about Naxos and, more obviously (it's dedicated to contemporary music, after all), NMC in these roundups. Métier, now absorbed by Divine Art Recordings Group, is another label that is a treasure trove for new music lovers. Their most recent contemporary music releases are: Michael Finnissy's Unknown Ground, James Weeks' TIDE and Carson Cooman's Rising at Dawn. I have listened to the first two of these.
I met Michael Finnissy at an event dedicated to his music at Cardiff University several years ago. He gave a talk to us that was quite unlike those that other visitors had given: it was often personal, sometimes bitter, but above all fascinating, revealing and inspiring. The concert that evening was unforgettable, especially for the chance to hear live his innocuous sounding English Country Tunes for solo piano, at the end of which the pianist is almost crucified on the keyboard with each hand playing virtuosically at extreme ranges. What was interesting from the other works in the concert, however, was that Finnissy's music moves within a range: not everything is hard and angry. That is very much true of Metier's new disc in their series dedicated to the composer.
It contains three première recordings: Kritik der Urteilskraft, Unknown Ground and A propos de Nice. Kritik de Urteilskraft is all restraint and fabulously beautiful long textures before opening out into more Webernesque pointillism. This never, however, entirely gives way to Finsissy's preference for expressive melody. Unknown Ground is a moving setting of the words of various Aids sufferers. It is simply set, the emphasis always on the text, an approach that reinforces its emotionally charged content. A propos de Nice provides an often-jaunty contrast to the other two pieces, though it is interspersed with more contemplative passages that recall Kritik de Urteilskraft. The language everywhere is uncompromising, in spite of the occasional glimpses of English pastoralism. It is not easy music to get to know, but it is worth the effort. For those unfamiliar with his language, the disc is a good place to start.
James Weeks's TIDE, is actually a melding together of three works, a 'composite' composition. These are Burnham Air for solo oboe d'amore, Tide (lower case) for solo cello and Sky for solo clarinet. These are presented apart on the second disc in the collection, together – not exactly at the same time since they are all different lengths – on the first.
Heard alone, Sky is a work of transcendental calm, the clarinet playing in lugubrious long counterpoints with a six-track recording of itself. The slightest event takes on enormous significance, the sound of the player's breath, the beating sounds created by detuning. Burnham Air, by contrast, is a plaintive work of curling scales and arpeggios, key-rattles and wailing detuning. It works its way into a strangely passive but extremely unsettling frenzy. Tide sits in between the feverish machinations of Burnham Air and the cosmic breadth of Sky. It is, perhaps, the least interesting of the three when played alone; the ceaseless glissandi and droning feel a little unvaried.
The gradual unfolding of these three planes in the composite work TIDE feels almost mystical in its inevitability, the whole becoming greater than the already substantial sum of its parts. Especially striking, when the planes start to interact, are the spectral effects created by the shifts in tuning. It feels like Weeks is playing with the waveform essence of music, manipulating things at their very root. The result is music that feels original but in some way also primeval. There is a lot going on, and I can't pretend to understand it all, let alone describe it in words. I recommend taking half an hour to make up your own mind, especially if you have Spotify, where Métier release all their recordings.
Other releases
Naxos has four new albums of contemporary music on offer. The first contains John Rutter's Suite Antique, Philip Glass's Concerto for Harpsichord and Chamber Orchestra and Jean Françaix's Concerto pour Clavecin et Ensemble Instrumental. In the American Classics series there is a recording of John Knowles Paine's As You Like It Overture, The Tempest and Symphony No. 1. The Maxwell Davies series also continues with Strathclyde Concertos Nos 5 (for violin and viola) and 6 (for flute). The last consists of world première recordings of John Corigliano's Conjurer, a concerto for percussion and strings, and Vocalise for soprano and electronics.
0 comments | Post Comment
Whilst chatting to a friend recently he confessed to 'centenary fatigue'. It wasn't, he said, that he was bored with hearing music by Benjamin Britten. He did feel, however, that spending an entire year playing music by a composer whose work is often played anyway was a wasted opportunity. He extended that argument, though less pointedly, to Lutosławski (who, in the UK at least, has received less attention). Why don't we, he suggested, explore music by centenarians whose music is less often played?
Inevitably this set me wondering whom these other centenarians might be, so I decided to have a bit of a dig around. Whilst I found many, only a handful had a discography big enough for me to construct what I was after: an alternative centenary celebration that didn't feature the big two. So here's my top seven, in no particular order. If you click on the name of the composer you can learn a bit more about them, the links on pieces will take you to relevant recordings on Spotify. If you have an account you can participate in this alternative celebration right away. If not, you will see some album information, which will help you track down recordings. Enjoy!
Jerome Moross (1913–1983)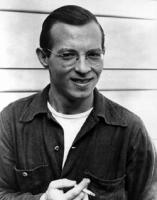 Born in New York, Moross who was a lifelong friend of Bernard Herrmann, with whom he shared an interest in writing for film and television. His best known film scores include The Big Country (1958), The Adventures of Huckleberry Finn (1960) and The Cardinal (1963). He also wrote concert works – including a symphony, a sonata for piano and a string quartet – and orchestrated for other composers, including Aaron Copland and Hugo Friedhofer.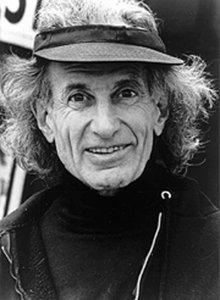 Henry Brant (1913–2008)
A Canadian-born American composer who developed the idea of spatial music, in which the location of instruments and singers is a compositional element. Whilst his larger works, such as Meteor Farm (1982), often include unusual instrumental combinations, he also experimented with homogenous instrumental timbres, as in Orbits for 80 trombones, organ and voice; Ghosts and Gargoyles for 9 flutes; and Angels and Devils for 11 flutes.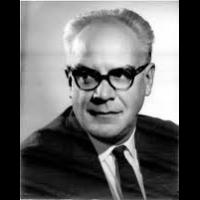 Alvin Etler (1913–1973)
Another American composer. His compositional style was inspired by Bartók and Copland as well as by some aspects of jazz. His best-known works are for wind (Etler, himself, was an oboe player), including his Quintet for Brass Instruments and Fragments for woodwind quartet.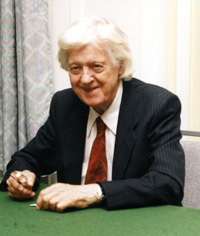 George Lloyd (1913–1998)
A British composer relatively well-known on these shores, but less so elsewhere. His style was staunchly conservative, which tended to divide opinion, even if few doubted his orchestral mastery. He is best known for his twelve symphonies and a number of concertos. His final work was his Requiem, completed three weeks before he died at the age of 85.
Maurice Ohana (1913 –1992)
An Anglo-French composer with a penchant for microtonality. This trait may have been influenced by his interest in Mediterranean folk music, especially Andalusican cante jondo. It is evident in such works as Si le jour paraît for ten-string guitar and Tombeau de Claude Debussy. A good starting place for getting to know his dense style is on Erato's Ohana: The Collected Works.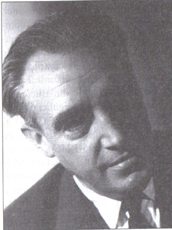 Constantin Silvestri (1913–1969)
A Romanian musician whose work as a conductor tends to obscure his significant output as a composer: he wote over forty orchestral, chamber and vocal pieces. One of his best known is his early Three Pieces for Strings. To learn more about him, it is worth reading the interview with Anda Anastasescu on CT, a Romanian pianist who has done much to champion his work.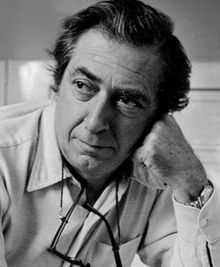 Norman Dello Joio (1913–2008)
An American composer with a conservative outlook. He studied with Bernard Wagenaar at the Julliard School and later with Paul Hindemith. Within the wind band world he is quite well known, especially for his frequently performed Fantasies on a Theme by Haydn. Other important works include Meditations on Ecclesiastes, for which he won a Pullitzer Prize for Music, and his Variations, Chaconne and Finale.
0 comments | Post Comment

I start with a reminder that, as well as reading this monthly summary of upcoming contemporary music events, readers should also check CT's concert diary, to which all members are free to contribute. As usual, I've added a number of concerts that I have found hither and thither to this list.
A few especially caught my eye. The first, Total Immersion: The Rite of Spring 1913 is a day-long event to mark 100 years since the first performance of Le Sacre. It includes a showing of the films Ballet Russes and Riot at the Rite, a talk about the work and a family introduction to the evening concert that, of course, includes a performance of Stravinsky's masterpiece. In Paris on 27th September IRCAM are marking the untimely death of Jonathan Harvey with a tribute concert that contains his Two Interludes and a scene from Wagner Dream as well as music by Webern, Bernd Zimmerman and Matthias Pintscher. The Barbican, finally are hosting the UK première of Kimmo Pohjonen and Samuli Kosminen's Uniko. With its 'lighting effects, surround sound and projections' this is likely to be an unforgettable experience.
There are several important festivals in September. Ultima, the Oslo Contemporary Music Festival runs from 5th–14th. Scandanavia's largest contemporary music festival, the theme this year is 'Off-Road', highlighting those who find alternative ways to create musical expression. Composers represented include Harry Partch, Conlon Nancarrow, Alvin Lucier and Frank Zappa. Alongside the festival runs Ultima Academy, an international symposium that includes lectures, workshops and debates about contemporary music.
The Warsaw Autumn International Festival of Contemporary Music runs from 20th–28th September. This year the focus is very much on new works, with the majority being either very recently or newly composed. Having said this, it also will focus on three important Polish anniversary composers: Witold Lutosławski (100th) and Henryk Górecki and Krzysztof Penderecki (80th). Performances will include Lutosławski's Piano Concerto and Symphony No. 3, all three of Gorecki's String Quartets and Penderecki's St. Luke Passion.
In the UK, finally, the North Wales International Music Festival (20th – 28th September) will include performances of Britten's Noye's Fludde, vocal music by Paul Mealor and a rare chance, on the final day, to hear William Mathias's Violin Concerto.
0 comments | Post Comment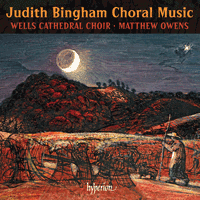 August sees another round of centenary releases, many of which revisit older recordings, either in the form of new collections or remasters.
Decca's seminal 1963 recording of Britten's War Requiem has been rereleased in a new version that uses the original tapes and early LP pressings. They have somehow managed to squeeze the entire War Requiem onto one CD or, if you have the equipment, a 24bit Blue-Ray disc. The second disc contains recordings of the composer in rehearsal, a historical document that will interest many. EMI have released a six CD collection of vocal works by Britten that includes performances, some of which date back to the 70s, of all of his orchestral song cycles: Les Illuminations, Our Hunting Fathers, Serenade, Nocturne, Phaedra and the astonishingly precocious Quatre Chansons Français, written when the composer was just fourteen. It also includes a number of folksongs, sonnets and canticles. On Signum Classics, meanwhile, there is a live recording of the Aldeburgh centenary production of Peter Grimes, featuring Alan Oke as Grimes, Giselle Allen as Ellen Orford, the Chorus of Opera North and Guildhall School of Music and Drama and the Britten-Pears Orchestra conducted by Steuart Bedford.
Lutosławski has, somewhat unjustly, received rather less attention than Britten this year. Naxos, however, have been steadily putting this right with a series of recordings, some of which I have commented upon in earlier roundups. They have now bundled these into a 10 CD box set. It includes many of his major works: the four symphonies, Jeux Venitiens, Chain I, II and III and the Piano and Cello Concertos. Whilst the majority of these are performed by the Polish National Radio Symphony Orchestra under Antoni Witt, the tenth 'bonus' disc reveals an important historical document worth the purchase price of the collection by itself: the final recording of Lutosławski in concert, here directing his Partita, Interlude, Chains I and II I and Chantefleurs et Chantefables.
Not a centenary composer, but one whose death last year makes him worthy of tribute, Hans Werne Henze is the subject of a new 16 CD boxed set featuring the complete recordings made by Deutsche Grammophon. As such, it is not a definitive collection; out of the ten symphonies by the composer, for example, it contains only numbers 1–6. There are, however, a number of other important works, notably his opera The Young Lord and his requiem for Che Guevara The Raft of Medusa.
If you would like a sanitised view of 20th century music, look no further than Decca's new 3CD The Essential 20th Century. It contains some curious choices. Whilst I wouldn't quibble with such works as Vaughan Williams' Fantasia on a Theme by Thomas Tallis, Stravinsky's Sacre or Ives' 3 Places in New England I do wonder why they would include Eric Coates Dam Busters or John Williams' Theme from Schindler's List. I like both works but would call neither '20th Century Classics'. There is the occasional nod towards the more challenging, but even this can feel like tokenism. Schoenberg, for example, is represented by his 1897 String Quartet in D major, not even written in the twentieth century and not remotely characteristic of his oeuvre. Having said this, however, there's enough meat amongst the lollipops to perhaps make this a useful introduction to those whose listening habits struggle to pass 1900. A present for sceptical friends and relatives, perhaps?
NMC this month will release a new disc of chamber music by Alexander Goehr. It features his Since Brass, Nor Stone for percussion and string quartet, …around Stravinsky (based upon the early Pastorale), Quintet for clarinet and strings, manere (based upon a medieval plainchant) and Large Siciliano. As sometimes happens on NMC, the disc has appeared on the website but the audio clips are not yet playable. This will change shortly. Hyperion, finally, has a new disc featuring the choral music of Judith Bingham, performed by Wells Cathedral Choir, Jonathan Vaughn on the organ and conducted by Matthew Owens. Highlights from the disc are available on the website and you are can download one track, Ave verum corpus, for free.
0 comments | Post Comment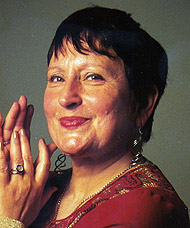 An email today From Tete a Tete:
We are still welcoming submissions from composers for Jane's Contemporary Clinic on 18th August, where the wonderful Jane Manning will spend an hour sight-reading and discussing experiments in vocal writing with MD James Young.
Details on how to take part at http://www.tete-a-tete.org.uk/janes-contemporary-clinic/ .
0 comments | Post Comment
Concert centres hosting summer festivals are alive with activity this month. Others, such as Wigmore Hall (here's their August itinerary, which you can compare with a normal month, here), are taking a holiday break.
I mentioned ten festivals at the beginning of July, five of which – the BBC Proms, Schlesswig Holstein, Bregenz, Salzburg and La Roque D'Anthéron – continue into August and in some cases beyond. They are all, therefore, worth looking into again. There are also several other festivals that begin in August:

Tête à Tête, the only opera festival in the world that consists entirely of new works, gets going tomorrow. Each evening at the Festival typically features three longer pieces and a couple of shorter works. There is also the chance to go to free 'Lite Bite' unticketed concerts where works of up-and-coming composers are featured. This year these are: Matt Rogers' Recurrent, Will Handysides' Of My Daughter's Prayer, John Webb's Cat-Astrophe and – a much-respected Cardiff colleague of mine – Fleur de Bray's Long Lankin.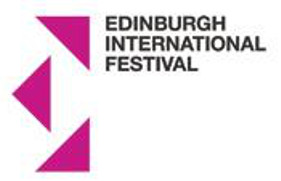 The Edinburgh Festival (9th August–1st August) offers a wide range of cultural events, as well as some concerts that feature new music. On 10th August, for example, there is the chance to hear the BBC Scottish Symphony Orchestra perform Varèse's Intégrales Amériques and Berio's Sinfonia. Philip Glass will also be present at the Festival, performing in a tribute to the work of the great Beat Generation poet Allen Ginsberg on 13th. A summary of all the concerts in the festival is available here.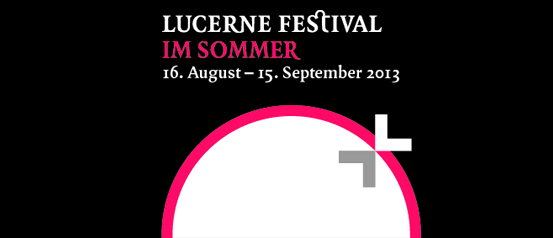 Taking inspiration from the 100th anniversary of Stravinsky's Le Sacre du Primptemps, the Lucerne Summer Festival's (16th August–15th September) theme is 'Revolution'. The focus will be on composers, new and old, who initiated radical innovation and whose music responded to political, social and cultural revolutions. Composers include Schoenberg, Shotakovich, Nono, Lachermann, Stravinsky and Israeli composer-in-residence Chaya Czernowin.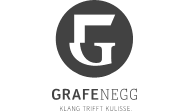 Whilst the beautiful venue at Grafenegg, Austria, offers concerts throughout the summer, it also has its own festival, which this year runs from 16th August–8th September. Of chief interest to readers here is a number of performances of music by Australian composer Brett Dean, who will also be in-residence. Works of his on offer include: Testament, Amphitheatre and Komorav's Fall for orchestra and his Concerto for Viola and Orchestra. On 18th August there will also be the chance to see Dean interact with young composers in the final part of a workshop project. The festival programme can be found here.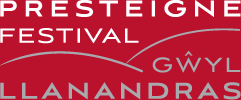 The Presteigne Festival runs from 21st – 27th August on the Powys/Herefordshire border. There will be the chance to hear Britten's Curlew River played in a double-bill with a new three-act chamber opera by Sally Beamish based upon the biblical story of Hagar and Abraham. Gabriel Jackson is composer-in-residence and will be represented by a number of chamber and choral works, a new piece for string quartet and another chance to hear his Piano Concerto, commissioned by the Festival a few years ago. There will also be premières from Thomas Hyde, David Matthews and Robert Peate.

0 comments | Post Comment

Archive
1 | ... | 13 | 14 |

15

| 16 | 17 | ... | 32 |