Other Resources

News Archive
Christian Morris talks to Dan Goren, composer and founder of Composers Edition, about his project to launch a new contemporary music magazine in the United Kingdom & Ireland.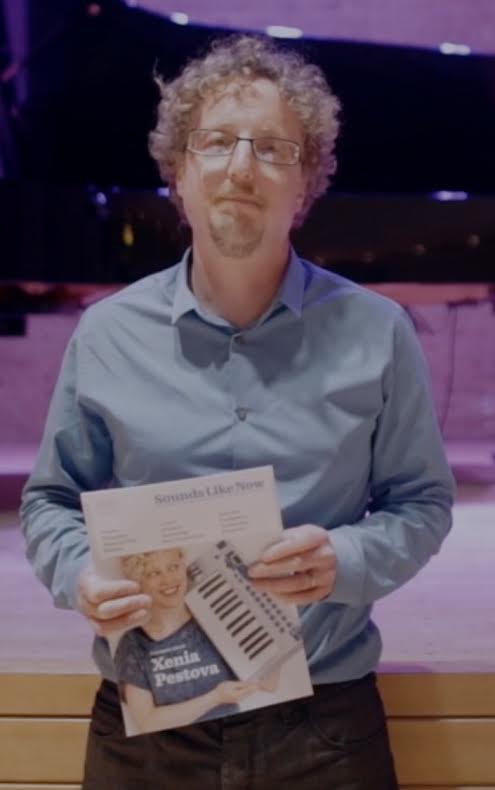 Dan Goren
You are currently crowdfunding a new project. What is it and how are you going about it?


It is live now on Crowdfunder, at http://www.crowdfunder.co.uk/sounds-like-now. Basically we're crowdfunding the launch of a brand new magazine, titled Sounds Like Now. It'll be devoted to contemporary classical music.

Given the broad range of magazines and periodicals on offer today, where do you see this sitting in the market. Who's it for?

It fills a gap that I see in the cultural landscape as far as publications are concerned. We have magazines for straight classical, early music, cathedral music, piano music. But we don't have anything that's about contemporary classical music in its own right. Within the UK and Ireland there is an extraordinary range of creative musicians and composers engaged in creating new music and as contemporary artists they have something to say about contemporary life. I want to create a focal point, a place where this culture can be explored and celebrated by those who are already engaged in it. Also, crucially, I want to open it up to a wider audience who I think are out there by giving them a bit more information, because it is quite a closed thing in my experience.
>> Click here to read the full interview

Some exciting news in the UK and Ireland: a new mainstream magazine devoted entirely to contemporary music. You can take a look at the preview site, here. An interview with its brainchild, Dan Goren, coming soon to CT….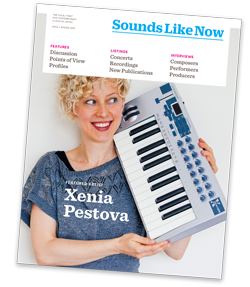 Berlin's Pierre Boulez Saal has just opened to visitors. It won't be used for concerts for another nine months, but the models of the interior look pretty nice...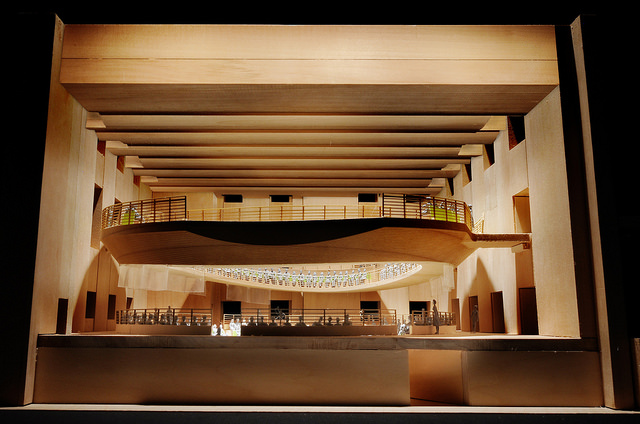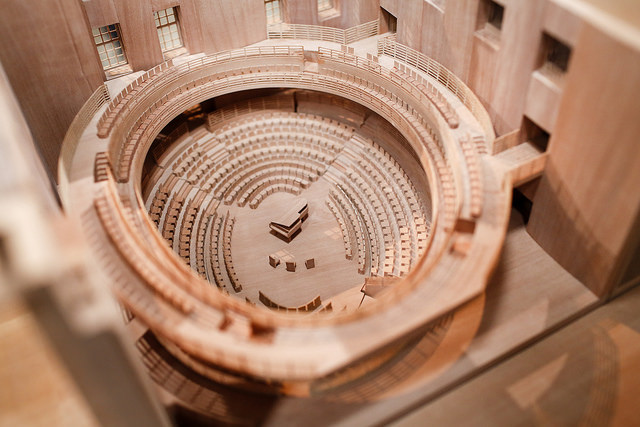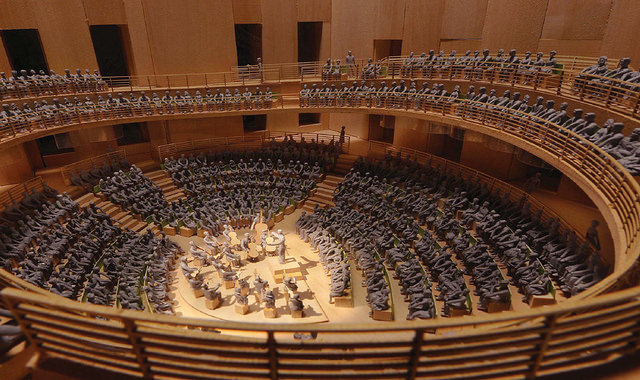 Morton Feldman Beckett Material WER 73252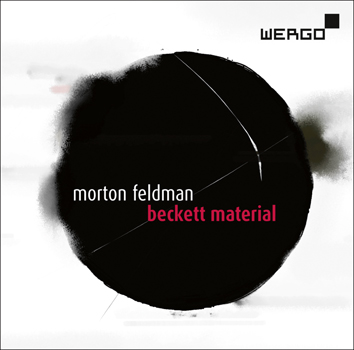 Morton Feldman is not a composer for those in a hurry. His works, especially towards the end of his life, unfold at a glacial pace with much repetition and extensive use of silence. And yet, if you are in the right frame of mind, they can be transporting. I discovered this in 2014 when I experienced a mesmerising performance of his 70-minute For Bunita Marcus at >reinhören in Basel.
The three works on this new disk from WERGO were written from April to July 1976 and grew out of a commission for the opera Neither based on a text by Samuel Beckett. They were meant to be preparatory sketches, though in the end none of the material found its way into the opera. Whilst not composed on the scale of Bunita – they are 17, 19 an 8 minutes each – they do share the a similar spareness of texture. This is apparent in Orchestra, which consists of a gesture here, an idea there, a period of silence then a sudden outburst. Elemental Procedures has a much greater emphasis on melodic writing and accompaniment, with the inclusion of a soprano soloist and choir. The result is a little more sumptuous, but only a little. Routine Investigations is more pared down still, being for only six instruments. Though it's brittle argument takes place over a much shorter span, the pace of development remains slow.
If you are unfamiliar with Feldman I would hesitate to recommend this disk as a starting point. Even though it is longer, the densely interwoven textures of his final orchestra work, Coptic Light (1986), are more immediately compelling. For those with a little more familiarity, they make a good stepping-stone to his most epic pieces such as For Philip Guston and String Quartet II (each lasting over three hours). As in all Feldman you will need to be in the zone to appreciate the slow rate of change. They are like the test cricket of classical music – the action is spaced-out, apparently inconsequential. To the newcomer it is baffling; to those in the know, compelling.
Marina Khorkova klangNarbe WER 64182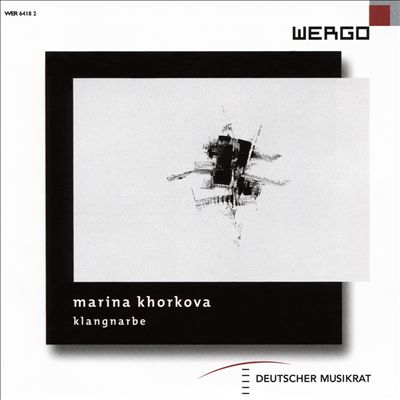 Even though I haven't been able to get hold of a copy yet, I also urge you to seek out a debut double-disk set by Russian composer Marina Khorkova, also on WERGO. I had the pleasure of meeting Marina in Switzerland a couple of years ago. She sat me down with an excellent pair of headphones and picked out a few of her pieces to listen to. I was immensely impressed by what I heard, especially her ability to think of ways of eliciting new sounds from traditional instruments. Good examples of this are her Installationen I and Installationen II for organ (2012), still available at her Soundcloud page. For these pieces she spent weeks working on one instrument, experimenting with unusual combinations and settings (for example using stops pulled out by 1/3, 2,3 or full). The results, especially in Installationen II, are compelling. You can learn more about Marina's work in an interview she did for CT shortly after our meeting.
Other recent releases
For fear of toadying, I refuse to review the disk Gumboots on Signum Classics by CT's very own David Bruce. I will tentatively say, however, that I found it most enjoyable… Go and listen for yourself – it's available for digital download and streaming on Spotify and Apple Music.
Aside from the Khorhova and Feldman there are three other new disks out on Wergo. Improvisation Ajountée contains works for organ by Maurice Kagel; there is a new recording of Pēteris Vasks' String Quartets 1, 3 and 4 played by Spīķeru String Quartet; and first recordings of chamber works by Balz Truempy. NMC have just released Colin Matthews' violin and cello concertos and a collection of chamber music by Mark Simpson. They are also continuing their Sinfonietta Shorts project with Francisco Coll's Hyperlude IV and Matt Rogers' Orac. On Divine Art there are two very different collections of song setting: one by Philip Wood, the other by Michael Finnissy. Both are available for streaming. There is also a collection of choral music by Lydia Kakabadse and a programme of Miniaturised Concertos by a selection of contemporary composers. On Naxos, finally, are recordings of choral music by John Rutter, Randall Thompson's Requiem, Xia Guan's Symphony No. 2 and a selection of orchestral music by a man better known for his writing, Anthony Burgess.
View playlists of this month's releases
To see a selection of this months new releases, take a look at my playlists at Apple Music or Spotify (whichever you prefer). The Spotify playlist is collaborative, in case you'd like to add to it.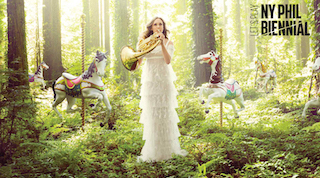 The New York Times described the inaugural NY Philharmonic Biennial as 'Perhaps the most ambitious and extensive contemporary-music festival yet overseen by an American orchestra.' The 27 events in the second edition (23rd May–11th June) encompass a festival within a festival–the New York City Electroacoustic Festival, a series of programmes that centre around the music of Ligeti, a number of regional and world premieres (though a new work from Esa-Pekka Salonen, originally scheduled for the last night, appears to have been dropped) and concerts dedicated to young and emerging composers. I would also highlight the first U.S. staging of Gerald Barry's The Importance of Being Earnest, a superb work that won many plaudits during its first run and recent revival in the UK.
The centrepiece of the 2016 Aldeburgh Festival (10th–26th, Aldeburgh, UK) is a journey through Messiaen's Catalogue d'oiseaux, his 13-movement work for piano based on birdsong. On 17th there are twelve events dedicated to it, including outdoor performances at sunrise and sunset, talks and films. Many have already sold out, though the organisers are promising that more tickets will be available soon. Even if not, it's still worth pitching up–there will be a free audio relay of the concerts and several events don't require tickets. Other things to look forward to include works by the festival's three featured composers, Julian Anderson, Benedict Mason and Rebecca Saunders, as well as new pieces inspired by the First World War. The music of the festival's founder, Benjamin Britten, will this year be juxtaposed with that of his contemporary Michael Tippett.
It may be the first St. Magnus Festival (16–26th, Orkney, UK) without Max, but there is still a world premiere to look forward to. On 20th there will be the first performance of his Wendy's Wedding Music at Sanday Community School, written to celebrate the marriage of its headteacher. The music of the festival founder can also be heard in seven other concerts, all viewable here. There are also new works from John Gourlay, Jennifer Martin, Sheena Phillips, Andra Patterson and Mogens Christensen as well as 10 short premieres for solo cello on 25th. Elsewhere there is plenty of music by living composers and, don't forget, the festival offers a wide range of other categories for the culturally-minded, including literature and theatre; folk, jazz and world music; films; and community events.
The Holland Festival (4th–26th, Amsterdam) has a similar spread of cultural events and also a good deal of new music. Perhaps the highlight is The Transmigration of Morton F. on 20th. Devised by director Sjaron Minailo and composer Anat Spiegel, it promises to be a surreal blend of opera, ritual and computer-gaming. On 23rd the Kronos Quartet give the world premieres of Yannis Kyriakides' The Lost Border Dances and a new work by Merlijn Twaalfhoven. There are also a number of Dutch premieres, including Birtwistle's The Cure and The Corridor on 9th and 10th, as well as the chance to see one of the twentieth century's greatest operas Wozzeck on the opening day.
Other forthcoming premieres…
Another Maxwell Davies world premiere, his children's opera The Hogboon, takes place at the Barbican under Sir Simon Rattle on 26th June. Also in London, on the 1st the London Sinfonietta present new works from Tom Coult and Harrison Birtwistle together with a pair of regional premieres, whilst on 19th the chamber ensembles from the LSO will, as part of their Soundhub scheme, present new works from next generation composers Yasmeen Ahmed, Ben Gaunt, Oliver Leith and Lee Westwood. At Hoddinott Hall in Cardiff, finally, BBCNOW give the world premiere of John Pickard's Symphony No. 5 on 7th.
Palmyra Concert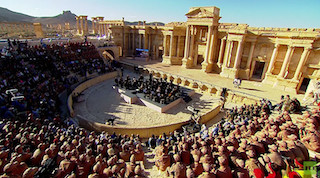 Valery Gergiev and the Mariinsky Opera Orchestra gave a concert at Palmyra yesterday. The recapture of the ancients ruins by Russian-backed troops was one of the few pieces of good news to come out of Syria recently.
As I've written elsewhere, music has always been a target of Daesh (also known as IS), so a concert at Palmyra could have been a wonderful opportunity for bridge-building and reconciliation. Sadly the musicians and most of the audience were Russian, the solo cellist was Sergei Roldugin, a close friend of Putin (and who, in the Panama Papers, was recently revealed to possess many millions in offshore holdings) and the Russian President himself appeared via video link from Moscow to hail the operation to liberate Palmyra. Even Gergiev, a conductor who would anyway do better to spread himself less thinly, is a vocal supporter of Putin. The concert therefore became nothing more than a PR exercise, with music as sadly mistreated by those who allow it as by those who would suppress it.
Apple Music Redesign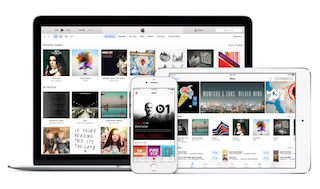 It has just been leaked that Apple Music will be getting a redesign, with full details being revealed at an Apple Keynote at WWDC on June 13th. I reviewed the new service in July 2015, comparing its catalogue and system for organising tracks favourably with Spotify. I still think that, for collectors, Apple Music, with its superior organisational tools, is a great option. The criticisms of its interface are, however, justified. The ridiculous search bar, where you are invited to look in either your own library or Apple music, is a constant frustration. Often I can't find what I'm looking for because I'm inadvertently looking in the wrong place. Whenever I need something quickly I always fire up Spotify.
At least on mobile devices things work relatively smoothly. In iTunes on a computer the experience is much less peachy. There are recent horror stories of it deleting users' music libraries (though read this rebuttal) and the program certainly does too much: it hosts the iTunes store, device syncronisation, videos, podcasts, audio books, users' music libraries and Apple Music. It is a bewildering experience, even once you are used to it. Unsurprisingly, given its baroque complexity, neither does it work very reliably. Often I click on a track or search for something obvious and nothing happens. It's time Apple did what it does on iOS – divide iTunes so that each part has its own app: videos, podcasts, iTunes Store, Apple Music.
This is a Voice (Wellcome Collection, London, 14th April–31st July)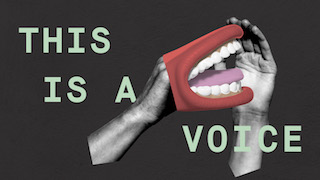 I missed this fantastic-looking exhibition when doing my events roundups in March and April but, thankfully, there's still plenty of time to pay a visit. As the name of the show suggests, the exhibition examines the human voice in a kind of 'acoustic journey' with 'works by artists and vocalists, punctuated by paintings, manuscripts, medical illustrations and ethnographic objects.' To get a more detailed flavour of the exhibits you can peruse the Gallery Guide.
One of the most intriguing exhibits, Matthew Herbert's 'Chorus', was featured on BBC Radio 3's In Tune (see the podcast from 14th April). It is a recording booth in which visitors are invited to sing a single note, which is then added to an ever-growing chorus. The effect is compelling and not a little unnerving, rather in the manner of Ligetian micropolyphony. There is also an online version which, if you can't make the exhibition, I thoroughly recommend. It allows you to isolate voices by the week in which they were recorded and by seemingly random options such as 'outside temperature' and 'local traffic disruptions when the voices were recorded.' It's a lot of fun.
And on BBC iPlayer…
If, like me, you missed the BBCSO Dutilleux Total Immersion Day you can catch up with the final concert on BBC iPlayer. It features a good cross-section of his output: his transitional Symphony No.1; Métaboles, which marked the emergence of the composer's mature style; the sublime cello concerto Tout un monde lointain…, originally written for Rostropovich; and Dutilleux's moving response to the the suffering of the Jews during the War, The Shadows of Time. The recording is available until the end of this month.
York Spring Festival (4th–8th)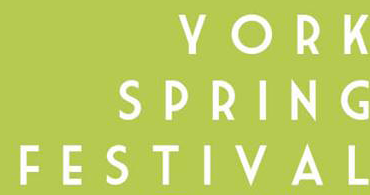 The seven concerts form part of the YorkConcerts series. There is a good array of new music on offer, from works written by students to more established composers. The highlight, perhaps, is a concert celebrating the 70th birthday of Michael Finnissy on 7th. In it pianist Ian Pace will play works by Percy Grainger, Steve Crowther, Beethoven and Lawrence Crane. There will also be new works by Andrew Toovey, Luke Stoneham and Finnissy himself. There is a pre-concert talk with the composer at 6.45.
Vale of Glamorgan Festival (10th–20th)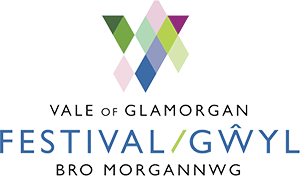 The festival concentrates entirely on the music of living composers. This year there is a special emphasis on the music of John Metcalf and Pēteris Vasks, both 70 this year, and Steve Reich, who is 80 in October. There will be three chamber works by Metcalf on 18th and Vasks' substantial Piano Quartet; the BBC National Orchestra of Wales concert on 20th will feature the world premiere of Vasks' Viola Concerto; and three concerts, on 11th, 14th and 18th, will feature the music of Reich. Other composers represented include Parmela Attariwala, Ēriks Ešenvalds, Magnus Lindberg, Per Nørgård, Arvo Pärt, Krzysztof Penderecki, Guto Puw, Bent Sørensen, Andrew Staniland, Hilary Tann and John Tavener. The complete list, together with links to the concert in which their works feature can be viewed here.
Prague Spring Music Festival (12th–June 3rd)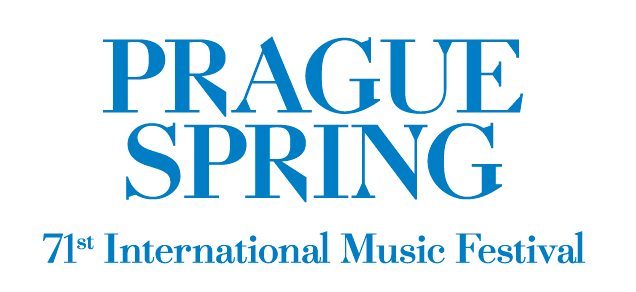 The events actually start on 7th with a concert from the winner of the Chopin Piano Competition 2015 and competitions for trumpet and piano soloists. The main festival gets going on 12th. Very recently written music is a little thin on the ground, but there are twentieth century works from the likes of Bernstein, Stravinsky, Berg, Lutosławski and Gorecki. There is also the chance to hear the Czech premiere of Colin Matthews' Traces Remain on 26th and Pēteris Vasks' Little Summer Music on 1st June.
Norfolk & Norwich Festival (13th–29th)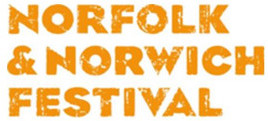 This festival includes theatre, art and literature as well as music. All of the classical events are listed here. Two events worth making a special trip for are the world premiere of Cain, a new choral work by Kemal Yusuf; and a concert dedicated to the music of Max Richter, consisting of his The Blue Notebooks and selections from Sleep (the original of which is designed to be sleep through over 8 hours – an experience I tried, with somewhat disturbing results).
English Music Festival (26th–30th)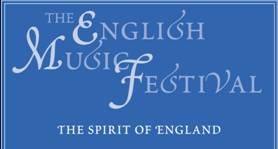 The festival focuses entirely on English music from the Renaissance to the present day. There are two premieres of works that are newly discovered or have otherwise been overlooked: Percy Sherwood's Concerto for Violin and Cello and Vaughan Williams' Fat Knight. Works by living composers include Paul Lewis's An Optimistic Overture; David Matthew's Norfolk March; Daniel Gillingwater's Overture, Ad Fontem; and Paul Carr's Violin Concerto.
Christian Morris talks to Jack Sheen, composer, conductor and co-founder of the ddmmyy concert series.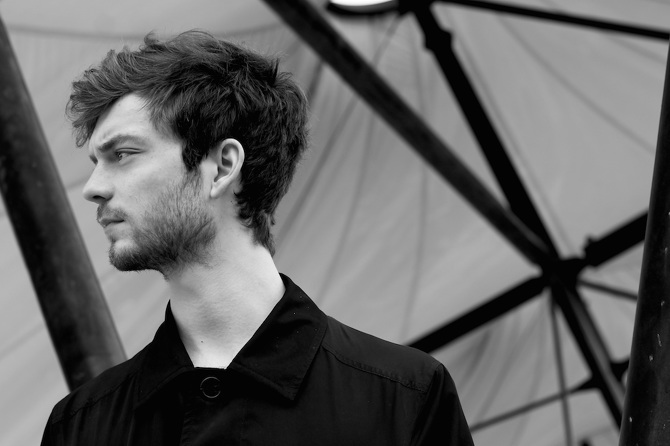 Jack Sheen
How did you come to found the ddmmyy series?

I wasn't actually involved in the first ddmmyy show, 090212. That was ran by Tom Rose and Laurie Tompkins - who now direct the Slip imprint together - when I was in my first year at music college in Manchester. They were in second and third year respectively. I came onboard for the second gig, 250512, to conduct and gradually became more involved along with other composers. It's now just myself and Tom.

Those early days of ddmmyy back in 2012 really set the tone for how the series continues to operate. It's still a bunch of mates writing music, talking about music together, introducing each other to music, and then somehow amalgamating all of this into a bespoke event. It's still about presenting new music alongside pieces that we love and feel contextualise each other nicely, except this 'group of mates' has vastly expanded since 2012.

I know that sounds quite corny but it's really how I feel about it all! I've never worked with anyone in ddmmyy that I haven't gotten along with and felt like I've struck up a personal relationship with in the process of commissioning or performing their music. A love of people and the music they make. I just hope that can continue really.

>>Click here to read the rest of the interview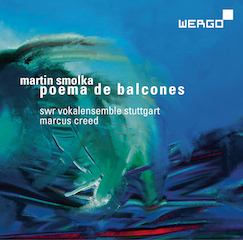 The music of Czech composer Martin Smolka was unfamiliar to me until I came across this new disk of his choral works on Wergo. The programme contains his Poema De Balcones; Walden, The Distiller of Celestial Dews and Słone i smutne. The works are written for large choral forces, the clustered textures occasionally recalling the avant-garde techniques of the 60s. What sets these pieces – the first two in particular – apart, however, is that, though clearly aware of their antecedents, they wear this knowledge lightly.
Poema De Balcones takes a few elliptical lines by Frederico Garcia Lorca (el mar baila por la playa/ un poema de balcones/ retumba el agua), reimagining them in sound. Though the text becomes lost, the composer treating it very freely, its essence is translated into a brilliantly persuasive sound picture. There is naivety in its pictorial directness, though this is also part of its charm–clustered crescendoing chords seem to depict the languid sea, the whistling of the choir the birds overhead. The style is harmonically rich, though at all times chords are chosen to preserve a sense of consonance. The gradual pace of change suggests a work designed to be wallowed in, but there is also a clear sense of direction: the overlapping crescendoing chords become more instant before leading to a central stasis finally followed by both a continuation and development of the opening ideas. The effect is magical.
Each of the five movements of Walden, the Distiller of Celestial Dews sets an excerpt from Thoreau's Walden; or Life in the Woods, a book that describes living simply in natural surroundings. Like the first work on the disk, the texts are treated quite freely, Smolka picking small sections of text to concentrate upon. Only in the anguished (and often detuned) homophony of the third movement Indians, is it set almost as it appears on the page. As in Poema De Balcones much of the writing is pictorial, most strikingly in the second movement Lake, where the the serene surface ('smooth as glass' sung repeatedly) is disturbed by little scraps of other material, almost as if a pebble were being thrown in the water. The harmony retains the kind of clustered consonance present in Poema (albeit a little stretched in the aforementioned third movement), though Smolka isn't above a nice simple melody, such as the repeating unison ideas that begin the first and last movement. There is also a delicious hypnotic phrase in the fourth movement on the words 'cinquefoil, blackberries', which is alternated with a syncopated passage that suggests a fondness for jazz.
It's not exactly more of the same in the last work on the disk, an eighteen-minute setting of Polish poet Tadeusz Różewicz's Słone i smutne. The texts, once again, are treated very freely, and many of the stylistic fingerprints of the other works are here. They are, however, dialled up a little. The structure is improvisatory and, as such, harder to discern; the clustered harmony tends to emphasise the dissonant, melodic lines are more angular. That the composer took a more instinctive approach is revealed in his observation: 'If you analyse it then you can find short melodic fragments, cluster-like sounds and many repetitions of short passages. I knew this was just what I had to write, I don't know why.' The result is certainly more challenging, but the quality and variety of the ideas keeps the listener engaged.
In his Manifesto of a Re-tuned Composer Smolka remarked 'Please, no more musical revolutions. [...] Please, no more new music, but rather strange music.' If I had to sum up Smolka's style without being technical, I'd say he makes the strange accessible and the accessible strange. In my opinion this is the hardest compositional line of all to walk; to be challenging is not so difficult, playing to the gallery not so hard either. In this beguiling disk Smolka pulls off the rare trick of managing to do both.
Poema de Balcones is available on Spotify and Apple Music.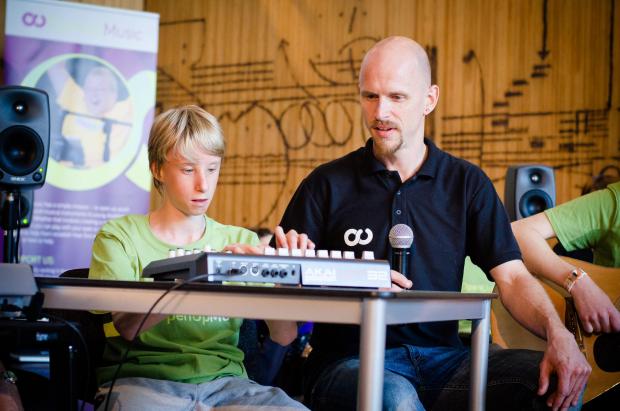 Open Up Music. Image credit: Sarah Bentley.

There is something poignant about a world premiere of a composer who is no longer with us. Such is the case with the first performance of Peter Maxwell Davies's Piano Sonata No. 2, which will be played by Rolf Hind at Wigmore Hall on 27th April. It is testament to Maxwell Davies's strength that the flow of new works appears to have continued to the end – we also have his new children's opera The Hogboon to look forward to on 26th June.

On 16th at Bristol Cathedral the University of West of England Singers, Lydbrook Band and members of the South-West Open Youth Orchestra conducted by Ian Holmes will give the first performance of a new version of Liz Lane's Silver Rose. This is an especially important event since the work has been adapted to allow the participation of the disabled-led South-West Open Youth Orchestra. The instruments for this orchestra are adapted to the needs of individual musicians by the organisation Open Up Music. Not only does this allow much greater participation, but has the potential to open up new creative possibilities for composers. Lane, who is heavily involved in the creation of new repertoire for the orchestra told me recently that, as well as adapting standard instruments, the technical team is working on the development of a new musical instrument for the National Open Youth Orchestra planned for 2018/19. She admits it is 'early days yet', but has promised to keep us informed. In the meantime, do take the opportunity to hear the first steps in this excellent initiative.

Dutilleux's 100th birthday celebrations continue this month with a BBCSO Total Immersion event at the Barbican on 30th April. It begins with an introduction to the composer by musicologist Caroline Potter, followed by a lesser-known work: a screening of the 1952 film L'amour d'une femme, for which Dutilleux provided the soundtrack. At 5pm Guildhall musicians concentrate on the composer's chamber works, including his seminal string quartet Ainsi la nuit. Another talk by Caroline Potter follows at 6.30pm, acting as an introduction to a concert at 7.30pm with BBCSO consisting of Symphony No.1, Tout un monde lointain, The Shadows of Time and Métaboles.

The Budapest Spring Festival (8th–24th) has a number of events which will be of interest to lovers of new music. On 13th the Budapest Festival Orchestra will play John Adams' Harmonielehre alongside works by Liszt and Bartók; on the same day there will be performances of new works by Steven Mackey and Uri Caine; the King's Singers perform works by Morley, Reger, Ligeti, Bartók, Biebl, Kodály and Bob Chilcott on 19th; and on 22nd the will be the premiere of László Dubrovay's ballet Faust, the Damned as well as Light from the Outside World by crossover DJ Jeff Mills. The Wittener Tage Für Neue Kammermusik (Witten Days for New Chamber Music), meanwhile, runs from 22nd–24th in Witten, Germany. There are a total of 20 world premieres and works first commissioned by Westdeutscher Rundfunk (WDR). The complete programme can be viewed here.

There are four opportunities to hear works by emerging composers. At IRCAM, Paris on 15th composers from the Cursus 1 programme (composition and computer music training) present their new works for solo instrument and electronics. On 24th there are two celebrations of the 400th anniversary of Shakespeare's death: at Bridgewater Hall, Manchester, five composers will have works performed by the BBC Philharmonic; whilst at Peninsula Arts Plymouth University students will present their new songs alongside works by Clive Jenkins, Roxana Panufnik and Gerald Finzie. On 27th at Hoddinott Hall, Cardiff, finally, the BBCNOW Composition: Wales – Open Workshop presents works by Welsh composers worthy of wider exposure.

Other world premieres to look forward to this month include: in the Tenri Cultural Institute, NYC on 2nd, Scott Wheeler's Ben Gunn, presented alongside works by Virgil Thomson and Judith Weir; on 3rd in The Coronet Theatre, London a new work by George Lewis for solo guitar and ensemble; also on 3rd Nathan Theodoulou's Jazz Concerto Grosso; and Franck Krawczyk's Après receives its first performance by the NWP on 26th at the David Geffen Hall, NYC.

Regional premieres include the first US performances of Invisible Door for harpsichord and violin by Hyo-shin Na in San Francisco on 3rd; and Chaya Czernowin's Hidden in Boston on 29th. In the UK, meanwhile, there are first performance of works by Hans Abrahamsen: Ten Studies at Wigmore Hall on 27th (in the same concert as the Maxwell Davies world premiere, above) and Concerto for the Left Hand at Birmingham Symphony Hall on 28th.

30th March

Some additional concerts, including two world premieres, that I missed in my original roundup. For additional information, see CT's concert listings:

Berg/Hesketh Die letzten Augenblicken der Lulu - A 'Lulu' Redaction *World Premiere* | 31 March 2016 | Sarah Gabriel, soprano, Françoise-Green Piano Duo | St John's Smith Square, London

Hände: Das Leben und die Liebe eines Zärtlichen Geschlechts - for piano with film | Clare Hammond, piano | 7 April 2016 | Woodend Barn, Aberdeen for Sound Festival, Scotland

Hände: Das Leben und die Liebe eines Zärtlichen Geschlechts - for piano with film *London Premiere* | Clare Hammond, piano | 9 April 2016 | Kings Place (Hall 2), London

In Ictu Oculi (Three Meditations) for Wind orchestra *World Premiere* | National Youth Wind Ensemble, Phillip Scott, conductor | Royal College of Music | 9 April 2016




Archive
1 | ... | 13 | 14 |

15

| 16 | 17 | ... | 44 |