Blog » Mark Knoop plays Feldman and Richard Beaudoin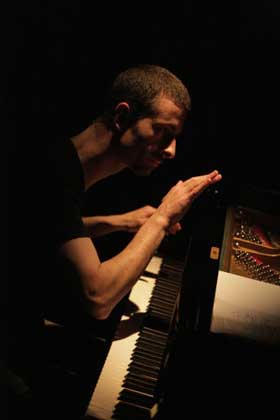 Interviews are coming in thick and fast at the moment, and the latest is with pianist Mark Knoop, who plays an adventurous recital at Kings Place next week featuring new works by Richard Beaudoin and the late Feldman piano solo piece For Bunita Marcus.
Tell us something about your background.

I grew up in Hobart, in the Australian state of Tasmania, and started playing piano at the age of six. I was lucky to have a fantastic first teacher, Eric Mitchell, who instilled in me an excitement and curiosity about a huge range of music. I moved to Melbourne in 1992 and studied at the Victorian College of the Arts, a performing arts school encompassing dance and drama as well as music, both classical and jazz/improvisation. There I joined the recently formed Libra Ensemble, later becoming one of its artistic directors, and we presented a wide range of new music, both Australian and international. Since 2000 I have been living in London, and now perform in many different situations, including with the Plus-Minus ensemble, directed by composers Matthew Shlomowitz and Joanna
Bailie, and Ensemble Exposé, directed by Roger Redgate.
Click here to read the rest of the interview

COMMENTS