Blog » Undiluted joy



I went to Wilton's Music Hall last night to hear a Kreutzer concert of Mozart and pieces by Rolf Martinsson and our very own Jim Aitchison. Great concert. One of the Mozart pieces was the 'Nannerl' septet, written to celebrate his sister's birthday. If you have been to any of the Kreutzer concerts you will know that their violinist Peter Sheppard Skaerved presents all the music in a most enlightening manner, making you want to rush home and google everything and everybody and download the music onto iTunes, which indeed I did. He talked about the Mozart septet as an undiluted expression of joy, Mozart's joy at the thought of his home and family. When Peter was talking about joy, I was reminded of someone I met in Utah a few years ago, who said that she was interested in the concept of joy, which could only come after you had been truly penitential. I said at the time that I didn't think I had ever felt joy, which I think of as an extreme emotion like ecstasy or murderous rage. It has a transcendental or spiritual quality that is very different from happiness or content. (And, what I didn't say was that being truly penitential was a dubious concept in itself, not so much a grey area as a minefield.)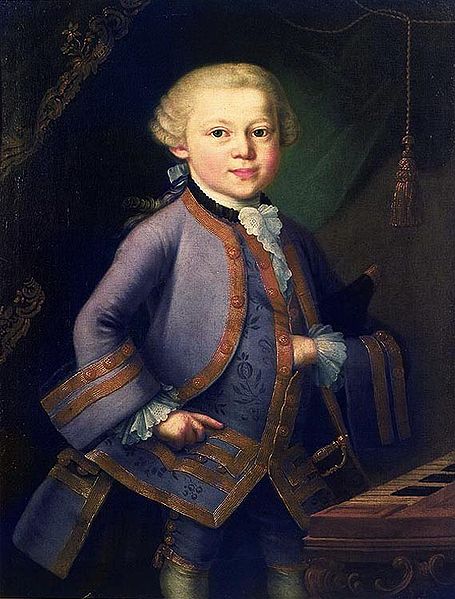 Mozart as a child
In the last blog I think I said that I believe every piece of music starts with the composer, his emotional life, something that people often forget when they temporarily take possession of a piece. Would anyone who has read about Mozart deny that he had an extremely complex character? – if you have ever met a prodigy as I have, they have a strange combination often of genius and arrested development. The value of their genius to the world can make people blind to everything else about them, especially once they are dead! But I believe that Mozart was constantly returning to his lack of childhood as a theme in his music – and more than anything, after a particularly dark or serious passage or movement he seems to erupt into a savagely hysterical burst of childishness. People talk so fondly of Mozart, as childlike or – joyous, whereas to me it always sounds like Mozart has gone into denial about whatever it was he touched upon. The sudden turn that the music sometimes takes into child-like happiness is like an arrow that points to the darkest sadness, even despair.
The piece that he wrote straightaway after his father's death, the Musical Joke, parodies bad composing, an astonishing thing to do just after Leopold's death. Yet you never read anything to this effect, that this piece is almost like post-traumatic stress syndrome in action, music by turns childish, vicious and angry, painfully unfunny like the unwanted guest at a wake. It is even played as a piece of easy listening!
Maybe you think I am over-analysing, and after all, this is just my personal reaction, which is tinged with my own psychology. But I do think that the colossal mythologizing of Mozart that has gone on over the last 100 years or so has made it difficult to hear (or play) the fine gradations of feeling in his music, in any case, those feelings that do not conform to the cute wunderkind of legend, and the Salzburg Tourist Office. I remember the first time I heard Mozart played on period instruments, when the gut strings seemed to underline the unhappiness that lies at the core of the music, how I felt that he was a Lost Boy, and not the silly-ass of Amadeus.
As for composers who can genuinely reach a transcendental level of joy, the obvious choice is J.S. Bach, who makes a deliberate attempt to spiritually work through his 'issues' in his music. I can honestly say that I have never written anything joyous, and wonder what I would do if I was asked to write a piece on the subject of joy, or that was undilutedly joyous in nature. It would be an incredibly challenging commission for me. Maybe I am not 'truly penitential' enough yet!
COMMENTS