Blog » Sleeping Giant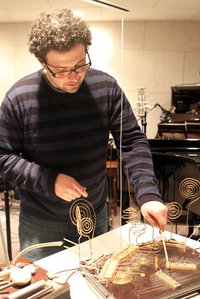 Recent or soon to be graduates from the Yale school of music comprise a fine collection of young composers, including Timo Andres whose album length work for two pianos was recently released by Nonesuch, and Ted Hearne who won the Gaudeamus prize ( and whom we interviewed on CT here). Now five of this talented group have enterprisingly got together to put on a show of their music at New York's Le Poisson Rouge this April 12th. I interviewd Chris Cerrone about the project.
Tell us about the upcoming concert.
Sleeping Giant is the premiere concert presented by a group of emerging composers that have come out of the Yale School of Music over the last few years. We'll be presenting new works by Timo Andres, Ted Hearne, Jacob Cooper, Robert Honstein and myself. I cooked up the idea for the concert when the five of us spent a weekend up in Westport, NY at the Honstein family summer cabin. There was so much joy in the group of us spending time together that for me it made sense for us to put on a concert. We're all close friends with a shared history and a strong desire to make music. As for the name, we wanted to name the concert after something New Haven-y, so we finally settled on Sleeping Giant, a park in Hamden, CT, an homage to our professor Ingram Marshall, who is famous (at least around Yale) for taking hikes and collecting mushrooms in that park.
Read more of the interview here
COMMENTS