Blog » The art of bowing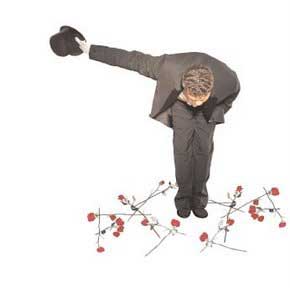 Taking a bow.

Taking a bow is one of those curious aspects of being a composer. I've sometimes caught myself wondering what is going on in a composer's mind as they jump on stage- does this moment in the spotlight make it all worthwhile; is it a terrible duty which would be avoided if only it could; or is it something somewhere in between?

I still find it a quiet source of pride how few composers are ready for that moment in the spotlight, we emerge tramp-like and awkward - the epitomy of uncool, uncommercial - we come on stage in our un-ironed jackets, or with a sock still stuck in one trouser leg. Then we scurry across the stage as quick as we can, not knowing where to put ourselves, and take an awkward bow. There's an interesting paradox in the way so many composers are so unnatural on the stage: we spend our entire lives trying to create something that is after all intended for performance 'on the stage'. We are aware of the finest, subtlest details of how certain effects in our music will come across - we can subdue an entire crowd, get them laughing or crying with our notes; and yet when we have to present ourselves in person on the stage we are likely as not to stumble on the steps before we even get there!

I for one would love ocassionally to attend performances where I wasn't called up to the stage - for starters one is forced to sit in a poor seat at the edge of the row, probably near the back, so as to effect a quick and easy emergence. Then, rather than listening to the music, you spend the entire concert wondering how you will get past that lady with the large hat sitting right in the way of the stage access; do I just shake the conductor's hand, or do I make my way through the entire ensemble kissing and hugging all ten of them, forcing the audience to keep clapping while I do (and risking that they might stop!).

At the end of the day, we composers probably secretly quite like a bit of adulation from time to time, but there's no doubt on the whole we're much happier and more comfortable when we get back to our desks and have only the concerns of the manuscript page to occupy us.
COMMENTS