Blog » Accidental Cultures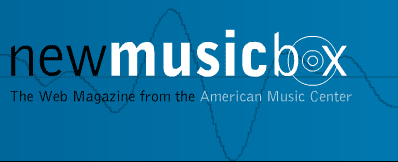 Picking up on some of the themes from Judith Bingham's fascinating post I recently did an interview for the American Music Centre's NewMusicBox site and I was somewhat surprised to hear the interviewer Frank J Oteri tell me that despite my never having returned to the US until 3 years ago (having been born there and left at the grand age of 6 weeks old), that there was something distinctly American in my sound-world - the article is titled "Accidental American".
I acknowledged to Frank that, like a lot of the US scene, I am happy to be open to a wide range of other cultures and musics from around the world; but on reflection, whilst I have loved klezmer, gypsy music and Eastern European folk music since childhood, British folk traditions have never held such an intense interest. I wonder if I am like my good friend who, as a Spanish composer based in London incorporated Spanish folk idioms into his writing, but then when he moved back to Spain these suddenly vanished completely from his music. In other words, if I didn't live in the UK perhaps I would take a deeper interest in its traditions. Perhaps, as Judith implies, it's to do with craving things that are not - for whatever reason - part of our daily lives?
COMMENTS

Graham Lynch
commenting on
Accidental Cultures
:
19 February 2010 at 16:47
It probably cuts both ways. A lot of composers have been able to absorb their folk traditions, although English composers have had problems with this (for many reasons). At the same time there is the 'writer in exile' syndrome; Joyce could only write about Dublin when away from it in Paris.
What is different these days is that a lot of music is very global. My children have been bought up hearing sounds from many cultures, and in a way it is their music now. Flamenco seems as close to them as British folk; ditto fado, tango, klezma etc. It's in their blood.
If this sounds weird, or some sort of cultural theft, it's worth bearing in mind that our religious and philosophical systems have been built around ideas from Greek and Roman culture, as well as the writings of some ancient tribes of Israel; all at the expense of indigenous traditions. We don't appear to find this peculiar!
Comment on this post
To comment on this post please
become a member or
Login