Blog » Adopt a Composer Update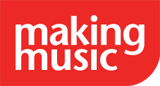 If you want to hear the best of emerging composer talent in the UK, take a look at Making Music's Adopt a Composer programme.
The scheme has run since 2000 and pairs the best of the UK's emerging composing talent with amateur choirs, orchestras and ensembles for a year. Together they produce a new composition of about ten minutes in length, which is then broadcast on Radio 3.
The pieces by the class of 2016/17 were premiered between 22nd and 26th January and will be available on BBC iPlayer for 30 days. More simply, you can hear all of the pieces, and those from previous years, here:
The 2017/18 scheme is well under way, the chosen composers and their groups being:
Anna Appleby with Merchant Sinfonia
Max Charles Davies with Côr Crymych a'r Cylch
Esmeralda Conde Ruiz with The Fretful Federation Mandolin Orchestra
Edmund Hunt with The Singers
Ben See with Stoneleigh Youth Orchestra
Peter Yarde Martin with Bellfolk Handbell Ringers
Gaynor Barradell with Edinburgh Concert Band
You can learn more about how they are getting on in blogs they are posting on the Making Music Website, the two most recent being by Anna Appelby and Max Charles Davies. It's also worth reading about the project from the perspective of the amateur groups—it's clear that they are finding the collaborations just as rewarding as the composers.
If you are interested in getting involved, the next round of applications for the scheme will open in March, for both composers and amateur groups.
COMMENTS