Blog » Seattle Symphony Orchestra: Dutilleux Métoboles, L'arbre des songes, Symphony No. 2, 'Le Double'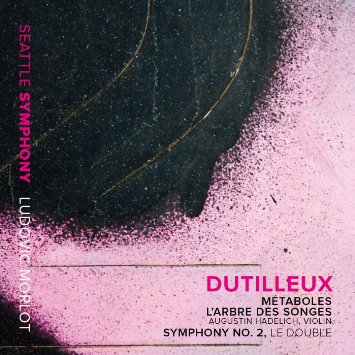 The works included on Seattle Symphony Orchestra's recent Dutilleux disk make a good introduction to the composer's music, even if I think arranging them chronologically would have given a better insight into his stylistic development. Symphony No. 2, Le Double (written 1955–9, last on the disk) is, in a way, Dutilleux's great transitional composition. It is the piece that ostensibly marked his last dalliance with older forms (he never used such a classical title as 'Symphony' afterwards) and more consonant harmonic writing. His new thinking was consolidated in the five movement orchestral work Métaboles, written immediately afterwards (1959–1964) but inexplicably first in this programme. It is justifiably considered one of the great works of twentieth century music. L'arbe des songes, a violin concerto written for Isaac Stern, is a mature work finished in 1985.
Despite the decided stylistic shift that occurred in Métaboles, a significant link with the Symphony is in the use of a form of thematic transformation often called 'progressive growth.' It was a concept that emerged gradually and is bound up in the composer's interest around this time (and, indeed, afterwards, for example in Tout un mode lointain) in variation forms. Even the title Métaboles could be thought of as a synonym for 'variation.' Whereas the Symphony takes these processes and treats them with traditional discursive, dramatic and/or lyrical intensity, in Métaboles the impression is more hard-edged, with harmony that is more dissonant and static, smooth thematic progression often replaced with abrupt contrast. Seattle Symphony Orchestra under French conductor Ludovic Morlot understand this piece well, playing with commitment whilst also retaining a kind of objective control that this clear-headed and poised music demands. The result is not revelatory but it is certainly effective.
Even without knowing L'arbre des songes well (as I do not), it is possible to see some of the common stylistic fingerprints of mature Dutilleux. There is the pictorial title, for what could have been labelled as a concerto (like Tout un monde lointain, 1967–70); a four movement structure that on first glance appears traditional, but is broken into seven sections by the insertion of interludes (Dutilleux famously added an interlude to Timbre, espace mouvement and Ainsi la nuit is broken up by a series of movements entitled Parenthèse). The musical language has much more in common with Métaboles than the symphony, though both share the use of pivot notes to ground the harmony, most obviously in the third movement; Dutilleux never stopped believing in the importance of pitch hierarchy. The sound world also has strong links with the work that followed it, Mystère de l'instant, in its somewhat nocturnal atmosphere and, most especially, because of the presence of cimbalom in both. The violin writing is, unsurprisingly, virtuosic, the soloist Augustin Hadelich managing its demands with aplomb. I would need to be more familiar with the work to give a real recommendation as to his interpretation, but my instinct is that this is a fine performance, sensitively accompanied. The balance between soloist and orchestra is ideal.
The transitional nature of the Second Symphony is, I think, what makes it so very attractive and, as such, the best starting point for anyone trying to get to know the composer's music. The First Symphony is too regressive in style to be truly representative. The works that follow the Second Symphony, including Métaboles, are not so quickly understood, even if they are ultimately just as rewarding. Symphony No. 2, Le Double manages to be accessible without feeling encumbered by the past.
The Symphony is subtitled Le Double, ostensibly in reference to the presence of, in addition to the main orchestra, a group of 12 solo instruments. The obvious analogy is that of a concerto grosso, though the reality is that the group is rather more integrated into the main orchestral body. I don't consider myself an expert in the discography of this work, but have always found myself returning to Orchestre du Capitole de Toulouse conducted by Michel Plasson, a recording that, I know, has its detractors, most especially because the 'dual' nature of the work – the small group contrasting with the large group – is not especially pronounced. Actually, and having heard the work live, I think that this is just an aspect of the writing and not a fault of the conductor. I also think it is how the composer anyway intended the smaller group to be heard, as a resonance, a continuation of the main orchestral sound (he said as much).
In this recording the smaller instrumental group is, on the whole, further forward. It does, at times make for a more effective listening experience, though it does not really give more of an impression of duality than in the other recording. Also I would say that on balance Plasson better understands the architectural forces at play. This is most apparent in the first movement where the regularly spaced and thematically critical orchestral climaxes have devastating impact. In the Seattle recording they sometimes sound a little tame. Ludovic Morlot shapes the second movement rather more successfully; in particular the build involving a long trumpet solo that leads to a luminous climax is wonderfully paced. The cleaner recording is also better appreciated here, since overall dynamic levels are much softer.
The final movement again lacks something of the necessary orchestral punch, especially in the opening. There is, though, a surprising benefit to what at first seems a rather pedestrian tempo; it renders the lengthy coda, which Morlot takes at a decent pace without seeming to rush, much more in proportion to the rest of the movement. Unfortunately the recording then ends with an inexplicable choice. Dutilleux famously changed the end of the work from a straight C# major to a clustered and questioning final chord. It appears that Morlot has decided to reinstate Dutilleux's first choice, though the effect is strange; there is a strong felling of added second, presumably from orchestral overtones.
Despite this, I wouldn't disqualify the recording from consideration. One could argue that the original ending has historical interest and, anyway, the other pieces on the disk are extremely well performed. I would, however, hesitate to recommend this disk as a first choice for those getting to know the composer's oeuvre.
COMMENTS