Blog » Karajan's Magic and Myth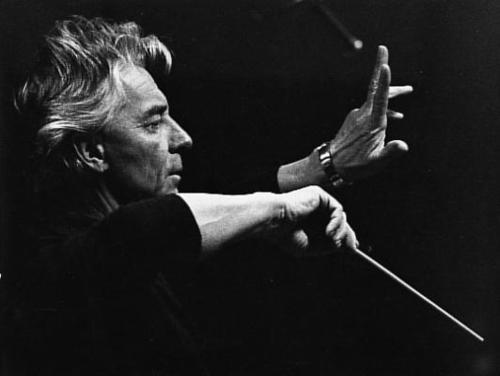 I remember the death of Karajan in 1989 as something that I read about in newspapers without really understanding the hysteria that had surrounded him in life. He already seemed a figure from another age, far removed from my own burgeoning musical tastes, which centred round period instrument recordings and contemporary music. I certainly remember the aversion I felt when seeing CD covers that featured his name in grander lettering than the composers I revered. For a while Karajan even became a kind of shorthand for the opposite of the kind of recording I favoured: 'Are you buying a recording of Bach's Cello Suites?','Yes [sarcastically], I was thinking of getting Herbert von Karajan with the Berlin Philharmonic.'
I have since bought a few Karajan recordings: Mahler, Bruckner and even some Schoenberg, but my youthful prejudices about the conductor never completely vanished. BBC4's new documentary, Karajan's Magic and Myth went some way towards dispelling them. The famous megalomania was as disagreeable as ever. His insistence that the camera remain on him in his films, his refusal to acknowledge applause in smaller venues when on tour with the Philharmonia, his childish attitude that, when ill, the Berliners should not play for a different conductor. His membership of the Nazi party during the war was also distasteful, though perhaps less so than his refusal to come to terms with it afterwards, even hinting that he too had been the target of persecution.
Artistry should always be judged separately from biography, however. In this sphere the film was justifiably more sympathetic. His rehearsing of the European Community Youth Orchestra in the opening of the second movement of Beethoven's Violin Concerto, in particular, was brilliant. It was astonishing how many valid musical points he extracted from these few phrases, most revealingly around the unexpected change of chord that occurs at the end of the third bar. It was also interesting to hear some of his recordings exhibit the lightness and virtuosity that marked him as rather closer to the period instrument aesthetic than I had otherwise thought. Not surprising, perhaps, given that Karajan himself was much influenced by the sprightly conducting of Toscanini. The film also showed that some of the tricks that Karajan played on his performers were made for sound musical reasons. On one occasion, when Jessye Norman had meticulously warmed up for her practice session of the Liebestod from Tristan, Karajan made her sit in silence at the front of the orchestra, listening to them rehearse. As she acknowledged herself, and was evident in the footage that followed, this paid dividends when she was eventually called upon to sing; having absorbed the sound of the orchestra she was better able to find her place within the texture.
There were, inevitably, some gaps in an otherwise excellent film. Of course, I would have liked some more information about Karajan's dealings with contemporary music. Whilst he could hardly be called a great supporter he did conduct his fair share. He also had interesting things to say on the subject. He was once asked if Boulez and Webern would eventually be understood by concertgoers. His open-minded (though rather simplistic) response was: 'I am quite certain that the next generation will have no problem in understanding most of the music of today. Think of the Bartók Concerto for Orchestra. Twenty years ago it was considered inaccessible; today it is a classic. Think of the Music for Strings, Percussion and Celesta. When we perform it today, it sounds like a concerto grosso of Handel. With the decline of melodic inspiration in music, the serial techniques of today are a necessary self-imposed discipline for the composer…' It would have been nice to have known more about this aspect of Karajan's musicianship.
Neither did the film completely get to the bottom of why Karajan was the way he was. Other conductors have proved that greatness is not synonymous with self-obsession and a tyrannical approach. So it was not simply a means to a noble musical end. It is probably a question that will never be answered since there is such a lack of first-hand witnesses – Karajan had few friends and certainly none within the Berlin Philharmonic. One player remarked that, during his thirty year tenure, he only had one conversation with him. One senses that this was all part of Karajan's master plan. In order to reinforce his status he chose to distance himself from others. This, no doubt, feeds the myth – the paucity of facts fuelling speculation – but it also leaves him a rather sad and lonely figure.
BBC4's Karajan's Magic and Myth is available on BBC iPlayer until Friday 12th December.
COMMENTS