Blog » Remote Working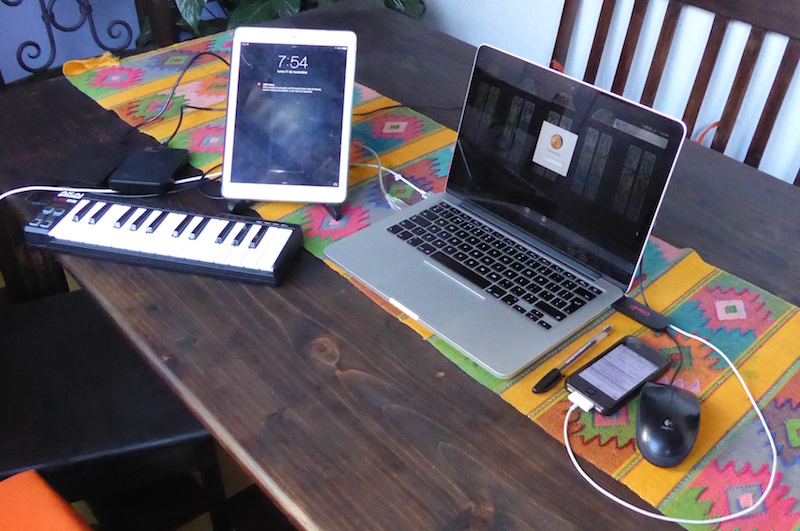 Some time ago I wrote about the problem of where a composer should live. Large Western cities probably make most sense. London, Paris, Berlin, New York and the like have a thriving cultural life that is appealing to artists. They are also, however, impossibly expensive to live in. For me, furthermore, I find city life unattractive: the traffic, the crowds, the often depressing urban architecture. I also like to be a bit more adventurous in my travel habits.
For almost five months I have been living in Antigua, Guatemala, something I rather hope you haven't noticed if you have been reading my blog posts. Before Guatemala I went to Mexico for a couple of weeks to discuss a possible writing project with a colleague. After this I headed south. I initially planned to spend around two months in Guatemala, returning at the beginning of September. It didn't work out like that and, instead, I had to drag myself away at the end of November.
Until very recently I would never have believed I could visit such a place for so long and, here's the thing, still support myself. It dawned upon me one day that, since most of my musical work takes place over the internet, I could do it from any point in the globe. Becoming a 'digital nomad' is a fairly common lifestyle choice these days. Less so, however, for musicians. And musician or not, traveling to a developing country was something of a risk – I had no idea what the infrastructure would be like and feared I might end up having to get straight back on the plane to search for a decent connection.
Things didn't bode well when I arrived. Apart from being violently ill and having to chase a large cockroach around my bedroom the first night, the place where I was supposed to be staying for the first month had no web connection at all. I soon learned that the internet was down in the whole of Antigua. This would cause apoplexy in most Western towns. In Guatemala it resulted in shrugged shoulders and the advice that I should be patient.
It did, in fact, return after several days, but the quality was horrible. This was, however, more to do with a bad set-up where I was staying rather than the standard of telecommunications as a whole. I was eventually saved by the extraordinary, better than first world, quality of Guatemala's 3G phone network. Phone tethering is a wonderful, wonderful thing. I was able to use my unlocked phone with a local sim card and, at a price that was bearable if not exactly cheap, had a decent internet connection. It even passed the Netflix streaming video test. Eventually I shifted to a USB dongle sold by one of the local carriers, which was even better since it also allowed me to access the 4G network.
My complete system is shown in the photo that heads this article. It consists of a Macbook Pro, small midi keyboard, iPad (essentially used as a replacement for printing stuff out), my ageing iPhone 4, an external hard drive and, also visible, the 3/4G dongle. With this mobile office I was able, quite easily, to write these blogs, conduct interviews, write musical arrangements and complete a commission for a Christmas carol. It was also liberating being free from a wired internet connection; I could take my laptop anywhere, even to the middle of a field, and continue to work. In fact, as I write this I am on a bus from Querétaro in Mexico to the airport, having rounded off my time in Guatemala with another visit to my friends here.
There are pro and cons to this kind of lifestyle if you've ever considered it, especially if you are a composer:
Pros:
• Nothing inspires like travelling; you expose yourself to so many new experiences. I've collected a fair few ideas for pieces, even if the Christmas carol I wrote could hardly be called Guatemalan.
• If you earn money over the internet in pounds, dollars or euros, when you convert that into a currency like the Guatemalan quetzal, you are going to have a lot more spending power. I eventually rented a house for four months. It was probably the most expensive part of the country and cost me less than £300 per month. That included a cleaner.
• You certainly appreciate how little you need. I've got a garage full of possessions at home. I didn't miss a single thing. With an iPad, Netflix, BBC iPlayer and a VPN account you can feel at home anywhere. Not that that's entirely the point. You need to mix with the natives too.
• The sheer freedom that you feel. There is something wildly exotic about working in an unusual location, even if that means on a bus or at an airport.
Cons:
• There's no doubt it is isolating. Guatemala has no contemporary music scene that I could discern (unlike Mexico, for example). I couldn't see it as a permanent way of living. Sooner or later you need to come back to renew your contacts. And, with the best will in the world, you are putting yourself at a disadvantage compared to composers who are always in the right place at the right time.
• Of course not everyone can just up-sticks. If you have a family or other commitments things are rather more complicated.
• If you are squeamish about things going wrong – medically, travel-wise or in terms of being a target for criminals – then maybe it's not for you. Having said that, I find that disasters lead to the most interesting experiences. I once had my camper van broken into on a three-month tour of Spain. My laptop was stolen and there was quite a bit of damage to the vehicle. This, however, set off a chain of events that led to me making friends with a lovely family in the Basque country, one of the richest and rewarding cultural experiences I've had.
• If you're contemplating trying to remain as a composer and move around very frequently, e.g. as a backpacker, I think this would be very difficult. My attitude is to go somewhere interesting but stay there for a long time. 'Slow travel' as they say. That way you can live normally, exploring your surroundings at a leisurely pace.
Despite my reservations, composing and long-term travel can work. If you have ever thought of doing the same and have the means, the opportunity and, in my case, a very understanding boss then you should forget your fear and go for it. It has been one of the most extraordinarily rewarding periods of my life. After a suitable pause I shall be heading out again. I haven't even returned and I am dreaming of exotic new destinations.
COMMENTS