Blog » November CD Roundup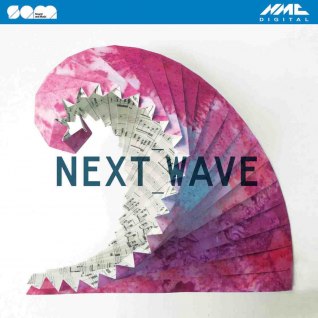 This month marks the release of NMC's Next Wave disk, now available for preorder. Next Wave is a joint project with Sound and Music that has commissioned new pieces from 12 young UK composers studying in higher education. The works will be performed at the Huddersfield Contemporary Music Festival on 27th November, where a panel chaired by SaM Chief Executive Susanna Eastburn will also discuss ways composers can record and distribute their work. You can learn more about each of the composers featured on the Next Wave disk at the NMC blog.
DG's Max Richter Berlin by Overnight with remixes by CFCF, Efdemin, Lorna Dune and Tom Adams is a sad sign of the label's attitude to contemporary music. I've got nothing against Max Richter, having enjoyed, for example, his imaginative reinterpretation of Vivaldi's The Four Seasons. The cynical side of me, however, can see how his music is attractive to such an profit-aware label as DG. It is stylistically unchallenging, easy listening contemporary music. In some ways, that's fine by me – marketable music doesn't make it bad music. I draw the line, however, at taking one of the slightest of Richter's compositions, his one-and-a-half minute solo violin piece Berlin by Overnight, and making it the subject of four much longer reinterpretations, or, as we are forced to call them these days, 'remixes'. You would barely be aware from listening to these reinterpretations that they are by four different people; we are treated to the same ragbag of effects in every one of them: an underlying perpetuum mobile drawn from the original piece, no harmonic movement whatever, piling on of futile counterpoints and the addition of dance beats. It is an exercise in pointlessness that left me depressed and angry.
On a more positive note, Bridge Records has just released Poul Ruders' Nightshade Trilogy, a work that was written over 17 years and, in the composer's words, 'a collection of compositions that evoke for me an almost Gothic association with pale moonlight, tombstones [,] crypts and the elusive shadows deep inside an ancient forest at the deep of night'. Ruders is a composer of pluralistic range, quite capable of writing exuberantly accessible music, as, for example, in his Concerto in Pieces – a kind of homage to Britten's Young Person's Guide to the Orchestra. Here, however, there is little by way of stylistic compromise. The result is compellingly: there is an ever-present sense of structural integrity, harmonic connectedness and textural control, the music itself darkly and luxuriously broods or works its way into episodes of terrifying violence. The contrast with the aforementioned album is stark indeed.
There are three interesting new chamber music disks worth considering on Nimbus: John Psathas's Corybas and other works played by the New Zealand Chamber soloists; Christopher Wright's Four String Quartets played by the Fejes Quartet; and Augusa Read Thomas's Music for Strings, a selection of her works performed entirely by young musicians. There are two very welcome releases on their Lyrita label: the first consists of cello concertos by John Joubert, Robert Simpson and Christopher Wright played by the BBC National Orchestra of Wales; the second of seven works by Geoffrey Bush with the Northern Chamber Orchestra and cellist Raphael Wallfisch. There is also an album of twelve improvisations by pianist Geoff Eales.
Ukranian music features strongly on Naxos. There is the release, over three disks, of all five symphonies by Boris Lyatoshinsky, a figure often considered to be the father of contemporary Ukrainian music. There is also the opportunity to trace his influence on the subsequent generation in a new album of music by Yevehen Stankovych, consisting of symphonies 1, 2 and 4. From the US, finally, Can You Hear God Crying? by Hannibal Lukumbe is a 'spritatorio' that explores the themes surrounding African slavery through the combination of jazz, gospel and chamber music.
COMMENTS