Blog » October CD Releases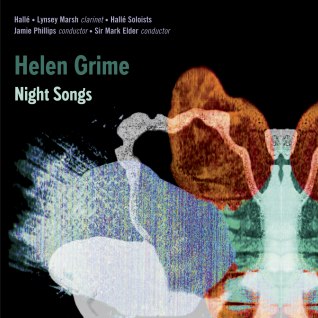 Quite a range – stylistically, I mean – in October's CD offerings. On NMC there are new disks by Charlotte Bray and Helen Grime, among the most gifted younger-generation composers in the UK right now. I mentioned Grime's disk in the last roundup, but it has now been fully released and is available on Spotify as well as all the normal places. Bray's disk, which takes its name from her 2012 BBC Proms commission At the Speed of Stillness, will be released on 20th October. The sound worlds of the two composers are not dissimilar: modernist in outlook but with a nod to tonal procedures; bright, trebly textures.
For a complete contrast, head over to Signum Records and have a look at Will Todd's new disk: Lux et Veritas. Todd's music is unabashedly tonal, his most obvious model being that of John Rutter. Some will find it a little saccharine, but it is well-crafted and illustrates a more general point: that whatever 'old' classical music you are attracted to, there is a contemporary composer that you will probably enjoy too. There are 14 works in all, drawn together by the sentiments expressed in the disk's title. Nigel Short conducts the English Chamber Orchestra and Tenebrae with James Sherlock on the organ and piano.
Two stalwarts whose styles need no introduction: Colin Matthews and Maxwell Davies. Matthews' powerful work No Man's Land, 'a dialogue between two dead soldiers whose corpses are strung up on the barbed wire of no man's land' lends its name to the title of a new disk on Nimbus Records. It is accompanied by Aftertones (1999-2000), a half-hour setting for choir, soprano solo and orchestra of words by Edmund Blunden; and Crossing the Alps, an unpublished work for seven-part choir and organ. Maxwell Davies's Symphony No. 10 Alla ricera Borromini, much of which was written whilst recovering in hospital from serious illness, is now available through Hyperion with the LSO conducted by Antonio Pappano.
On Naxos there are two new disks in the Canadian Classics series. The first consists of neglected works for cello and piano by Jean Coulthard, John Weinzweig, Alberto Guerrero, Violet Archer and Jean Coulthard; the second of chamber works for strings by Jacques Hetu. The Villiers Quartet have released the world première recording of Robert Still's String Quartets 1–4. These works cover a wide range of his evolving composition style, including later dalliances with atonality, and would therefore be a good starting place to get to know this neglected British twentieth century figure. Also on Naxos is Portuguese composer Antonio Pinho Vargas' Requiem paired with his 2002 choral-orchestral work Judas.
David Ellis' new album on Divine Arts, finally, contains his concert works Diversions, September Threnody, Celebration and Solus, recorded at different times by various Manchester orchestras. His music is described as 'the best tradition of modern-approachable-impressionistic, post-Romantic if one needs a label'. There is a short extract on the website for you to make up your own mind.
Spotify Links (where available):
Hallé – Helen Grime: Night Songs
Tenebrae – Will Todd: Lux Et Veritas - Music for Peace and Reflection
London Symphony Orchestra – Sir Peter Maxwell Davies: Symphony No. 10
Halle Choir – Colin Matthews: No Man's Land
COMMENTS