Blog » John Palmer Interview



Christian Morris talks to John Palmer, a composer of both acoustic and electroacoustic music whose wide influences include Jungian psychology, Buddhism and mythology.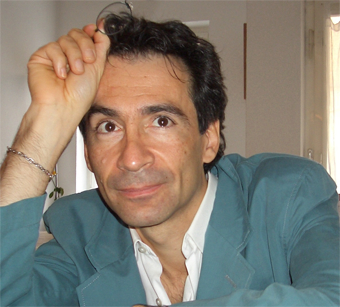 John Palmer
Tell us something about your background.

I have always loved music and any form of sound and sound making. My father had a music shop and a recording studio in our home. As a little boy I would try to play any instrument I would come across. I grew up listening to a lot of pop music and jazz – we are talking about the sixties – and I started to study the classical piano at the age of six.

How did you start composing?

First of all by playing back and trying to imitate the songs I heard on radio. In those days I had a little organ and a piano. When I started taking piano lessons I would spend most of the time improvising in the style of Chopin, for example. Nothing spectacular, really, but I always wanted to get a first-hand experience at the music I was taught in the lessons, you know the usual classical repertoire. When at the age of 13 I got my first guitar I started writing my own songs. That was 1973. Meanwhile I kept improvising at the piano. I had my first band at around that time. Initially mainstream pop, later on progressive rock. Experimental and free-jazz followed in the early and mid-eighties. In 1980 I started again to study the classical piano from scratch and in the mid-eighties I was admitted to the Lucerne Conservatoire where I also started writing my early piano and chamber music.

What was your first success as a composer?

In order to answer this question I have to tell you something about my life: I have never been in the centre of a big musical scene and I have always been working in silence following my own path as both an individual and a musician. I have lived rather isolated for many years and have struggled to make a living in many different places in Europe. I didn't have the support of my parents and have lived more or less 'on the road' from the age of 18 to 20. For many years I have tussled with having to make a living with any job I could find and getting myself a serious music education at the same time. Nothing has been easy in my life and my profile is certainly not typical for a composer. Perhaps this is the reason why I measure success in terms of individual growth rather than public recognition. I am not saying I disregard acknowledgment, but I tend to feel successful, for example, every time when the aural experience of the performance has matched the imagination of my inner ear. A similar sense of 'success' occurs when I can clearly 'hear' the codes of my musical idiom in the performance of a piece of mine. These are moments when I feel very happy with myself. One of these moments was certainly the performance of 'koan', for shakuhachi and ensemble, by Teruhisa Fukuda and the Tokyo Comet Ensemble at the World Music Days in Yokohama in 2001.
>> Click here to read the rest of the interview

COMMENTS